The Buccaneers' Desperate Attempt to Solidify Their Secondary Has Already Blown up in Their Faces
The Tampa Bay Buccaneers' 2021 season is off to a shaky start. They're playing well enough to remain in a playoff spot. However, they've been ravaged by the injury bug through 10 weeks of action.
Essential pass-catchers Antonio Brown and Rob Gronkowski have missed multiple games, and their secondary is a complete mess at the moment. Regular starting cornerbacks Carlton Davis and Sean Murphy-Bunting are both on injured reserve.
The Buccaneers' injury woes forced them to make a desperate signing
With so many injuries piling up in the Buccaneers' secondary at the start of the season, the team's front office made a rather desperate decision in an attempt to plug the issue. They signed veteran corner Richard Sherman on Sept. 29 and pretty quickly integrated him into the starting defense.
Sherman turned 33 years old in March, missed multiple games in 2020 due to injury, and was dealing with a legal issue during the offseason. These problems kept interested teams from signing him until the Buccaneers became desperate for CB depth.
Sherman was in and out of the Buccaneers' lineup due to nagging injuries leading up to Week 10. He ultimately played just three games for Tampa Bay. Now, following his latest injury woe, it appears his Buccaneers career may be coming to a complete end.
Richard Sherman suffered a Grade 2 calf strain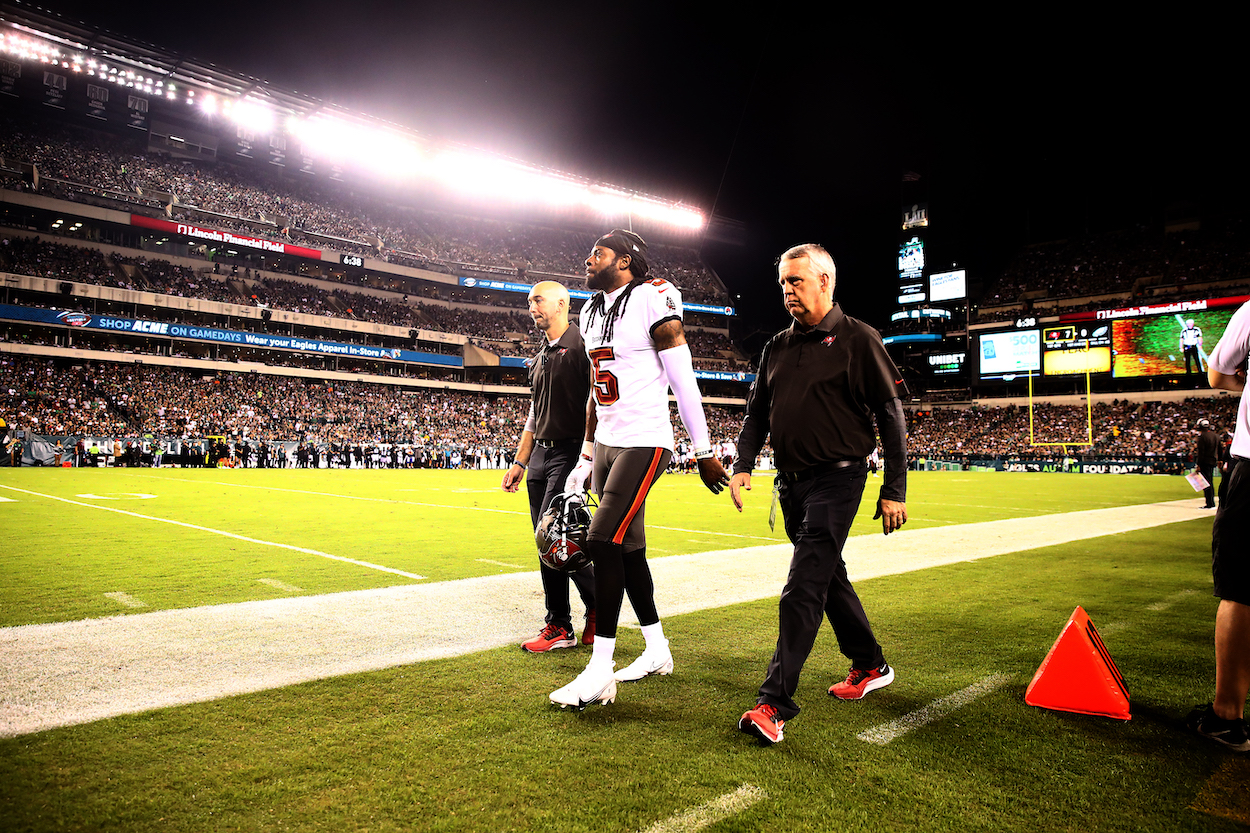 Sherman suffered a calf strain during warmups for the Buccaneers' Week 10 game against the Washington Football Team. The Bucs quickly ruled out the veteran corner, and Washington ultimately won thanks to a strong performance by quarterback Taylor Heinicke, which likely occurred due to a seriously depleted Tampa Bay secondary.
Sherman underwent an MRI two days after the loss, and it revealed a Grade 2 calf strain. Buccaneers head coach Bruce Arians hinted that Sherman would miss a significant amount of time moving forward.
"I doubt seriously if he'll be back anytime soon," Arians said.
At his age and with his injury history, there's a decent chance Sherman is done for the remainder of the season. This is his second lower-body injury since joining the Bucs (pulled hamstring in Week 6). It's becoming increasingly clear his body is unable to keep up with the rigors of the NFL at this point in his career.
The Buccaneers' secondary depth is a major problem
The only reason Tampa Bay signed Sherman in the first place was to add much-needed depth to the secondary. The Buccaneers' defense started struggling immensely when Davis and Murphy-Bunting went down, shining a light on how weak the team's depth is at cornerback.
With Sherman now injured as well, Tampa Bay's depth is right back at square one. With the trade deadline passed and little-to-no viable free agents still on the market, the Buccaneers are borderline stuck with this issue moving forward.
Sure, they can sign a practice squad member or two. However, that won't be enough to keep up with the high-powered offenses in Green Bay, Dallas, and Los Angeles. The Buccaneers needed Sherman to be a reliable option for the rest of the year. Instead, his season is potentially finished.
All stats courtesy of Pro Football Reference.