The Bulls Receive Massively Positive Zach LaVine News and Add Vital Size With Tristan Thompson All in 1 Night
The Chicago Bulls head into NBA All-Star Weekend on a positive note after a 125-118 win over the Sacramento Kings on Wednesday night. More importantly, though, the Bulls received enormously positive news regarding Zach LaVine's knee injury. They also added critical size — something they needed before the Feb. 10 trade deadline — by reaching a verbal agreement with veteran Tristan Thompson, who clears waivers on Thursday and will sign with Chicago off the NBA buyout market. All this on the very same night.
Chicago is guaranteed at least a share of the No. 1 seed in the Eastern Conference, depending on how the Miami Heat fare in their matchup with the Charlotte Hornets on Thursday. It comes out of the break with LaVine cleared to return to the rotation and Thompson providing significant frontcourt depth off the bench.
The Bulls' contender stock is going up.
Doctors cleared Zach LaVine for basketball activities after a knee injury scare
Bulls fans likely felt at least a pang of concern when reports revealed that LaVine planned to get his left knee reevaluated.
LaVine's MRI came back clean after he first suffered the injury early in a Jan. 14 matchup with the Golden State Warriors. However, soreness persisted, and Chicago said it would hold their star 2-guard out through All-Star Weekend.
Luckily for Bulls fans, LaVine received good news from specialists this week.
Head coach Billy Donovan said (h/t K.C. Johnson of NBC Sports Chicago) before Wednesday's game against the Kings that LaVine's visit to Los Angeles went "very well." According to Donovan, doctors gave the 26-year-old a lubricant to reduce the swelling in his knee. He added that doctors feel "totally fine" about LaVine resuming playing.
The news comes as a sigh of relief to everyone on the franchise.
DeMar DeRozan has anchored the Bulls during a historic scoring streak. He passed Wilt Chamberlain for the most consecutive games (seven) of 35 or more points on at least 50% shooting with a 38-point performance on Wednesday. Still, getting LaVine back in the rotation lessens the load on DeRozan's shoulders and makes Chicago harder to guard on the whole.
The Bulls can look forward to their superstar duo coming back from All-Star festivities in Cleveland feeling revitalized. Additionally, Chicago heads into the final stretch with a stronger bench.
The Bulls added Tristan Thompson from the NBA buyout market
Having stood pat at the trade deadline, the Bulls seemed likely to add depth in the NBA buyout market.
Injuries to Lonzo Ball and Alex Caruso made it possible that Chicago would seek guard depth. However, the Bulls also had a distinct need for more quality size in the frontcourt. They opted to address the latter issue.
Indiana Pacers head coach Rick Carlisle revealed Wednesday night that the team planned to waive Tristan Thompson, hinting that the veteran forward planned to sign with the Bulls. Shams Charania of The Athletic confirmed that Thompson would indeed head to the Windy City after clearing waivers.
Thompson gives the Bulls' bench a considerable boost. He's one of the better rebounders in the NBA, which means quite a bit to a squad that ranks 27th in total rebounding. The 30-year-old is especially proficient on the offensive glass. His 16.3% offensive rebounding rate would rank second in the NBA if he qualified in that category. Thompson should give Chicago second-chance opportunities, and he's a capable rim-roller who can score around the basket.
The Toronto native doesn't remedy the Bulls' defensive needs in the frontcourt. He's been a below-average player in terms of defensive box plus-minus in every season. Still, Thompson's athleticism and competence on the ball make him a marked upgrade over Chicago's other reserve bigs, Tony Bradley and Malcolm Hill.
Suddenly, a Bulls team that looked very much in flux because of their depleted roster has ample optimism heading into All-Star Weekend.
Chicago finds itself in an excellent position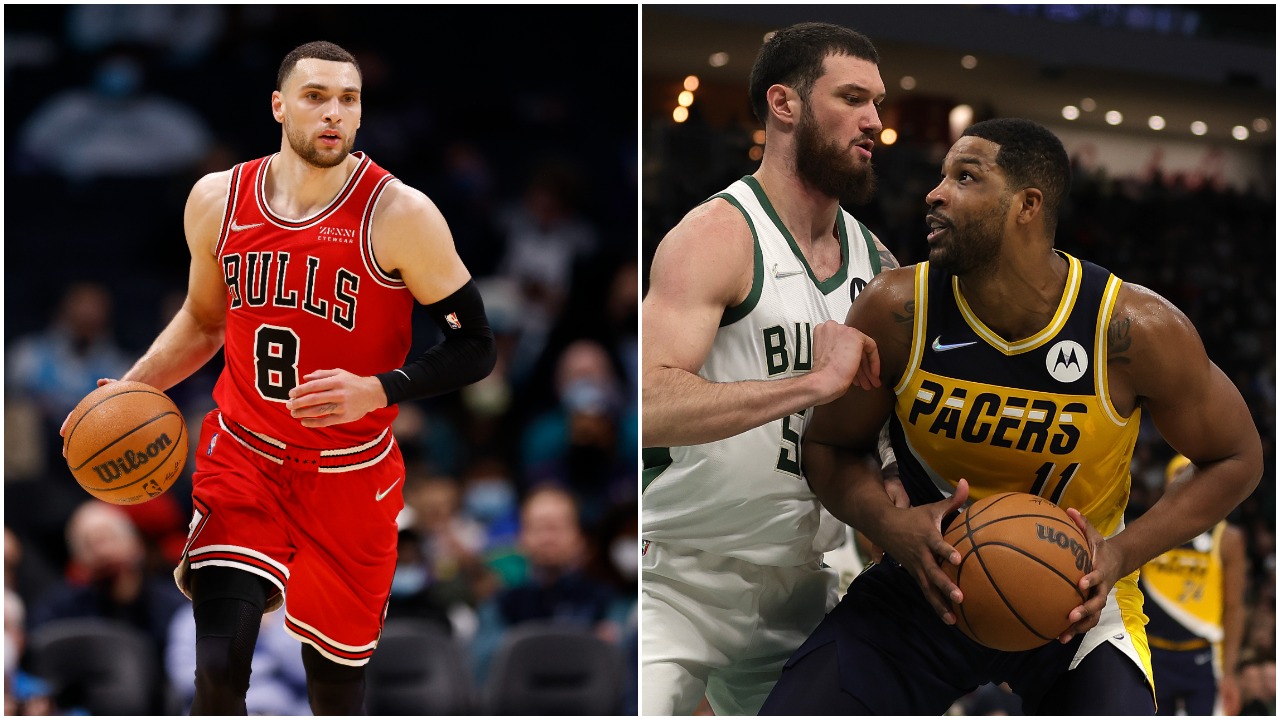 With Zach LaVine avoiding long-term injury and Tristan Thompson providing size and rebounding in the second unit, the Bulls are ready to take the Eastern Conference by storm after NBA All-Star Weekend.
Chicago successfully weathered a storm of injuries and setbacks. It now has a deeper roster, and the returns of Lonzo Ball and Alex Caruso will play a vital role in solving defensive issues.
The Bulls figure to celebrate LaVine's and DeRozan's accomplishments this weekend. After that, they'll turn their attention to the ultimate goal of winning a championship.
Stats courtesy of Basketball Reference.
RELATED: Michael Jordan's Combative Approach at UNC Informs His Antagonism of Bulls Teammates