The Carolina Panthers Struck Gold With Teddy Bridgewater Signing
Teddy Bridgewater's long road back has finally paid off. Bridgewater, a former first-round pick whose tenure in Minnesota was derailed by a career-threatening injury, agreed to terms on a three-year contract with the Carolina Panthers this week. The 6-foot-2 Bridgewater is expected to replace former NFL MVP Cam Newton as the Panthers' starting quarterback under new head coach Matt Rhule and offensive coordinator Joe Brady.
While Bridgewater doesn't have the star power or proven track record that Newton does, here's why the Panthers made the right move signing Teddy Bridgewater as their next franchise quarterback.
Teddy Bridgewater is a solid, game-managing quarterback
Teddy Bridgewater is never going to be a traditional gunslinger like Jameis Winston or Jared Goff. Bridgewater instead brings impressive poise and field management to the Panthers offense. Rather than try forcing a throw into double coverage in hopes of making something happen, Bridgewater has matured enough as a quarterback to where he is willing to either complete a short pass or throw the ball out of bounds.
Bridgewater best displayed this skillset in his five starts for the New Orleans Saints last year. Bridgewater completed 69.7% percent of his passes and averaged 241 yards in a stretch where the saints went 5-0. Although Bridgewater took nine sacks, he threw nine touchdowns to only two interceptions. Bridgewater won't have the same weapons he did in New Orleans, but all-pro running back Christian McCaffrey more than makes up for losing Alvin Kamara and Michael Thomas.
Teddy Bridgewater has put his injury history behind him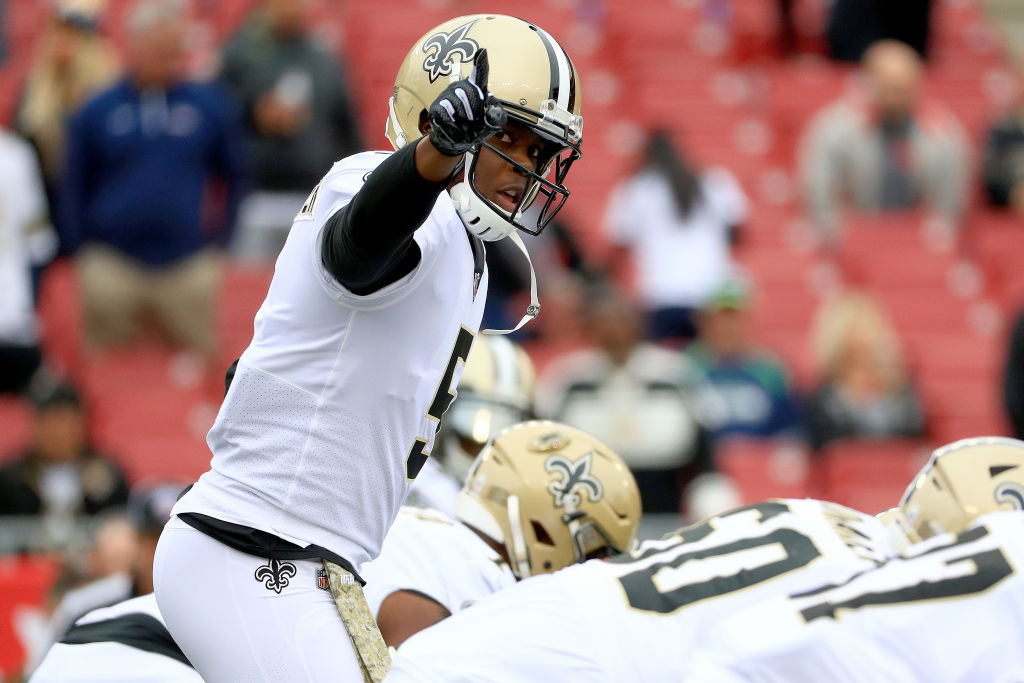 There were naturally some concerns about Teddy Bridgewater signing a contract worth $63 million after missing the 2016 season and most of 2017 following a devastating knee injury. Walter Football graded the signing a C+ because "Carolina could just have the same issues with Bridgewater [that] it endured with Newton." But Bridgewater, save that incident, has been healthy and doesn't play with any fear of suffering a similar injury.
Cam Newton made it a habit of showcasing his grit and playing through injuries because he knew the Panthers needed him. As a starting quarterback on a rebuilding team, Teddy Bridgewater will likely endure some hard hits next season. The Carolina Panthers should be optimistic about Bridgewater's future in the black and blue, though.
Teddy Bridgewater's arrival doesn't mean Carolina can't add another quarterback
Carolina currently holds the No. 7 overall pick in April's NFL draft. Whatever quarterbacks are left on the board at that point, likely Jordan Love and Justin Herbert, wouldn't make sense financially or logistically for the Panthers. Carolina is better off drafting an impactful defensive player, like Auburn defensive lineman Derrick Brown or Clemson linebacker/safety Isaiah Simmons.
If the Panthers do add a quarterback who can develop under Joe Brady, the mastermind behind Joe Burrow's record-setting season at LSU last year, they may want to consider Washington's Jacob Eason. A Georgia transfer who enjoyed mixed success at Washington, Eason is a raw quarterback prospect with an excellent arm.
Eason is currently projected to go on the draft's second day. FIU's James Morgan and Hawaii's Cole McDonald make sense for similar reasons, though Morgan is the most polished prospect of the three.