The Chicago Bears Just Lost Their $32 Million Man
The Chicago Bears might be the weirdest team in the NFL. Are they any good? Do they actually stink? It is hard telling who the Chicago Bears really are right now, and it doesn't help that they can't find any consistency at quarterback. Well, now, after losing two consecutive games, the Bears appear to be in trouble as they also recently lost a pretty important player to injury. Chicago recently lost its $32 million man, right tackle Bobby Massie.
The Chicago Bears are the most confusing team in the NFL
People were really, really confused by the Chicago Bears' start to the season. The Bears got out to a 3-0 start and then later improved to 4-1 with a win over a team that most people are picking to go on a deep playoff run, the Tampa Bay Buccaneers.
A reason they have been successful this year has been the play of their defense. The Bears have only allowed 20.8 points per game through eight games, which is eighth in the NFL. They have great pieces on that side of the ball, too. Roquan Smith, Eddie Jackson, Danny Trevathan, and Khalil Mack are just a few of their big names on defense.
However, the Bears' offense has been suspect all season. The offense's poor play has played a big role in them losing two consecutive games in the last two weeks as they are now 5-3. Chicago is 28th in the NFL in points per game, only averaging 20.1, and their passing attack has been horrible. Nick Foles has thrown for 1,411 yards, eight touchdowns, and seven interceptions in six games and five starts. This is while Mitchell Trubisky has thrown for 560 yards, six touchdowns, and three interceptions in four games and three starts.
In addition to just below-average quarterback play, the Bears have dealt with some offensive line issues.
Chicago has had some injuries on its offensive line
While both Bears quarterbacks have played poorly this year, they haven't had a ton of time in the pocket. Chicago is tied for 10th in the NFL in most sacks allowed with 20, and tied for fifth in QB hits with 27.
This has been somewhat due to injuries on the o-line, though. According to the Chicago Tribune, Chicago lost left guard James Daniels for the entire season with a torn pectoral muscle. Daniels had played in all 16 games in each of the previous two seasons for the Bears. Center Cody Whitehair then also missed the Bears' most recent game with a calf injury.
While Chicago expects Whitehair to return soon, the team is now expected to be without another important player on its offensive line. That player is right tackle Bobby Massie.
The Chicago Bears could be without Bobby Massie for a month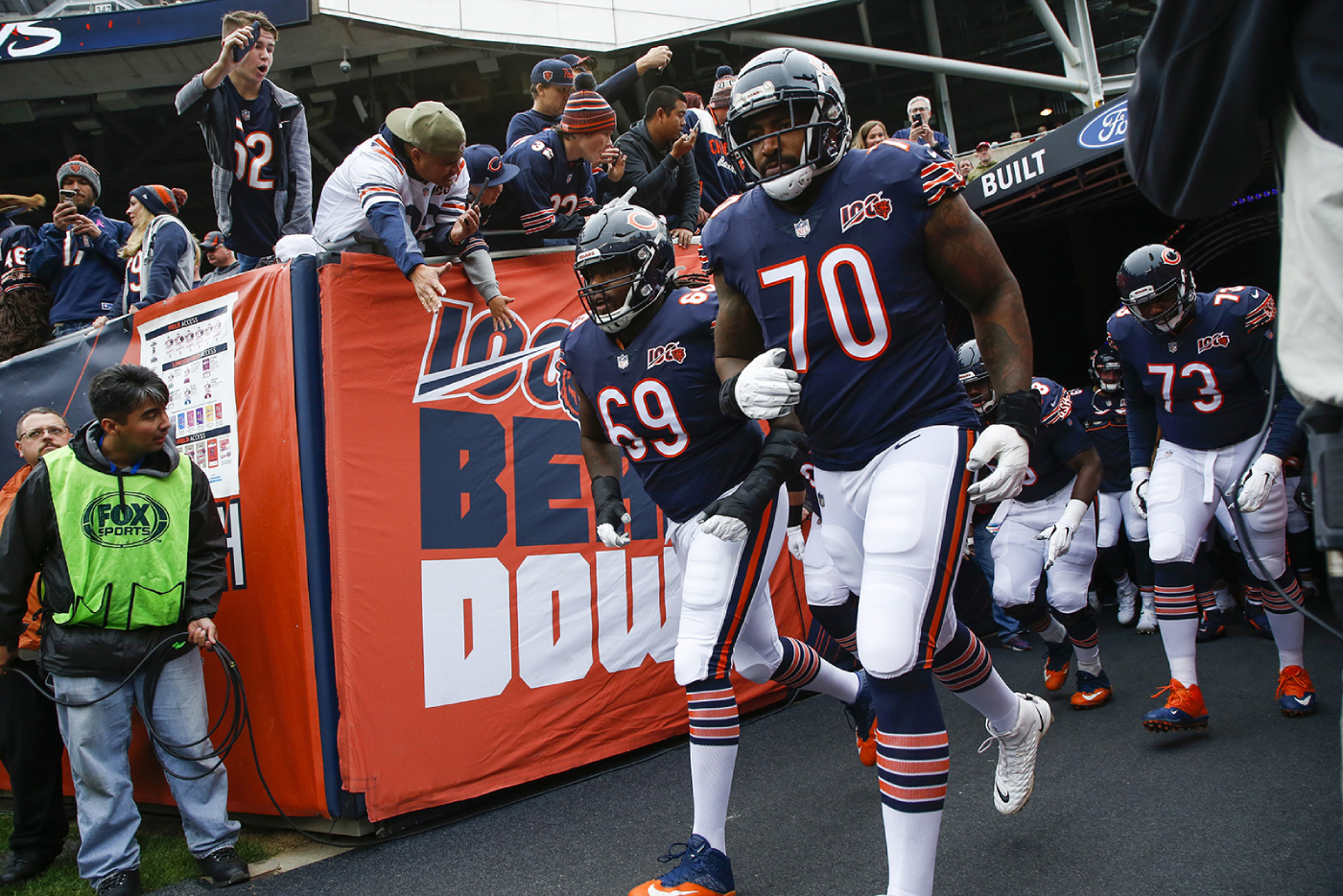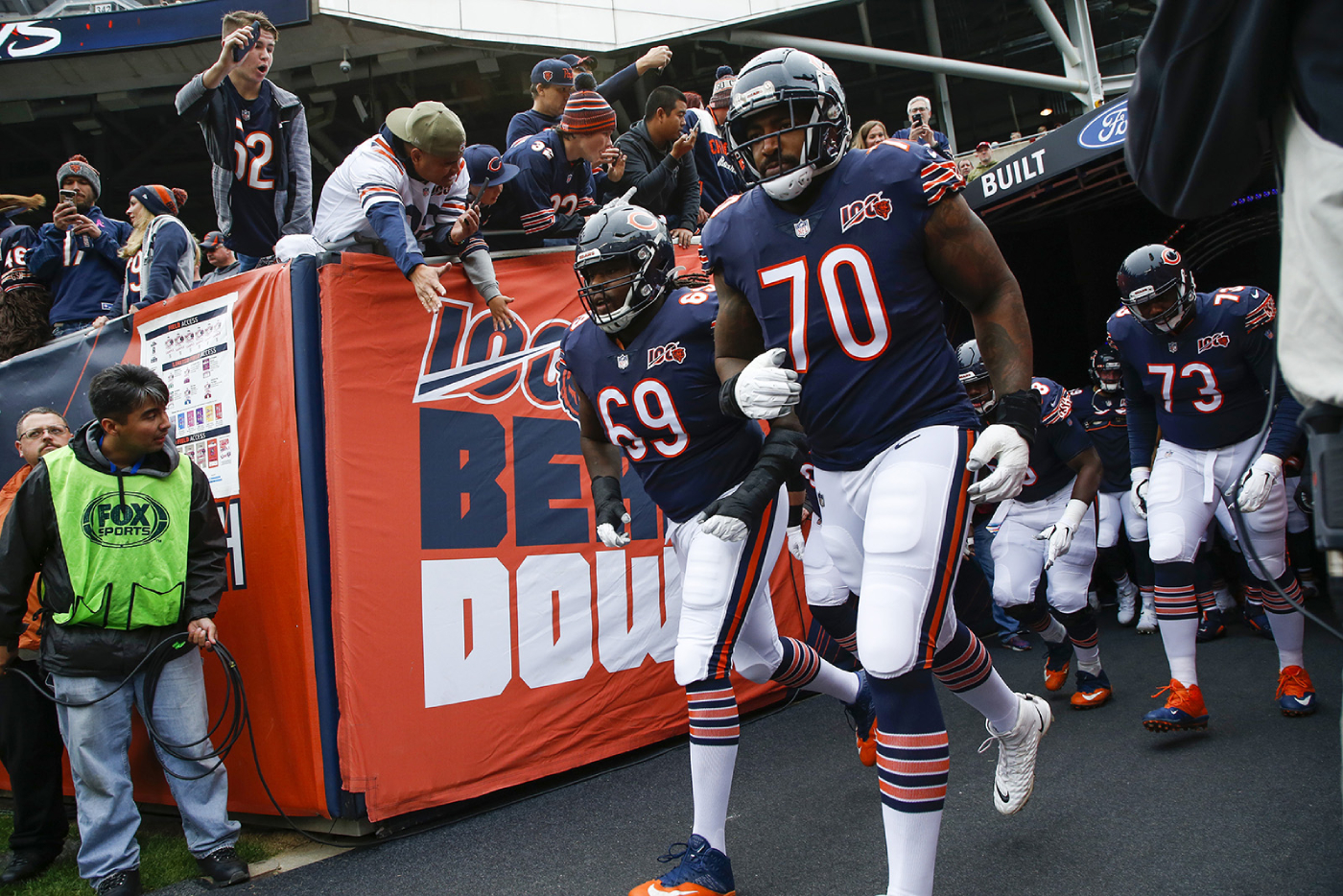 Bobby Massie has been a reliable offensive lineman in his career. After going to the Arizona Cardinals in the fourth round of the 2012 NFL draft, he started in 14 or more games for the Cardinals in three of his four seasons there. Massie then started playing for Chicago in 2016 and started in 15 or more games in each of his first three seasons with the Bears.
This led to the Bears signing Massie to a four-year extension in January 2019, worth $32 million. However, in 2019, Massie missed a game with a minor case of vertigo, according to the Chicago Tribune. He then missed the final five games of the season due to a high-ankle sprain.
Now, the Bears will most likely be without Massie for an extended period of time. Brad Biggs of the Chicago Tribune reported that Massie could be sidelined for a month after his knee buckled during the Bears' Week 8 game against the New Orleans Saints. During the play, right guard German Ifedi and some other players fell on the back of his left leg, according to the Chicago Tribune. Massie didn't play the rest of the game.
Jason Spriggs will most likely replace Massie, as he played in all but one play in Week 8 after Massie went down. Spriggs spent all of last season on IR, though, and has only played in more than 13 games in one season in his entire career. That might not be great for the Bears.
The Chicago Bears have already had their issues this year. Losing their $32 million man is now a brutal blow.
Stats courtesy of Pro Football Reference