The Cincinnati Bengals Are About to Foolishly Waste $36 Million
Fans of the Cincinnati Bengals have a lot to be excited about. Their team just drafted a franchise quarterback in Joe Burrow, who was also raised in the state of Ohio. The Bengals also drafted an excellent weapon for Burrow in wide receiver Tee Higgins. However, fans should actually be furious at their team. The …
Fans of the Cincinnati Bengals have a lot to be excited about. Their team just drafted a franchise quarterback in Joe Burrow, who was also raised in the state of Ohio. The Bengals also drafted an excellent weapon for Burrow in wide receiver Tee Higgins. However, fans should actually be furious at their team. The Bengals are about to waste a ton of money. 
The Cincinnati Bengals had a horrible offensive line in 2019
In 2019, the Cincinnati Bengals forced the two men who played quarterback for them into a lot of abuse. Andy Dalton was sacked 37 times in 13 games. Ryan Finley only played in three games, and he got sacked 11 times. No man should have to worry about being hit so much when trying to lead an offense. 
If you can't tell by those stats, the Bengals had one of the worst offensive lines in the entire NFL in 2019. Pro Football Focus (PFF) ranked each team's offensive line following the 2019 season, and the Bengals ranked at No. 30 out of 32 teams. These were the linemen who played 500 or more snaps for the Bengals in 2019, along with the overall grades PFF gave them: Trey Hopkins (62.8), Bobby Hart (57.7), John Miller (58.6), Michael Jordan (43.1), and Billy Price (41.8). None of those grades were among the top 50% at their positions, according to PFF.
The Bengals did draft Jonah Williams out of Alabama with the 11th overall pick in the 2019 NFL draft. He missed the entire season because of a shoulder injury, though, according to FOX News. However, once he does come back in 2020, he cannot play every position on the offensive line. The rest of the guys up there were not good last year. Additionally, John Miller is now on the Carolina Panthers.
Drafting Joe Burrow to be the franchise QB
Selecting former LSU quarterback Joe Burrow with the No. 1 overall pick in the 2020 NFL draft was a no-brainer for the Bengals. Burrow had arguably the best season a college quarterback has ever had in 2019. 
Leading the LSU Tigers to a national championship title, Burrow threw for 5,671 yards, 60 touchdowns, and six interceptions in 2019. This led to him winning the Heisman Trophy. 
Bringing Burrow to Ohio is bringing him back home too, as he spent three years at Ohio State before transferring to LSU. He also won Ohio Mr. Football at Athens High School in The Plains, Ohio. He is also now joining an offense with a lot of weapons. The Bengals have receivers A.J. Green, Tyler Boyd, Auden Tate, John Ross, and now Tee Higgins. They have a solid running back too in Joe Mixon.
However, who is going to protect Burrow? 
The Bengals are about to waste $36 million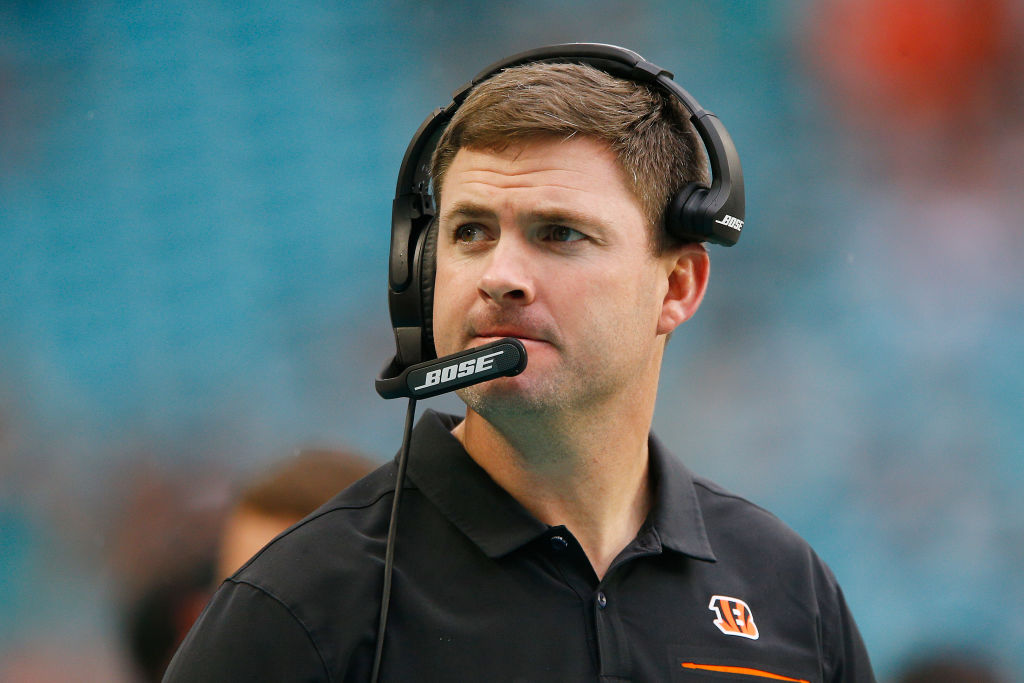 Joe Burrow's contract with the Cincinnati Bengals is projected to be worth $36 million, according to Forbes. That is about to be wasted, though, because the team has no one to protect him. 
They have not helped their offensive line issue in free agency this year. The Bengals signed guard Xavier Su'a-Filo, but his PFF grade is just 60.1. What is even worse, though, is that they did not address the issue in the draft. The only offensive lineman the Bengals took in the 2020 NFL draft was Hakeem Adeniji in the sixth round. The team passed on some solid tackles in Boise State's Ezra Cleveland, who the Vikings selected in the second round, and Houston's Josh Jones, who the Arizona Cardinals selected in the third round. Guard Robert Hunt was also available in the second round before the Dolphins selected him.
Former Indianapolis Colts quarterback Andrew Luck just shockingly retired last year because the team failed to protect him early in his career. No protection led to Luck suffering some nagging injuries that were ultimately a main reason he retired. Cam Newton also looked like a shell of himself last season because of injuries. Do the Bengals want the same thing to happen to Joe Burrow?
One would think that the Bengals would have learned from the Colts' and Carolina Panthers' mistakes. They did not, though. There is a really good chance that Joe Burrow will be on the ground a lot in 2020 and in years to come. So, he will essentially be a waste of $36 million because QBs cannot make passes from the ground. If this does, in fact, happen, the Bengals will have no one to blame but themselves. They are failing to protect their $36 million investment.