The Colts' Bizarre Decision to Hang Onto a Disgruntled RB at the Trade Deadline Looks Incredibly Foolish in Hindsight
At this year's NFL trade deadline, the Indianapolis Colts' running back room was a hot topic of discussion. Second-year RB Jonathan Taylor established himself as a feature back in the Colts' offense, and Indy handed backup Nyheim Hines a three-year extension during the offseason.
The Colts had themselves a formidable one-two punch between Taylor and Hines. Thus, making the rest of their running backs seemingly expendable on the trade market.
The Colts foolishly didn't trade Marlon Mack
Due to a lack of carries, fifth-year veteran Marlon Mack inserted himself into the trade conversation a few weeks before the deadline. He formally requested the Colts for a trade, and several teams were reportedly interested in his services.
Mack is fresh off an Achilles tear that sidelined him in 2020. However, before that, he experienced a ton of success in the Colts' offense. He ran for a career-high 1,091 yards in 2019 despite starting just 12 games. He has the track record of someone who can be a feature back in the proper context.
However, despite the Colts' possessing an excess of running back talent and Mack wanting out, Indy could not find a trade partner for the disgruntled veteran. It was a rather odd outcome considering how often Mack's name was being mentioned leading up to the deadline. You'd figure an RB-needy team like the Baltimore Ravens or Kansas City Chiefs would've happily tossed a seventh-round pick at the Colts for Mack.
Instead, Mack and the Colts lasted through the trade deadline joined at the hip. Just a few weeks later and the decision not to deal him continues to look foolish.
Mack was inactive in Week 9 and Week 10
Post-trade-deadline, and it's become increasingly clear the Colts want nothing to do with Mack moving forward. He was inactive in Week 9 and Week 10, and Colts head coach Frank Reich has said nothing to signal he's set to return to the lineup anytime soon.
"It's painful to keep him inactive. Every week that I've had to make him inactive, I don't like doing that," Reich said.
"But you've gotta do what's best for the team. You've got to give J.T. the ball, and Nyheim has his role, and that third back has to contribute in special teams, and Deon is doing that right now. I've said this, and I'm going to continue to say it: I believe in Marlon Mack. I believe he's a really good player. I believe he's going to make a splash again, somewhere, sometime."
The inclusion of the word "somewhere" is all the information one needs to assess this situation. Reich and the Colts believe Mack's future lies with a different team moving forward, making deciding not to trade him for literally anything at the deadline rather confusing. Even getting a conditional, future seventh-round pick is better than getting nothing for Mack when he leaves in free agency next year.
The Colts have a massive game ahead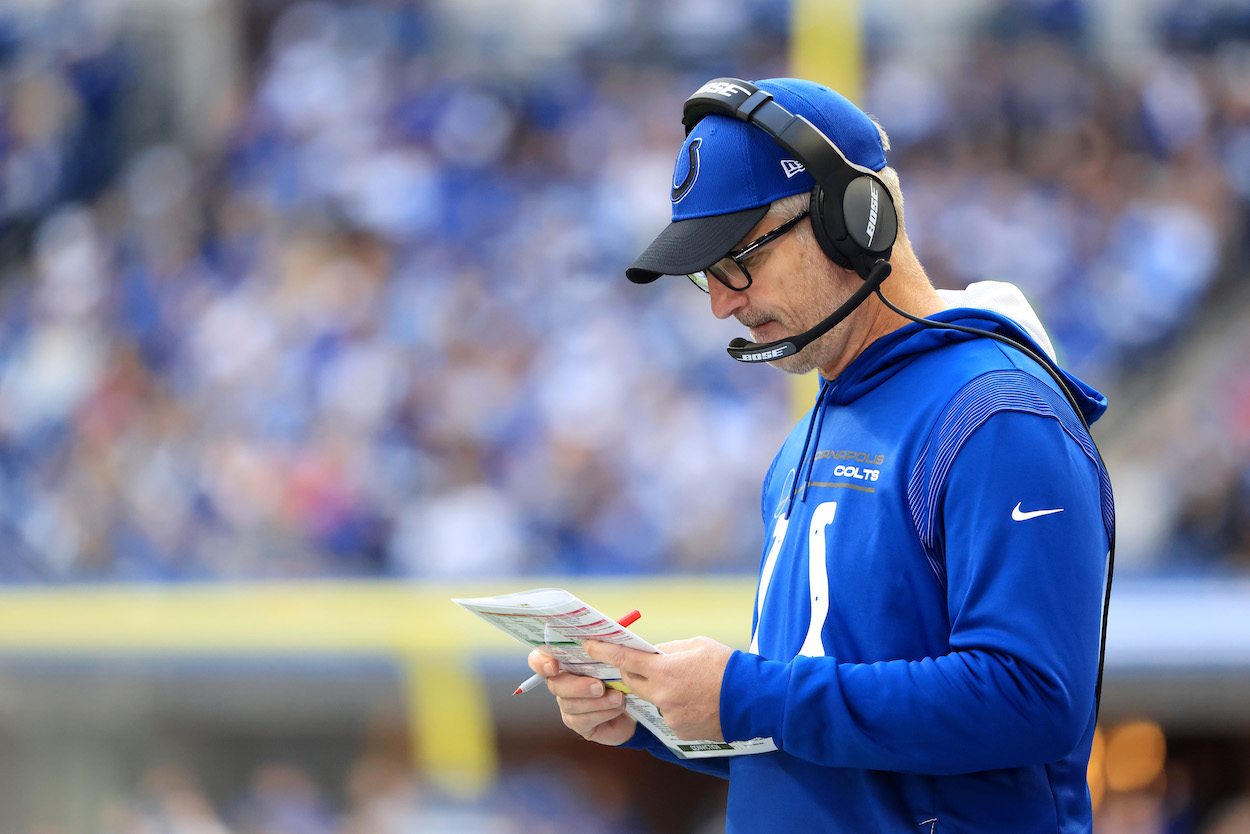 Marlon Mack aside for the moment, the Colts have slowly found their groove on the offensive side of the football — just in time for a massive Week 11 showdown against the Buffalo Bills.
The before-mentioned Jonathan Taylor is blossoming as option one in the Indy offense, making like easier for quarterback Carson Wentz. Taylor is third in the NFL in rushing attempts per game with 161 and is currently tied with an injured Derrick Henry for the league-lead in total rushing yards (937).
Hypothetically speaking, if Taylor and/or Hines were to go down with an injury, the Colts have a healthy Mack to turn to. However, common sense suggests they should've traded him at the deadline when they had the chance.
Oh well, even the brightest NFL teams make blunders.
All stats courtesy of Pro Football Reference.