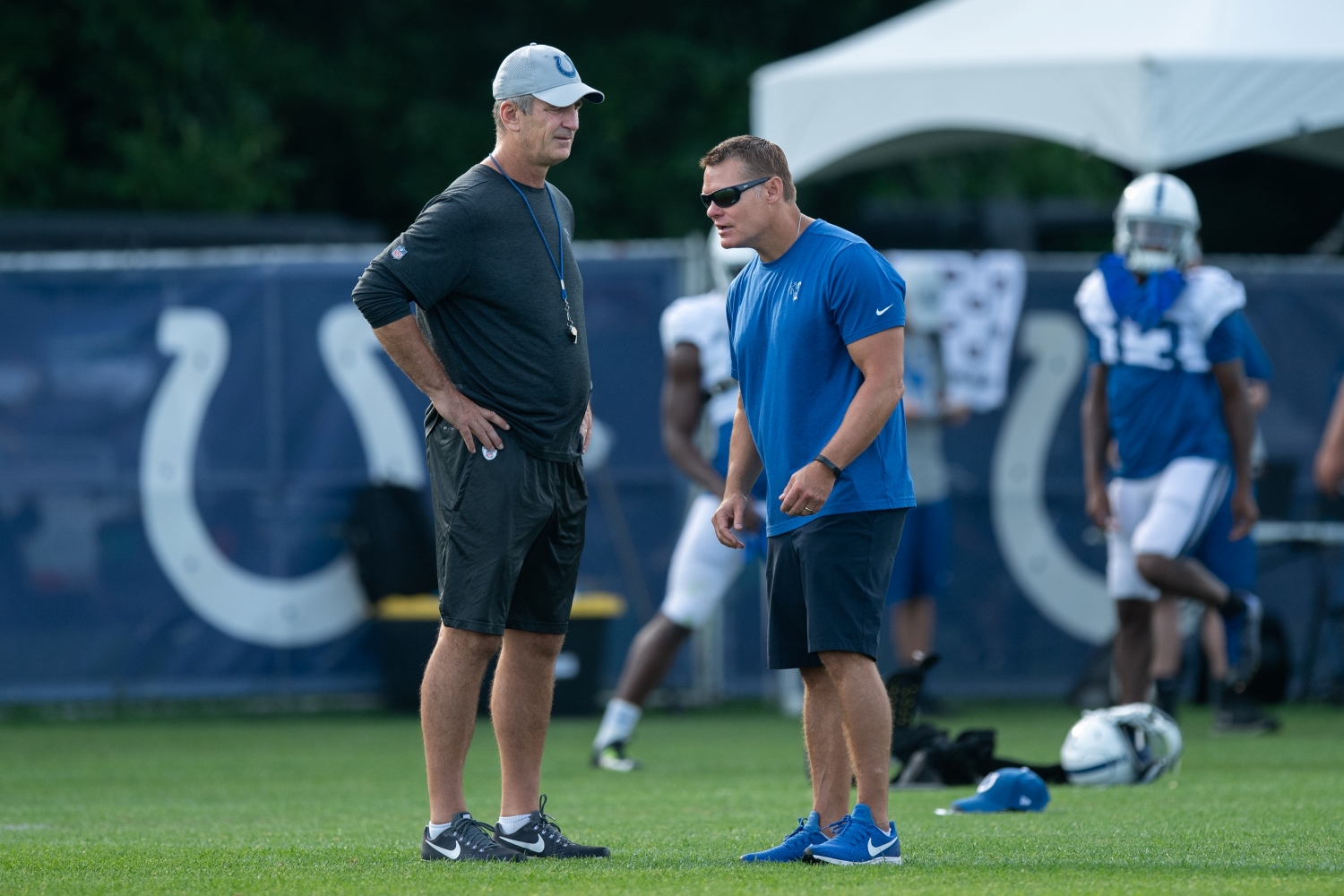 The Colts Have a Ridiculous Trade Offer on the Table to Bail the Eagles Out of Their $128 Million Nightmare
The Indianapolis Colts have made a ridiculous offer to the Philadelphia Eagles to take disappointing QB Carson Wentz off their hands.
Once Andrew Luck abruptly retired before the 2019 season, it put the Indianapolis Colts in the precarious position of having to find a new starting quarterback.
But with Philip Rivers retiring after just one year with the team, general manager Chris Ballard once again has to spend an offseason searching for someone who can play the most important position in sports at an above-average level.
Apparently, the Colts already have targeted one quarterback who they believe can fill that role.
And based on a report from Philadelphia Eagles legend Ron Jaworski, the Colts have an offer on the table to bail his old team out of its $128 million nightmare that seems thoroughly ridiculous.
The Colts desperately need a new starting quarterback
The Colts seemingly struck gold by transitioning from Peyton Manning to Andrew Luck. After all, going from one former No. 1 pick to another should have given the AFC South franchise stability at the quarterback spot for at least another decade.
Unfortunately for Jim Irsay and the Colts, that plan didn't work out as expected.
After suffering several major injuries, Luck surprisingly called it quits shortly before the 2019 season began. That forced Jacoby Brissett into the starting lineup. He completed 60.9% of his passes for 2,942 yards, 18 touchdowns, and just six interceptions.
However, the Colts only went 7-9 and missed the playoffs.
With a roster teeming with talent on all levels, Indianapolis went all-in last season by signing Philip Rivers to help put the team over the top. Although he surpassed 4,000 passing yards for the eighth-straight season, the longtime Chargers quarterback couldn't turn the Colts into Super Bowl champions.
Ultimately, the Rivers experiment lasted only one season. In late January, the future Pro Football Hall of Fame candidate announced his retirement.
Once again, the Colts face a major challenge to find a competent starting quarterback capable of leading the franchise to its first championship since 2006.
Indianapolis has made a ridiculous offer to bail the Eagles out of their $128 million nightmare
As Russell Wilson and Deshaun Watson continue to get connected to trade rumors, a quarterback with far less skill and proven production still remains on the trading block: Carson Wentz.
"Obviously, the Eagles and Howie Roseman are trying to prop Carson Wentz up to create the best value in him," former Philadelphia QB Ron Jaworski recently told Jeff Skversky of 6 ABC. "The talk is of a number one [draft pick], almost similar to what Detroit got for the Jared Goff situation—two number ones and Jared Goff. That won't happen here."
Wentz signed a $128 million contract extension back in June 2019. However, injuries, poor play, and the presence of promising 2020 second-round pick Jalen Hurts has made the former No. 2 pick expendable.
Although the Eagles reportedly want a first-round pick for the 28-year-old QB, they have yet to find a team willing to part with a top-32 selection.
However, according to Jaworski, the Colts have an offer on the table to bail his old team out of its $128 million nightmare. And considering how far his stock has fallen in recent years, along with concerns about his mental makeup and leadership, it seems downright ridiculous that Chris Ballard is willing to give away so much draft capital for Wentz.
"My understanding is that the Colts have offered two second-round draft choices, maybe a third or fourth somewhere down the road," Jaworski reported. "That appears to be the best offer I have heard from all the sources I have around the league. That's the best actual offer that has been made."
Is Carson Wentz destined to reunite with Frank Reich?
If Jaworski's report is accurate, the Colts currently have the best offer on the table to take Carson Wentz off the Eagles' hands.
But trading multiple second-round picks for a quarterback who just led the NFL in interceptions seems ludicrous. Plus, you can't ignore the former North Dakota State star's injury history, which includes a torn ACL, fractured vertebra in his back, and a concussion.
For a team that seems to be a quarterback away from contending for a Super Bowl title, trading for Wentz doesn't seem like the best use of resources. Even swapping a pair of second-rounders for Derek Carr would make more sense based on his solid level of production in Las Vegas.
Perhaps the Colts believe strongly enough in the relationship between Wentz and Frank Reich that they think the ex-Eagles offensive coordinator can salvage his former quarterback's once-promising career.
Then again, that's a big gamble to take.
Because if Indianapolis acquires Wentz and he continues to fail to live up to expectations, Chris Ballard will have wasted valuable draft capital on a player who simply doesn't warrant such a high asking price.
And once again, the Colts will have to go back to the drawing board to find a long-term answer at the most important position in sports…without a Super Bowl title, of course.
All statistics courtesy of Pro Football Reference.