The Colts Stadium Surprisingly Almost Killed a Woman in the Crowd
Unlike baseball, every football stadium contains a field with the exact same dimensions. That uniformity is built right into the strategic fabric of the game. Of course, just because all football fields conform to a standard size, that doesn't mean the stadiums that contain them are all equal.
Stadiums vary in everything from capacity, to layout, to angles of view, making certain stadiums more fan-friendly than others. In rare cases, some stadiums may even present life-threatening hazards. Sports talk show host Pat McAfee recently told just such a story about the Indianapolis Colts stadium.
Lucas Oil Stadium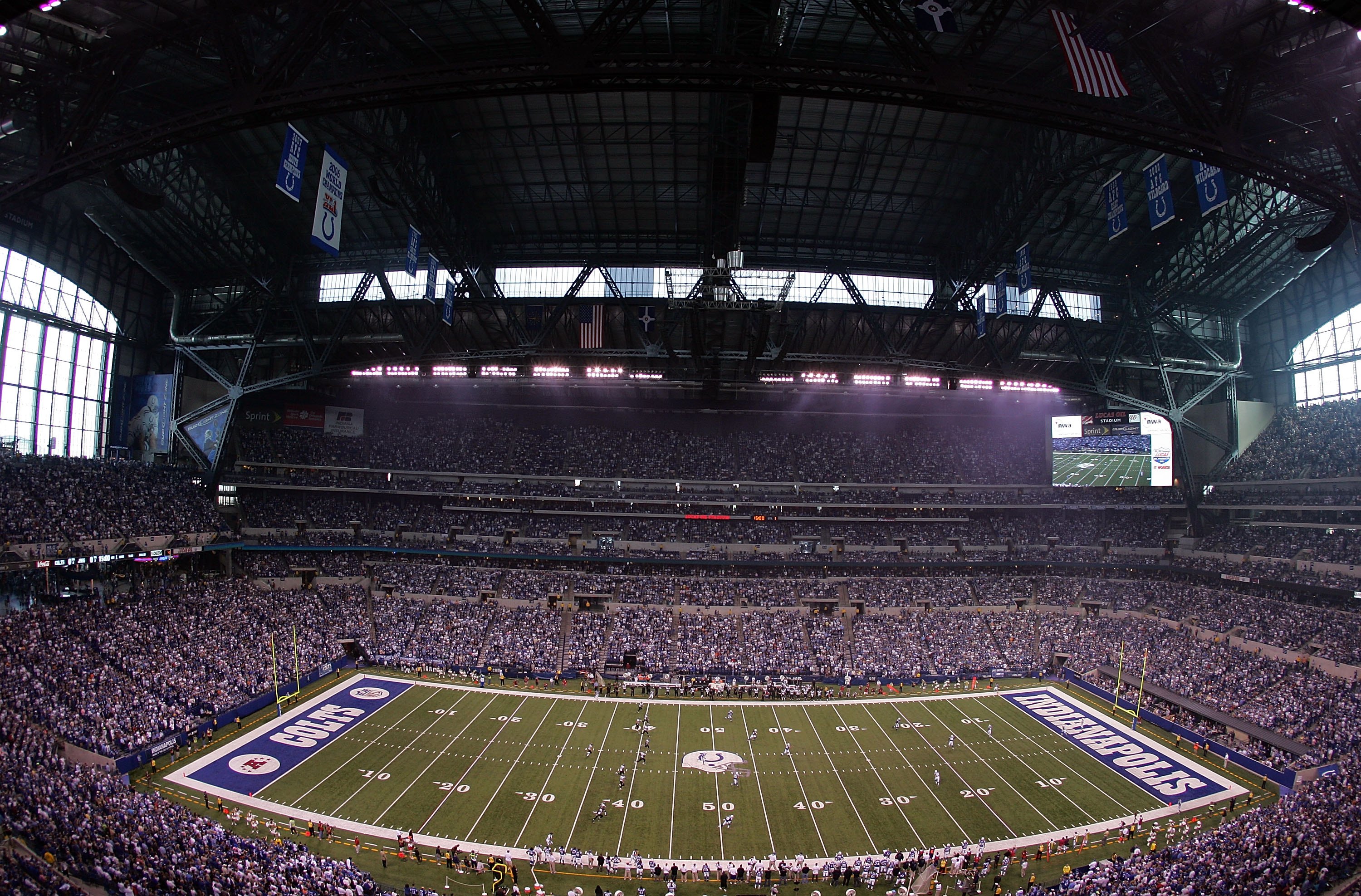 The Colts stadium, located in downtown Indianapolis, Indiana, goes by the name of Lucas Oil Stadium. It was completed in 2008, replacing the RCA Dome that had served as the Colts' home for the previous 24 seasons.
Lucas Oil Stadium has always had a checkered history. Even before it was completed, its daily operating expenses were determined to be far more than those of the RCA Dome.
As a result, Lucas Oil Stadium has continued to cost Indiana taxpayers a lot of money. As recently as 2015, the state had to pay $71 million dollars to refinance some of the risky debt still associated with the stadium according to Indy Star. Of course, from a fan's standpoint, the stadium had lots of desirable amenities.
Its seating capacity of 70,000 was a huge upgrade over RCA Dome, which had the smallest capacity in the NFL. Lucas Oil Stadium also offers a plethora of suites and meeting rooms, enormous HD video boards, and enough elevators and escalators to ensure ease of movement before and after games. Best of all, the stadium boasts a retractable roof.
Retractable roof controversy at a Colts game
RELATED: Pat McAfee Won $1,400 in an Underground Poker Game and Used It to Make His NFL Dream Come True
As McAfee explained on his radio show, retractable roofs are a huge boon for stadiums located in regions with fickle weather. During periods of stormy weather, games can proceed without interruption. Meanwhile, during stretches of mild, pleasant weather, the roof can be opened up so that fans can enjoy the pleasure of an open-air football game.
The retractable roof at Lucas Oil Stadium is capable of going from closed to fully open in as little as 11 minutes. For the most part, stadium officials determine whether the roof will be open or closed long before a game actually begins. But the Colts also wanted the option to open the roof during halftime if the weather outlook had improved significantly.
According to McAfee, things went wrong the very first time the Colts tried to open the roof mid-game. This happened in September 2015, during a preseason game the Colts were playing against the Cincinnati Bengals.
As the roof was opening, a bolt worked loose and fell from above, striking and injuring three fans. As a result, the NFL officially prohibited teams from opening their stadium roof during games.
Not the first problem at Lucas Oil Stadium
RELATED: Indianapolis Colts' New Logo: Coincidence or Stolen?
The falling bolt wasn't the first time that disaster struck at Lucas Oil Stadium. Two years earlier, in September 2013, a pair of men were injured after a rail collapsed following a game against the Oakland Raiders. The rail in question was located just above the northwest field tunnel. When it collapsed, both men fell down and slammed against the pavement below.
Fortunately, both of them survived with only relatively minor injuries. However, the incident raised serious questions about the safety of the stadium. As a result, the venue's officials had no choice but to perform a detailed inspection of each railing in the stadium, to make sure that no other faulty sections existed. Unfortunately, they apparently didn't perform as extensive an inspection of the roof.