The Cowboys Just Made a Move To Help Dak Prescott Continue His Success in Dallas
Dak Prescott's future with the Dallas Cowboys is pretty unclear. He signed a franchise tag with the organization last offseason, but he most likely wants to secure a long-term deal with the team this upcoming offseason. Well, if he does, in fact, stay with Dallas long-term, the Cowboys just potentially set him up to have success for years to come. They did so by signing offensive coordinator Kellen Moore to a multi-year extension.
Dak Prescott has had success with Kellen Moore as his offensive coordinator
RELATED: Troy Aikman Recently Made Some Head-Scratching Comments About the 2020 Dallas Cowboys
Kellen Moore became the Dallas Cowboys' offensive coordinator in 2019, and Dak Prescott has ultimately become an elite quarterback with Moore calling the shots.
Prescott threw for less than 4,000 yards and fewer than 24 touchdowns in each of his first three seasons in the NFL. In 2019 with Moore as his offensive coordinator, though, he became one of the league's hottest quarterbacks. Prescott ultimately threw for 4,902 yards, 30 touchdowns, and only 11 interceptions that year. His yards and TD numbers were, obviously, career-highs, too.
Then, in 2020, Prescott got off to a scorching-hot start. Through four games and in part of another, Prescott was leading the NFL in passing yards with 1,856 to go with nine touchdowns and four interceptions. He threw for a career-high 371.2 yards per game in those outings and was on pace to throw for about 6,000 yards. However, he then, sadly suffered a season-ending injury in Week 5.
Prescott has easily become one of the best quarterbacks in the league the past couple of seasons, and, no, Moore doesn't deserve all the credit, but he does deserve some of it.
The Dallas Cowboys signed Kellen Moore to an extension
RELATED: Are Cowboys Stars Ezekiel Elliott and Dak Prescott Friends off the Field?
Kellen Moore was a legend in college at Boise State. So, naturally, with Boise State's head-coaching job recently opening up, many wondered if he would take it.
However, the Cowboys recently agreed to a multi-year contract extension with Moore, according to ESPN. The Cowboys didn't announce how long the contract is for, but Todd Archer of ESPN reports that a source said it is for three years.
"I love Boise State. I will always root for them, and I hope one day to be a part of the program again," Moore said, according to ESPN. "We are building something special here in Dallas. I am thankful to the Jones family and [head coach] Mike McCarthy for providing me with the opportunity to coach these special players. I am excited for us to put it all together and finish the job."
Moore's contract would have also expired after this season had he not agreed to the extension.
Securing Moore for the next few years doesn't just help the Cowboys as a team, but it can also secure future success for Dak Prescott.
Dak Prescott can continue his success with the Cowboys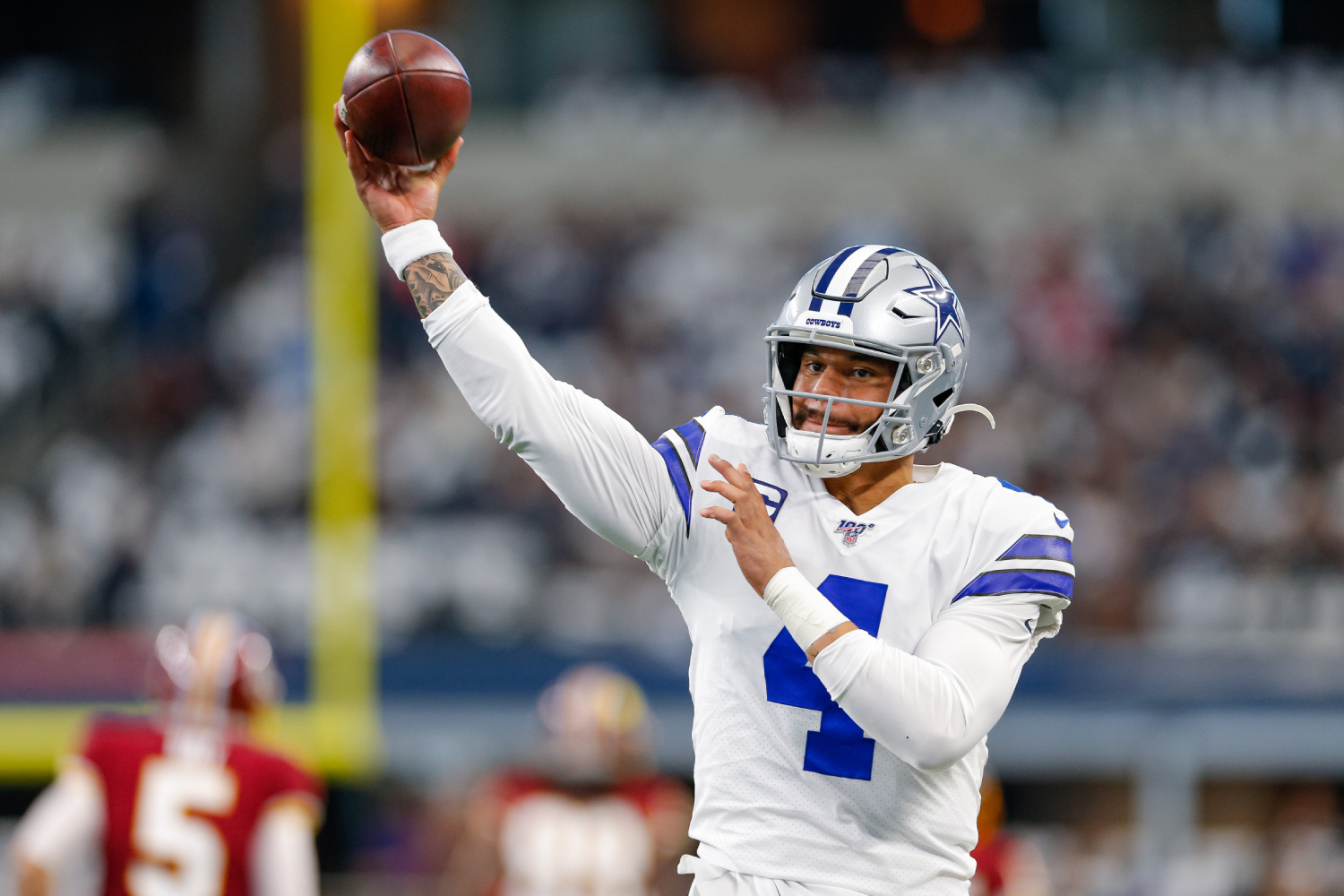 RELATED: Dak Prescott Once Crushed the Hopes of Jerry Jones' Former Team
It's pretty clear that Prescott and Moore make a good match. Prescott had not yet become the elite QB he is today until Moore became his offensive coordinator. Now, with Moore sticking around, Prescott should be able to continue to have success in future seasons with the Cowboys.
However, his future with the team is still unclear. Prescott signed a franchise tag with the Cowboys last offseason. That means he is a free agent this upcoming offseason. CBS Sports, though, ranks Prescott as one of the top 12 franchise tag candidates for 2021. According to CBS, Prescott would make $37.69 million on the franchise tag in 2021. The Cowboys, however, would most likely have to pay him more than $39 million a year if they sign him to a long-term deal, but if he plays on the tag in 2021, the tag would cost the Cowboys $54.27 million in 2022. That's a lot of money.
Dak Prescott's future with the Cowboys is unclear. If he stays in Dallas, though, he is set up to continue the success he has already had now that Kellen Moore could be there for the next few years.
Stats courtesy of Pro Football Reference