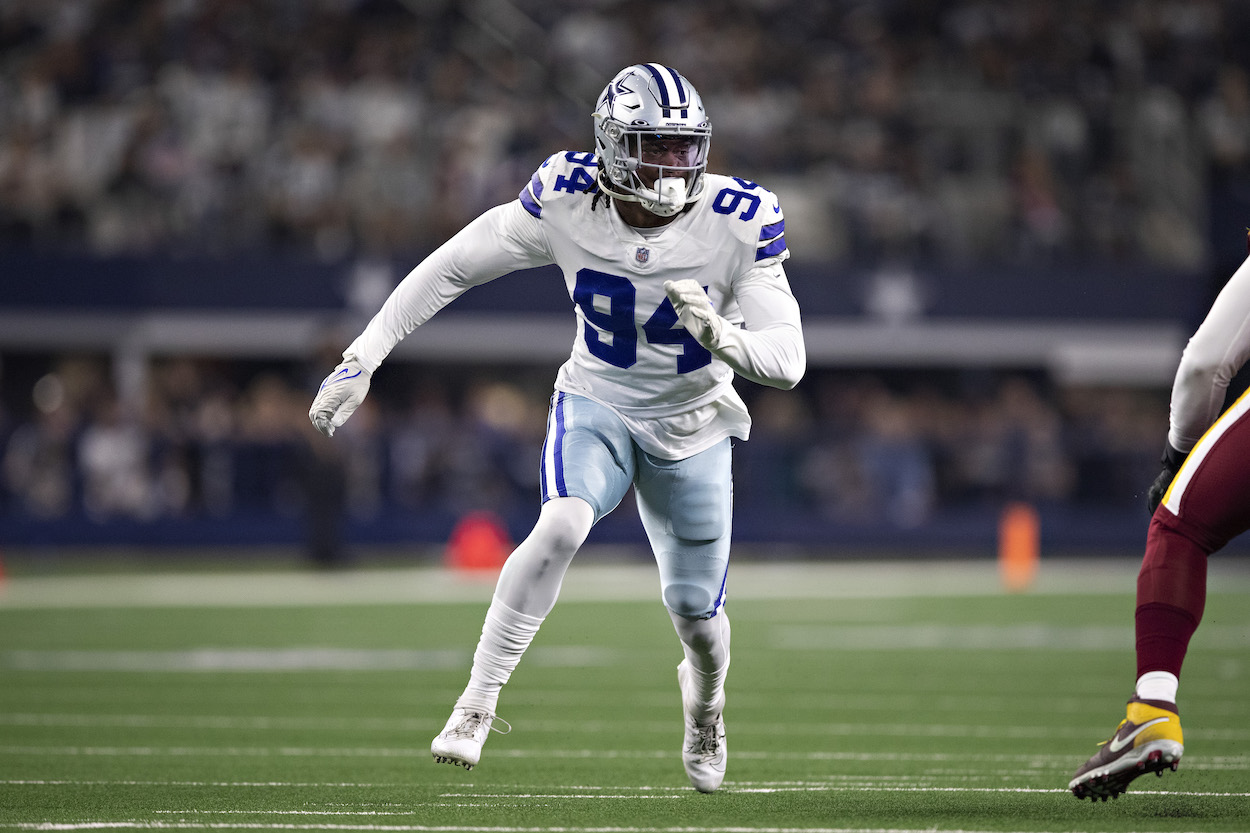 The Cowboys Reportedly Want Randy Gregory to Take a 'Hometown Discount'
The Dallas Cowboys are reportedly hoping defensive end Randy Gregory takes a hometown discount this offseason.
The Dallas Cowboys are entering a pivotal offseason. Disappointment and frustration are at an all-time high following the team's embarrassing home playoff loss to the San Francisco 49ers, and pressure from the fan base to win is only growing more intense.
With Jerry Jones at the helm, the expectation in Dallas is that the Cowboys should always be a contender. To reach that status in 2022, considerable change needs to occur this offseason.
The tricky part for the Cowboys is that their cap space isn't in a good spot. They're $20-plus million over the cap and are already planning on cutting Pro Bowl wide receiver Amari Cooper. Further cost-cutting moves will need to occur.
The Cowboys won't be big players in free agency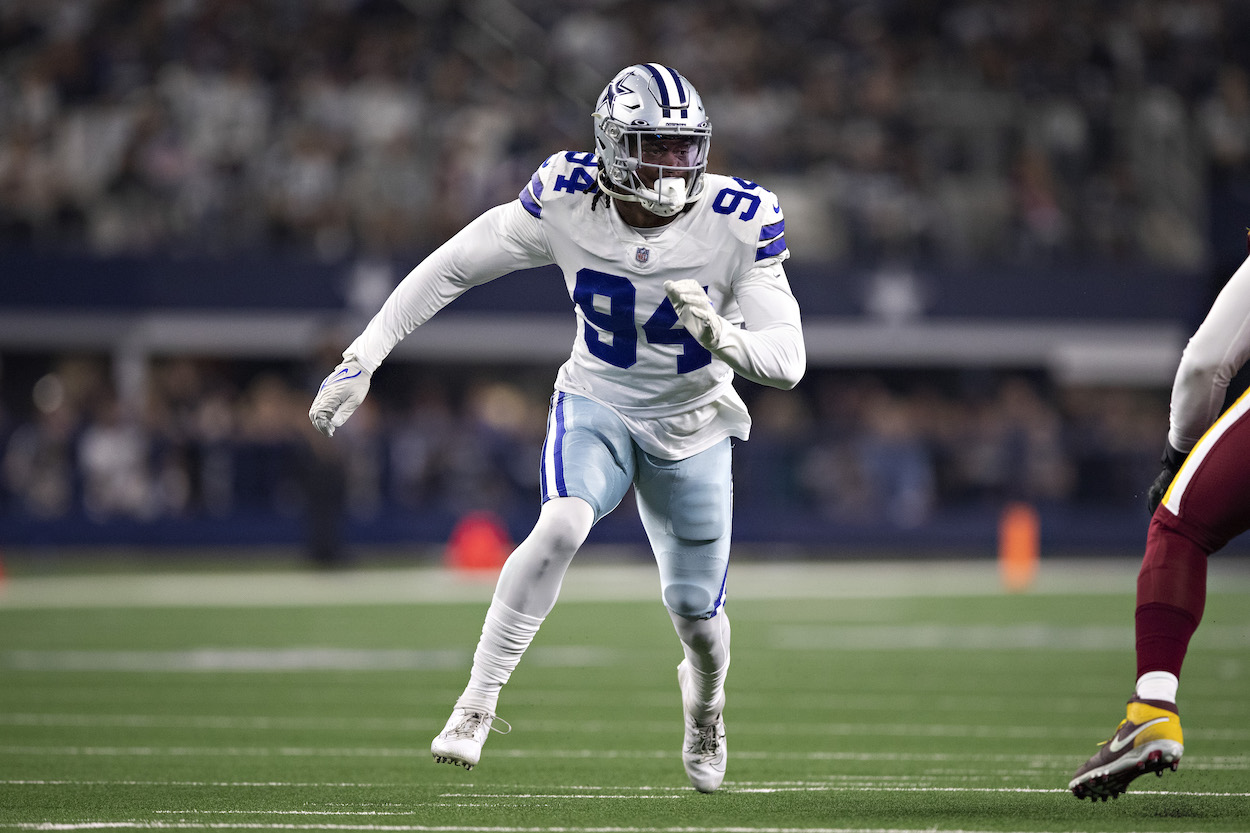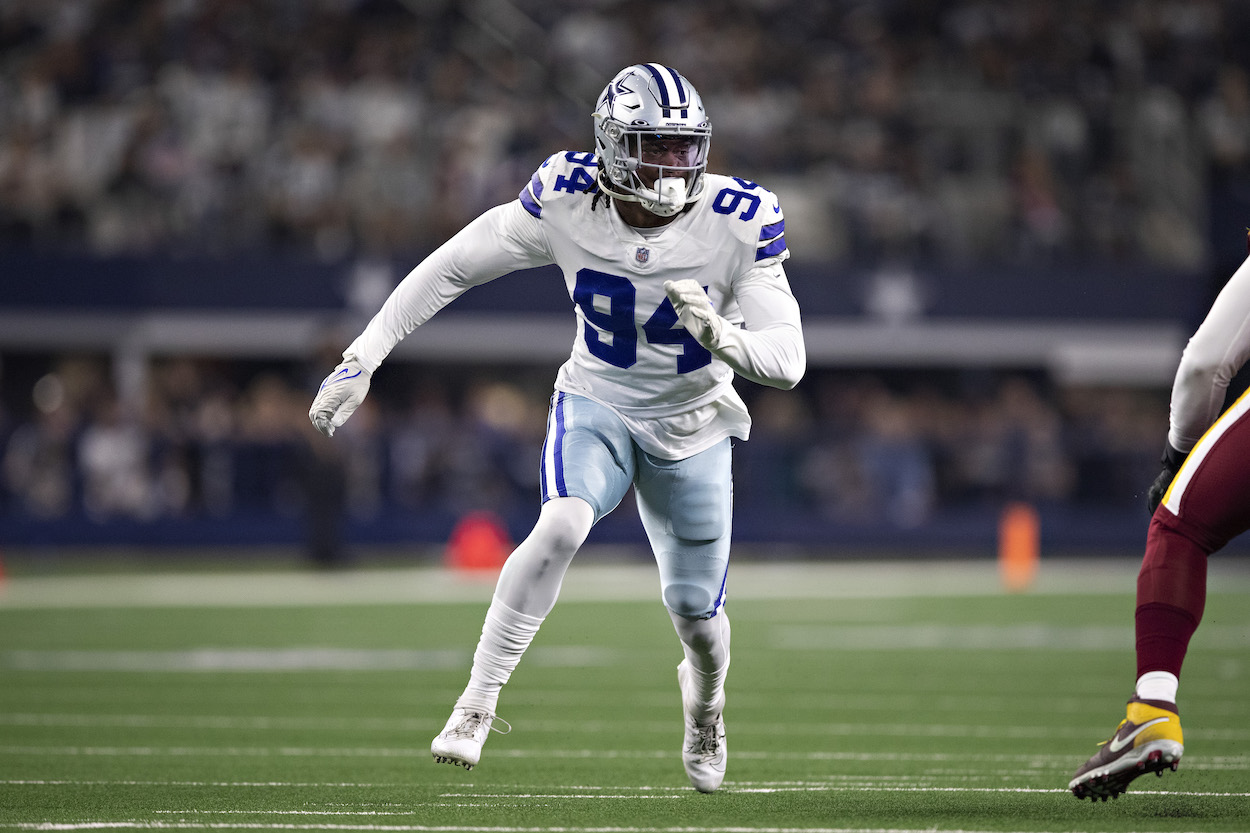 Before diving into the latest report on defensive end Randy Gregory, it's crucial to point out that Dallas isn't expected to be a major player in free agency this spring. It doesn't have the cap space to land significant free agents (as previously stated), and it has several in-house players in need of extensions.
WR Michael Gallup, for example, is in the process of negotiating a new contract with the Cowboys to remain in Dallas.
However, the Cowboys not splurging in free agency doesn't mean all their money woes are figured out. Simply extending their own players is going to be a challenge. Jerry Jones will likely be asking several people to take pay cuts this offseason to make sure his team fields a competitive roster in 2022.
The Cowboys want DE Randy Gregory to take a 'hometown discount'
Alongside Gallup, tight end Dalton Schultz, and offensive guard Connor Williams, defensive end Randy Gregory is the other big impending free agent Dallas fans would like to see remain in silver and blue.
Gregory is coming off a 6.0-sack season. He proved extremely valuable as a rotational pass rusher and starting pass rusher.
However, according to a recent report from Sports Illustrated's Mike Fisher, the Cowboys feel Gregory would have to take a pay cut to remain with the team.
The Dallas Cowboys are prepared to use the franchise tag on Tuesday as a tool that allows the team to keep contractual control of free agent Randy Gregory.

But the Cowboys believe they have another tool that can result in a deal with the pass-rusher: Relationships.

One source tells CowboysSI.com that owner Jerry Jones is hopeful of a "hometown discount" from Gregory once the two sides get serious about a long-term contract. There has been some discussion of all of this among the parties while the NFL is in Indianapolis for the scouting combine. And maybe the talks won't intensity between now and Tuesday's tag-decision deadline.

Mike Fisher, Sports Illustrated
Dallas could be losing two key pass rushers this offseason
Dallas using the franchise tag on Gregory feels highly likely for what it's worth. Committing $20 million to a 6.0-sack player is not wise. Using the tag defeats the whole purpose of asking Gregory to take a pay cut in the first place.
With that in mind, Gregory returning to the Cowboys seemingly hinges on his desire to give Dallas a "hometown discount" or not.
Veteran DE Demarcus Lawrence is another Cowboy frequently mentioned as a possible cap casualty. That's two key pass rushers who could be leaving Dallas this offseason due to financial reasons.
It appears Jerry Jones' free-spending over the past few years is finally catching up to him. It's never a good spot to be in when you're reliant on players taking less money to play for your team.
All stats courtesy of Pro Football Reference.