The Crazy Connection Between Ezekiel Elliott and NFL Quarterback Gus Frerotte
Over the course of 15 seasons in the league, Gus Frerotte put together a solid NFL career. The journeyman quarterback passed for a grand total of 21,291 yards, with a 54% completion rate, while suiting up for seven different teams. Frerotte earned one Pro Bowl selection as a member of the Washington Redskins in 1996, when he threw for a total of 3,453 yards.
Since retiring after the 2008 season, Frerotte has remained busy in the world of football. While coaching at John Burroughs School in St. Louis, Missouri, Frerotte developed a relationship with current Dallas Cowboys running back Ezekiel Elliott. Here we take a look at Frerotte's post-playing career, his years coaching Elliott, and what he's been up to since.
Gus Frerotte's transition from playing to coaching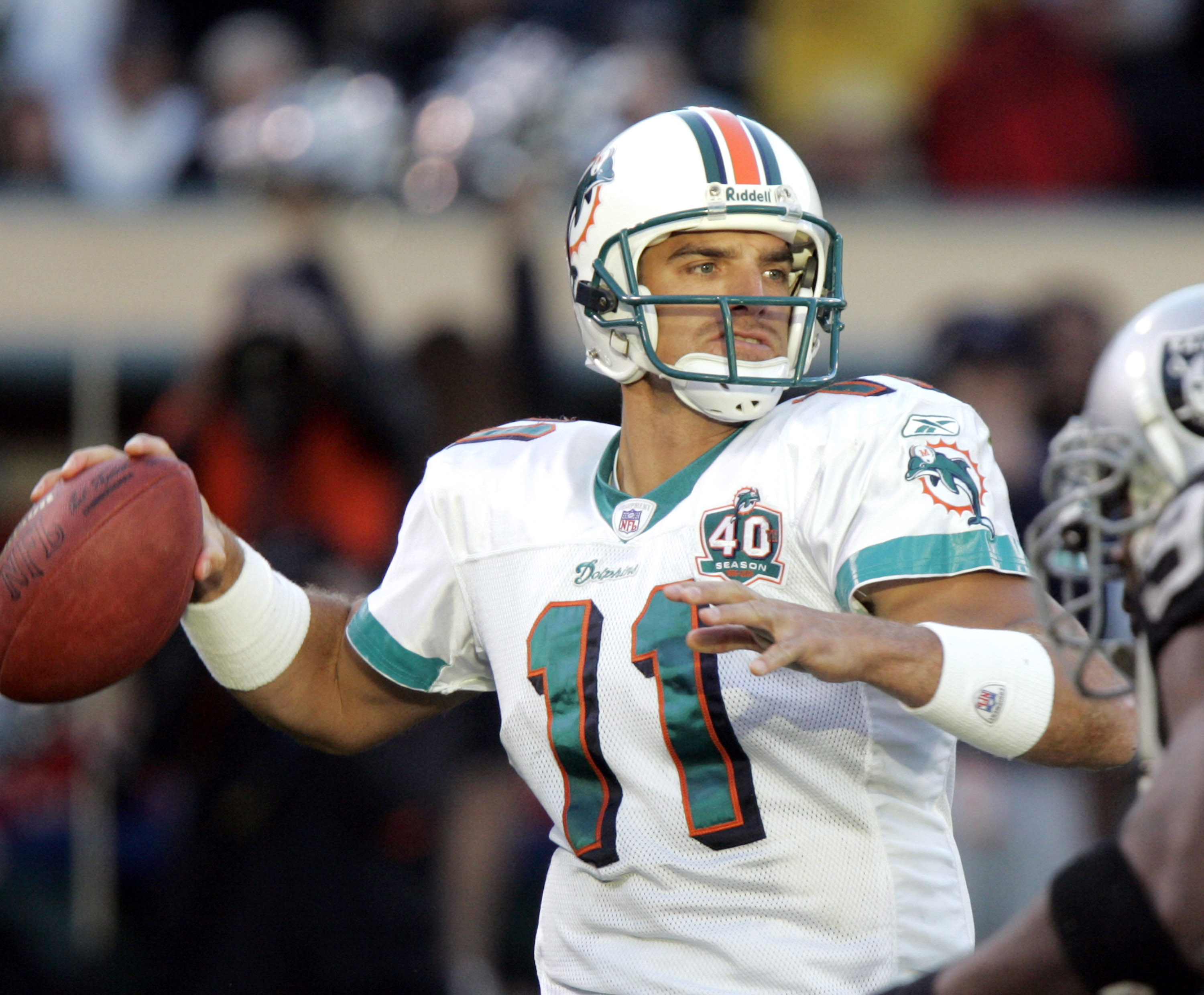 Most analysts would agree that Frerotte never managed to establish himself as a star quarterback. Nonetheless, his 15 seasons in the NFL prove how reliable he was. In fact, during his final season in the league, while playing with the Minnesota Vikings, Frerotte tied the NFL record by throwing a 99-yard touchdown pass.
Frerotte was optimistic that the Vikings would use him as their starting QB the following year, but was ultimately let go after the team signed Sage Rosenfels.
That was the end of Frerotte's playing career. He briefly took a consulting position. Meanwhile, he also held an assistant coaching position at John Burroughs School, a 7-12 prep school in St. Louis.
Coaching Ezekiel Elliott at John Burroughs School
Frerotte's coaching career overlapped precisely with Elliott's high school career. Even at that early stage in his football career, Elliott was clearly destined for great things. In 2011, as a junior, he racked up 1,800 rushing yards and 34 rushing touchdowns. In his senior year, those numbers increased to 2,155 yards and 40 touchdowns, according to 247Sports.
During that senior year campaign, Elliott had another 383 yards and four touchdowns as the result of caught passes, while also adding 523 yards and six touchdowns via punt and kick returns. Elliott's performance lead the Bombers to a 13-1 record that year, while also getting them into their third-straight Class 3 title game.
Frerotte took over as head coach prior to the 2011 season, forming a strong bond with his star back, according to the St. Louis Times. Unfortunately, neither Frerotte nor Elliott were enough to deliver the Bombers a title game win.
Instead, they lost all three of their opportunities, in 2010, 2011, and 2012 respectively. Those losses were especially crushing for Elliott, who at the time told the St. Louis Post-Dispatch:
"You put in so many hours with your boys, your brothers, all season for the past four years, and you aren't able to accomplish what you wanted to. So it hurts a lot. But you have to be strong. I have to be strong for my boys back in the locker room. I can't be moping around. I have to show them that it's not over, it's not over. I believe in them. I believe they can come back next year. They are going to win a state championship."
The end of Frerotte's coaching career — for now, anyway
Like Ezekiel Elliott, Frerotte also took the Bomber's title game losses to heart. In fact, despite leading the team to a 26-3 record during his two years as head coach, the 2012 season was Frerotte's last at John Burroughs School. As he explained it, however, the decision was more of a personal one and not a reflection on his performance as a coach.
Frerotte ultimately decided to take his family back to his home state of Pennsylvania. At the time, he expressed his desire to continue coaching at either the college or NFL level. However, it doesn't appear that he has done either one. Since 2017, he has held a position as Vice President of Brain Health Initiatives at a startup company known as Coraopolis.
All stats courtesy of Pro Football Reference