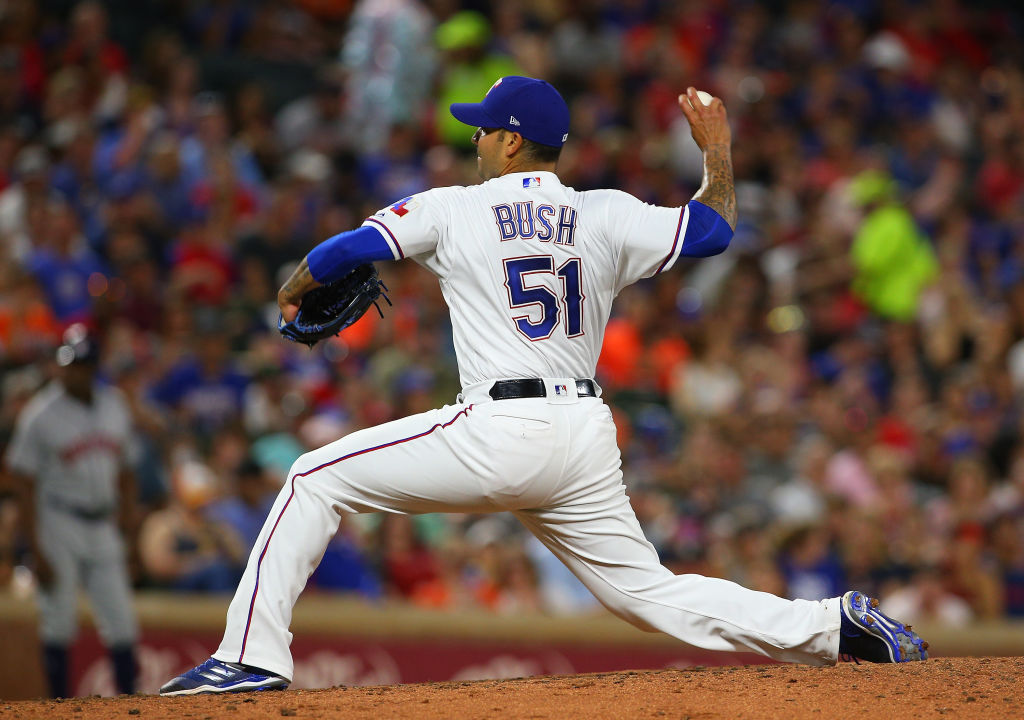 The Crazy Journey of 2004 MLB No. 1 Draft Pick Matt Bush Included Years in Prison
Matt Bush was the No. 1 pick in the 2004 MLB Draft. Ten years later he sat in prison hoping for another chance. He got it in 2015.
Today many top-level amateur baseball players will learn in the MLB Draft where they will be playing the next few seasons with the hopes of one day making it to the big leagues. Back in 2004, Matt Bush was the No. 1 overall draft pick of the San Diego Padres as a high school power-hitting shortstop. Since that day, Bush, who is currently a member of the Texas Rangers organization, has been on an unbelievable odyssey that included several years in prison.
Matt Bush selected as No. 1 pick in MLB Draft
Coming out of high school many baseball experts considered Matt Bush one of the best five-tool prospects ever. He had it all. As a shortstop, he had a cannon for an arm and was deft with the glove.
Offensively, he was stellar as well. His senior season at Mission Bay High School in San Diego Bush hit for a .450 batting average that included 11 home runs and 35 RBIs. When not playing shortstop, Bush pitched.
That powerful arm translated to a 94 mph fastball that was accompanied by a solid curveball. Bush finished his senior year with a 5–1 record that included two saves and a microscopic 0.73 ERA. 
With so much upside, the Padres, like many other teams, figured Bush was a "can't-miss" prospect, and selected him with the No. 1 overall pick. Bush became the first high school shortstop drafted first overall since the Seattle Mariners selected Alex Rodriguez in 1993.
Matt Bush encounters troubles on and off field
After receiving his $3.15 million signing bonus, Matt Bush headed off to the minor leagues. Unfortunately, Bush ran into trouble before he ever took the field and was suspended for his involvement in a fight outside an Arizona bar. In the incident, he was arrested on suspicion of felony assault, misdemeanor trespass, disorderly conduct, and underage drinking. It was a bad sign of things to come.
When he did take the field as a shortstop, he hit a woeful .192 in 99 at-bats between the Rookie League in Arizona and short-season Northwest League. Bush struggled at the plate for those first few seasons, and in 2007 the Padres decided to convert him to a pitcher. Not long after the switch and start of the season, Bush tore a ligament in his arm requiring Tommy John surgery. He would miss the next two seasons.
In February 2009, the Padres designated Bush for assignment. Soon after his designation, Padres officials learned he was allegedly involved in a drunken assault of a high school lacrosse player with a golf club. The Padres traded him to the Toronto Blue Jays. The Blue Jays understood Bush's previous misconduct issues and placed him on a zero-tolerance policy.
Prison is a long way from the MLB draft
A month after his trade to the Blue Jays, Bush got into an altercation with a woman at a party and reportedly threw a baseball at the woman's head. Toronto released him the next day. 
Tampa Bay then decided to give Bush a shot and signed him to a minor league deal in 2010. He showed flashes of his pitching skills at times during his almost two seasons in the Rays organization, but it all came to a screeching halt on March 22, 2012. 
That's when Bush was arrested and charged with two counts of DUI with property damage, one count of DUI with serious bodily injury, one count of leaving the scene of an accident with an injury, one count of driving with a suspended license, and two counts of leaving the scene of an accident with damage to property. 
Bush hit a 72-year-old motorcyclist and then ran over the victim's head as he fled the scene. The man was wearing a helmet and survived. Bush accepted a plea bargain and pleaded no contest to one count of DUI with great bodily injury. He was sentenced to 51 months in prison. 
Matt Bush makes a comeback
Matt Bush was released from prison October 2015 after serving 39 months. In December, the Texas Rangers offered him a tryout—in a Golden Corral parking lot. As part of his post-release restrictions, Bush could only travel to and from his job at Golden Corral.
He tried out, and the Rangers signed him to a deal. Three months later, Bush was in the Major Leagues. That 2016 season, Bush made 58 appearances out of the bullpen, finishing with a 7-2 record, and a solid 2.48 ERA. 
Bush followed up in 2017 with 57 relief appearances, where he posted a 3-4 record with a 3.78 ERA and 58 strikeouts in 52.1 innings pitched.
Injuries have dogged him the last few seasons, including 2019, when he underwent a second Tommy John surgery. He re-signed with Texas on a two-year minor league contract in December.