The Dallas Cowboys Could Be Without a Star Player at Training Camp for the Second Consecutive Season
Last season, the Dallas Cowboys did not have star running back Ezekiel Elliott in training camp. He ultimately held out so that he could get a new contract. Elliott still ended up having a good season, though, and just had a minor drop-off production-wise. However, for the second season in a row, the Cowboys could be without one of their star players at training camp. This year, defensive end DeMarcus Lawrence could be the one missing. 
Ezekiel Elliott missed Dallas Cowboys training camp in 2019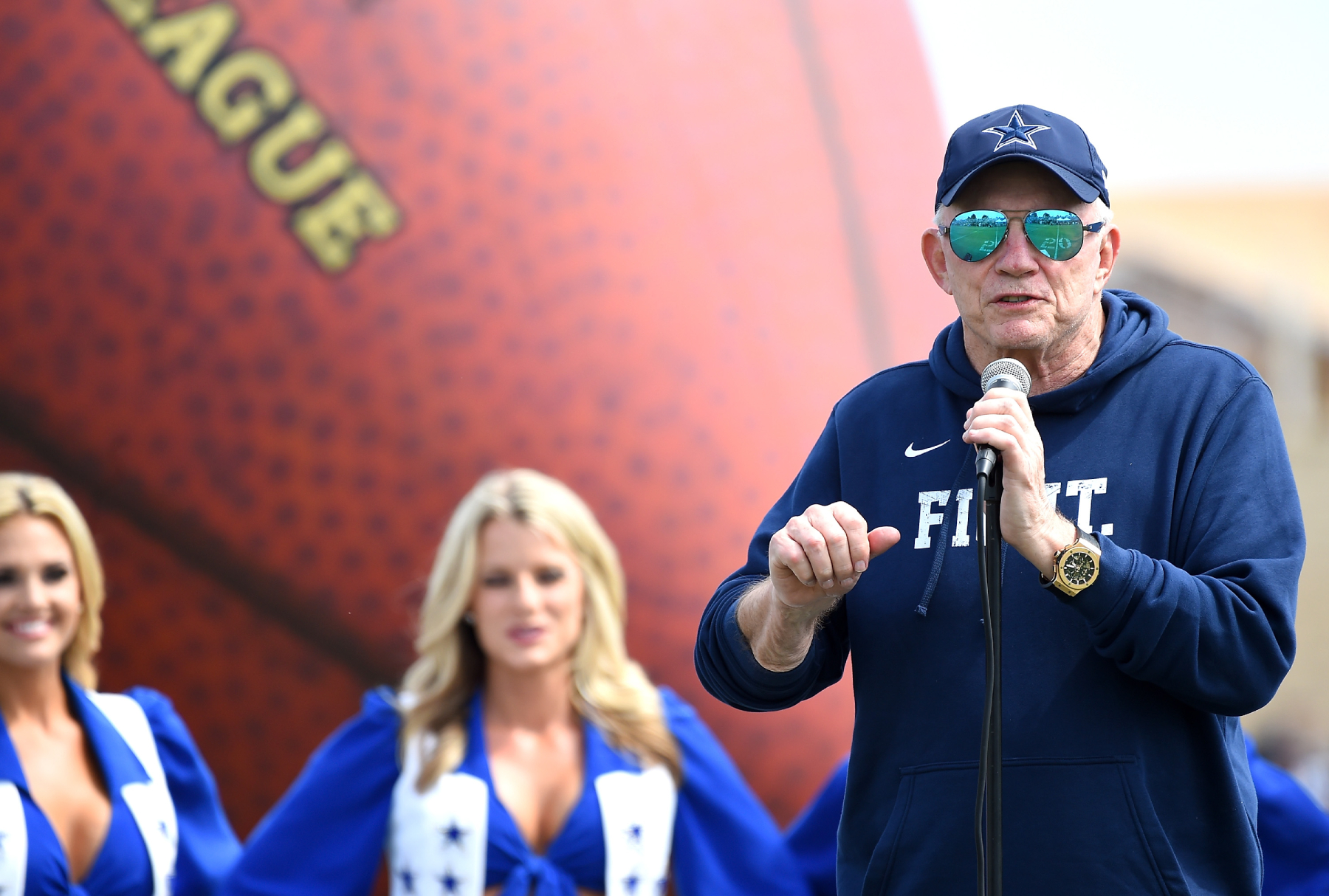 The Dallas Cowboys began their 2019 training camp, and they did so without Elliott, their star running back. 
This came after Elliott led the NFL in rushing yards in two of his first three seasons. The only season in that span that he did not lead the league in rushing was when he only played in 10 games in 2017. 
Missing training camp and holding out ultimately worked well for Elliott. He got a massive $90 million contract extension. He still ended up having a good season too.
Stats-wise, Elliott did not rush for as many yards as he did in 2018, or certainly not as many as he did in his rookie season when he ran for 1,631 yards. However, the missed time at training camp didn't affect him too much. He ran for 1,357 yards and 12 touchdowns in 2019. He also gained 420 receiving yards on 54 catches, which were both the second-most in his career. 
Now, a year later, DeMarcus Lawrence could do the same thing, but not for contract reasons. 
DeMarcus Lawrence could skip training camp with the Dallas Cowboys
According to ESPN, Lawrence wants to report to training camp with the Cowboys at the end of this month. However, he wants to make sure he can stay safe amid the COVID-19 pandemic. This is so that he can also keep his family safe as his wife is pregnant and due in October.
"I'm taking it one day at a time, talking with my team and trying to figure out as many details as possible before I make a decision and have it set in stone," Lawrence said to ESPN. "Shoot, I love to ride with my brothers and play the game of football. When I have to take that away from myself, it's hard and I don't want to make a decision like that. But I also have to make sure I'm taking care of my family. Family is No. 1. After the game of football is done, that's the only thing I have to depend on, so I've got to take care of them."
Lawrence is about to enter the second year of his five-year deal. He reportedly said that he will have to repay part of his signing bonus if he does not report to camp. 
"It's those type of thing that make you think, 'Man, are we some pawns? Is my life just a game,'" Lawrence said, according to ESPN. "I know I ain't got forever to play, but at the end of the day, come on, you're just going to toss me around because you've got dollar signs in your face?"
He also said that he wants to know the living situation, how players will be tested, and how often they will be tested.
"But my No. 1 concern is will I be able to see my family and be there for my daughter's birth?" Lawrence said to ESPN. "If I can't be, we're really going to have to take some major difficult considerations about this season, because I'm not missing the birth of another child."
Lawrence missed the birth of his son in 2014 due to rookie minicamp, according to ESPN.
NFL players call for the league to open training camp safely
Players went on Twitter recently and called for the NFL to listen to the guidelines of its experts on how to safely open training camps during the pandemic. 
"What you are seeing today is our guys standing up for each other and for the work their union leadership has done to keep everyone as safe as possible," NFL Players Association president JC Tretter said on Twitter. "The NFL needs to listen to our union and adopt the experts' recommendations #wewanttoplay."
Drew Brees was also one of the many players to tweet at the league. 
"We need Football! We need sports! We need hope! The NFL's unwillingness to follow the recommendations of their own medical experts will prevent that," Brees tweeted. "If the NFL doesn't do their part to keep players healthy there is no football in 2020. It's that simple. Get it done [NFL]."
According to ESPN, the NFLPA requested daily testing and no preseason games, among other things. NFLPA executive committee member Sam Acho said on ESPN Radio that the NFL's counter-proposal did not address most of the concerns of the players. He also said that the league is ignoring advice of its doctors.
Hopefully, the NFL and NFLPA can figure something out soon. The world needs football this year.
Stats courtesy of Pro Football Reference