The Detroit Tigers Hit a New Low in Wild Yankees Brawl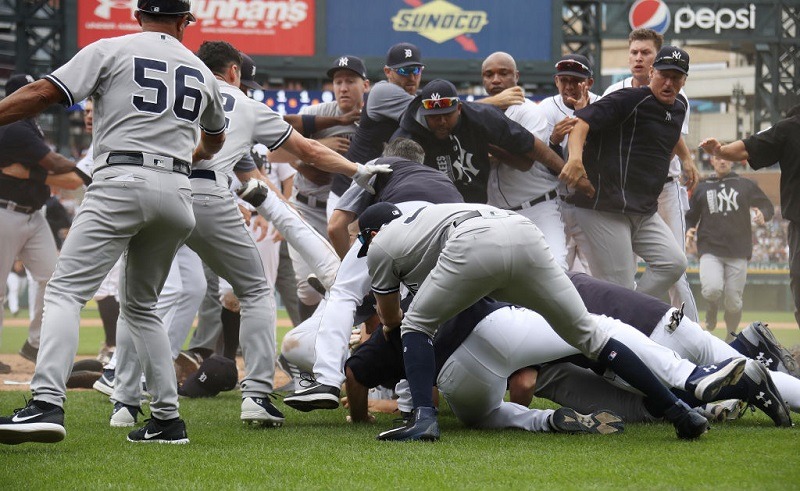 We saw a lot of things in the wild afternoon brawl between the Yankees and Tigers as the clubs wrapped up a three-game set. Gary Sanchez looked like a jerk throwing punches at players who wrestled on the ground. On the mound (though he's been wild all season), Dellin Betances picked the wrong time to lose his control, drilling James McCann in the head. Meanwhile, home plate umpire Carlos Torres went missing when the field needed order restored.
All three deserve some blame for what happened. However, on the Tigers end, we saw frustration boil over in the worst way. Starter Michael Fulmer ignited (re-ignited, maybe) the animosity by plunking Sanchez, who homered earlier and dominated the series (7-16, 4 HR, 9 RBI). Afterward, Miguel Cabrera started a fight after a pitch sailed behind him. Once that scrum subsided, Justin Verlander and Victor Martinez decided to have their own altercation in the Detroit dugout.
Then, when you thought everyone had enough, Tigers reliever Alex Wilson intentionally hit Todd Frazier, clearing the benches once more. (Wilson seemed happy to admit his intent later.) So for Detroit, you have two hit batters, one fistfight, and several teammates squabbling amongst themselves. In yet another embarrassing season, the Tigers reached a new low on Thursday, and the future looks bleaker than ever.
It started with Fulmer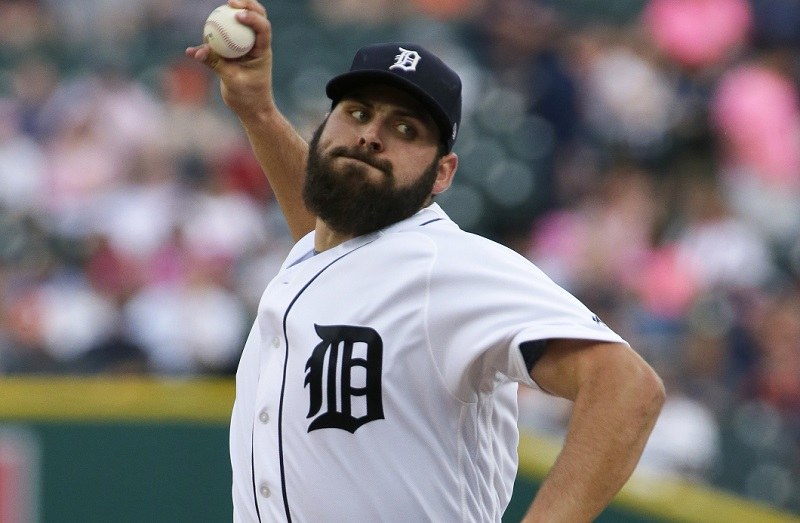 Finding the root of the brawl is simple. In the fourth inning, Sanchez slugged his fourth homer of the series. The Yankees catcher, who is known to drop his bat and enjoy his home runs, didn't do any of that this time. In the fifth inning, Sanchez came up again. This time, Fulmer drilled him near the hip. McCann, catching for Detroit, set up inside and Fulmer came in far enough to get Sanchez.
Considering how the Yankees slugger looked over those three games, you can't blame New York for wondering about Fulmer's intent. After all, earlier in the season, we saw Cabrera talking to Fulmer in the dugout after Yankees pitchers hit Mahtook twice (unintentionally, both sides agreed). The next inning, Fulmer drilled Jacoby Ellsbury. He's hit Yankees intentionally, and when you have a reputation for it, people question your motive. The same goes for Cabrera and his team policing.
Cabrera escalated it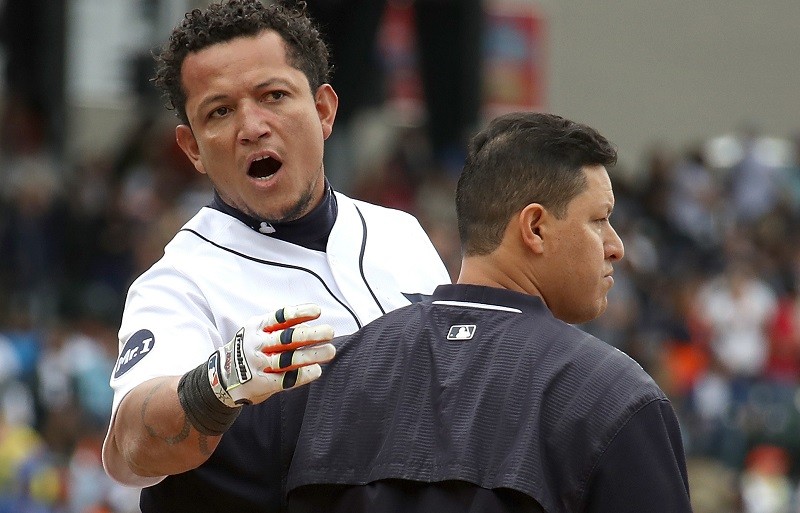 Since Cabrera tells teammates how to handle batters getting plunked, it seems odd the Tigers star forgot his own unwritten rules during this game. After Sanchez got hit, Yankees reliever Tommy Kahnle threw behind Cabrera with the obvious intent of hitting him. Home plate ump Torres ejected Kahnle for it and, following an argument with manager Joe Girardi, the Yankees skipper went next.
Isn't that how it's supposed to work? The Yanks hit Mahtook; thus Fulmer hit Ellsbury. Detroit hit Sanchez; thus Kahnle must hit Cabrera. Order was ostensibly restored. But after Aroldis Chapman relieved Kahnle and finished his warmup tosses, Cabrera started talking trash to Austin Romine behind the plate. When Romine didn't back down, Cabrera pushed him and the fisticuffs began. Frankly, this one's on Miggy. We can't see why he got upset when the teams played by his code. 
Frustration in the Tigers dugout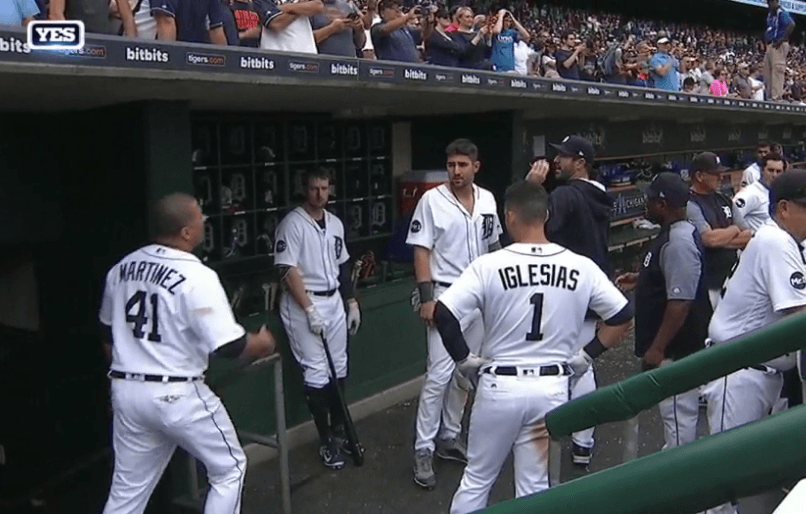 You can see why Cabrera, a first-ballot Hall of Famer down the line, would be frustrated in general. He's having the worst year of his career (actually, his only bad year) in 2017. He's a career .318 hitter hitting .254 with 13 HR around Labor Day. Martinez (.253, 10 HR) and Verlander (9-8, 3.96 ERA) are also not at their best despite raking in the money. (These three players made a combined $74 million this season.)
Toward the close of another season of collective underachieving, you are seeing frustrations boil over between Tigers teammates. Alex Castellanos, who was punched after trying to break up the fight, questioned Martinez for trying to make peace with Sanchez (the puncher). Verlander chimed in and then said something to anger Martinez before walking away down the dugout. Martinez had to be restrained from going after Verlander by teammates.
How the situation deteriorated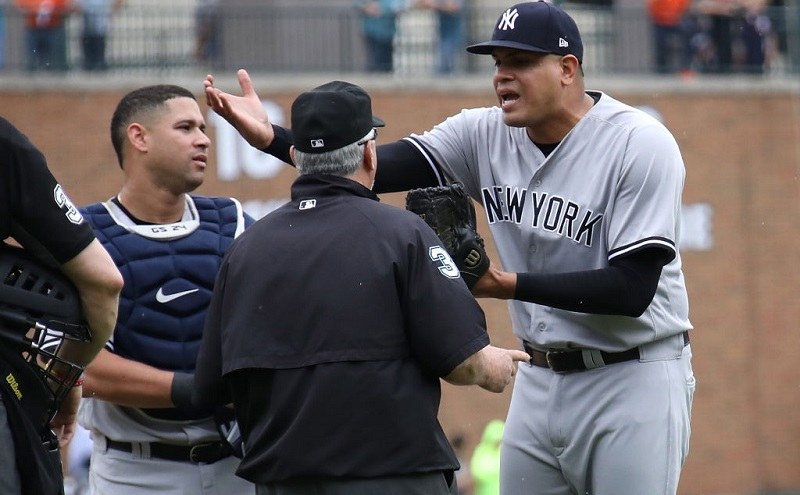 By late August, you're going to see teams getting testy, and in the case of a fourth-place club like Detroit, you'll see it even more. Following the hit batters and the benches-clearing brawl, we saw probably the worst-timed pitch of the year from Betances. The Yankees reliever uncorked a wild fastball while falling off the mound and it hit McCann square in the head. In the middle of so many battles, it could have spelled war. However, no one seemed to think it was intentional.
"I don't think Betances was trying to hit him in the head," Tigers manager Brad Ausmus said, per MLive. "Do I think Betances hit me on purpose? No, I don't," said McCann. Torres seemed to agree from behind the plate and did not throw out Betances despite having warned both benches about beanings. (After Ausmus argued with him about it, Torres tossed Betances.)
What losing teams do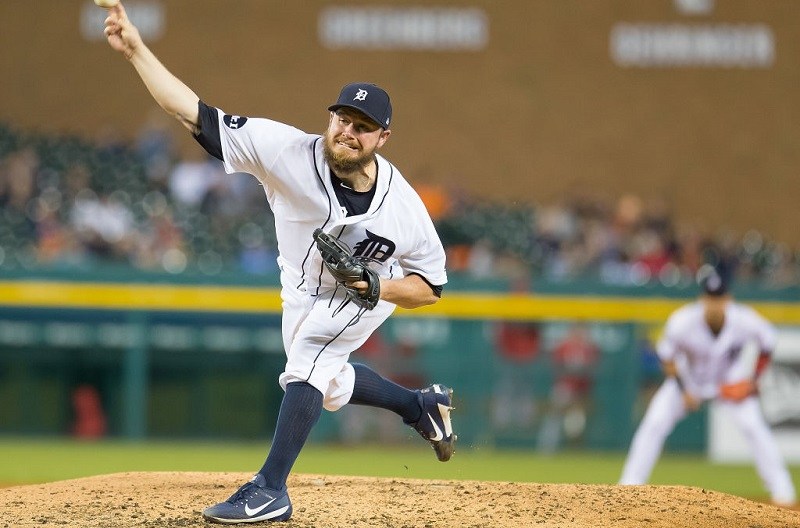 So did it end there? No. Reliever Alex Wilson came in and hit Todd Frazier, clearing the benches once again. Wilson was clear he intended to hit him. "At that point in the game, it was something that had to be handled." When you have nothing to play for, maybe. Pride and your clubhouse reputation might be all that's left for a Tiger player to win in 2017.
As for Cabrera, the memory of his ugly drunk driving episode from 2011 had all but evaporated. When you make yourself the aggressor in a fight that like this one, people start looking back into the history. He's largely a calm and benevolent presence during ballgames, but as we saw with the Mahtook episode at Yankee Stadium and this brawl in Detroit, he doesn't hesitate to have a negative impact on the game.
Expect more of the same in Detroit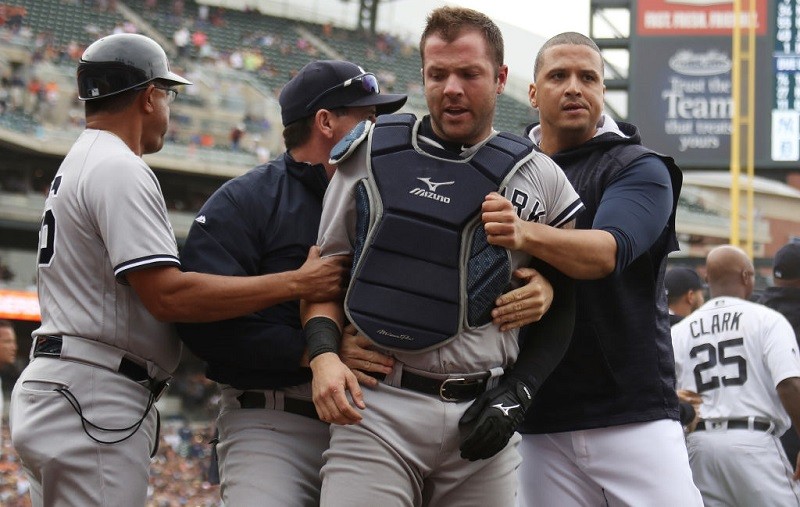 How will Detroit's front office move this team forward? Martinez, signed through '18, won't find any suitors on the trade market. The same goes for Cabrera, signed through 2024 at approximately $30 million per year. As for Verlander, the market for his services was supposedly much better despite being owed another $56 million through 2019. However, as of the last week in August no contender wanted him enough to make a deal.
Then there are the contracts of  Jordan Zimmermann (owed $74 million through 2020) and Justin Upton (owed $89 million through 2021). We just don't see any way out of this mess. Maybe a deal for Verlander would be a start. After that, you would have to get comeback years from four or five players left. Castellanos, Fulmer, and Mahtook are solid and affordable. But this team is miles from contending.
As the Tigers organization comes close to rock-bottom, we wish the players and fans luck. Hopefully, it will all be uphill from here.
Statistics courtesy of Fangraphs and Baseball-Reference.