The Dolphins Reportedly Told Tua Tagovailoa, to His Face, They Were Actively Trying to Dump Him for Deshaun Watson
From the offseason to the trade deadline, a looming question hung over the Miami Dolphins franchise this past season.
Would they be trading for Houston Texans quarterback Deshaun Watson?
Of course, several things were complicating this situation. Between Watson's legal issues and Houston's high asking price, a deal being struck always felt unlikely. However, where there's smoke, there's fire, and the Dolphins were continuously mentioned as a Watson suitor all the way up to the waning hours of the trade deadline.
Brian Flores reportedly told Tua Tagovailoa to his face the Dolphins were pursuing Deshaun Watson
What made matters even more complicated in Miami is that they already had a starting quarterback under contract. The Dolphins selected former Alabama QB Tua Tagovailoa No. 5 overall during the 2020 NFL Draft. 2021 was supposed to be his first season as Miami's full-time starting quarterback.
Tagovailoa went 6-3 as a rookie. However, he was constantly fighting with veteran QB Ryan Fitzpatrick for the starting job. It was never made clear that Tagovailoa was the unquestioned starter.
Plenty of Dolphins fans wanted the team to stick with Tagovailoa. However, according to a recent report by ESPN's Chris Mortensen, the Dolphins did, in fact, have initial plans of replacing him with Watson.
During ESPN's Super Bowl preview, Mortensen dropped a tidbit on former Dolphins head coach Brian Flores outright telling Tagovailoa — to his face — that he would be replaced by Watson sooner than later.
"Sources say that in the final preseason game before the Dolphins played the [Cincinnati] Bengals, ironically, Flores told Tua that the rumors were true," Mortensen said. "They were trying to get Deshaun Watson in a trade."

Chris Mortensen via dolphinnation.com
This explains Tua Tagovailoa's early-season struggles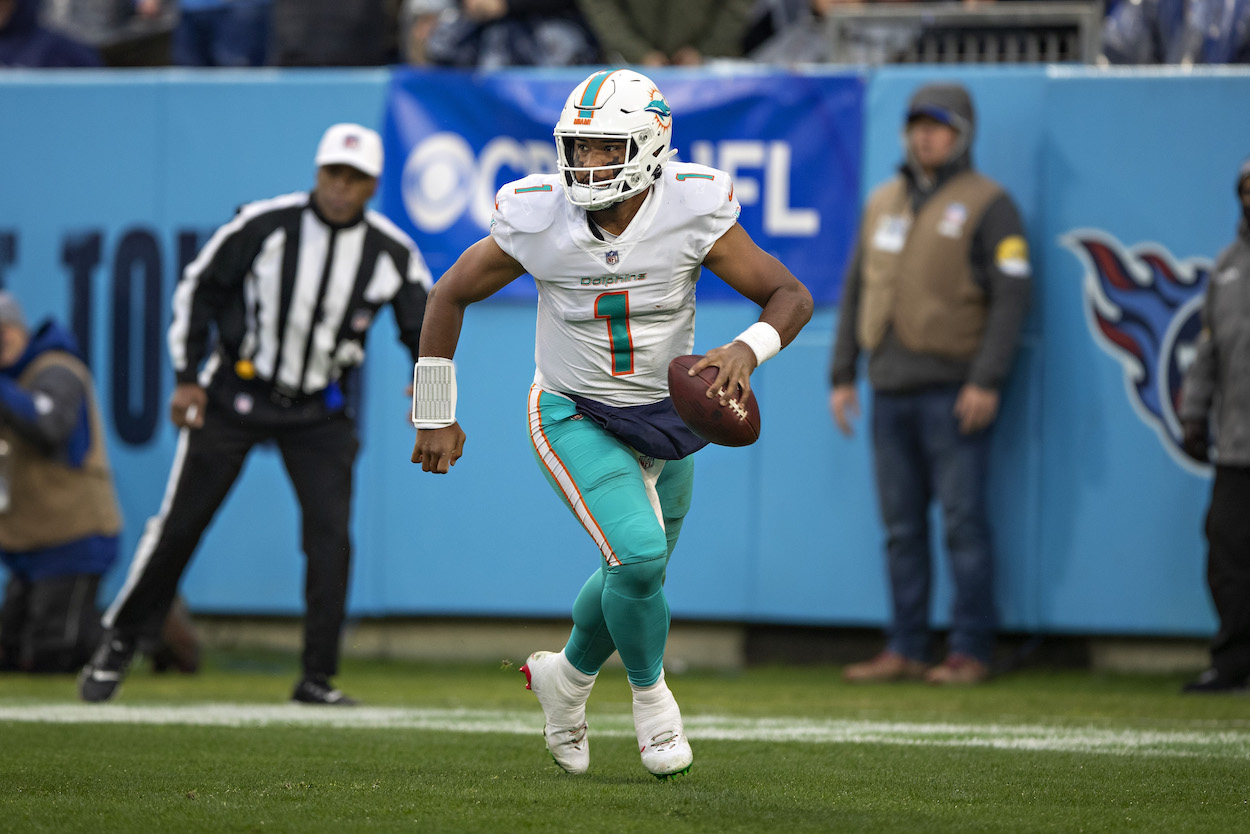 Telling a player he's destined to be replaced can't be good for their confidence, and these Flores comments explain a lot about Miami's slow start to the season.
The Dolphins began the year 1-7 before rattling off seven straight wins. For a brief moment, it looked like Tagovailoa was going to sneak his team into the postseason.
In hindsight, it's not difficult to paint the picture that a lot of the Dolphins' early-season struggles were attached to the lingering controversy of Watson maybe being acquired. Once the team got past the trade deadline, they started playing considerably better.
It's also worth pointing out Tagovailoa missed Weeks 2-5 with an injury.
Are the Dolphins still interested in Deshaun Watson?
Looking ahead to the future, it appears Miami is giving up on its interest in Watson. The franchise fired Brian Flores after missing the postseason and hired Mike McDaniel, who has already voiced a sense of commitment to Tagovailoa.
Watson is also reportedly a big fan of Flores. If the Dolphins still wanted to trade for the Texans QB, it would've made more sense to dump Tagovailoa and retain Flores.
For the moment, it appears Miami is pulling a complete 180 and recommitting to Tagovailoa as the franchise quarterback. Only time will tell if he's good enough to get the Dolphins to the postseason. However, he must be happy to be putting this whole controversy behind him.
All stats courtesy of Pro Football Reference.
RELATED: Troy Aikman Gets Brutally Honest About the Dallas Cowboys' 'Heartbreaking' 2021 Season