The Eagles Are Surprisingly Showing Interest in FA Chandler Jones
After a year of re-tooling and rebuilding in which the Philadelphia Eagles were trying to figure out their new identity post-Carson Wentz, it appears the team is ready to jump right back into the thick of things in an attempt to contend. The NFC is wide open following the retirement of Tom Brady and the departure of Russell Wilson. Eagles GM Howie Roseman likely believes he can make a deep playoff run in 2022.
The good news for Philadelphia is that it has tons of draft capital and a reasonable amount of cap space ($17.3 million). The Eagles can certainly justify handing out one big contract in free agency in an attempt to bring some more blue-chip talent to the roster.
With that said, the latest free agency rumor out of Philadelphia has it being connected to a surprising figure. The Eagles are reportedly in the mix for 32-year-old defensive end Chandler Jones.
Chandler Jones would immediately be the Eagles best pass rusher
Before diving into why this would be a surprising move for the Eagles, it's essential to acknowledge how good a player Chandler Jones is. His production has primarily gone overlooked due to the presence of Aaron Donald within his division the past few seasons.
However, just a quick glance at Jones' career numbers is all it takes to see how elite a pass rusher he is. He's racked up 107.5 sacks over 139 career games (136 started). He's recorded double-digit sack seasons seven times. This includes a league-leading 17.0 sacks in 2017, and 19.0 sacks in 2019.
Jones is also a four-time Pro Bowler, two-time All-Pro, and a member of the Hall of Fame All-2010s team. By all accounts and measures, Jones is everything you could ask for in a true No. 1 defensive end.
If the Eagles were to sign Jones, he would immediately transform their defensive line. Pairing him alongside Josh Sweat, Fletcher Cox, and Javon Hargrave gives Philadelphia one of the best defensive lines in the NFC.
Does Chandler Jones fit the Eagles' timeline?
Jones' immense on-field production aside for the moment, such a move would be surprising from the Eagles side of things due to his age and current asking price.
Jones just turned 32 years old in February and is reportedly asking for $15-18 million per season. While adding Jones would immediately improve Philadelphia's defensive line, it also strips them of the ability to sign a younger free agent with more long-term value.
Eagles GM Howie Roseman spent a lot of money in 2021, locking up young starters for the future (Josh Sweat, Jordan Mailata, Dallas Goedert, Avonte Maddox). It appeared he was focused on retaining young talent with potential instead of adding older talent with more immediate impact.
Roseman then turning around and committing all of his cap space to Jones would certainly go against the precedent he set at the start of the 2021 NFL season.
Maybe Roseman truly believes the Eagles are one elite pass rusher away from contending moving forward?
How would this alter Philadelphia's draft plans?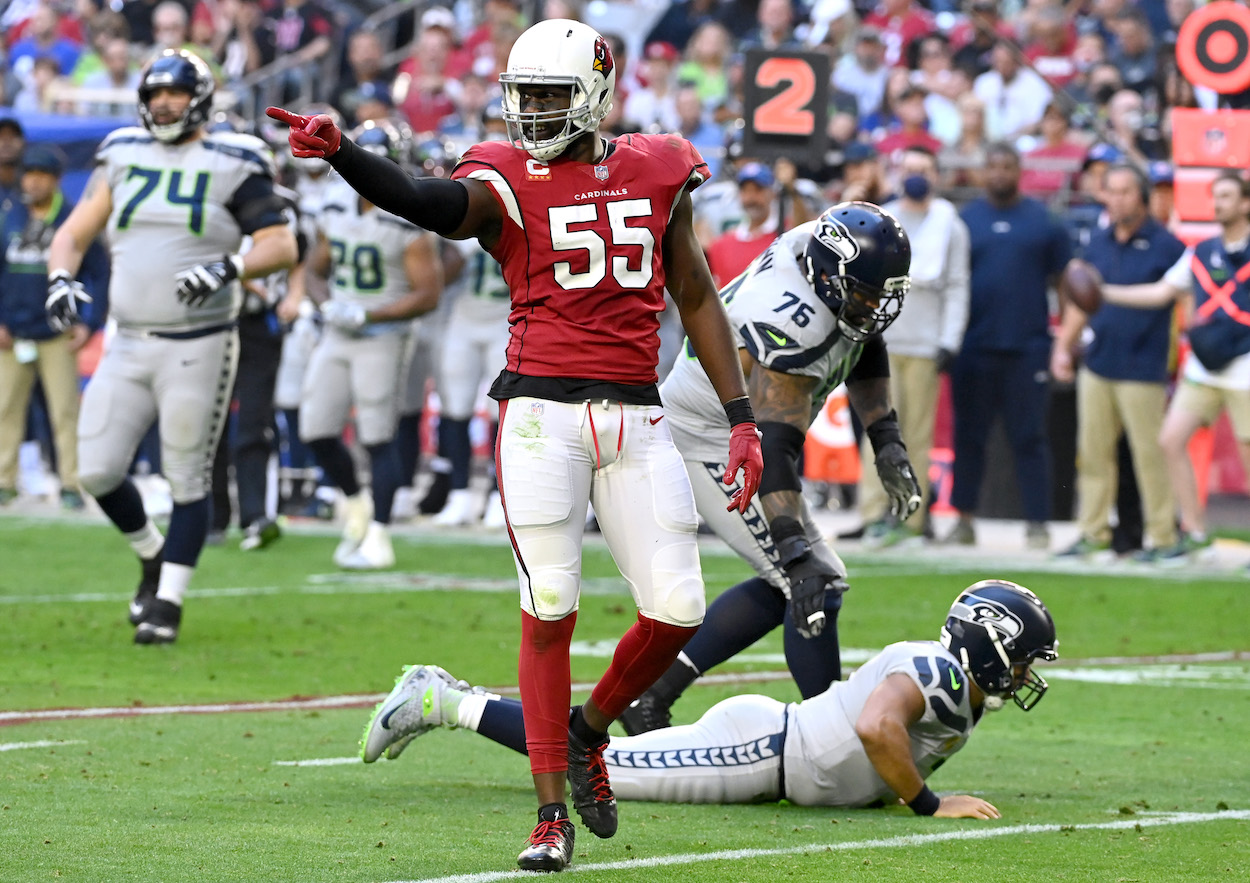 Let's say the Eagles shock everyone and ink Jones to a massive contract worth $50-plus million over three years; what would this mean for their draft-day plans?
Up to this point, most experts and analysts have pinned Philadelphia as a team looking to take a DE in the first round. Should the Eagles sign Jones, it's unlikely they would add another pass rusher in the draft.
Instead, this would allow Roseman to target defensive backs and maybe wide receivers in the first round. Both positions are still significant areas of need in Philly.
Ultimately speaking, the Eagles winning the bidding war for Jones feels unlikely. It's surprising they're in the mix in the first place. However, their reported interest in Jones tells us about where Howie Roseman is mentally. He clearly believes his team is close to contending for a Super Bowl again.
All stats courtesy of Pro Football Reference.
RELATED: Eagles Trade Rumors: Fletcher Cox Could Be on the Move