The Eagles Are Switching Things up and Targeting Marquee Free-Agent LB De'Vondre Campbell
The Philadelphia Eagles are coming off an impressive 2021 campaign. Despite most oddsmakers predicting them to finish the year with four or five wins, they managed to scrape together a 9-8 season and a playoff appearance. Granted, the Tampa Bay Buccaneers ran them out of the stadium during their Wild Card Round matchup. However, it was still an encouraging year for Philadelphia.
With all of that said, some common issues plagued the Eagles roster that need to be addressed this offseason. One of the biggest is the linebacker position, which is where free-agent linebacker De'Vondre Campbell enters the picture.
The Eagles are reportedly interested in free-agent linebacker De'Vondre Campbell
Most Eagles fans want general manager Howie Roseman to target a rookie linebacker in the first round of the 2022 NFL Draft. Devin Lloyd and Nakobe Dean are two of the more popular options. However, it appears Roseman wants to go in a different direction altogether.
According to NFL and NBA insider Evan Massey, the Eagles "are expected to show interest" in free-agent linebacker De'Vondre Campbell.
Campbell is coming off an awe-inspiring 2021 season with the Packers and is expected to have several suitors this offseason. He only made $2 million in 2021, so it's also likely he's looking for a significant payday this offseason.
De'Vondre Campbell immediately becomes LB1 in Philadelphia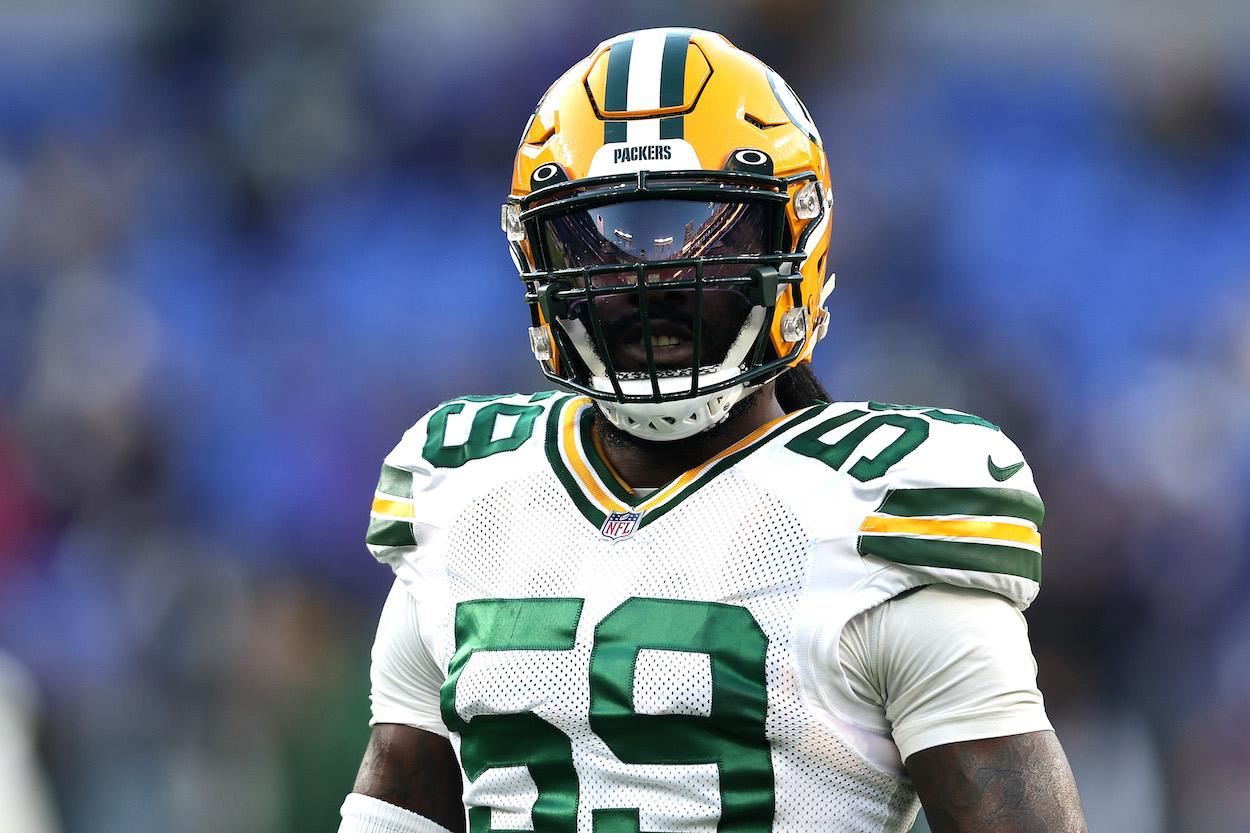 Ever since Jordan Hicks and Nigel Bradham departed several seasons ago, the Eagles have been in desperate search of a true starting-caliber middle linebacker. They've messed around with undrafted rookies and veterans on the tail end of their careers. However, it's become increasingly apparent they need a playmaker at the center of their defense for Jonathan Gannon's scheme to work.
Campbell fits the bill. He's been in the league since 2014, is only 28 years old, and stuffed the stat sheet last year for Green Bay. He recorded 146 tackles, two sacks, two forced fumbles, and two interceptions. He was also named an All-Pro for the first time in his NFL career.
Drafting a first-round LB should certainly intrigue the Eagles this spring. However, landing Campbell would undoubtedly be the better move. He's one of the best linebackers in the game right now.
The Eagles will need to pay up
Of course, the Eagles aren't the only team in the NFL who are in the market for an All-Pro middle linebacker. Massey reported the Packers are expected to remain in talks with Campbell this offseason. Several other teams will emerge as suitors as well.
It isn't often that All-Pros hit free agency. Campbell will have a long list of front offices bidding against each other for his services.
The good news for Philadelphia is that it has cap space. It has just under $20 million available to spend in free agency. You can always expect Roseman to artificially create additional cap space by way of restructures as well.
Spotrac currently projects Campbell to sign a three-year deal worth $18-19 million. The Eagles should easily be willing to offer him that much money. However, it's never been in Roseman's nature to commit assets to the linebacker position.
Roseman handing out a sizable contract to a linebacker would be out of character. However, maybe that's why he's interested. He could finally be realizing the LB position is an important one.
All stats courtesy of Pro Football Reference.
RELATED: Eagles Rumors: NFL Insider Still Claims They Want Deshaun Watson