The Eagles Need to Admit an Embarrassing Offseason Mistake and Cut Ties With a Grossly Overpaid Veteran
Following a Week 6 loss at home to Tom Brady and the Tampa Bay Buccaneers, it appears the Philadelphia Eagles are slowly but surely coming to grips with the fact that they aren't a competitive football team at the moment. Jalen Hurts struggles with simple reads, and the team's young coaching staff appear in way over their heads.
The Eagles' newfound commitment to rebuilding kicked off Oct. 15 with longtime starting tight end Zach Ertz being traded to the Arizona Cardinals.
The expectation is further transactions will occur in Philadelphia as the trade deadline grows closers, moves that will see aging veterans offloaded to make way for younger players.
The Eagles need to get younger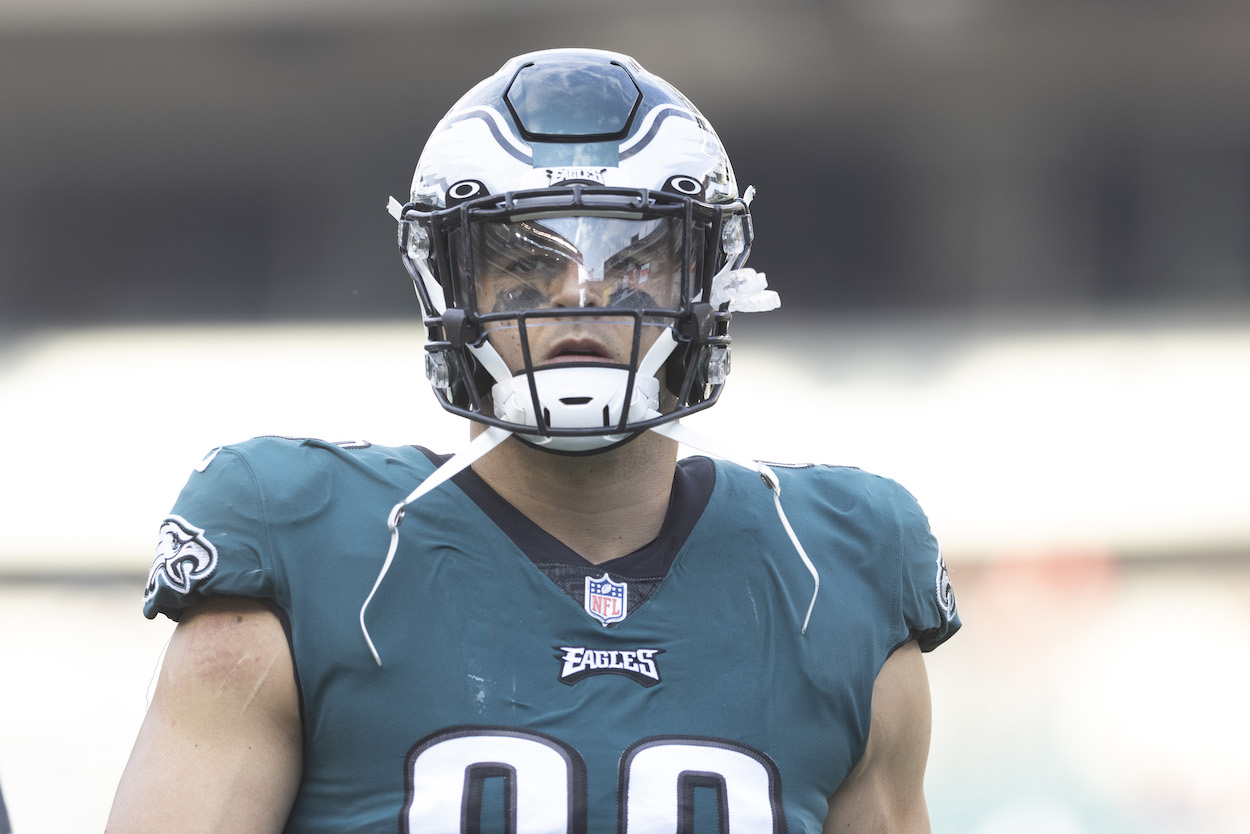 Trading away the 30-year-old Ertz is a step in the right direction for the Eagles as they attempt to get younger. However, the brutal reality of the situation is that they still have a ways to go.
Most of their base offensive line consists of aging veterans. Their entire starting secondary consists of older players. The linebacker room is uninspiring with little young talent. The list goes on and on.
Outside of DeVonta Smith and Quez Watkins at receiver, and maybe Josh Sweat at defensive end, the Eagles have few young and promising talents worth bragging about. That's a poor spot to be in for a team that's 2-4 and coming off a four-win season.
If the Eagles want to get serious about their much-needed rebuild, they have to start aggressively swapping older players for younger ones. That starts by cutting as much of the dead weight as humanly possible.
Ryan Kerrigan is wasting a roster spot at the moment
The Eagles had minimal cap space to work with this past offseason. There wasn't an expectation that Philly could be a major player in the free-agency market. However, the decision to invest what little money it had into further aging veterans deserves extra criticism in hindsight.
The team handed out deals to linebacker Eric Wilson, safety Anthony Harris, cornerback Steven Nelson, and defensive end Ryan Kerrigan. None of these players have made a notable impact, which reflects in the team's lackluster record.
Kerrigan, by far, has been the most disappointing offseason addition. The longtime Washington Football Team pass-rusher averaged just over 9.0 sacks per season during his 10-year career in the nation's capital. Upon making the jump to Philadelphia, he's turned into a complete ghost on the field.
Kerrigan has recorded one tackle for the Eagles this season. It's his only statistic on the year, and he's already played 153 defensive snaps. That's an awful return on a $2.5 million investment for a team that was strapped for cash this past offseason. Philly expected major production from Kerrigan as a rotational pass-rusher, even more so once regular starter Brandon Graham went down with a season-ending Achilles injury.
The Eagles need to admit their mistake and cut ties
It's an embarrassing conclusion to arrive at just six games into the season, but the Eagles are wasting their time rostering Kerrigan at the moment.
He's not giving the defense any production, and he's taking valuable reps away from the team's younger players. Sixth-round pick Tarron Jackson is someone who would seriously benefit from added workload moving forward.
Why the Eagles felt the need to sign Kerrigan in the first place, the world may never know. Roseman likely assumed his team would be far more competitive than it has been. Regardless, the front office needs to own up to its mistake and cut ties with one of its worst-performing defenders.
All stats courtesy of Pro Football Reference.
RELATED: Eagles Head Coach Nick Sirianni Is Furious With a Member of His Coaching Staff, and It Could Lead to an Embarrassing Conclusion