Who's the Funniest Man in Sports? A Punter for the Colts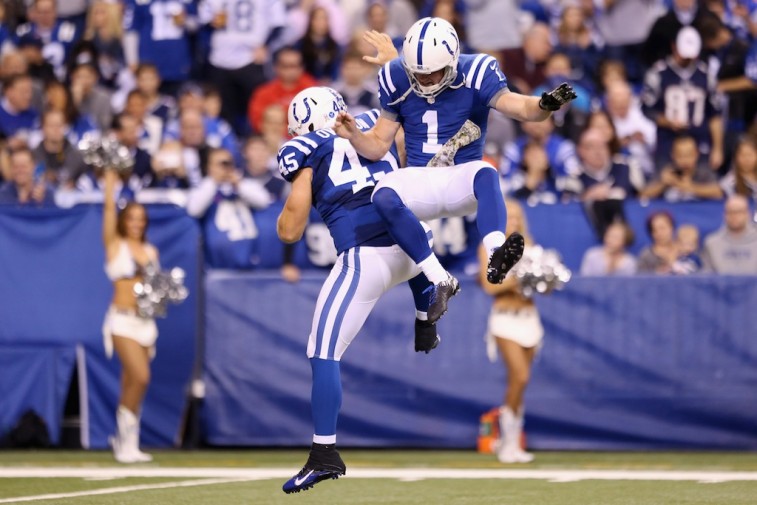 When Miami Dolphins quarterback Ryan Tannehill signed a contract extension that could be worth up to $96 million over six years, everyone seemed to have an opinion on the matter.
Seattle Seahawks general manager Jon Schneider even went so far as to congratulate Tannehill's agent Pat Dye on the new and thank him for costing Seattle money. After all, if the Miami signal caller got this much, just think about what the Seahawks will be forced to pay Russell Wilson. Ouch.
And yet, in our humble opinion, that wasn't even the best response to this new deal. That honor went to Indianapolis Colts punter Pat McAfee, as he tweeted the following:
Well today's market showed that a 25-25 record gets you 96 million American dollars… Andrew's about to own a team I think #Tannehill #Luck

— Pat McAfee (@PatMcAfeeShow) May 20, 2015
And just like that, this situation was tied up in a nice, pretty bow. This wasn't McAfee ripping on Tannehill's skills, but rather a guy showing love to his quarterback. Some folks may not see it that way, and, of course, that's their prerogative. But we found it to be quite the fitting response. In fact, it may very well have proved to be yet another example of why this lowly punter is quite possibly the funniest guy in sports.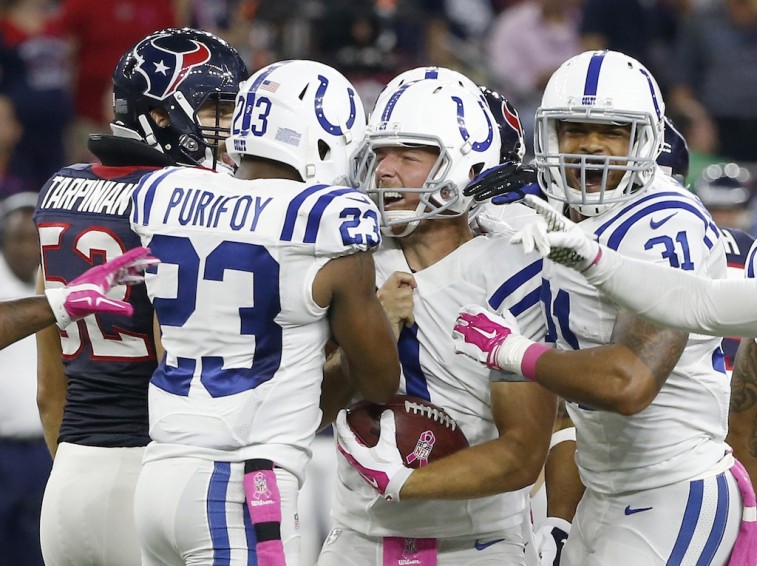 In case you don't know much about the individual who wears No. 1 for the AFC South champs, let's just say this guy is quite outspoken. We don't know many punters, but we feel confident in saying this guy represents a different breed of the position. How many punters do you know who would end up in a wrestling ring taking on an opponent named War Pig? Not many — we assume. But that's just who this dude is. McAfee is definitely not just a punter. McAfee is a guy who believes that calling kickers defenseless is a setback for the position. And if you disagree with that, then he has no problem voicing his opinion. About anything, really. And that's what makes him such an interesting figure — and someone who is downright hilarious. For instance, one of his most recent tweets with regard to the NBA playoffs was so spot on, it's scary. During Game 6 of the Eastern Conference semifinals, Cavaliers backup guard Matthew Dellavedova erupted for 19 points on 7 of 11 shooting. It's the kind of performance that no one saw coming. Here's how McAfee summed it up:
This dude is giving me hope that my kid could possibly have a fantastic beard.. Dad body… And still be a boss in the NBA #Dellavedova — Pat McAfee (@PatMcAfeeShow) May 15, 2015
Once again, that's pretty much spot on. Dellavedova played the game of his life, and deserved a little acknowledgment. Cue Pat McAfee — the man who isn't afraid to speak his mind (or throw out well-crafted tweets). He's open to discussing an array of topics, ranging from Deflategate to Mel Kiper's hair to Stephen Curry's potential drinking game skills. We could on and on. But honestly, we suggest you check him out for yourself. You can thank us later.
The story may have started with Ryan Tannehill's new contract, but it evolved into so much more. It became an homage to hilariousness. When it comes to humor, some people have it and some people don't. The Indianapolis Colts have themselves a punter who consistently brings the funny. Is Pat McAfee the funniest guy in sports? Depends who you ask. However, we happen to think he's right up there with the best of them, and we can't wait to see what he says next. That's good enough for us.