The Game Michael Jordan Changed Everyone's Perception of Him
Many people consider Michael Jordan to be the greatest basketball player to ever play. Jordan achieved almost as much success as anyone can in the NBA. However, his stardom did not start with the Chicago Bulls. One game before his NBA career changed everyone's perception of him.
Becoming a star in college
Michael Jordan played on a loaded North Carolina Tar Heels team during the 1981-82 season. Guys like James Worthy and Sam Perkins were on the roster, in addition to G.O.A.T himself. Jordan averaged 13.5 points per game as a freshman that season in addition to pulling down 4.4 rebounds per game. He and the Tar Heels went on to win the national championship that season. 
Jordan then became the go-to option during the 1982-83 and the 1983-84 seasons. He averaged 20 points per game in 1982-83 to go with 5.5 rebounds. They did not repeat as national champions, but the Tar Heels made it to the Elite Eight that season. During the 1983-84 season, Jordan averaged 19.6 points per game and 5.3 rebounds. The Tar Heels reached the Sweet 16 that year. 
In his college career, Jordan won back-to-back Sporting News Player of the Year awards in 1982-83 and 1983-84. He also won the AP Player of the Year award and the Wooden Award in 1983-84. Overall, he averaged 17.7 points per game and five rebounds in three seasons with the Tar Heels.
Michael Jordan was instantly an NBA great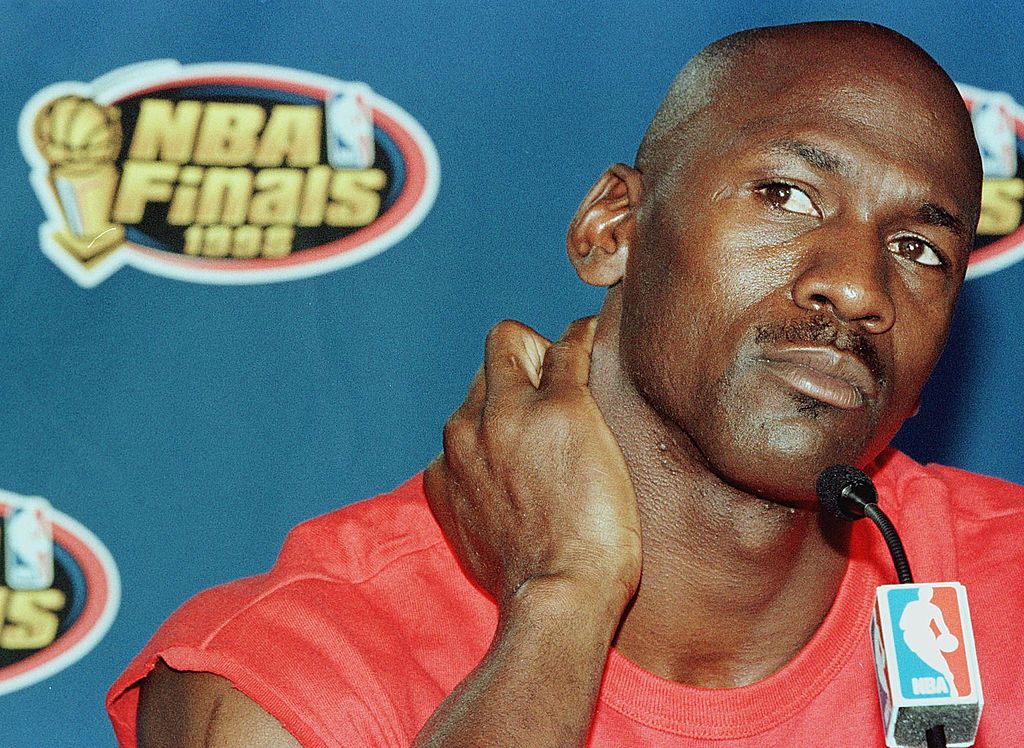 Being drafted with the third overall pick in the 1984 NBA draft, Michael Jordan was an instant star for the Chicago Bulls. He scored 28.2 points per game in his rookie season as he won the league's Rookie of the Year award. He then only got better from there. Jordan led the league in scoring for seven straight seasons from 1986-87 through 1992-93. Then after playing baseball during the 1993-94 season, Jordan came back and led the league in scoring again for three straight seasons from 1995-96 through 1997-98.
In his 15-year career, Jordan averaged 30.1 points per game, 6.2 rebounds per game, and 5.3 assists. He is also fifth on the NBA all-time scoring list with 32,292 career points and his 30.1 career points per game average is first all-time. Overall, he was a 14-time All-Star, a 10-time scoring champ, and a five-time NBA MVP.
What Jordan was known for, though, was how good he was when it mattered most. Jordan won six NBA championships, winning the NBA Finals MVP award each time. He also has an unblemished 6-0 career record in the NBA Finals.
Throughout his career, Michael Jordan became everyone's hero and is still one of the biggest pop culture icons of all-time. That was especially the case after coming out with the hit movie Space Jam. 
However, his stardom began during one game before his NBA career even started. 
Jordan hits the game-winner in the national championship
When Jordan and the Tar Heels won the national championship against Georgetown on this date in 1982, he was pretty much the main reason they won that game. Despite North Carolina having guys like James Worthy and Sam Perkins to turn to, they turned to the freshman to hit the game-winning shot.
Georgetown, who was led by the great Patrick Ewing at the time, was up 62-61 with 32 seconds left. While they did have Ewing, they did not have Jordan. With 17 seconds left in the game, Jordan hit a jumper to give the Tar Heels a 63-62 lead. Georgetown then turned the ball over after that and the Tar Heels won the national championship.
According to USA Today, Jordan even knows that that was when he became a star. 
"That was birth of Michael Jordan," Jordan told former Turner Sports broadcaster Craig Sager, according to USA Today. "Before that I was Mike. All of a sudden I make that shot and I'm Michael."

Michael Jordan
Tar Heel fans and Michael Jordan fans will never forget the shot that helped North Carolina win a national championship. Basketball fans, in general, should never forget it either, though, as it was the birth of the greatest basketball player of all-time.