The Gasol Brothers Quietly Set a New NBA Record
When the Toronto Raptors won the 2019 NBA Championship, Marc Gasol became part of history due to both himself and his brother Pau. While many pairs of brothers have played in the NBA, from the Currys and Holidays to Barrys and Antetokounmpos, Marc and Pau set themselves apart.
With many All-Star appearances between them and potential Hall of Fame bids, the Gasol brothers may celebrate one stat more than others.
The Gasol brothers' upbringing
Pau and Marc were born in Sant Boi de Llobregat, Spain. They both made their names overseas before coming to the NBA. Ironically, both got their start with the Grizzlies, where Pau spent almost seven seasons before his stop in Los Angeles, and Marc spent his entire career before moving to Toronto last season.
While Pau was on the come-up in the NBA, Marc was attending high school in Memphis and watching his brother develop as an athlete. Despite his brief stay in the U.S., Marc bypassed college and went back to Spain to play in Barcelona. He made his name for himself there. Then, in 2007, Lakers chose him late in the draft.
Marc never played for the Lakers, however, as he was traded to the Grizzlies for his brother in 2008. What was believed by many to be a throwaway trade for a less-talented brother quickly made the deal for Pau look better by the year.
Pau Gasol's career
Pau came to the NBA as the third overall pick in the draft. He wasted no time proving he could be a star, averaging 17 points and nine rebounds as a rookie. As the Grizzlies looked to improve, Pau became the face of the franchise. His trade to Los Angeles, however, helped not only as an All-Star but a potential champion.
Pau immediately made a difference on a Lakers team still trying to find its winning ways after trading Shaquille O'Neal. Kobe Bryant had individual success without a big man beside him, but the team failed in the postseason. Pau was the missing piece to elevate the team. They immediately made it to the 2008 NBA Finals, losing to the Celtics.
Over the next two years, Pau became a champion not once, but twice. While Bryant was the leader, he was an indispensable sidekick. Pau played in Los Angeles for six-and-a-half seasons. He continued his All-Star ways in Chicago before eventually hitting a sharp decline in San Antonio.
Although Pau tried to keep his career alive in Milwaukee, then in San Antonio, his age caught up to him. After signing with Portland, Pau was waived and is presumed to be finished in the NBA. He has not announced his retirement, however, says Bleacher Report.
Marc Gasol's career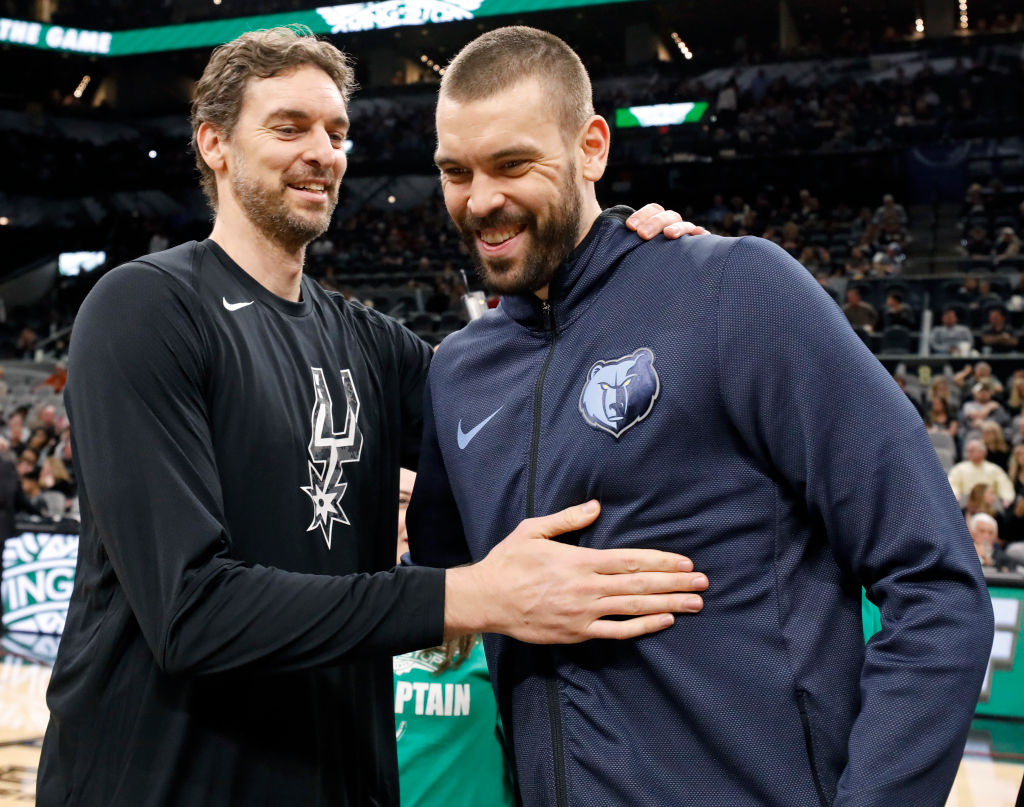 When Marc was traded for his brother, many believed it to be a throwaway trade for the Grizzlies. He immediately proved everyone wrong. Pau had impressed teams enough to become the third overall pick, but Marc was lucky to be drafted at all. He spent several seasons overseas after being drafted before making his debut in 2008 at 24 years of age.
Although Marc's immediate numbers weren't as large as Pau's rookie stats, he quickly showed he was more than a second-round stash. He averaged 12 points and seven rebounds to go along with a block.
While his brother got by with more finesse, Marc was more likely to pound the ball down low and punish people on defense. Eventually, the Grizzlies struck gold and partnered Marc with Zach Randolph. For many years, they were the heart and soul of a feisty Grizzlies squad.
Marc never won a ring in Memphis, however, and approaching his mid-thirties. The team had already gotten rid of Randolph the previous season and were looking to get younger. Marc was traded to the Raptors, where he provided relief both off the bench and as a starter. By the time the Finals came around, he was a vital piece to their success.
What history did they make?
When Marc Gasol hoisted the trophy 10 years after his brother did, he made them the first brothers in NBA history to both win a championship ring. In a league where several families have seen success, there may not be one that saw more than the Gasol brothers.
Although the two were never teammates in the NBA, they will always be linked. The ring Marc earned helped secure this.
Follow more updates from Sportscasting on our Facebook page.