The Giants Are Destined to Fail With Dave Gettleman as General Manager
Dave Gettleman, the general manager of the New York Giants, spoke on December 31, 2019, in East Rutherford about the future of his franchise. He boasted that "four computer folks" had been hired and that they'd acquired new software. Proudly, he spoke of the Giants' commitment to analytics moving forward and of the Giants' commitment to "being forward-thinking."

Considering that Gettleman had mocked the use of analytics in the past and has made some questionable decisions in his role as GM of the New York Giants, will the use of analytics help Gettleman keep his job? Or will the Giants ultimately fail under his leadership?
Gettleman and the Giants getting analytical
NFL fans haven't forgotten that in the 2018 NFL draft, Gettleman chose running back Saquon Barkley as the second overall pick. Gettleman claimed that Saquon was "special" and an "outlier." And he passed on quarterbacks Josh Allen, Sam Darnold, and Josh Rosen in a time when the league values passing over rushing.

It was less than 40 days after Gettleman spoke of the Giants' less than impressive 4-12 season that the Kansas City Chiefs won an epic Super Bowl victory over the San Francisco 49ers to claim the Vince Lombardi Trophy. How did those teams reach the big game? By relying on young and talented quarterbacks Patrick Mahomes and Jimmy Garoppolo, respectively. And by harnessing the power of analytics.

Analytics is an integral part of both the 49ers and Chiefs' assessments and philosophy. Several NFL teams have been using analytics for years, way before Gettleman made his announcement as if his franchise had just embraced some innovative new technology.
But the failure to embrace analytics before now is only one of the problems facing a New York Giants team led by Gettleman.
Dave Gettleman and the Giants are behind the times
Gettleman went from openly mocking analytics to using them. He followed the Barkley pick in 2018 with potential franchise QB Daniel Jones in 2019. Yet his delayed adoption of analytics and preferred run-first style has its share of critics, according to Matt Lombardo of NJ Advance Media:

"I don't think you can win doing it their way. There definitely is a feeling that it's a very old-school concentration on the running game."


Aaron Schatz, founder of Football Outsiders.
The New York Giants are a rebuilding team. For such a team, the management of draft picks and positional value are both important. Gettleman's decisions often don't reflect those needs, much to the confusion of others around the league.

Questionable draft choices and in-season trades by Gettleman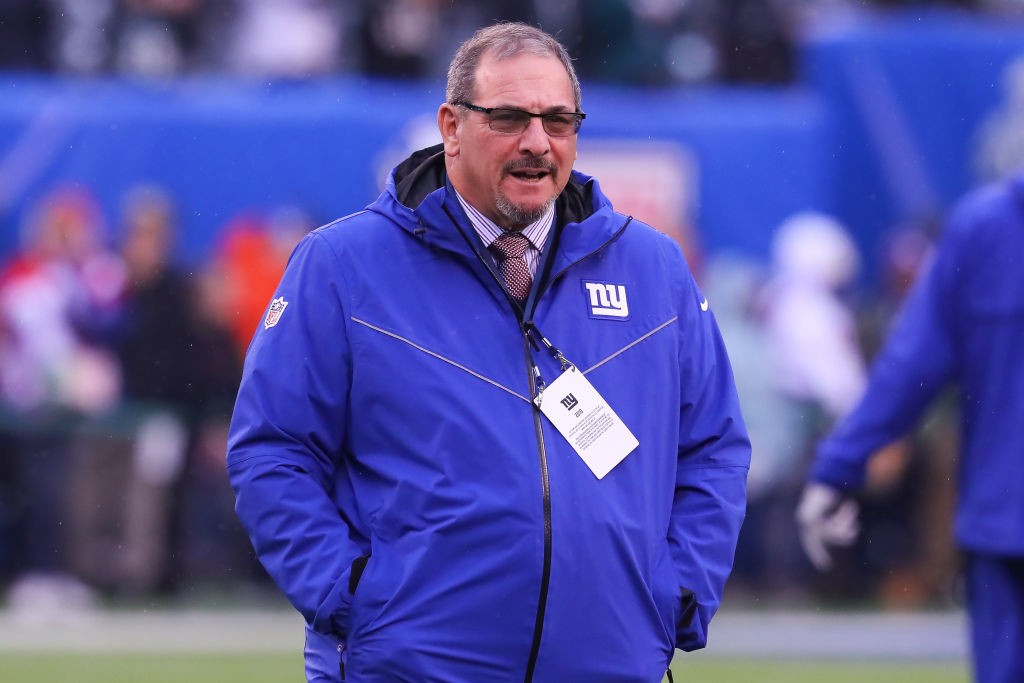 Barkley was viewed as an almost sure thing in the draft and had a solid NFL rookie year. The decision to select him as the second overall pick in the 2018 NFL draft may end up being a wise one at the end of the day. But the $31.2 million guaranteed contract was a risk for a team at the time Barkley was drafted.

The team was missing a lot of key positions, including cornerback, offensive tackle, and pass-rusher. That made such a big investment in a running back questionable. A strong offensive line is needed for a solid running game. Even talented running backs can't open holes for themselves.
Barkley wasn't the only questionable draft choice Gettleman made. He selected Duke's Daniel Jones as the sixth overall draft pick in 2019. When you consider that, at best, Jones was a marginal first-round player, the selection raised a lot of eyebrows across the league.

The in-season trade for defensive lineman Leonard Williams did even more damage at a time when the team's record sat at 2-6. Gettleman sent a 2020 third-round draft pick to the New York Jets along with a conditional fifth-round pick in the 2021 draft that will advance to the fourth round if Williams re-signs with the Giants.

Clearly, Gettleman has little understanding of how top draft picks can best be utilized to help a rebuilding team. Why squander such a draft pick on a player for half a year who may not stay?
What Dave Gettleman and the Giants need to do to survive
New York Giants head coach Joe Judge has been to three Super Bowls with the New England Patriots while coaching under Bill Belichick. The Patriots have used analytics research to great advantage. Judge claims that if Gettleman really planned to rebuild the Giants' to run the ball and stop the run, he wouldn't have taken the head coaching job. Judge has stated an intent to concentrate on the Giants' running game first and foremost.

Many think that Gettleman and the Giants would be better served by investing in a strong pass rush and a solid secondary. In the 2019 season, the secondary was young with second-year Sam Beal and rookies DeAndre Baker and Corey Ballentine. If the Giants had implemented analytics a little earlier, they might have realized they were on the path to being ranked 28th in passing yards allowed per game. They were 27th when it came to Defense-adjusted Value Over Average (DVOA).

Will the analytics lead to problems between the new head coach and the GM? Maybe they could work together and take a page out of the 49ers playbook. The 49ers went from 4-12 to Super Bowl contenders in a single year. Cautiously optimistic fans will be watching to see how it goes.