The Golden State Warriors' $29.5 Million Man Has Put in the Work To Become a Star This Season
The Golden State Warriors have several players this year that can help them become a top team in the Western Conference again. They will have their best player back in two-time MVP Stephen Curry. They will also have three-time All-Star Draymond Green, No. 2 overall pick James Wiseman, and the recently acquired Kelly Oubre Jr. However, the Warriors' $29.5 million man has put in the work to become a star this season — Andrew Wiggins.
Andrew Wiggins has been a solid scorer throughout his career
After a stellar college season at Kansas, Andrew Wiggins was the No. 1 overall pick in the 2014 NBA draft, as he went to the Cleveland Cavaliers. The Cavaliers then traded him to the Minnesota Timberwolves for Kevin Love, but Wiggins proved to be an excellent scorer during his time in Minnesota.
He ultimately won the 2014-15 Rookie of the Year award, as he averaged 16.9 points per game and 4.6 rebounds during his rookie season. Wiggins then continued to improve over the next couple of seasons with the Timberwolves, averaging 20.7 points per game in 2015-16 and 23.6 points per game and four rebounds in 2016-17.
However, the Timberwolves, who already had Karl Anthony-Towns, also had Jimmy Butler in 2017-18. This led to Wiggins' numbers, naturally, taking a hit that year. He averaged 17.7 points per game and 4.4 rebounds. Butler then only played in 10 games with the Timberwolves in 2018-19, but Wiggins' scoring numbers still didn't make their way back to where they were. He averaged 18.1 points per game and 4.8 rebounds that year.
Wiggins then put up some pretty good numbers in 42 games with the Timberwolves in 2019-20, though, as he averaged 22.4 points per game and 5.2 rebounds, but Minnesota ultimately traded him to the Golden State Warriors. He ultimately played in 12 games with the Warriors last season. On the year, between both teams, Wiggins ended up averaging 21.8 points per game and career-highs in rebounds with 5.1 and blocks with one per game.
He has not been a great shooter in his career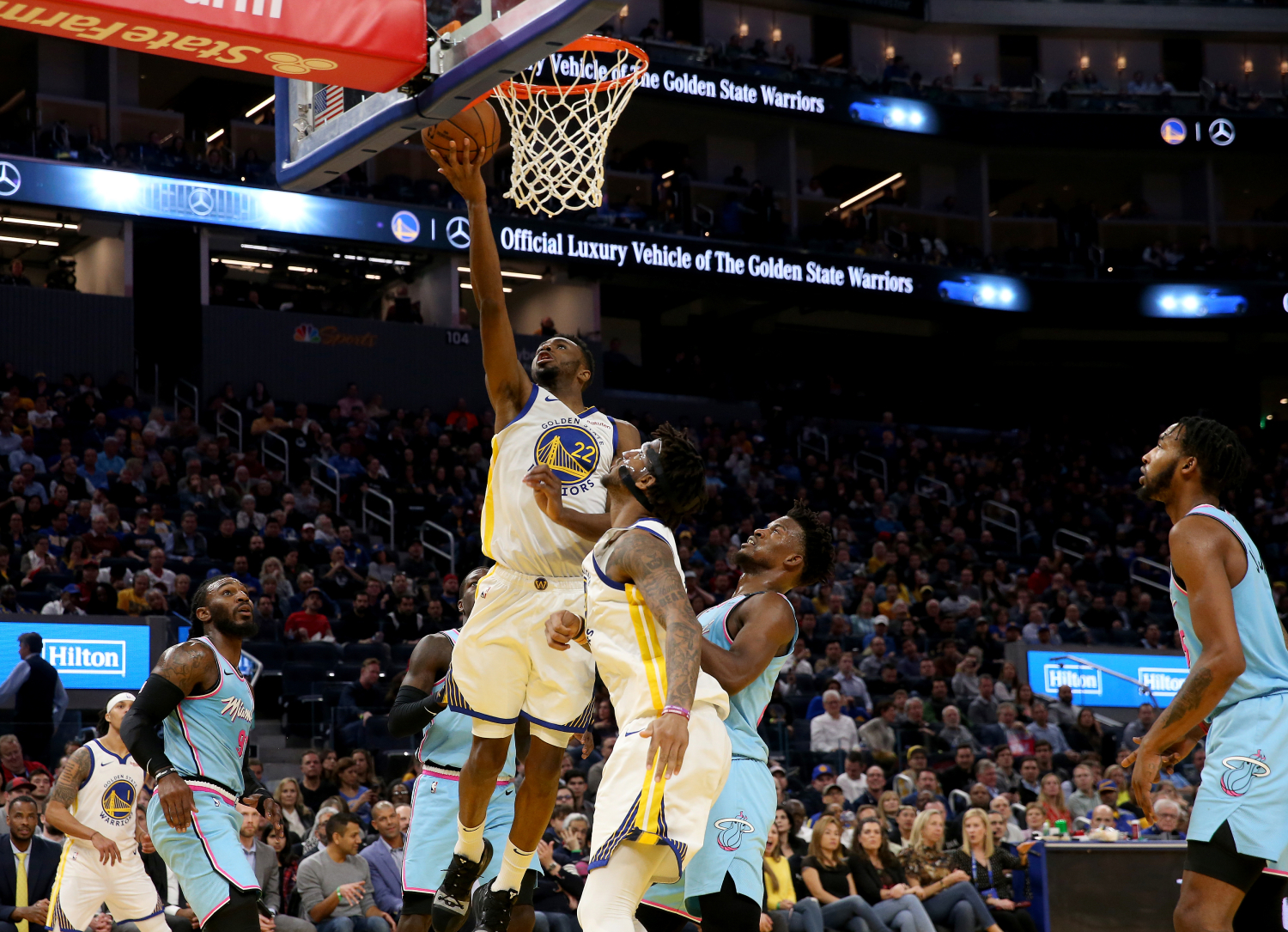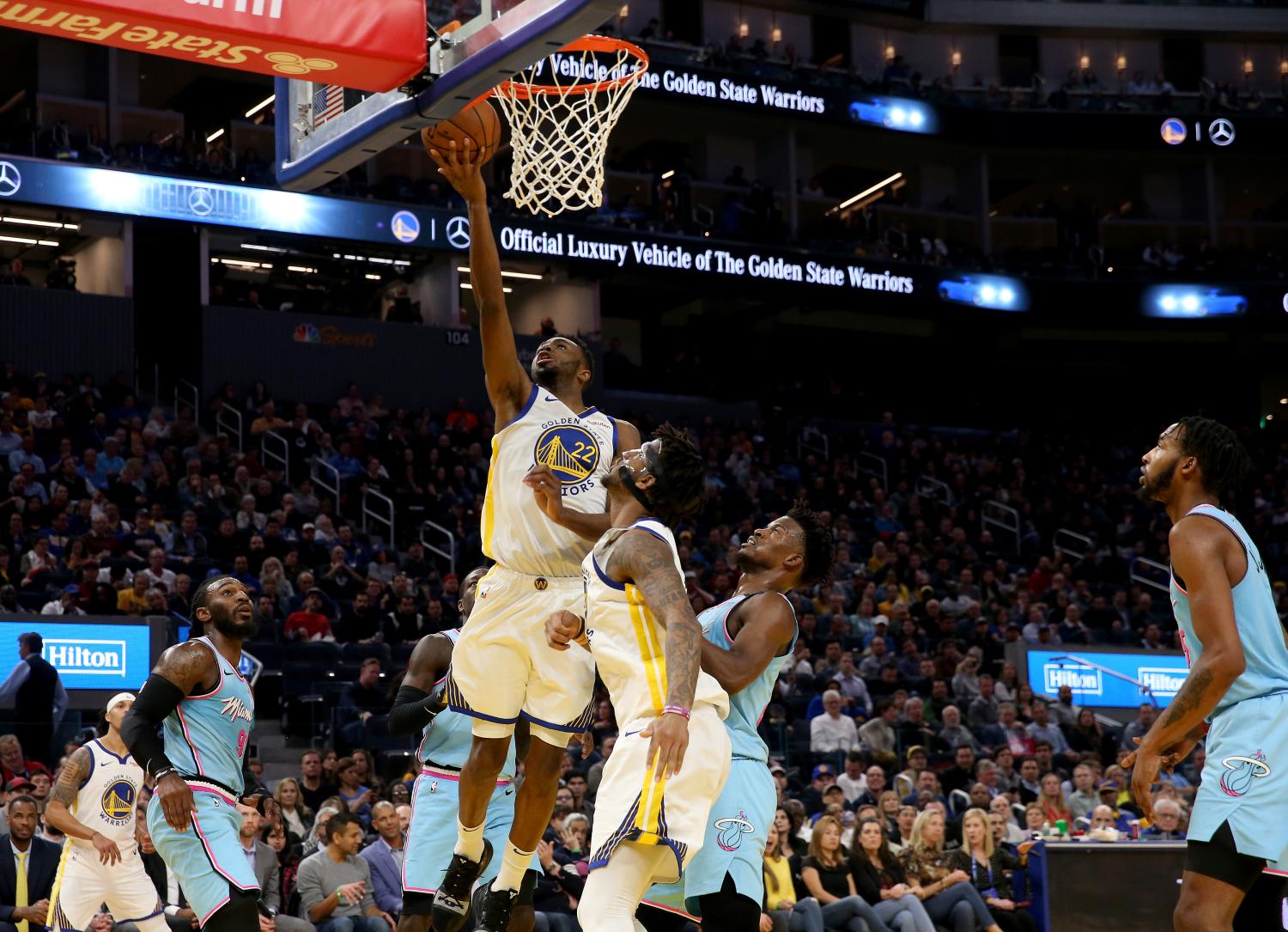 A concern about Wiggins' game over the years has been his shooting. He has never been that great of a 3-point shooter, even coming into the league.
In college, Wiggins only shot 34.1% from 3-point range. He then came into the league and only shot 31% from long range during his rookie season. Wiggins hasn't gotten much better at shooting throughout his career, either, as he has only shot 35% or better from long range in one season.
Additionally, in 2017-18, Wiggins was tied for No. 123 in the league in 3-point shooting, as he shot 33.1% from long range. Then, in 2018-19, he was tied for No. 108 in the league, as he shot 33.9% from long range, and in 2019-20, he was tied for No. 130 in the league with 33.2% 3-point shooting.
So, while Wiggins has been a solid scorer throughout his career, his shooting hasn't been great. This has even been from from mid-range. In 2019-20, Wiggins shot 33% from 10 to 16 feet out, and 33.7% from 16 feet to 3-point range. He also made 93.9% of his dunks, 50% of his hook shots, and 57.2% of his layups, but only made 36.2% of any of his jump shots.
This means that if Wiggins were to add a jump shot to his game, he could become an absolute star on the offensive end.
Andrew Wiggins has been working on his shooting
With the Warriors having high expectations for this season, Wiggins could be crucial to Golden State's success. He is on a team with some great shooters, too, including arguably the greatest shooter of all-time in Stephen Curry. So, if Wiggins — who the Warriors are paying $29.5 million this season — were to add a nice jump shot, he could become a star within the Warriors' offense.
It appears that he has maybe done just that, too.
"[I worked on] ball handling, a lot, a lot of shooting," Wiggins recently said in a press conference when asked about what he worked on during the time the Warriors had off due to COVID-19 and the offseason. "A lot of shooting that kind of goes in with the offense we have here."
Well, that's encouraging to hear. Wiggins has had a lot of time off, and he has spent it working on his shooting. That could be crucial for him this season.
He also has a few goals for himself this year.
"I want to get my 3-point percentage up, free throws; I want to really lock-in defensively," Wiggins said.
Andrew Wiggins has already been a solid scorer in his career. If he becomes a solid shooter, Wiggins can become a star for the Golden State Warriors this season.
Stats courtesy of Basketball Reference; Contract numbers courtesy of Spotrac