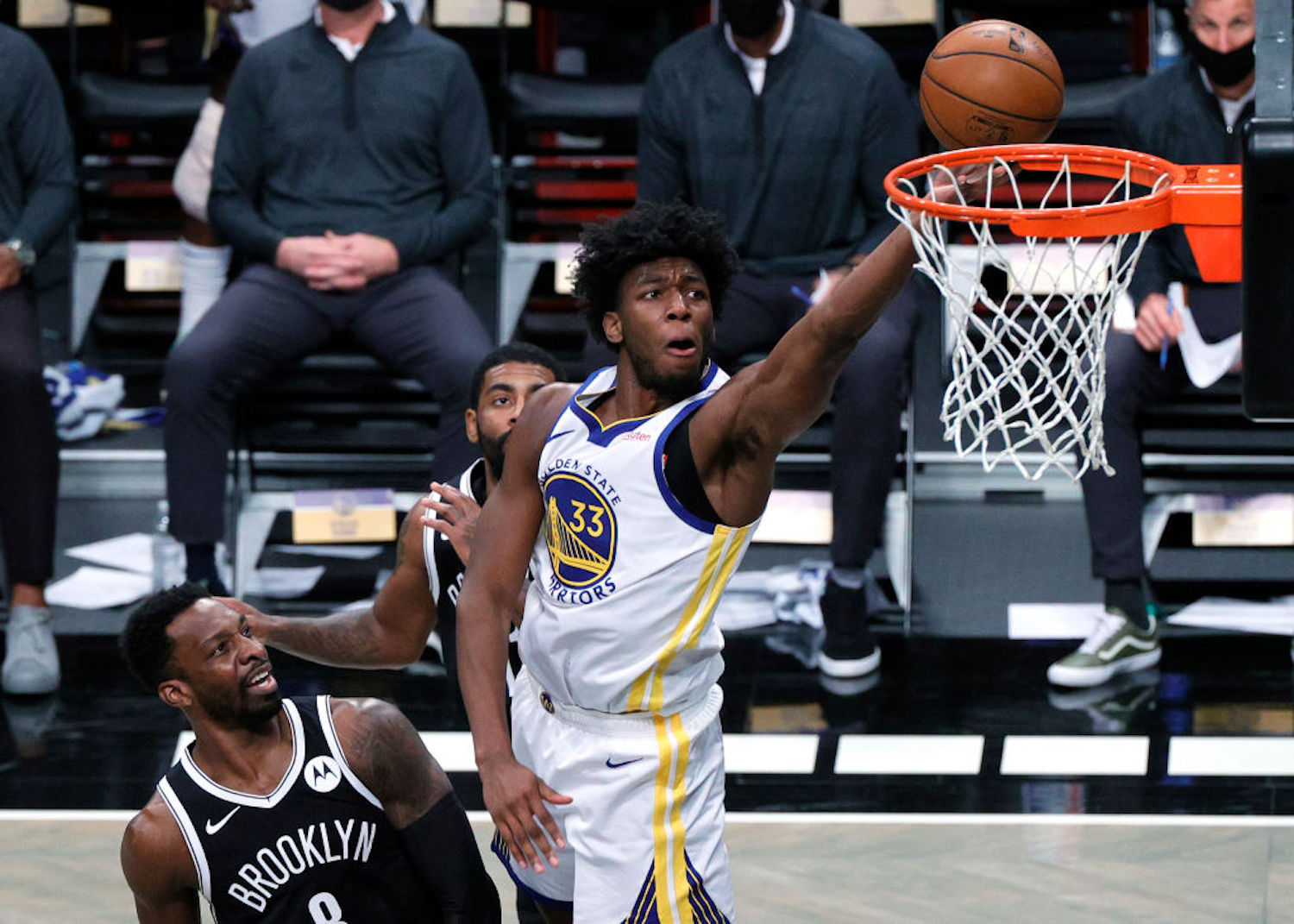 The Golden State Warriors Have Something to Be Excited About Despite Blowout Loss on Opening Night
Not much went right for the Golden State Warriors on Tuesday night, but rookie first-round pick James Wiseman looked like the real deal.
There weren't many positives to take from the Golden State Warriors' blowout loss to the Brooklyn Nets on Tuesday night. The short-handed Warriors fell 125-99 to ex-teammate Kevin Durant, Kyrie Irving, and the new-look Nets on opening night of the 2020 NBA season.
But it wasn't all bad for Golden State. James Wiseman, the rookie center and second overall pick in the draft, impressed in his NBA debut. The Warriors have found their big man of the future.
The Warriors were blown out on opening night
The Warriors had a season to forget in 2019-20. Following five straight trips to the NBA Finals, Golden State went 15-50 last year in what was the worst regular-season record of any team in the league.
Kevin Durant left for Brooklyn, Klay Thompson couldn't play a single game coming off his torn ACL in the 2019 Finals, and Steph Curry played in just five games before suffering a season-ending injury of his own. The Warriors quickly went from dominant to dismal in the blink of an eye, and it wasn't pretty to watch.
Golden State fans came into the 2020-21 season with a renewed hope. Curry was back, James Wiseman was joining the fold as the No. 2 overall pick, and the team added impressive youngster Kelly Oubre Jr. in the offseason.
But even with their upgraded roster, the Warriors didn't look much different from last year during their season debut. Golden State was blown out by the Nets 125-99, as Kevin Durant exacted revenge on his former team.
The Warriors have a lot of work to do if they want to sneak into the playoffs this season.
James Wiseman was the lone bright spot for Golden State
No Warriors fan enjoyed suffering through the hellish 2019-20 season, but the embarrassing campaign did earn them a valuable gift — James Wiseman.
Wiseman was considered by some the most talented prospect in the 2020 NBA draft, and the Warriors were able to scoop him up with the second overall pick. After not playing competitive basketball for over a year, Wiseman looked like the real deal in his NBA debut.
The rookie scored 19 points on 7-13 shooting, pulled in six rebounds, and nabbed two steals in his first professional game. Not too shabby, rook.
"I felt a lot of jitters," Wiseman said after the game. "But as soon as I took my first shot attempt, everything just went out the window. I just started playing hard. I think I did really well for not playing in a year."
Steph Curry knows the Warriors have something special in James Wiseman
There aren't many reasons to be optimistic about the 2020-21 season if you're a Warriors fan, but James Wiseman is certainly one. Even Steph Curry was impressed with his NBA debut.
"I wasn't shocked to see that," Steph Curry said. "He showed that in practice and our scrimmages. Very confident in what he can do. It's good to see him get his feet wet, get some reps in… Obviously, in the fourth quarter, he showed a little bit of his skillset, what he can do inside and out. Just getting him comfortable as possible as quick as possible. Twenty-four good minutes for him to start his career, that's a good step for him individually."
The Warriors aren't the title contenders they have been in recent years, but Golden State fans will have a blast watching their star rookie develop this season.