The Golden State Warriors Might Have Found a Perfect Role Player for Their 2020-21 Team
After going to five consecutive NBA Finals, the Golden State Warriors had an awful year during the 2019-20 NBA season. However, many people expect them to be a top team in the league yet again in 2020-21 with Stephen Curry and Klay Thompson returning, and with the team potentially adding a few stars this offseason. There are plenty of rumors flying around right now about who the Warriors could add, and one name that they have been linked to isn't quite the biggest star. However, this player could still be a perfect role player for the Warriors. That player is Jeremy Lin.
The Golden State Warriors had a down year during the 2019-20 NBA season
RELATED: LeBron James Might Reignite a Fierce Rivalry for Christmas
From 2014-15 through 2018-19, the Golden State Warriors were one of the best teams in NBA history. The Warriors ultimately went to five consecutive NBA Finals during those seasons. After winning their first championship of that stretch in 2014-15, they had an incredible 73-win season in 2015-16. Golden State, however, lost in the 2016 NBA Finals, but added Kevin Durant the next year and then won two consecutive championships in 2016-17 and 2017-18. The Warriors went to the Finals once more in 2018-19 but then ultimately lost to the Toronto Raptors.
Last season, though, the Warriors were not nearly as good as they have been. They lost Durant to the Brooklyn Nets, and Klay Thompson didn't play the entire season due to injury. Stephen Curry also only played in five games for the Warriors last season.
This all led to Golden State going 15-50 overall and earning the No. 2 overall pick in the 2020 NBA draft. With that pick now, though, the Warriors have a chance to be very good in 2020-21. They should have a healthy Thompson and Curry, in addition to Draymond Green, Andrew Wiggins, and either a star veteran or a star rookie depending on what they decide to do with that draft pick.
Jeremy Lin has been a solid player in his NBA career
RELATED: Jeremy Lin Is Worth a Lot of Money After Captivating the World With 'Linsanity'
Jeremy Lin started his career by spending some time in the D-League, now known as the G League. However, the New York Knicks called him up during the 2011-12 season, and he became a star.
The Knicks had an 8-15 record on Feb. 3, 2012, according to ESPN. Lin then scored 25 points for the Knicks in their Feb. 4 game against the New Jersey Nets before going on one of the most exciting runs in NBA history. He ultimately scored 20 or more points in six games in a row and in nine of 10 games overall. This included a 38-point performance in a win over the LA Lakers. At the end of the month, the Knicks were 18-18, and Lin ultimately averaged 22.3 points per game and nine assists during that 13-game stretch.
Lin went on to average 14.6 points per game in 35 games for the Knicks that season. He then signed with the Houston Rockets in that next offseason. He averaged 13 points per game and 5.2 assists for the Rockets over the next two seasons before becoming a journeyman. From 2014-15 through 2018-19, Lin played for five different teams.
He ultimately played for the Toronto Raptors in 2018-19 and was on their championship-winning team, but only played in 27 total minutes during their playoff run.
Lin has not played in the NBA since 2018-19. He played for the Beijing Ducks last season, and played well, though, as he averaged 22.3 points per game, 5.7 assists, and 5.6 rebounds, according to NBC Sports.
The Golden State Warriors could add Jeremy Lin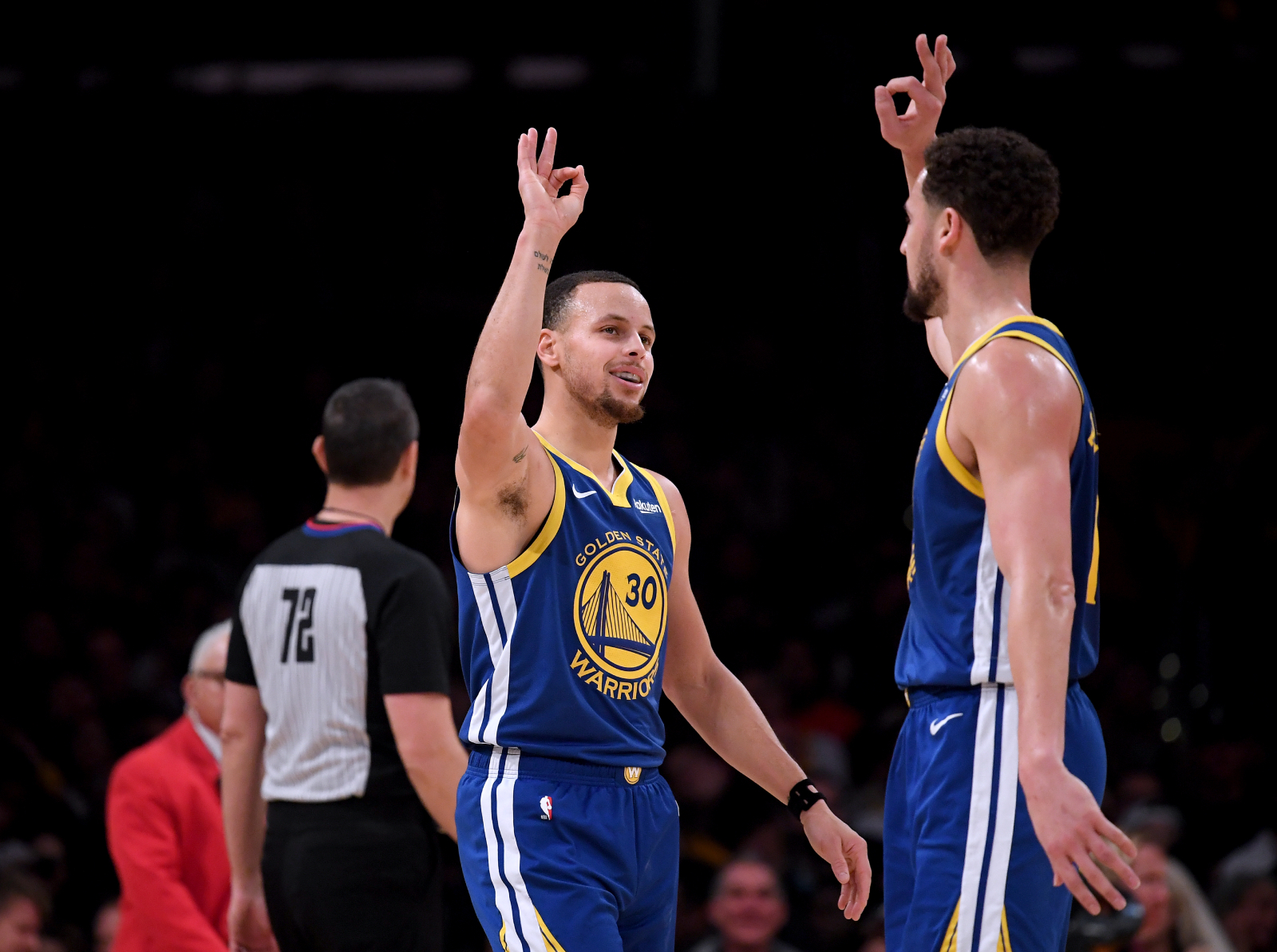 RELATED: Klay Thompson Just Scored a New Endorsement Deal That Proves He's Still a Kid at Heart
According to NBC Sports, Lin announced that he would try to find an opportunity in the NBA again in September. Weixin, an outlet from China, then reported in October that the Warriors have an interest in signing Lin.
This appears to be more than just talk, too. NBC Sports reported that a photographer posted photos of Lin working out with some Warriors players this week. These players included Curry, Eric Paschall, Kevon Looney, Marquese Chriss, and Alen Smailagic.
This appears to be some very serious interest if he is already working out with some of the team's stars.
Jeremy Lin wouldn't be a game-changer for the Warriors this upcoming season, but he could be an excellent role player with his ability to make shots and share the ball effectively. It will be interesting to see if they end up signing him.
Stats courtesy of Basketball Reference