The Golden State Warriors Might Soon Add a Former All-Star
The Golden State Warriors have already improved drastically this offseason after recently drafting No. 2 overall pick James Wiseman and, most likely, trading for Kelly Oubre. However, the addition of Wiseman doesn't mean that they are done improving their roster, specifically with post players. In fact, the Warriors could potentially add a former All-Star big man that could help Wiseman during his rookie season. That former All-Star big man is Marc Gasol.
The Golden State Warriors drafted James Wiseman
RELATED: Kelly Oubre Jr. Will Cost the Warriors $82 Million Despite Having $14 Million Salary
The Golden State Warriors don't have as high of expectations as they maybe had last week after Klay Thompson recently went down with a season-ending injury. However, they could still have a great season, as Stephen Curry will be healthy, they should have Kelly Oubre, and they recently drafted a big-time young guy in James Wiseman.
Wiseman was a highly touted recruit coming out of high school. According to 247Sports, Wiseman was a five-star and one of the top two recruits in the 2019 class.
However, Wiseman only played three college games at Memphis after he left the program following an NCAA violation. He still proved his excellent potential in those games, though, as he averaged 19.7 points per game, 10.7 rebounds, and three blocks.
His potential and limited play in college led to the Warriors selecting him with the No. 2 overall pick in the 2020 NBA draft. He could be huge for the Warriors this season and could help them become a top team in the Western Conference. However, he will only be a rookie this year, so some extra help down low could be pretty valuable for the Warriors.
Marc Gasol has been an excellent big man in the NBA
RELATED: LeBron James Might Reignite a Fierce Rivalry for Christmas
Marc Gasol began playing for the Memphis Grizzlies in 2008-09, and he ended up becoming a star while he was there. Through his first six seasons there, he earned an All-Star selection and a Defensive Player of the Year award, as he averaged 13.5 points per game, 7.9 rebounds, and 1.5 blocks in those seasons.
He was a part of some pretty successful Grizzlies teams in those years, too. They reached the Western Conference Finals in 2012-13 and ultimately made the playoffs in each season from 2010-11 through 2016-17.
Individually, though, Gasol really became a star in 2014-15. He averaged 17.4 points per game, 7.8 rebounds, and 1.6 blocks that season and earned his second All-Star selection. Then, after averaging 16.6 points per game and seven rebounds in 2015-16, Gasol earned another All-Star selection in 2016-17. He ultimately averaged 19.5 points per game, 6.3 rebounds, and 1.3 blocks that year.
Gasol also began to extend his range that season. He had never averaged more than 0.2 three-point attempts per game in a season prior to that. In 2016-17, though, he shot 3.6 three-pointers per game and made 38.8% of those shots.
Gasol played well again in 2017-18 with the Grizzlies. He averaged 17.2 points per game, 8.1 rebounds, and 1.4 blocks. The Grizzlies traded him to the Toronto Raptors during the 2018-19 season, though, and he has been there since then.
Gasol was ultimately pretty valuable to the Raptors during their championship run in 2018-19, as he averaged 9.4 points per game, 6.4 rebounds, and 1.1 blocks in the playoffs. Then, during 2019-20 season, Gasol ultimately averaged 7.5 points per game and 6.3 rebounds in a career-low 26.4 minutes for the Raptors.
The Golden State Warriors could add Marc Gasol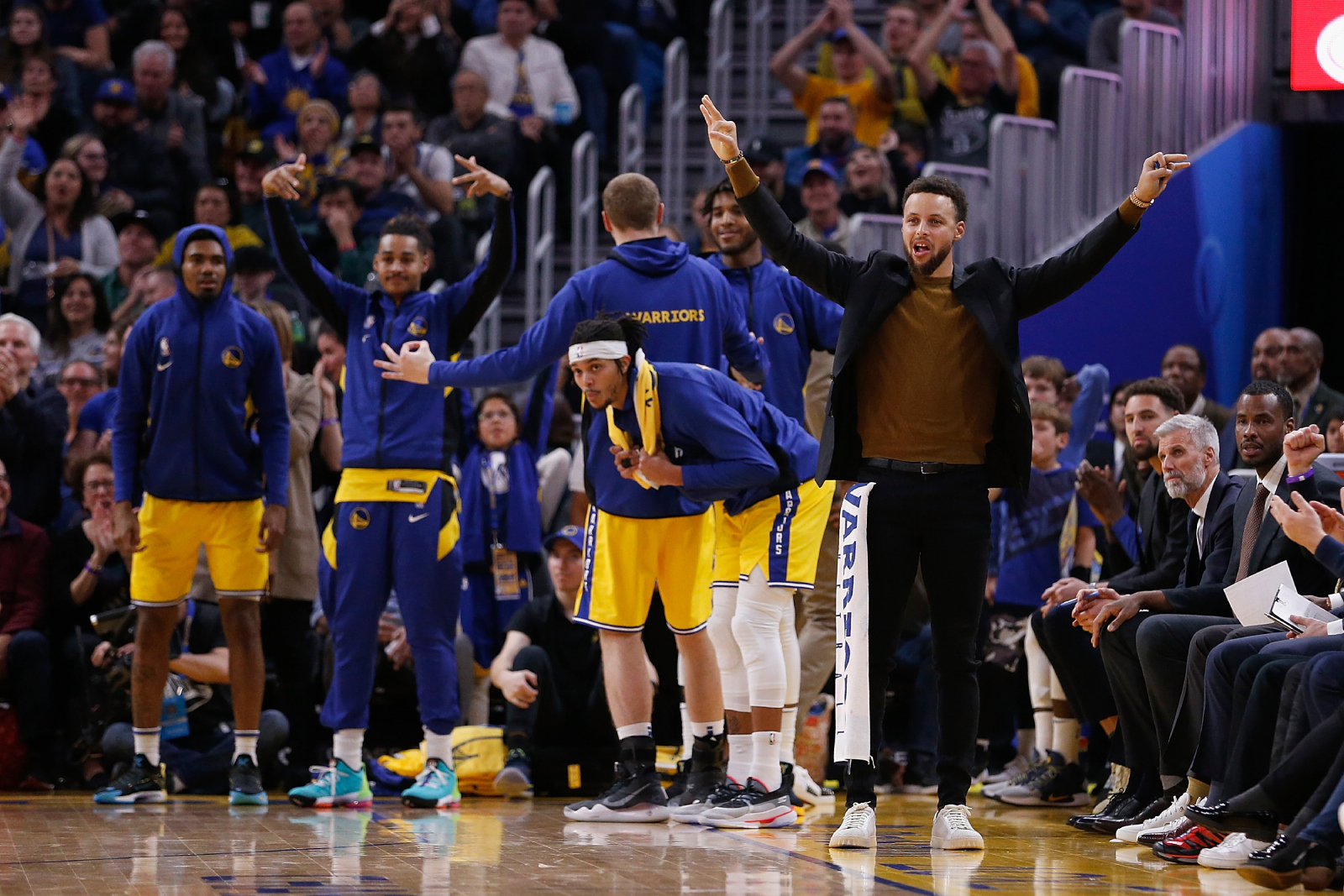 RELATED: The LA Lakers Could Still Add a Former All-Star Big Man
Adrian Wojnarowski of ESPN recently reported that the Raptors are still trying to bring back Gasol. Additionally, Marc Stein of the New York Times has reported that the reigning champion LA Lakers are potentially interested in adding Gasol.
However, one other team that could be in the running for Gasol is the Golden State Warriors. Wojnarowski reported that Golden State is reportedly another team that is showing an interest in Gasol.
Would Gasol be a big-time, potentially landscape-changing signing for the Warriors? No. But he would be a pretty nice acquisition. He would not only help give them some solid defense and would be able to rotate with Wiseman while he tries to adjust to the NBA, but he could be big for the Warriors' future. Gasol could teach Wiseman what it takes to be a successful big man in the league, and, with Gasol winning a Defensive Player of the Year award in the past, he can teach him how to become a great defender in the post.
The Golden State Warriors will already be a much better team in 2020-21 than they were in 2019-20. Adding Marc Gasol would just solidify that claim.
Stats courtesy of Basketball Reference and Sports Reference