The Golden State Warriors Reportedly Tried To Add a $41.2 Million Superstar
The Golden State Warriors will be a much better team this upcoming season than they were last year. They have Stephen Curry back and some other nice new pieces around him. However, they almost recently created a new super team, as they reportedly considered adding a new $41.2 million superstar prior to the recent Klay Thompson injury. That superstar was James Harden.
The Golden State Warriors will be much better in 2020-21
RELATED: The Golden State Warriors' Newest Scorer Already Wants To Stay for Years To Come
After making it to the NBA Finals in five consecutive seasons from 2014-15 through 2018-19, and winning three championships during those years, the 2019-20 season was a tough year for the Warriors. Kevin Durant left and went to the Brooklyn Nets in the offseason, Klay Thompson missed the entire year due to injury, and Stephen Curry only played in five games. This led to them only going 15-50 overall.
The Warriors had high hopes for this upcoming season, though. They were supposed to have Curry and Thompson back, and they were going to have No. 2 overall pick James Wiseman, former No. 1 overall pick Andrew Wiggins, and Draymond Green. However, Thompson recently suffered another season-ending injury, which somewhat ended the Warriors' hopes of winning a championship in 2020-21.
Golden State still has high expectations, though, as they still have a two-time MVP in Curry, as well as Wiseman, Andrew Wiggins — who averages 19.7 points per game for his career — and a three-time All-Star in Draymond Green. The Warriors also recently traded for Kelly Oubre Jr., who averaged 18.7 points per game and 6.4 rebounds for the Phoenix Suns last season.
However, Golden State could have been even stronger.
James Harden potentially wants to leave the Houston Rockets
RELATED: What the Golden State Warriors' Starting Lineup and Rotation Could Look Like in 2020-21
James Harden has ultimately become one of the best players in the entire NBA throughout his career. He has led the NBA in points per game in three consecutive seasons and has ultimately become an eight-time All-Star. Harden also won the league MVP award during the 2017-18 season.
However, Harden and the Houston Rockets have failed to achieve their goals over the years. They have been to the playoffs each season since 2012-13 and have reached the Western Conference Finals twice since then. They have failed to reach the NBA Finals, though, and have lost in the Western Conference Semifinals in each of the last two seasons
After the most recent playoff loss, the Rockets parted ways with Mike D'Antoni and Daryl Morey. This then led to reports coming out about Harden and Russell Westbrook having concerns about the direction of the franchise, according to ESPN.
Adrian Wojnarowski of ESPN then reported that Harden turned down an extension with the Rockets and made it clear that he wanted to be traded to the Brooklyn Nets. An extension would have ultimately made Harden very wealthy, as he is already supposed to make $41.2 million this season, according to Spotrac. That shows how much Harden potentially wants to leave Houston.
Players cannot just decide what teams they are traded to, though, which means that other teams who aren't the Brooklyn Nets could potentially acquire Harden from the Rockets. This includes the Golden State Warriors.
The Golden State Warriors reportedly called about James Harden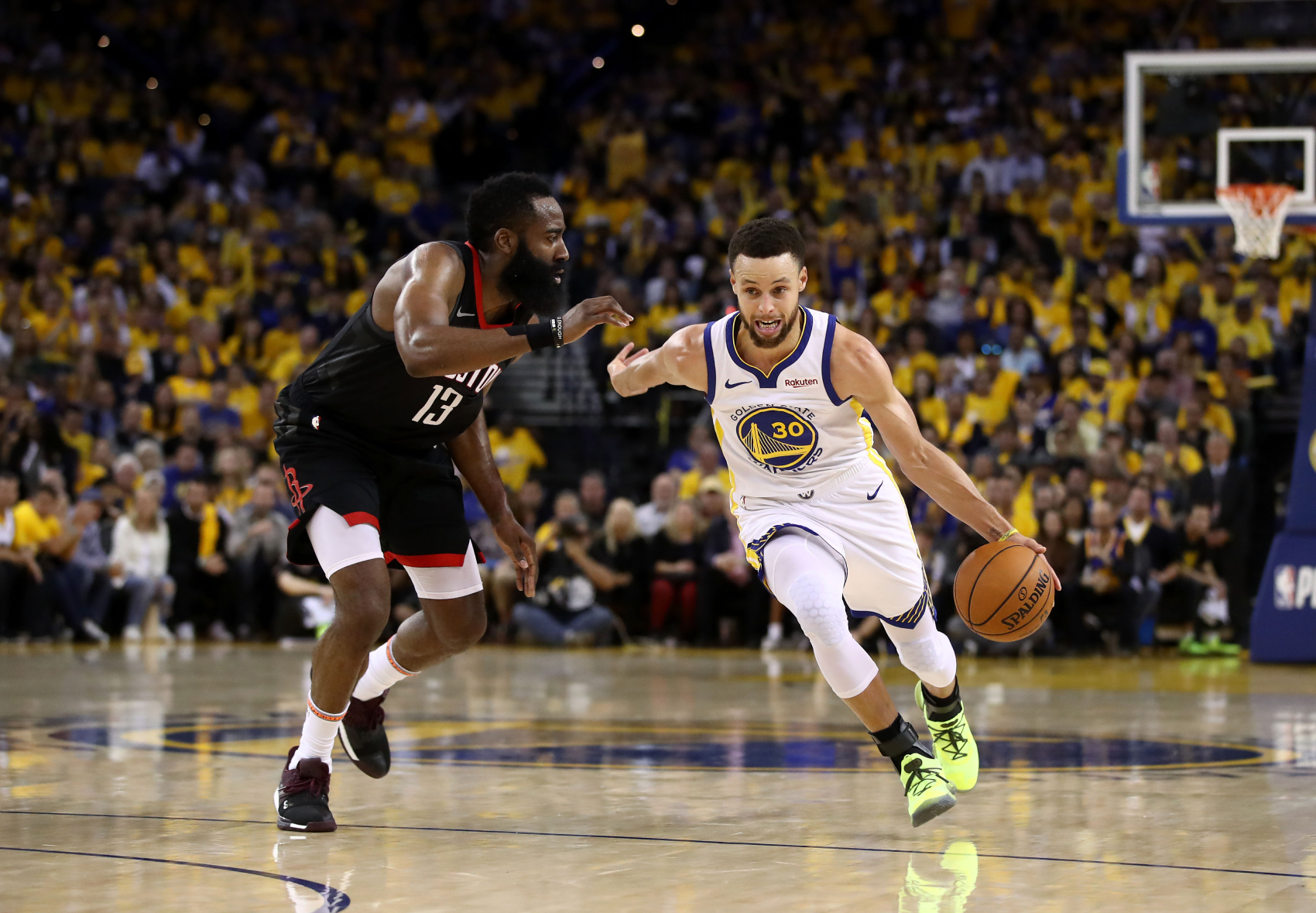 RELATED: The Golden State Warriors' Newest Acquisition Gives Them Exactly What They Needed
The Athletic's Shams Charania recently appeared on the Load Management podcast, and he revealed that the Warriors reportedly called about James Harden.
"The Warriors at one point made a call in for James Harden," Charania said on the Dec. 1 episode of the Load Management podcast. "I heard that one a little bit before the injury to Klay."
Wow, so the Warriors potentially tried to create a super team that consisted of Stephen Curry, Klay Thompson, and James Harden, assuming that Curry and Thompson were not mentioned in the trade discussions. This wouldn't have been quite as strong as their super team with Kevin Durant, but it would have been pretty close.
Harden and Curry are both former MVPs and have both led the NBA in points per game during their careers. All three of these guys are elite 3-point shooters, too. Curry is arguably the best shooter of all-time, as he has made 43.5% of his 3-point shots in his career, has attempted the eighth-most 3-pointers in NBA history, and has made the third-most 3-pointers ever. Harden is also a career 36.3% 3-point shooter and shot over 10 three-pointers per game in each of the last three seasons. Thompson is also a 41.9% career 3-point shooter.
This team would have certainly been unstoppable, especially within the Warriors' system that involves a lot of ball movement. Although no deal has been made, maybe this is something that the Warriors and Rockets can revisit in the future.
Stats courtesy of Basketball Reference