The 5 Greatest New England Patriots of All Time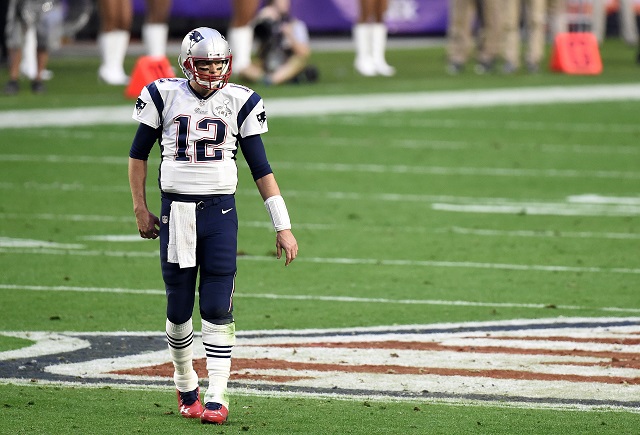 Not counting this Sunday, the New England Patriots have made eight trips to the Super Bowl, and won four (2001, 2003, 2004, 2014). That's not uncommon knowledge, but the fact that the Patriots franchise is tied with the Steelers and Cowboys for the most Super Bowl appearances in league history isn't often remarked upon.
Patriot success, of course, is a mostly recent phenomenon, as opposed to Steeler and Cowboy organizations that have been largely dominant since the 1970s. As a perennial contender, the Patriots are still involved in a remarkable run — they have claimed 12 of the last 14 AFC East regular season titles.
"The Patriot Way" largely came into being after Bill Belichick and Tom Brady effectively joined forces on a full-time basis, beginning in 2000. The Patriot Way, to elaborate, emphasizes crisp execution, selflessness, innovative play calling, and a staunch commitment to football that works to field cohesive team units that appeared to be better than the sum of their respective parts. Each of the five greatest Patriots of all time echo these sentiments.
1. Troy Brown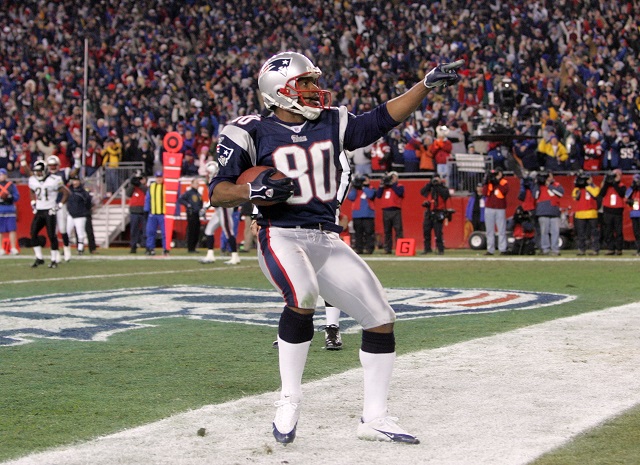 In 1993, New England drafted Troy Brown in the 8th round (198th overall pick) out of Marshall as a return specialist. Eventually, Brown started to see game-time action as the third receiver in passing situation, although he actually did not emerge as a full-time starter and primary target until 2000: The following season he racked up 101 receptions for 1,199 yards and 5 touchdowns.
That postseason, Troy Brown took a 55-yard punt return back to the house and also scooped up a blocked field goal that led to another score in the 2001-2002 AFC Championship Game. After dispatching the Steelers 24-7, the Cinderella Patriots went on to claim their first Lombardi Trophy with a 20-17 win against the high-octane St. Louis Rams. Adam Vinatieri split the uprights on a 48-yard kick as time expired. Troy Brown went on to help win two more Super Bowls with the Patriots.
In all, Troy Brown racked up 557 receptions for 6,366 receiving yards and 31 touchdowns, through 15 years of service as a career Patriot. As a utility man, Brown saw time at wide receiver, return man, cornerback, and even emergency quarterback.
2. John Hannah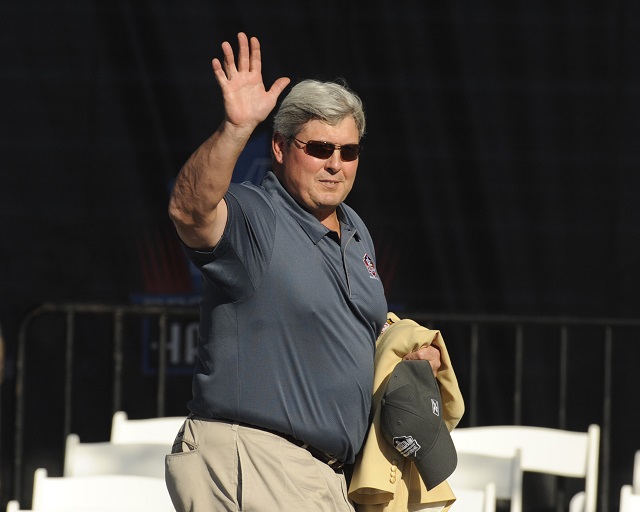 Often mentioned alongside Anthony Muñoz as one of the greatest offensive linemen of all time, John Hannah was relatively undersized, standing 6-foot-2 and 265 pounds. The Hog, of course, more than made up for his lack of size, through quickness, agility, textbook technique, and above all else, an iron will. As an athletic lineman, Hannah was a devastating blocker in space, where he would work as the pulling guard on sweeps and counter draws.
A model of consistency, Hannah was selected to nine Pro Bowls, between 1976 and 1985. That last season, he made his one and only trip to the Super Bowl, which turned out to be a 46-10 loss to the '85 Bears.
3. Ben Coates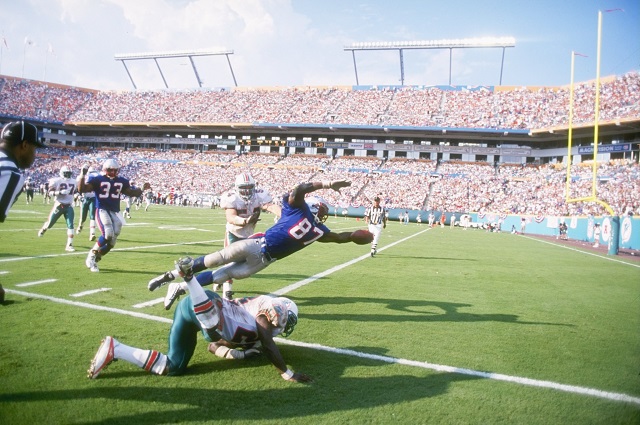 Ben Coates laid the groundwork for Rob Gronkowski, another player who could become an all-time Patriot great, and tight end dominance in New England. Unlike Gronk, Coates has remained historically underrated. Several NFL analysts have gone so far as to identify Coates as a Hall of Fame snub.
In 1993, Bill Parcells installed Ben Coates as a focal point for the Patriots offense. That year, the wide-bodied 6-foot-5 tight end emerged as the ultimate security blanket for a young Drew Bledsoe. Coates was especially adept at working the soft zone underneath, where he could clear out space, and move the chains. In 1994, he hauled in 96 receptions for 1,174 yards, and 7 touchdowns. Two years later, the Pats were on the march toward Super Bowl XXXI, although they came up empty handed (Coates ultimately won a Super Bowl, as part of the 2000 Ravens.)
As a Patriot, Coates hauled in 490 receptions,good for 5,471 yards and 50 touchdowns. At the time of his retirement, Coates was the fourth most productive tight end in the history of the NFL, behind only Ozzie Newsome, Kellen Winslow, and Shannon Sharpe.
4. Vince Wilfork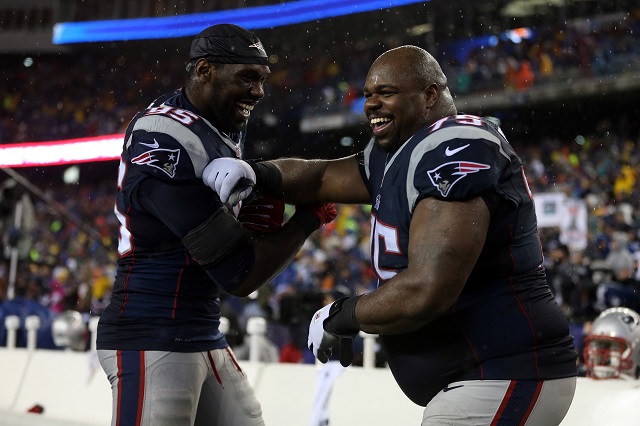 In 2004, the Patriots drafted Vince Wilfork with the 21st overall pick out of the University of Miami. He became the anchor of the defense almost immediately.
At 6-foot-2 and 325 pounds, Wilfork would take on two blockers at the point of attack and control the line of scrimmage. Despite his stature, Wilfork was deceptively quick, and could knife into the backfield to drop ball carriers for losses. Because of this versatility, coach Bill Belichick was free to experiment with four, three, and even two-down lineman fronts to further confuse and terrorize opposing offenses.
As an 12-year pro, Wilfork has already made 5 trips to the Pro Bowl as one of the best defensive tackles of his generation. A winner, Vince Wilfork helped the Patriots lay claim to two Lombardi trophies.
5. Tom Brady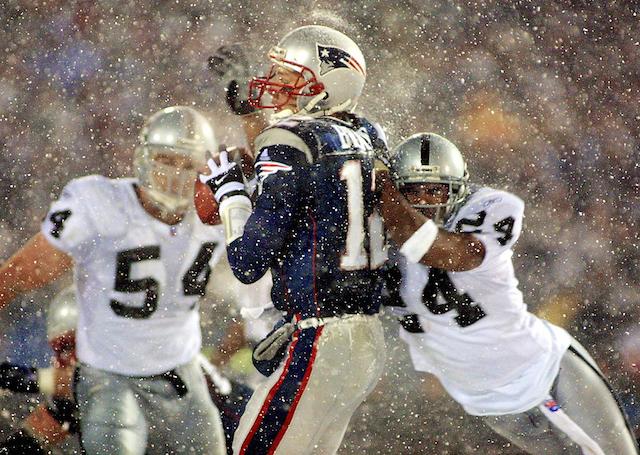 Tom Brady largely silenced his remaining critics after the Patriots defeated the Seattle Seahawks 28-24 in Super Bowl XLIX. Brady took home MVP honors for the Big Game after completing 74% of his passes, good for 328 yards and 4 touchdowns, leaving him with four titles in six trips to the Super Bowl. Brady, a former sixth-round draft pick, has emerged as the most decorated athlete in football.
As a Patriot, Brady has been remarkable in consistently leading a ragtag group deep into the postseason. Leading Patriot receivers have included the aforementioned Troy Brown, alongside the likes of Kevin Faulk, Ben Watson, and Jabar Gaffney. In 2007, Brady put together a career year (4,806 yards and 50 touchdowns), after the Patriots finally splurged on coveted free agents Randy Moss, Wes Welker, and Donte Stallworth. This undefeated run, however, did end in infamy, as the high-powered Patriot offense lost Super Bowl XLII to the New York Giants.
In recent years, Bill Belichick and Tom Brady appeared to return back to a full embrace of the Patriot Way. This latest title run included Brady handing off and tossing passes to former castoffs Jonas Gray, LeGarrette Blount, and Brandon LaFell — proof positive that Brady can elevate the play of any teammate he's given.
Statistics courtesy of ESPN and Pro-Football-Reference.