The Greatest Dynasties in Major League Baseball History
Baseball fans don't really like dynasties. If you rooted for one of the 29 teams shut out of the winner's circle in the late 1990s, you probably hated the Yankees with a passion. Likewise, many fans came to sympathize with the Dodgers faithful in their loathing of the Giants by 2014. When that championship run ended, you could feel a collective sigh of relief sweep across the baseball world.
That's because success — like familiarity — breeds contempt. Once the Chicago Cubs finally won the World Series in 2016, they shed the "lovable loser" label faster than an Aroldis Chapman heater. If the Cubbies manage to win another championship in the coming years, they'll become a popular target of hate and ridicule. (Actually, it's already started.)
Fans of dynasty teams joyfully stand on the other side. Few things are more satisfying than seeing your team in the playoffs every year. When that club rack ups multiple titles within a few years, it builds a fanbase for generations. So let's look at Major League Baseball's most loved and hated of all time. Here are the 10 greatest MLB dynasties.
10. Boston Red Sox (1912–18)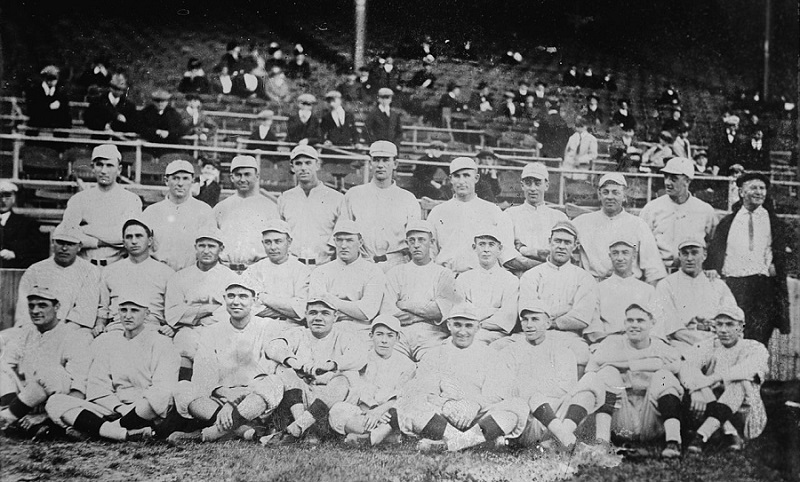 If you followed the 2004 Red Sox, you heard a lot about 1918. Prior to the '04 title, Boston fans experienced a drought of epic proportions — 86 years, to be exact. But that '18 club, which featured Babe Ruth as both pitcher and slugger, was wrapping up a dynasty of its own. The club won four titles in a seven-year span, culminating in a six-game win over the Cubs in a season shortened by World War I.
Maybe the most amazing thing about this period in Red Sox history is the idiocy of the team's ownership. We know about Harry Frazee selling Ruth to the Yankees in 1919. But in 1916 the team President did something almost as dumb by dumping Hall of Famer Tris Speaker over a sum of $5,000. Who knows how good this team might have been, but even with those moves it ended up being a genuine dynasty.
9. New York Yankees (1923–28)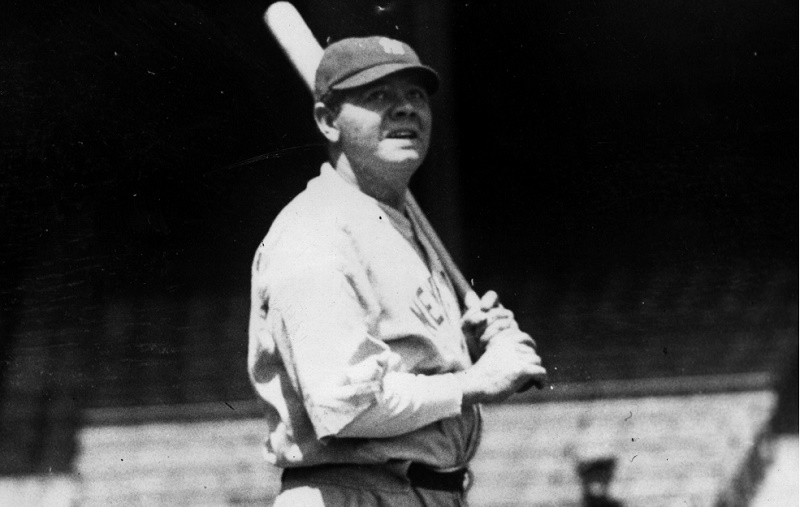 Though the Yankees started rolling with the arrival of Ruth in 1920, it took Big Bam and his teammates three straight World Series appearances to win their first title in 1923. That era's juggernaut: the New York Giants, a club that would have claimed a dynasty of its own if not for consecutive World Series losses to AL opponents. (Washington defeated the Giants in seven games in the '24 Series.)
It wasn't until later in the decade, when Lou Gehrig started his historic tear, that the club hit its peak. And what a peak it was: The 1927 Yanks are widely considered the greatest team in MLB history. They went 100-44, outscoring opponents by 376 runs. The Babe hit 60 HR, Gehrig added 47, and the club swept Pittsburgh in four games for its second title. In 1928, the group swept the Cardinals for its third title in six years.
8. San Francisco Giants (2010–14)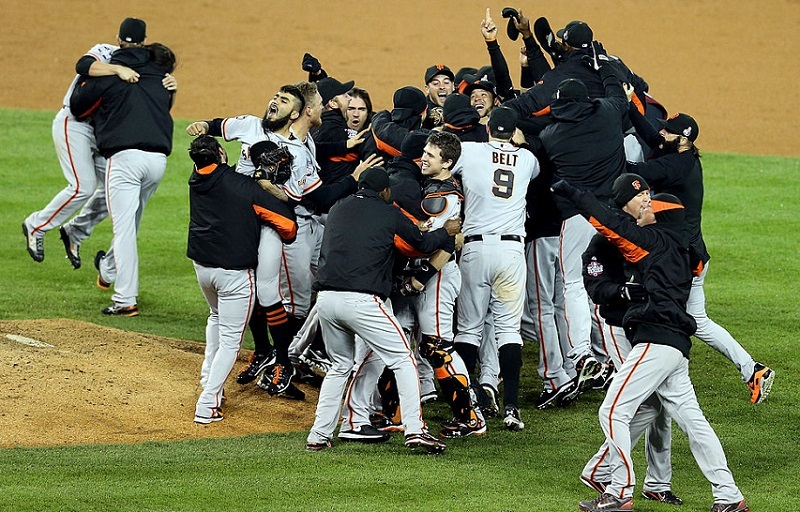 You can call it even-year magic, the wrath of Madison Bumgarner, or a finely tuned playoff machine. But by any name the Giants of 2010–14 represented a legitimate dynasty. This club, which featured a consistent rotation along with a revolving cast of characters in the bullpen and other positions, had a knack for beating better teams in the playoffs.
In fact, these Giants were largely a playoff dynasty. Under the steady direction of Bruce Bochy, the bullpen posted a 2.42 ERA across the three postseasons. There were individual performances that put San Francisco over the top as well. We mentioned Bumgarner, but Pablo Sandoval and Brian Wilson helped bring rings to the franchise, too. We'd rank this group higher, but it missed the playoffs entirely in 2011 and 2013.
7. Philadelphia A's (1909–14)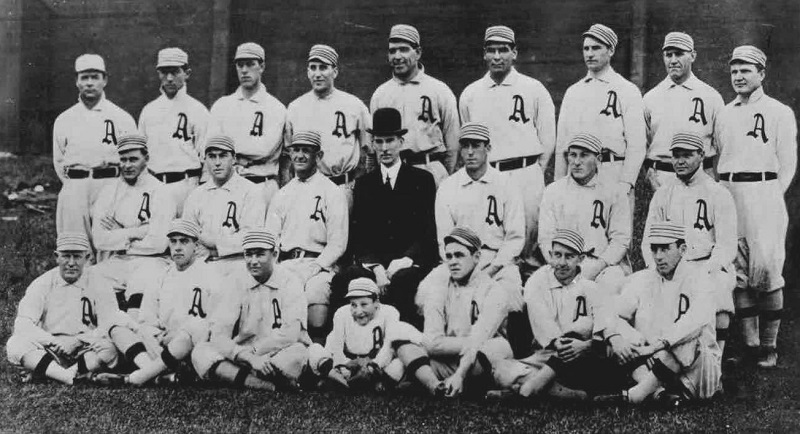 The Phillies may MLB's all-time most losing franchise, but until 1954 the City of Brotherly Love was home to one of the game's most successful clubs, the Philadelphia A's. With owner/manager Connie Mack running the show for 50 years, those A's had their best run at the start of the American League, when they won six of the first 14 AL pennants.
Mack's best squad held court from 1910–14, when it won three World Series and lost a fourth in an upset/blowout by the Boston Braves in '14. In 1911 (101-50), A's batters hit for a .297 average while the pitching staff hurled 97 complete games. FiveThirtyEight Elo ratings ranked that team seventh in MLB history, and the 1910 edition claimed 21st on the list. Eddie Collins and "Home Run" Baker (who led the club with 11 HR in the pre-Ruth era) paced the offense.
6. New York Yankees (1956–62)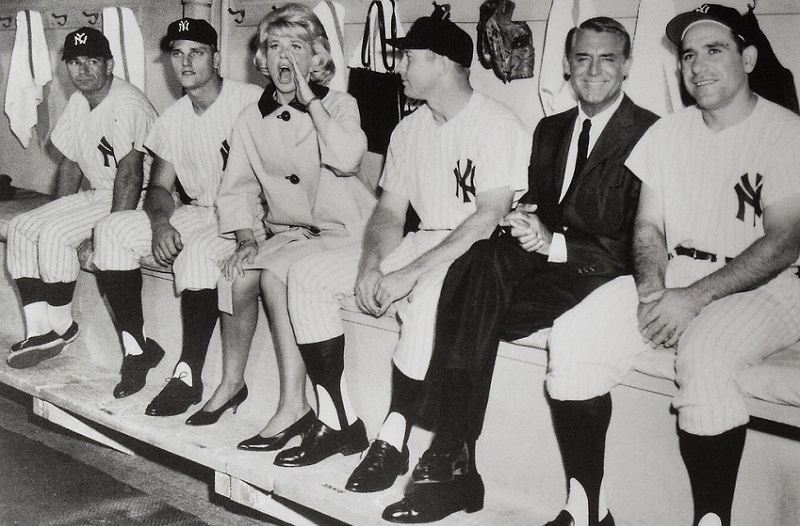 Between 1956 and 1964, Mickey Mantle's Yankees went to the World Series six times and claimed four titles, with the last coming in '62. Over that run, Mantle claimed three MVP awards and finished second twice (in '61 and '62) to teammate Roger Maris, who broke Ruth's record with 61 HR in the historic campaign of 1961.
With three-time MVP Yogi Berra (followed by Elston Howard) behind the plate and Whitey Ford fronting the rotation, this team was known as much for its presence in New York nightlife as dominance in the postseason. The club came close to its fifth title in 1960. However, Bill Mazeroski intervened with an epic walkoff homer for Pittsburgh in Game 7.
5. Oakland A's (1971–75)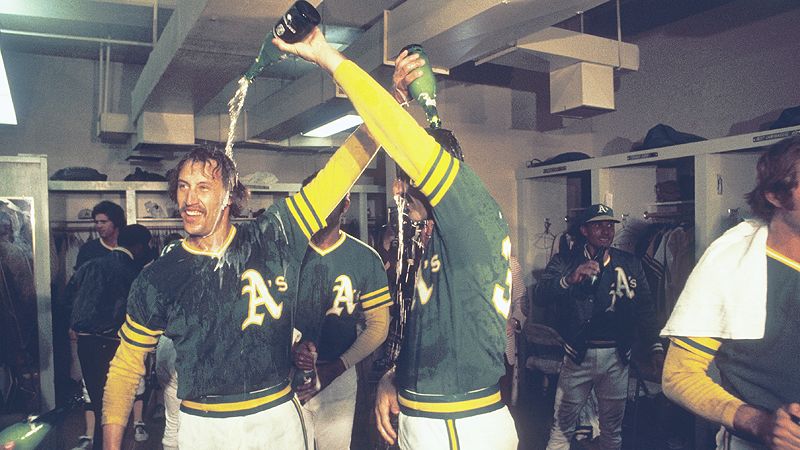 Only two clubs have won three straight World Series since 1953; the Oakland Athletics of 1972–74 were the first. This A's club had the game's best offense over those three championship years, with Reggie Jackson (1973 AL MVP) leading the charge. Meanwhile, it sported MLB's top bullpen with Rollie Fingers as the last man standing for manager Dick Williams.
Starters Ken Holtzman (6-2) and Catish Hunter (7-1) had an amazing run in these postseasons, while Fingers (9.1 IP, 2 ER) took home the MVP of the '74 Fall Classic. Of course, the legend of Mr. October began in Oakland, specifically with Jackson's '73 World Series MVP performance. New Yankees owner George Steinbrenner moved to import Catfish and Reggie to New York soon thereafter.
4. St. Louis Cardinals (1942–46)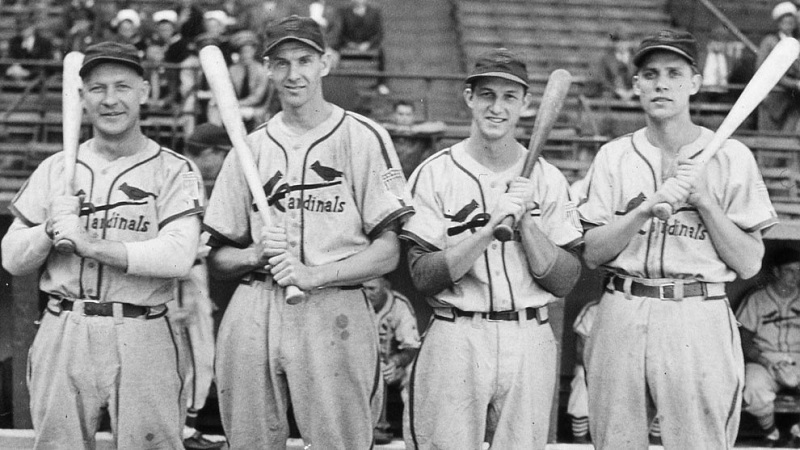 For the St. Louis Cardinals of 1942–46, we refer back to FiveThirtyEight's Elo ratings. Both the '42 and '44 squads ranked among the top 10 clubs of all time. The team won titles both those years before adding a third in '46. Stan "the Man" Musial won two NL MVP awards during this run, which included a shot at a fourth World Series in '43. (The club lost to the Yankees in five games that year.)
Shortstop Marty Marion (the '44 NL MVP) and Mort Cooper (the '43 NL MVP) were just a few of the cast of characters who elevated this team to dynasty status. If it weren't for two Yankees dynasties bookending this run by the Cards, St. Louis's extraordinary WWII-era club might be among the top three teams ever assembled.
3. New York Yankees (1936–41)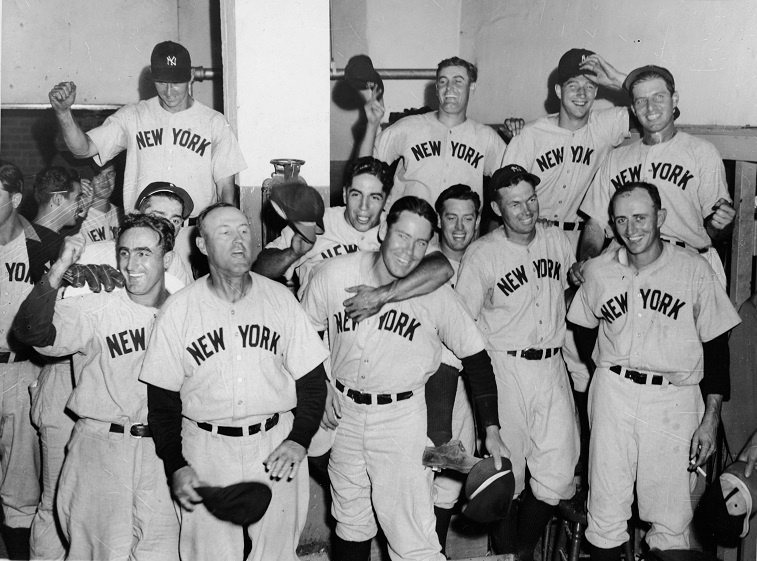 If you want to talk about utter domination, look at the Yankees clubs between 1936 and 1939. Those teams averaged 103 wins per season and went 16-3 in the World Series for four straight titles. After an "off-year" (88-66) in 1940, skipper Joe McCarthy's club returned with 101 wins. That team had a five-game Series win over Brooklyn in '41, making it five titles in six years.
This dynasty involved one of the great transfers of power in baseball history; Gehrig's final MVP season came in '36, the same year a 21-year-old Joe DiMaggio made his debut. From then on, it became Joe D's team, with the Yankee Clipper winning MVP awards in '39 and '41. However, talent exploded from every part of this team, with Hall of Famers Bill Dickey, Red Ruffing, Lefty Gomez, Joe Gordon and Tony Lazzeri on board for the dynasty.
FiveThirtyEight Elo ratings called the '39 club the best in history, while the '37 and '38 squads ranked 11th and 12th, respectively.
2. New York Yankees (1996–2001)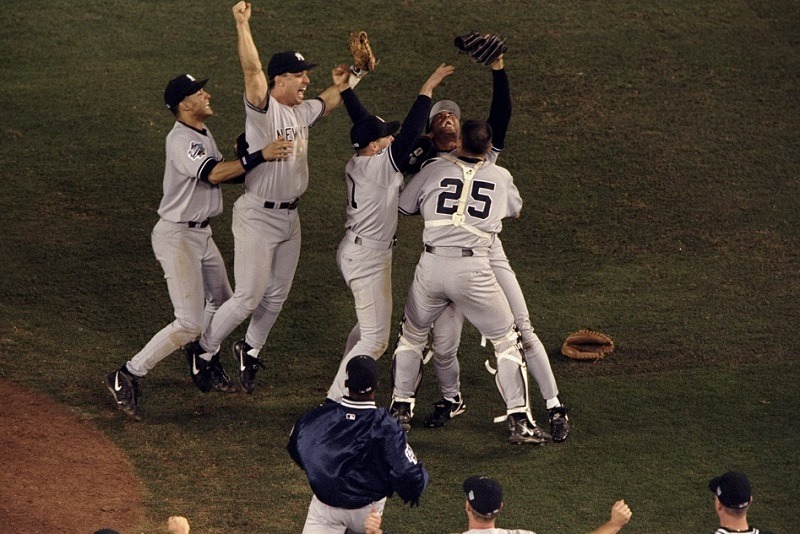 The second dynasty that modern fans witnessed ended in the ninth inning of the seventh game of the 2001 World Series, when Mariano Rivera made one of the few stumbles of his Hall of Fame. Prior to that, the game's greatest closer (8-1, 0.70 ERA in postseason play) wrapped up four World Series titles in five years for New York. That stretch included the only three-peat (1998–2000) since 1974.
Besides Rivera, these clubs displayed extraordinary depth. Start with the pitching staff, which included Roger Clemens, David Wells, David Cone, Andy Pettitte, and Orlando "El Duque" Hernandez. The lineup was stacked with future Hall of Famer Derek Jeter as well as Bernie Williams, Tino Martinez, Paul O'Neill, and Jorge Posada in their primes. Scott Brosius, who took over for Wade Boggs and Charlie Hayes at third, took home the '98 Series MVP.
What's most remarkable about these teams is the number of playoff series they had to win. Unlike the greatest MLB dynasties of earlier generations, every championship meant winning three series and 11 games (rather than four or seven) in the postseason. The '98 club ranked fifth all-time in Elo ratings.
1. New York Yankees (1947–53)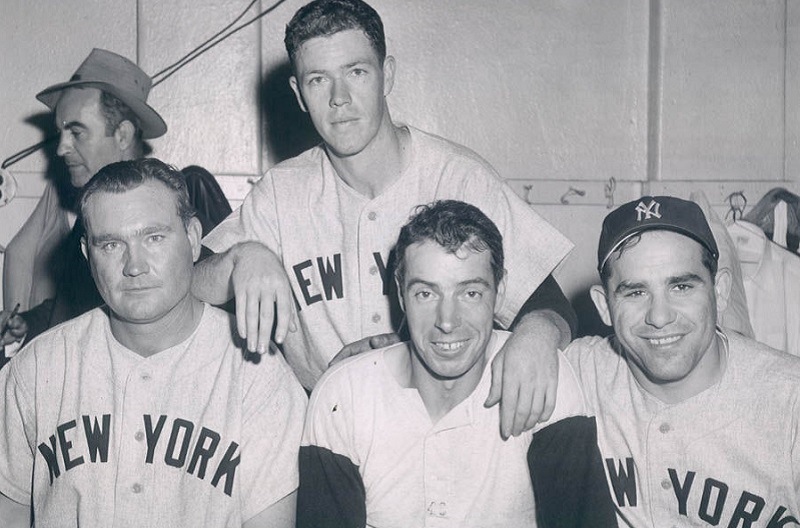 If you think three or four consecutive titles is impossible, we present the Yankees of 1947–53. This group, which included the late-career DiMaggio along with a young Berra and Hall of Famer Phil Rizzuto at short, tore through the game with six titles in seven years and a run of five straight from '49–'53. No one has ever matched that feat, and it's unlikely the game will ever see such a thing again.
As one would expect from the greatest dynasty, this team could beat you in so many ways. Bobby Brown, a largely forgotten infielder of the era, dominated the postseasons of '47–'51 (.439, 1.206 OPS) before Billy Martin took over the '53 Series (.500, 8 RBI). Johnny Mize, at the tail end of his own Hall of Fame career, hit 3 HR and plated 6 RBI in the 1952 Series. Mantle also did damage in his first big-league seasons, especially in '52 at age 20.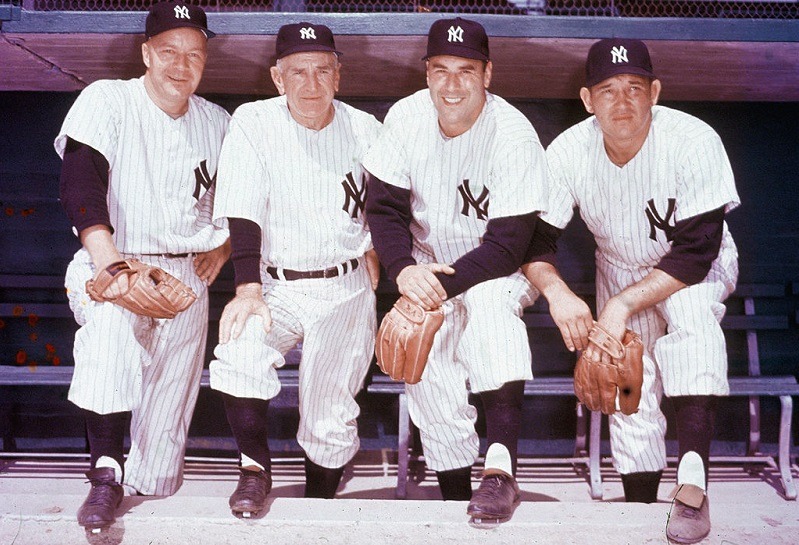 Meanwhile, the unsung pitching staff absolutely dominated in World Series play. Most fans know Ford (then getting his start) and Johnny Sain (in his final postseasons) from this rotation. However, a trio served as the dynasty's bedrock. Here's how the Yankees' top three starters performed during those six Fall Classics:
Eddie Lopat: 4-1, 2.60 ERA (52.0 IP)
Vic Raschie: 5-3, 2.24 ERA (60.1 IP)
Allie Reynolds: 7-2, 2.79 ERA (77.1 IP)
If you want to know why old-time Dodgers fans hated the Yankees so much, it might have something to do with this club beating Brooklyn in four of those six World Series. That's what we call a dynasty, and a recipe for hate that spans generations. Damn Yankees, indeed.