NBA: The 5 Greatest Los Angeles Lakers of All Time
The Los Angeles Lakers, even when losing, is the most glamorous franchise in all of sports. In Southern California, Laker games at the Forum and Staples Center are always a "see and be seen" event for Hollywood celebrities, wealthy businessmen, and high-powered bureaucrats. For years, the product out on the floor featured dominant big men, graceful wing players, and of course, savvy coaching and motivational tactics from the likes of leading men Pat Riley and Phil Jackson.
1. Magic Johnson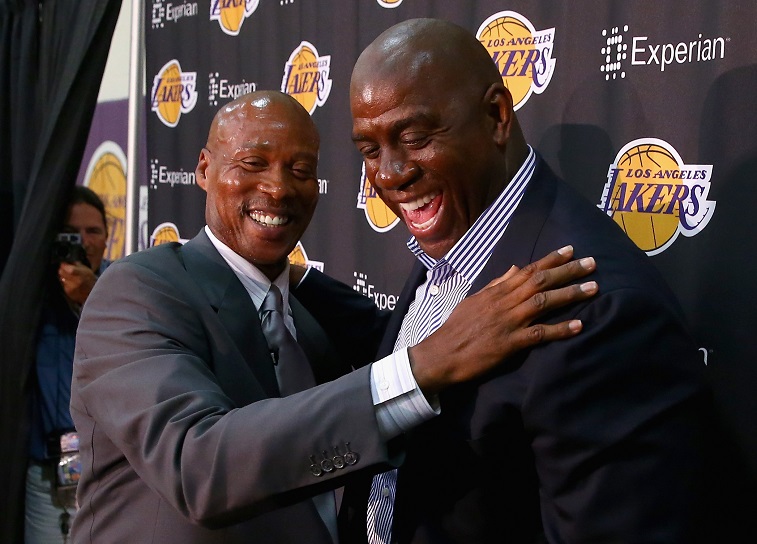 At 6-foot-9, Earvin "Magic" Johnson was the rare NBA athlete who could play all five positions at a high level, most notably when he subbed in for Kareem Abdul-Jabaar at center, in Game 6 of the 1980 NBA Finals as a 20-year-old rookie. That evening, Johnson went on to rack up 42 points, 15 rebounds, and 7 assists, a performance that helped him claim Finals MVP honors in a victory over the Philadelphia 76ers.
Magic's true gift arrived when assistant coach Pat Riley was promoted to the head coach position. All of a sudden, Showtime was born, with Magic as the ringleader — a one-man fast break who could crash the boards, control the basketball in the open floor, and push the pace. At times, Johnson appeared to defy the laws of physics, in feeding the likes of Byron Scott, James Worthy, and A.C. Green for easy dunks and lay-ins off pinpoint no-look passes..
Magic Johnson's megawatt smile and Hollywood marquee showmanship made for the perfect contrast against the scrappy Larry Bird and his Boston Celtics. In all, Magic closed out his 13-year career having averaged, 20 points, 11 assists, and 7 rebounds per game and finished with five championships to his credit, too.
2. Kobe Bryant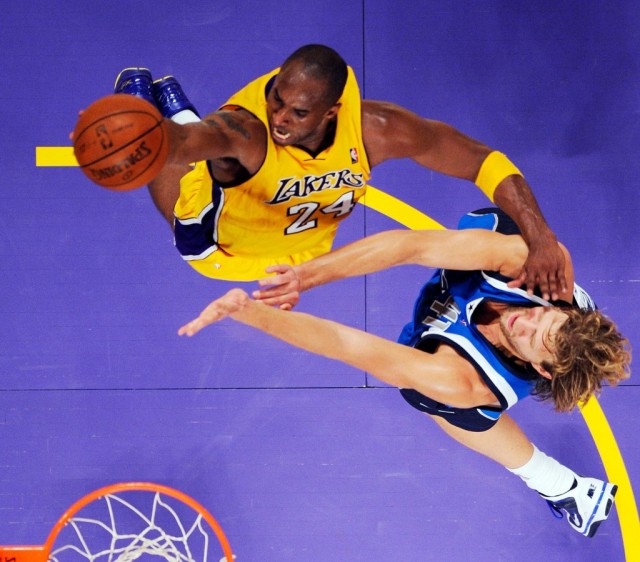 For better or for worse, Kobe Bryant is the closest thing that the game has seen to Michael Jordan since His Airness. In 1996, fellow Laker legend Jerry West brought Kobe to Southern California out of high school via a draft-day deal with the Charlotte Hornets. As a raw athlete, a young Kobe Bryant put his time in on the bench behind Eddie Jones and saw limited action, usually put into the game to provide instant offense.
Over time, Kobe improved his outside shooting touch, while also adding a turnaround jumper, and post-up game to his arsenal. By his fifth year in the league, Bryant was torching defenses for 29 points, while also hauling in 6 rebounds and dishing out 5 assists per game. Kobe's development as a player set up a power struggle between himself and Shaquille O'Neal. (LA acquired Shaq in free agency the same year they drafted Kobe).
While Shaq and Kobe did bring home three straight championships from 2000 through 2002, they were humiliated by the Detroit in 2004, losing the NBA Finals in just five games. The loss to the cohesive, team-oriented Pistons exacerbated the already deteriorating relationship between the two Tinseltown stars – a fissure that ultimately saw Shaq leave for the Miami Heat.
From there, Kobe, now the unquestioned leader of the franchise, floundered with the rest of the Lakers for a little while (including a season that saw him score 81 points in a single game on a team that was bounced in the first round of the playoffs) before winning two more rings in 2009 and 2010. In all, Bryant has averaged 25 points, 5 rebounds, and 5 assists per game, over the course of 19 seasons, although he has been slowed by injuries in recent times.
3. Jerry West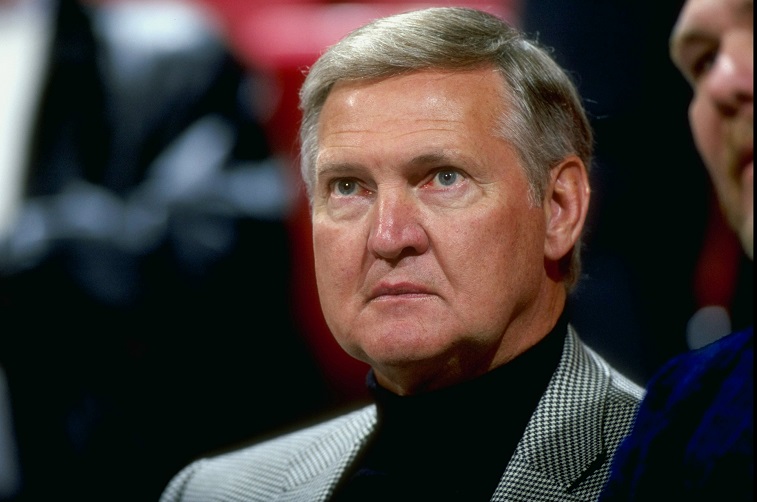 For the ultimate statement on Jerry West's impact upon the game, look no further than the NBA logo: a silhouette of West driving baseline. As a result of his timeless all-around play, West put up 27 points, 7 assists, and 6 rebounds per game, over the course of his 14-year career. In 1971, The Logo slid over to point guard, where he led the league in assists with nearly 10 dimes each contest, while also dropping in 26 points per game.
A leading playmaker, West earned the nickname "Mr. Clutch," despite losing eight out of nine trips to the NBA Finals. In his prime, Bill Russell and the Boston Celtics repeatedly turned him back at the championship altar, but not for a lack of trying. West remains the only player to receive Finals MVP recognition on a losing team.
During the 1965 Western Division Finals, West torched the Baltimore Bullets for a record 46 points per game through the six-game series. Mr. Clutch took home the 1969 Finals MVP honors, after racking up 38 points, seven assists, and five rebounds per game against the Celtics. West and the Lakers, however, actually lost this series to the Celtics in seven games. In a Game 7 defeat, West dominated at both ends of the floor, for 42 points, 12 assists, and 13 rebounds.
Throughout the twilight of his career, Jerry West joined forces with Hall of Famers Gail Goodrich, Elgin Baylor, and Wilt Chamberlain to go 69-13 through the 1971-1972 regular season. In the '72 Finals, West paced the Lakers with 20 points, 4 rebounds, and 9 assists per game, to finally win his one and only championship against the New York Knicks.
4. Kareem Abdul-Jabbar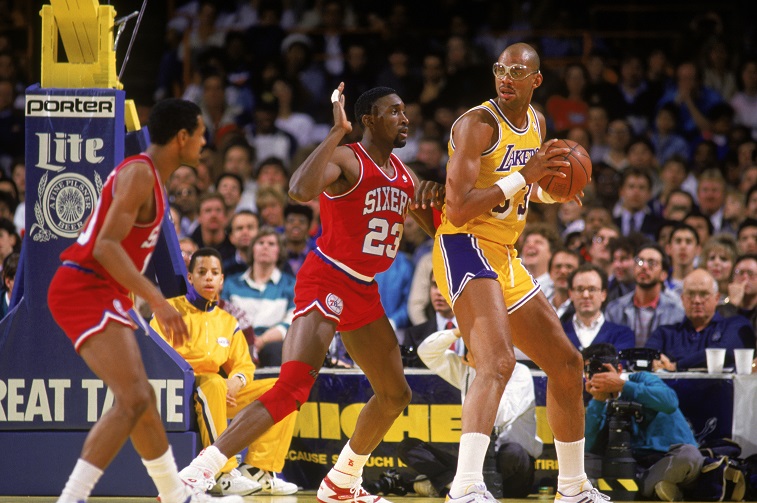 Lew Alcindor was the original building block for John Wooden's UCLA Dynasty that won 88 consecutive games. For his part, Alcindor averaged 26 points and 16 boards per game, winning three championships in three years at Westwood. In the NBA, Alcindor won one title with Oscar Robertson and the Bucks in 1971. Then, he converted to Islam, changed his name to Kareem Abdul-Jabbar, and left Milwaukee for the bright lights of LA.
Abdul-Jabbar joined forces with fellow Laker, Magic Johnson, as one of the more formidable inside-out combinations in the history of basketball. In all, the pair won five championships (1980, 1982, 1985, 1987, and 1988). Magic ultimately assumed control of the team from the elder statesman Kareem.
As an unstoppable force, Abdul-Jabbar would clear out space on the low block. After receiving a post-entry pass from Magic, Kareem would pound the ball for two dribbles, before rising up and dropping in his famed sky-hook shot into the bottom of the net. Kareem Abdul-Jabbar is still the all-time NBA scoring leader – with 38,387 total points.
5. Shaquille O'Neal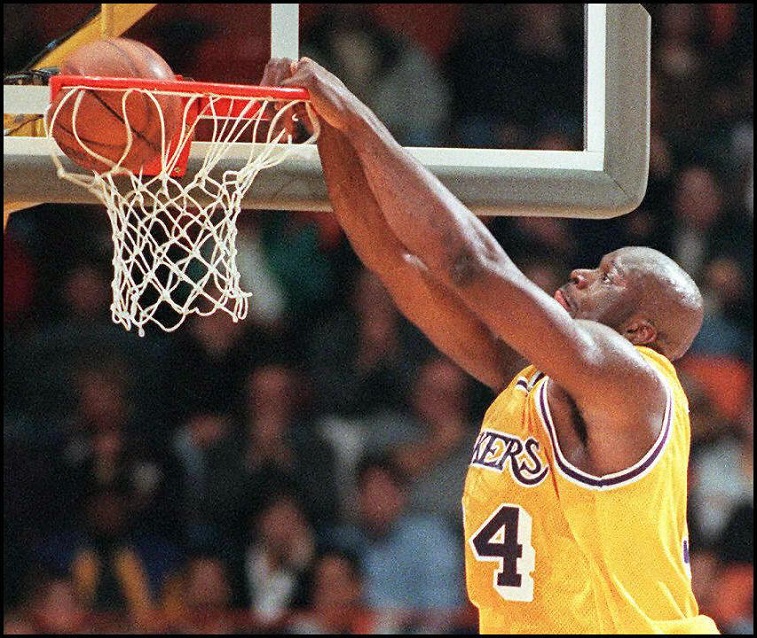 Shaquille O'Neal was the latest in a long line of dominant Laker big men, which included the likes of George Mikan, Wilt Chamberlain, and Kareem Abdul-Jabbar (no apologies to Dwight Howard, who probably wouldn't want to be counted anyway).
As a force, Shaq was a man among boys in LA, who simply bowled over the competition to have his way in the paint. After establishing position in the deep post, O'Neal would take one quick drop step, before powering toward the goal for hammer dunks. After mauling double and even triple teams, opposing defenses would often resort to "Hack a Shaq," defenses, to put the 53% career free throw shooter on the line, and hope for one miss.
In eight seasons as a Laker, Shaquille O'Neal averaged 27 points, 12 rebounds, 3 assists, and 2.5 blocks per game, over the course of 8 seasons. In 1999, Shaq took home MVP honors, leading the NBA in scoring with 30 points per game while also hauling in 14 boards and dishing out 4 assists per contest. He also claimed three consecutive Finals MVP awards, in bringing three straight titles to the Lakers during their 2000-2002 threepeat.
Statistics courtesy of ESPN and Basketball-Reference.