The Greatest NFL Players of All Time, by Position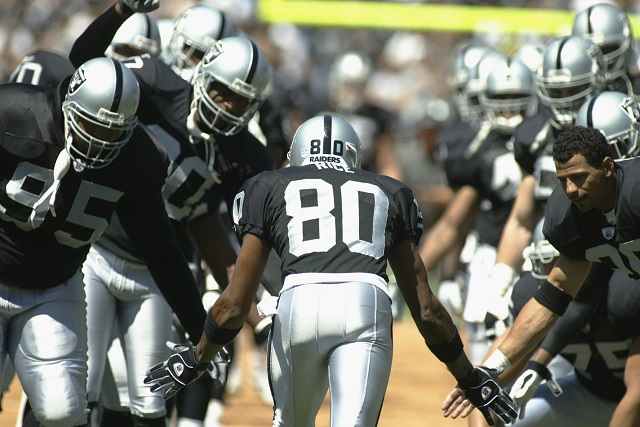 The greatest NFL players of all time each left their respective marks upon gridiron lore, and indisputably changed the game. Above all else, the greats were winners who appeared much bigger, faster, and stronger than their contemporaries, due to their uncanny ability to both diagnose and anticipate plays and to arrive at the right place at the right time. Offensively, the best of the best were threats to score, from any position on the field, at any moment. Defensively, the greats relied upon instinct to shut out and beat down the opposition into the next week.
In a team sport, of course, the best players do not exactly perform as individual talents, who can be most often found by pouring over NFL combine statistics. To win, cohesion and team play must take priority above the "me first, get me the ball" diva mentality. Beyond the field, the greats were typically locker room leaders who promoted a winning culture, brought younger players into the fold, and decisively dealt with any internal distractions. Otherworldly talent combined with the will to win often resulted in Super Bowl trophies, Hall of Fame busts, and dynasties.
If you were to put together an NFL team for the ages, it might look something like this.
Offense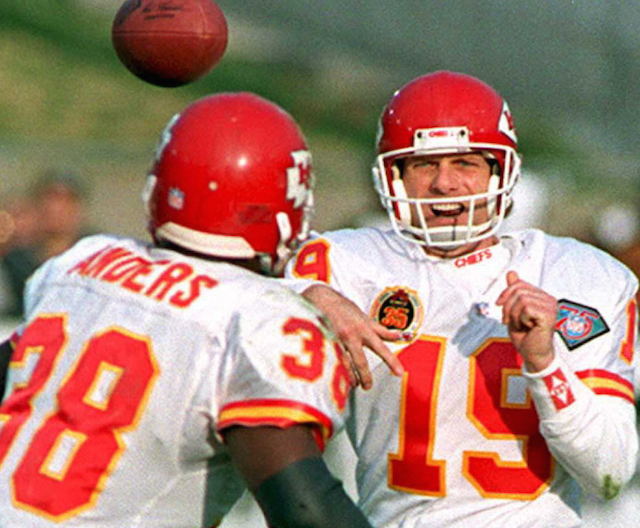 Quarterback — Joe Montana: With four Super Bowl trophies, "Joe Cool" was the ultimate winner. Joe Montana and his quiet confidence have earned the respect of all who have followed the game of football.
Running Back — Walter Payton: Classic Walter would take the hand-off, bowl through arm tackles at the line of scrimmage, and bounce to the outside. From there, it was off to the races, with Payton refusing to go out of bounds. Instead, "Sweetness" would often lower his shoulder to bowl over defenders and finish off runs.
Fullback — Jim Brown: Jim Brown was actually listed as a fullback in his day. In 1965, Jim Brown retired, having owned all rushing records at that time. In today's game, Jim Brown would perform as the power back, in a thunder and lightning backfield duo.
Wide Receiver — Jerry Rice: "The San Francisco Treat" dominated his position like no other. Somewhat similar to Brown, Jerry Rice also retired having owned every significant receiving record. Rice, of course, was also known for his tireless fitness regimen and work ethic.
Wide Receiver — Don Hutson: In this lineup, Hutson would star as the perfect complement to Rice as a possession receiver. Don Hutson led the NFL in both receptions and yardage for seven out of his 11 seasons in the NFL. Don Hutson's career spanned from 1935 to 1945 and he is often hailed as the man who ushered the league into the modern era through the forward pass.
Tight End — John Mackey: The athletic John Mackey would often work special teams for the Baltimore Colts as a kick returner. In 10 years, Mackey racked up 331 catches for 5,236 yards and 38 touchdowns. The statistics calculated out further to 15.8 yards per catch, which will always be unheard of for a tight end.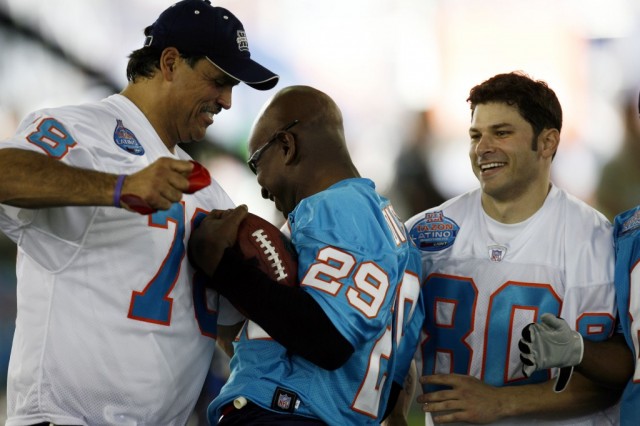 Left Tackle — Anthony Muñoz: At left tackle, Muñoz was the greatest offensive lineman of all time, and the total package of size, strength, athleticism, and technique. Muñoz would often wall his man off at the line of scrimmage for two solid counts and throw him onto the ground before rumbling downfield to lead a convoy of Bengals for big gains.
Left Guard — Randall McDaniel: Randall McDaniel dominated the line of scrimmage for the Minnesota Vikings and Tampa Bay Buccaneers between 1988 and 2001 as a relatively cut specimen. McDaniel's athleticism was on full display in Minnesota, where he would often lead as a pulling guard to kick out linebackers and clear out space for the likes of Robert Smith. McDaniel made the Pro Bowl for 12 straight years, from 1989 to 2000.
Center — Mike Webster: "Iron Mike" emerged as the greatest center of all time, after leading his Pittsburgh offensive line throughout the '70s Dynasty and into the late '80s.
Right Guard — John Hannah: John Hannah may have arguably performed as the most technically sound offensive linemen to ever play the game of football. As a Patriot, the 6-foot-2, 265-pound Hannah made up for his lack of size through technique and sheer willpower.
Right Tackle — Eric Williams: Eric Williams was a devastating blocker, who was the unsung hero of the 1990s Dallas Cowboys dynasty. As the strongest man in a game of strong men, Williams would embarrass the competition by mauling defensive ends at the point of attack before moving on to the second level linebackers and defensive backs. For his part, teammate Emmitt Smith closed out his career atop the running back leaderboard with 18,355 rushing yards.
Defense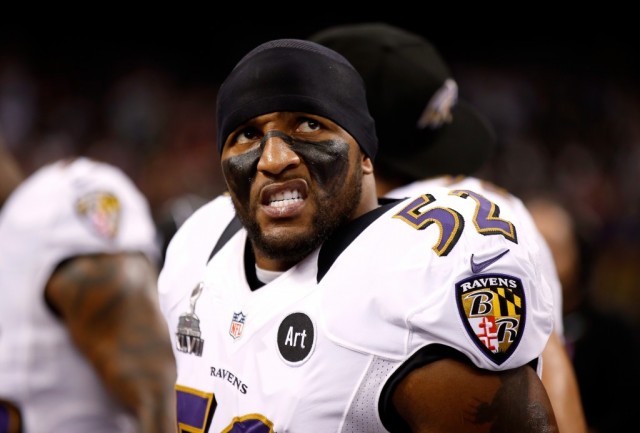 Middle Linebacker — Ray Lewis: Famous for proclaiming himself "God's Linebacker," Ray Lewis was the heart and soul of the Baltimore Ravens defense. Lewis relied upon sheer instinct and intelligence to blow up plays. In 2012, Ray Lewis retired after having won two Super Bowls.
Weak Side Linebacker — Lawrence Taylor: A total madman, LT led his pack of wild dogs through many a romp in New York City. Lawrence Taylor and his unreal combination of speed and size redefined the linebacker position. As an edge rusher, Taylor racked up 132.5 sacks during his playing career.
Strong Side Linebacker — Jack Ham: Ham was the most technically proficient linebacker of all time. Jack Ham especially excelled in pass coverage where he went on to snag 32 interceptions during his 12-year career.
Left Defensive End — Reggie White: "The Minister of Defense" is a master of the hump move. White will shrug his shoulders and deliver a forearm shiver to plow some right tackle sap out of the way. From there, it was on to the quarterback for his patented strip sack.
Left Defensive Tackle — Alan Page: At tackle, Alan Page relied upon quickness and tenacity to blow up plays. After walking away from the game of football, Judge Alan Page took his signature bow tie to the Minnesota Supreme Court.
Right Defensive Tackle — Mean Joe Greene: Greene was equally tenacious in both his running and passing games. The anchor of the Steel Curtain would pressure the A-gap between offensive center and guard, with his angular three-point stance. As an intimidator, Mean Joe Greene was the top cop on a team full of enforcers.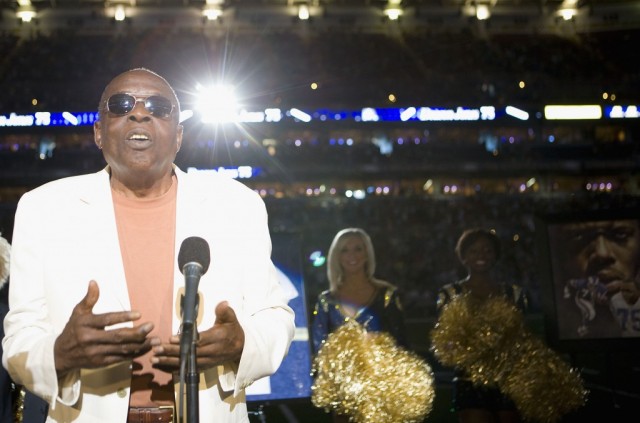 Right Defensive End — Deacon Jones: The late Deacon Jones literally invented the term "sack." Certainly, Jones would have ranked as a top-five sack artist, had this statistic actually been recorded during his playing days. An unofficial record has Jones racking up 173.5 sacks in 14 years.
Cornerback — Deion Sanders: As a shutdown corner, the game plan for "Prime Time" is quite simple: Lock up against and take out the best receiver on the field. As an all-time great, Deion might also clock double duty on special teams as a return man.
Cornerback — Rod Woodson: Rod Woodson enhanced the versatility of the defensive unit, as he could line up at virtually any position. For Woodson, a typical day at the office may have included five tackles, one forced fumble, two interceptions, one sack, and, oh yes, one return touchdown.
Strong Safety — Ronnie Lott: As a tough guy, Ronnie Lott once had the tip of his pinky finger cut off just so that he could remain in the game. As a versatile defender, Lott made multiple Pro Bowls at both cornerback and safety for the San Francisco 49ers. Lott was known for his well-timed and jarring hits of diminutive wide receivers across the middle.
Free Safety — Ed Reed: In Baltimore, Reed starred as the ultimate centerfielder for the defense. In the secondary, an apparently listless Reed would bait a gunslinger quarterback to test him going deep. With the ball in the air, Reed would be on the move to jump the route and snag his latest pick. From there, he quickly transitioned into a return specialist, where he would high step behind a convoy of like-minded goons into the end zone for six.
All data courtesy of Pro Football Reference and Pro Football Hall of Fame.