The Greatest Single-Game Performances in NBA Finals History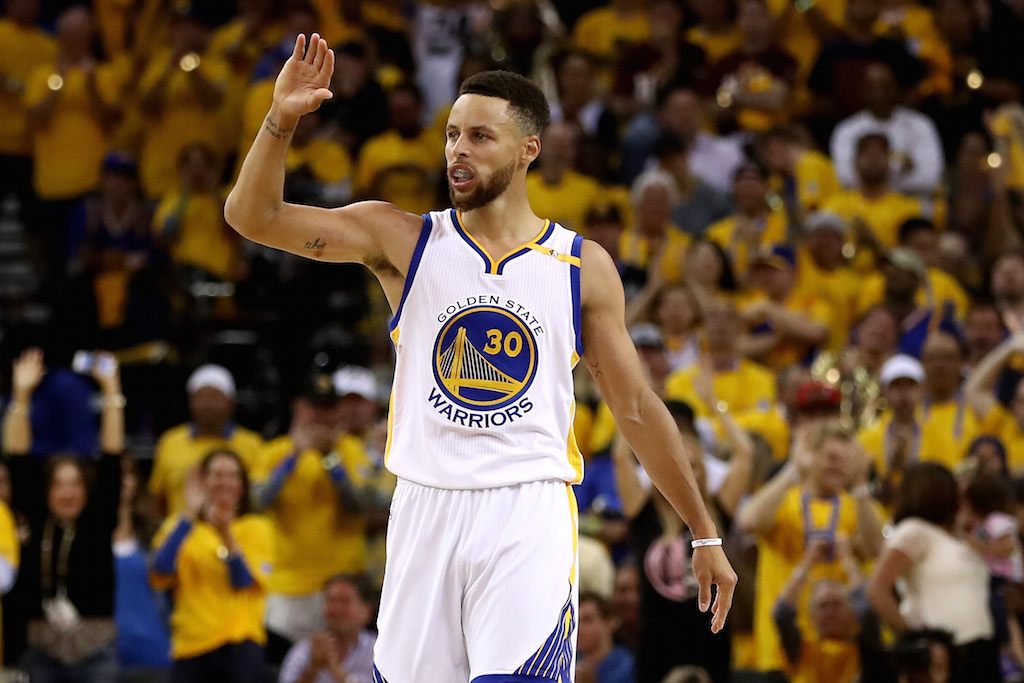 Prior to the start of the 2017 NBA Finals between the Cleveland Cavaliers and Golden State Warriors, we expected to see a showdown of epic proportions. Or rather, we hoped to see one. Unfortunately, instead of witnessing a close series between the two best teams in basketball, all we've got is further proof that the Dubs are in a league of their own.
These Warriors are among the greatest basketball teams of all time. It's as simple as that. On the offensive end of the floor, they crush opponents with creativity, beautiful passing, and unrivaled shooting prowess. On defense, the Dubs are just as deadly, willing to clamp down and smother the opposition at a moment's notice. It's safe to say when Golden State is at its best, it's pretty much game over for anyone who has to face them.
As often as we've seen this group completely dominate as a unit, it's not uncommon to witness one of the club's many superstars take over a game individually. In fact, this has happened on a few separate occasions during these 2017 NBA Finals. Then again, that's what great players are supposed to do at this stage in the game. And if you ask us, these 15 performances mark the greatest single-game efforts in NBA Finals history.
15. Tim Duncan – Game 6, 2003 Finals
Tim Duncan didn't notch a quadruple-double in Game 6 of the 2003 Finals, but he came pretty damn close. The Big Fundamental finished the contest with 21 points, 20 rebounds, 10 assists, and eight blocks. Behind this herculean effort by one of the greatest power forwards in the history of the game, the San Antonio Spurs were able to close out the series against a pesky New Jersey Nets squad.
14. Allen Iverson – Game 1, 2001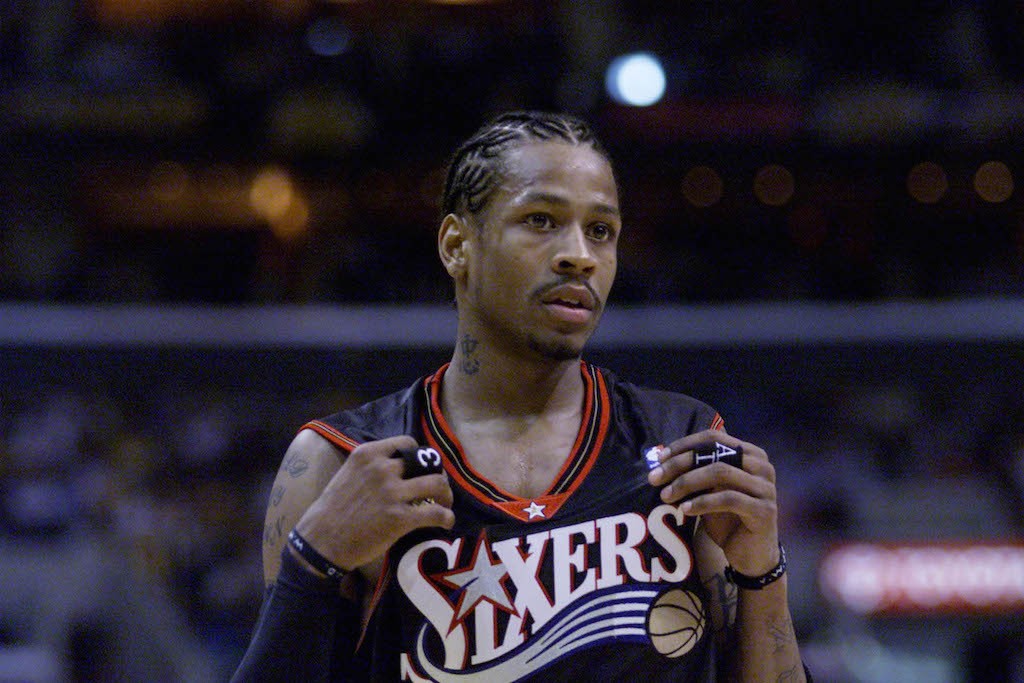 The 2000–01 Los Angeles Lakers were an absolute juggernaut. Entering the Finals, this squad had won 19 consecutive games, including all 11 of their Western Conference playoff contests. But that didn't seem to faze Allen Iverson, who strolled into the Staples Center for Game 1 and proceeded to put up 48 points, five rebounds, six assists, and five steals and lead the Philadelphia 76ers to an improbable 107-101 win in overtime.
The Lakers went on to win the series in five games, but we'll never forget A.I.'s legendary performance in Game 1, as well as his infamous "step-over" of LA's Tyronn Lue.
13. Michael Jordan – Game 1, 1992 NBA Finals
Michael Jordan set the tone in the 1992 Finals with an otherworldly performance in Game 1. Well, more specifically, an otherworldly performance in the first half of Game 1. His Airness lit up the Trail Blazers for 35 first-half points, including a ridiculous six three-pointers. After hitting the last of his six triples — a dagger over Portland's Clifford Robinson — all Jordan could do was smile and "shrug" in disbelief. You know you've witnessed something extraordinary when not even a player like M.J. can comprehend his greatness.
12. Bill Walton – Game 6, 1977 Finals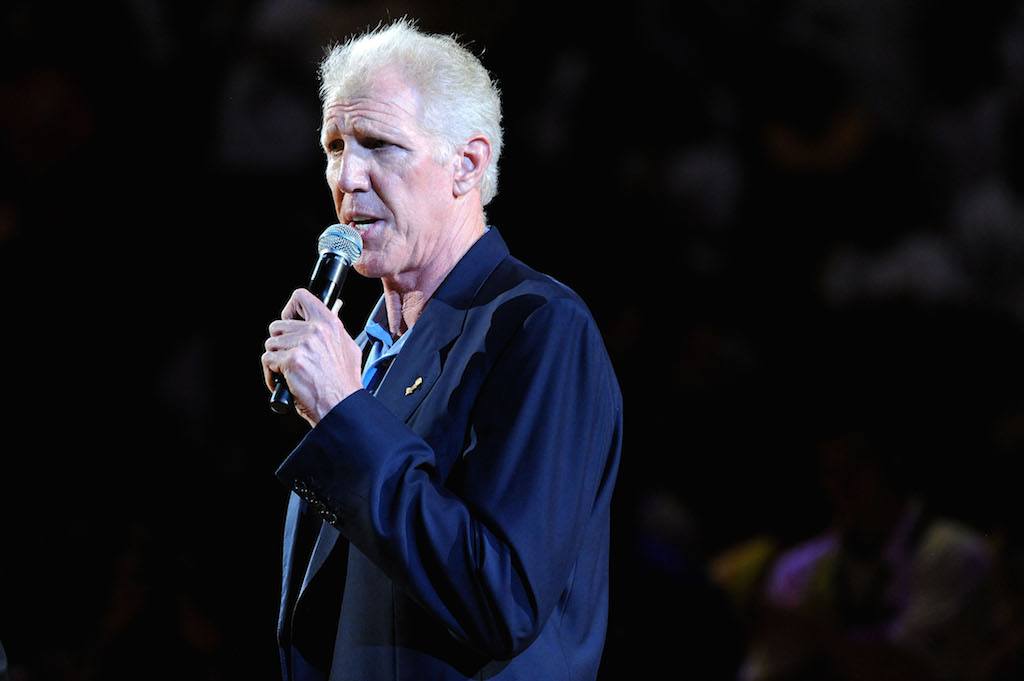 In leading the Portland Trail Blazers to the franchise's first and only NBA championship in 1977, Bill Walton was an absolute beast. His performance in the series-clinching Game 6 was the stuff of legends, as Big Red finished the affair with 20 points, 23 rebounds, seven assists, and eight blocks. To the surprise of no one, Walton received Finals MVP honors.
11. Bob Pettit – Game 6, 1958 Finals
Bob Pettit took his game to the next level in Game 6 of 1958 NBA Finals. In the series-clinching contest, a 110-109 victory over the Boston Celtics, the St. Louis Hawks superstar notched 50 points and 19 rebounds. Even more impressive, Pettit scored 19 of his team's final 21 points. Hey, when it's for the championship, the great ones rise to the occasion.
10. Larry Bird – Game 6, 1986 Finals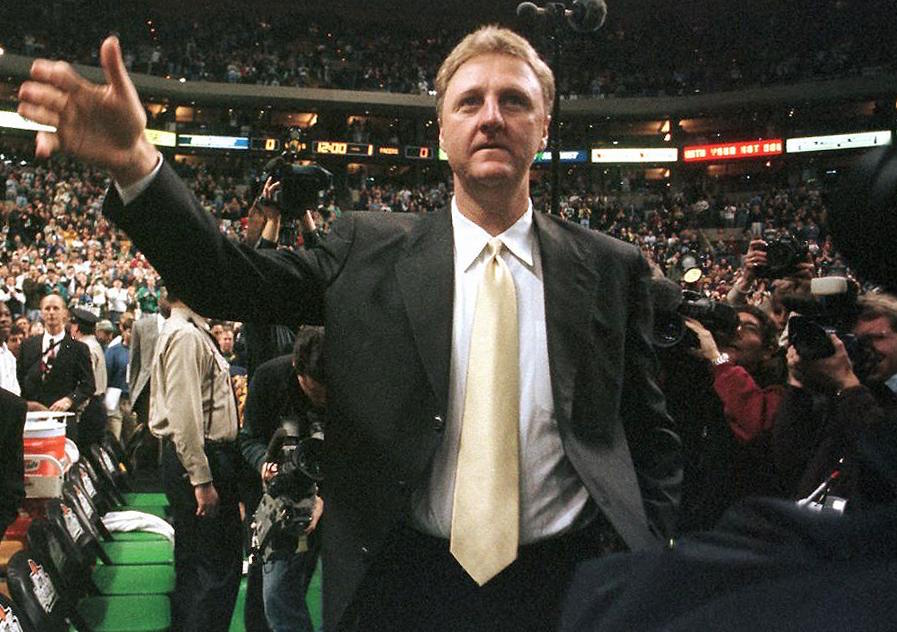 The Houston Rockets were no match for Larry Bird and the Boston Celtics in the 1986 NBA Finals. In the deciding Game 6, Bird went off for 29 points, 11 rebounds, 12 assists, and three steals. Behind Birds' impressive triple-double, the Boston Celtics captured the franchise's 16th NBA title. Full disclosure: The C's have 17 championships in all.
9. James Worthy – Game 7, 1988 Finals
James Worthy was practically unstoppable in Game 7 of the 1988 NBA Finals. In leading the Lakers to a victory over the Detroit Pistons, "Big Game James" notched a triple-double, finishing with 36 points, 16 rebounds, and 10 assists. With this win, the Showtime Lakers secured their second consecutive title and Worthy, for his efforts, earned Finals MVP honors.
8. Jerry West – Game 7, 1969 Finals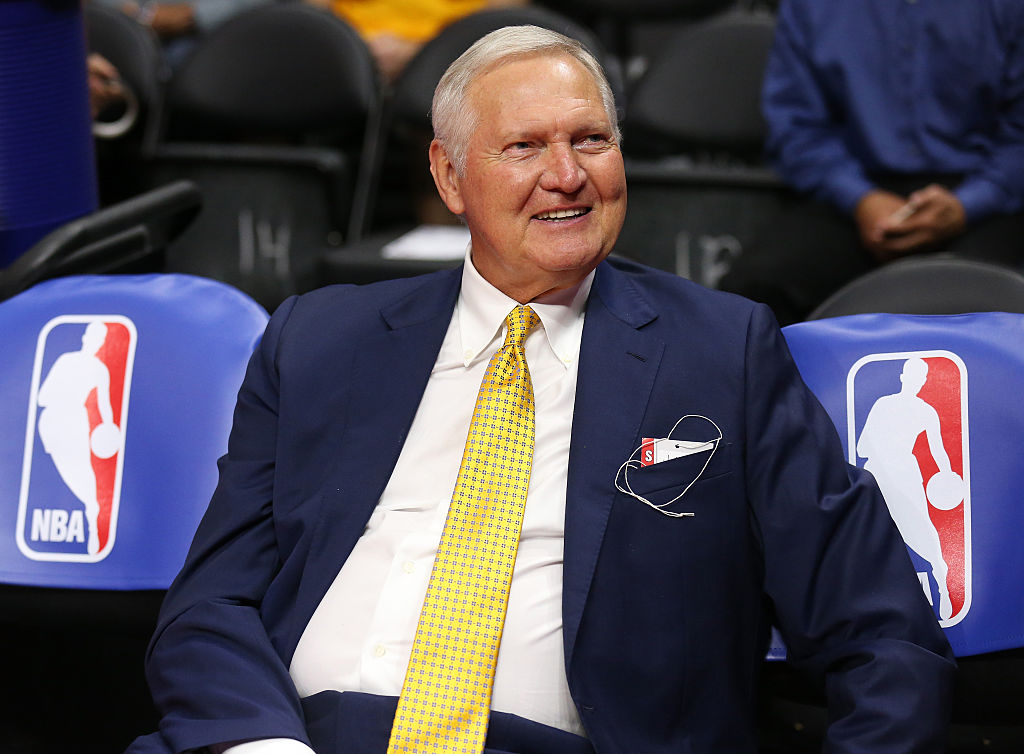 Although the Celtics defeated the Lakers in the 1969 Finals in seven games, LA's Jerry West was arguably the best player in the entire series. In Game 7, The Logo was 14-for-29 from the field, including 14-of-18 from line, and finished with a triple-double of 42 points, 13 rebounds, and 12 assists. Sure, Boston won the game 108-106, as well as the series, but West became the only player in NBA history to earn NBA Finals MVP honors in a losing effort. That definitely counts for something.
7. Michael Jordan – Game 6, 1998 Finals
Game 6 of the 1998 Finals should've been the last game of Michael Jordan's career. Down by a point with less than a minute to play in the contest, his Airness stripped Utah's Karl Malone of the ball, dribbled it up the floor, and drilled one of the most clutch game-winning buckets in NBA history. Jordan finished the game with 45 points and the Bulls took home their sixth NBA title.
6. Walt Frazier – Game 7, 1970 Finals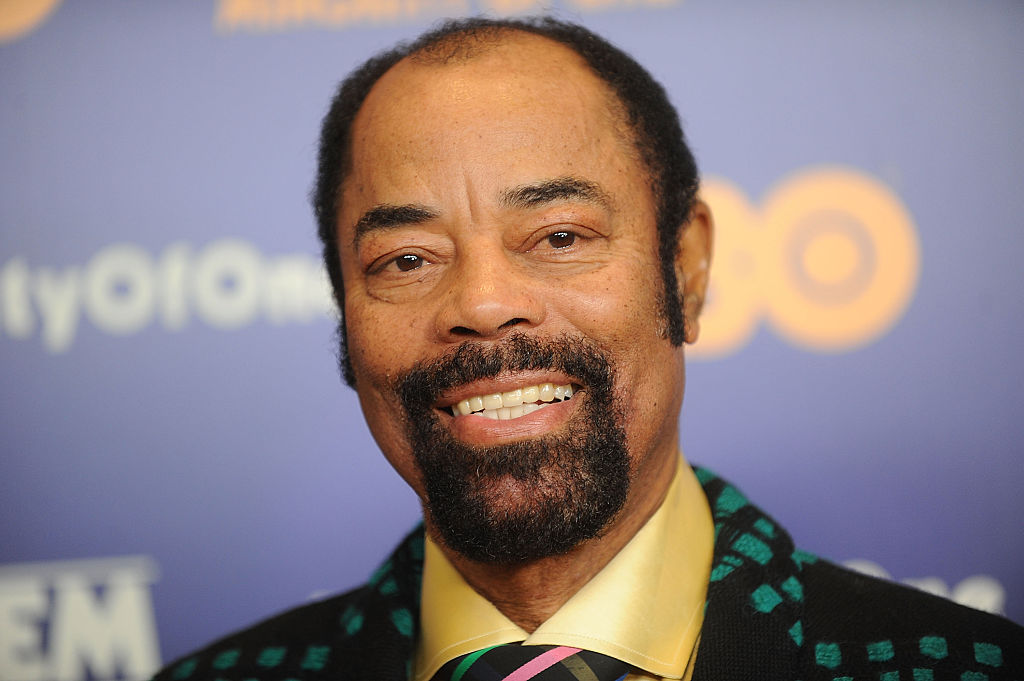 Willis Reed's courageous effort inspired the New York Knicks' 113-99 victory over the Los Angeles Lakers in Game 7 of the 1970 NBA Finals. But it was Walt Frazier who delivered the performance of a lifetime. In 44 minutes, Mr. Cool connected on 12-of-17 shots, hit all 12 of his free-throw attempts, and finished with 36 points, 19 assists, and seven rebounds. It's safe to say the Knicks wouldn't have won their first title in franchise history without Frazier's herculean-like showing.
5. Isiah Thomas – Game 6, 1988 Finals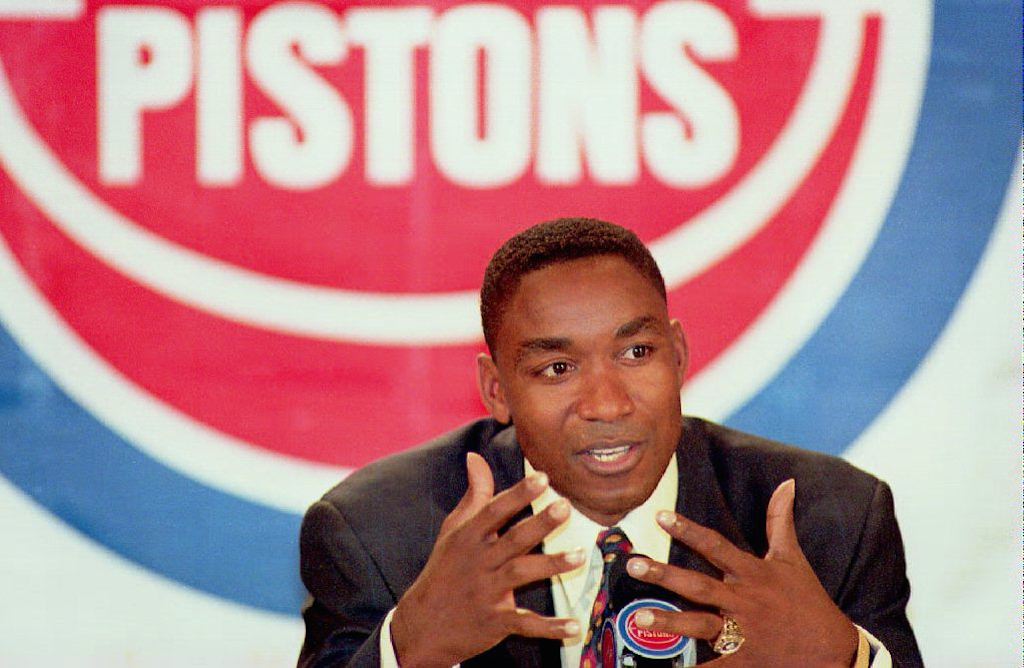 Isiah Thomas didn't let a severely sprained ankle prevent him from shining in Game 6 of the 1988 NBA Finals. Not only did Thomas finish the night with 43 points, three rebounds, eight assists, and six steals, he dropped 25 points in the third quarter alone. Unfortunately for Pistons fans, the Lakers won the game — by the score of 103-102 — and, eventually, the series.
4. Bill Russell – Game 7, 1962 Finals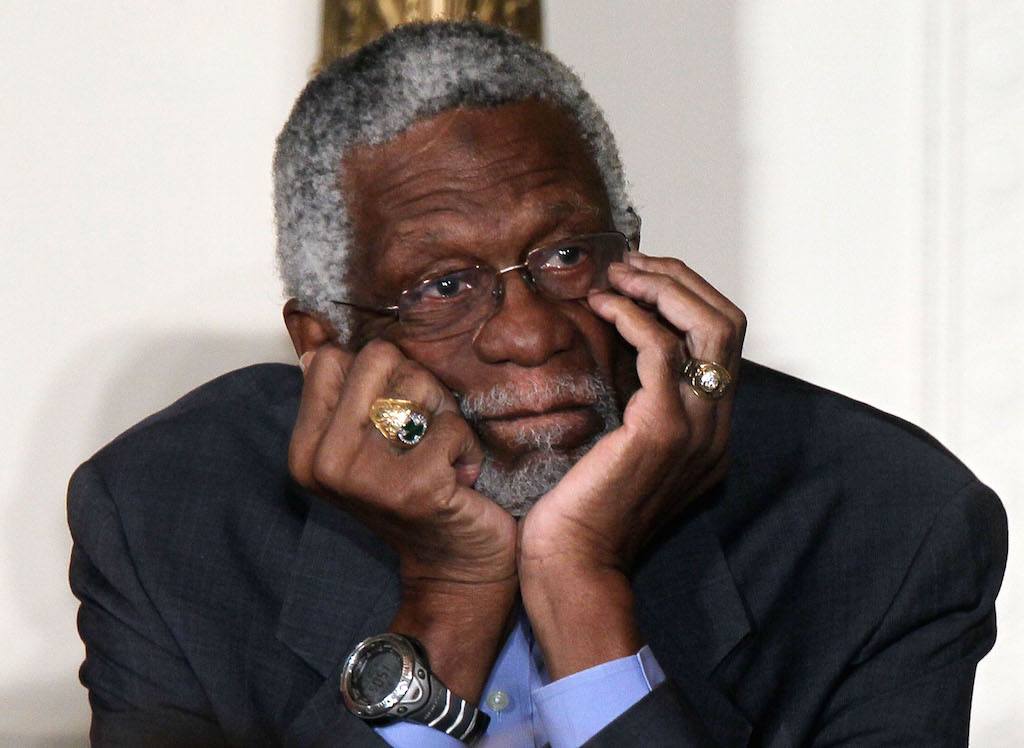 Bill Russell was an unstoppable force in Game 7 of the 1962 NBA Finals. Against a formidable Los Angeles Lakers squad, the greatest winner the game has ever seen dropped 30 points, pulled down a whopping 40 rebounds, and led the Celtics 110-107 overtime win. This victory secured Boston its fourth consecutive NBA championship.
3. Elgin Baylor – Game 5, 1962 Finals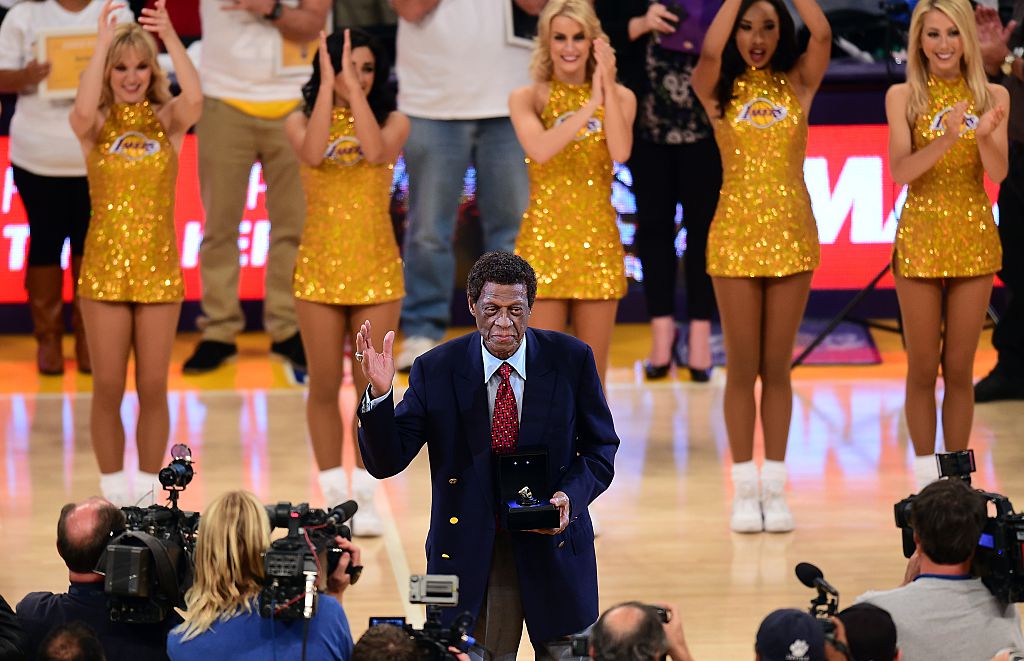 As good as Russell's performance was in Game 7 of the '62 Finals, Elgin Baylor's showing in Game 5 was on another level. In 48 minutes of play, the Lakers small forward made 22-of-46 shots, went 17-of-19 from the charity stripe, pulled down 22 rebounds, and scored a NBA Finals record 61 points. This 126-121 victory gave the Lakers a 3-2 advantage in the series. If only this matchup was best of five…
2. Michael Jordan – Game 5, 1997 Finals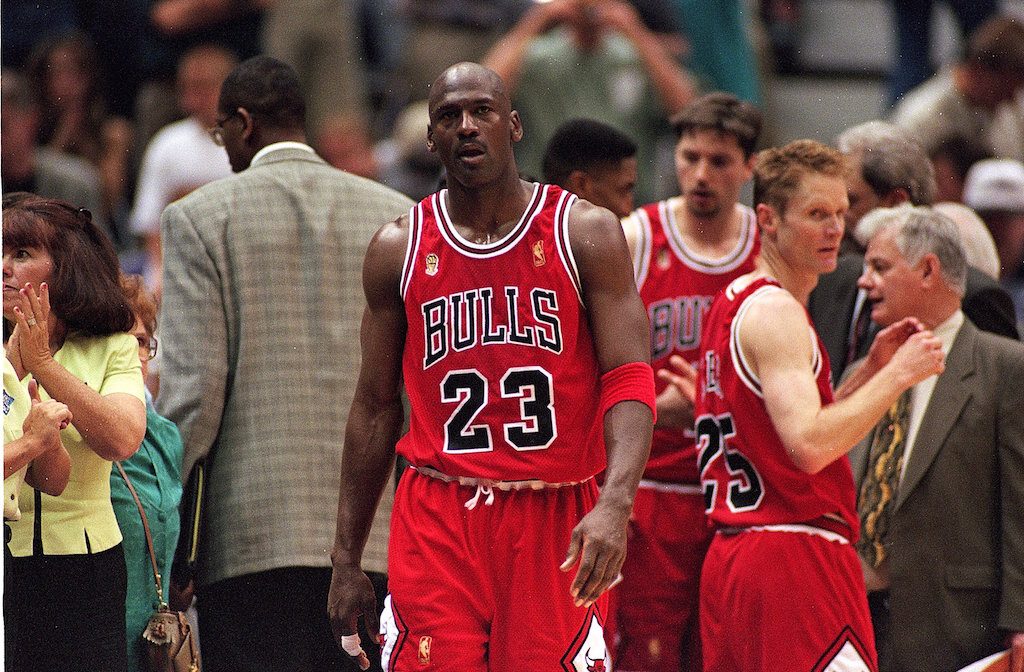 We will never know how Jordan managed to play in Game 5 of the 1997 NBA Finals. All we know is that despite battling a nasty flu, which left him dehydrated, weak, and struggling to walk, His Airness had 38 points, seven rebounds, and five assists in a hard-fought road victory over the Utah Jazz. This heroic performance in the "Flu Game" is just another reason why M.J. is the greatest.
1. Magic Johnson – Game 6, 1980 Finals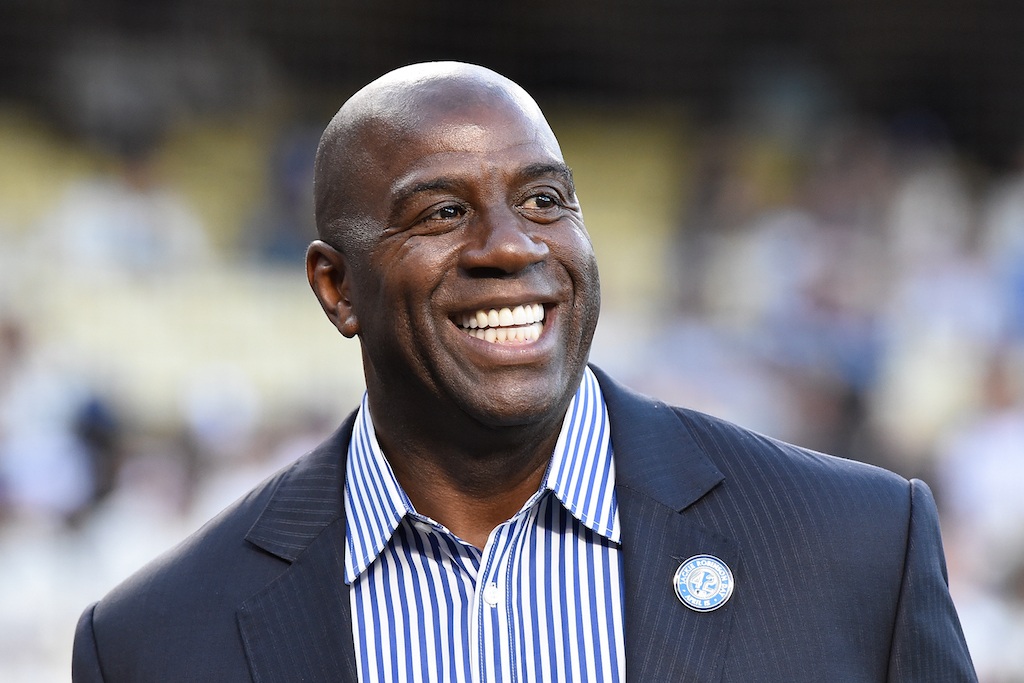 In Game 6 of the 1980 Finals, with Kareem Abdul-Jabbar sidelined, the Lakers asked then-rookie Magic Johnson to suit up at center. For most players, this would be a tall order. For Johnson, however, it was a golden opportunity to show he was a legend in the making. In LA's 123-107 series-clinching road victory, Magic dropped 42 points, pulled down 15 rebounds, dished out seven assists, and added three steals for good measure. Now that's what we call a Hollywood ending.
Statistics courtesy of Basketball-Reference and NBA.com.