The Green Bay Packers Are Finally Elite Where It Really Matters, but a Concerning Trend Could Still Crush Their Super Bowl Hopes
When was the last time the Green Bay Packers had a truly elite defense? To be frank, it's been a long time, but Aaron Rodgers and his offense finally have a more than a complementary unit on the other side of the ball.
Green Bay's defense is elite, and that gives the Packers their best shot at winning another Super Bowl.
What's hurting Green Bay in its quest for the top of the NFL world?
It's one word the Packers know all-too-well in 2021: Injuries.
The Green Bay Packers have been decimated by injuries in 2021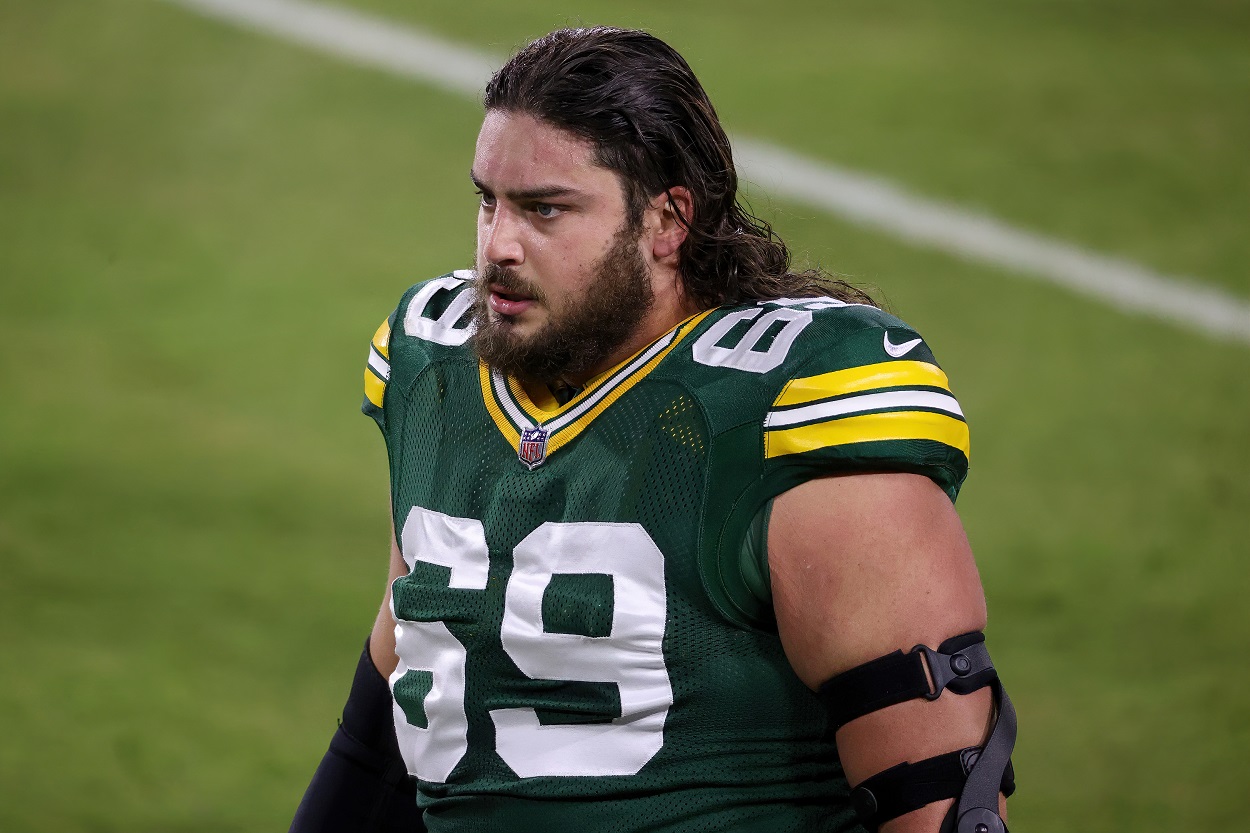 The one hope the Packers do have when dealing with the injury bug this season is that they're at the very least acquainted. Sometimes dealing with the devil you know, rather than the one you don't, gives you an advantage, and the Packers can say that they've developed great depth and resiliency this season due to injury.
Offensively, the Packers have been without All-Pro left tackle David Bakhtiari from the jump due to his recovery from a torn ACL at the end of last season. They've also played multiple games without Pro Bowl guard Elgton Jenkins, though he has been healthy for the past few weeks. Rookie center Josh Myers started the year at center but was lost to a knee injury of his own, and wide receiver Marquez Valdes-Scantling has missed multiple games due to injury himself.
Green Bay's defense has been hit just as hard.
Star pass-rusher Z'aDarius Smith has played in only one game due to a back injury, and superstar cornerback Jaire Alexander has been out since week three with a shoulder injury.
If that seems like a lot, it got even worse against the Seattle Seahawks.
Veteran pass rusher Whitney Merciulus was lost for the season with a torn biceps. Star running back Aaron Jones suffered a "mild" MCL sprain and will miss a week or two of action. Rashan Gary, who has been Green Bay's best pass-rusher this season, left the game with a gruesome-looking elbow injury. The good news is he's going to try to play through the damage, but he will have to wear a brace.
Rodgers is dealing with a toe injury, but he is expected to play through that.
Despite all of the injuries, Green Bay somehow still has an elite defense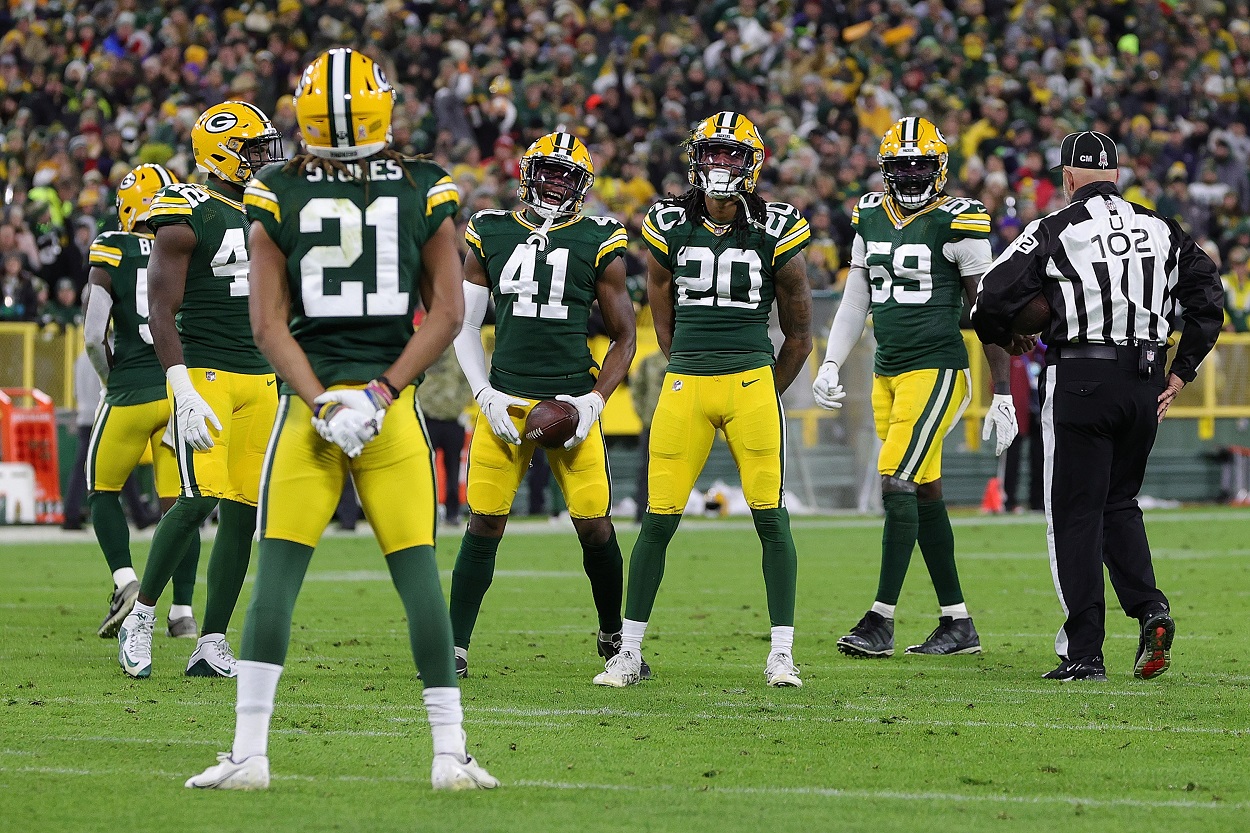 What's incredible about the myriad of injuries Green Bay has suffered this season is that somehow and in some way, the Packers currently are the No. 1 seed in the NFC with an 8-2 record.
The Packers have shown incredible resiliency, and multiple players have stepped up on both sides of the ball.
Offensively, numerous young offensive linemen have been plugged in and shuffled along the line. Most impressive has been what Green Bay has been able to do defensively, though.
Rookie cornerback Eric Stokes has filled in nicely for Alexander in Green Bay's secondary. Safety Adrian Amos is playing like the solid veteran he is and currently has two interceptions on the season. Gary has stepped up in the absence of Za'Darius Smith, and even Preston Smith, who had a down year in 2020, has been playing at a high level.
Gary has 5.5 sacks so far on the season, while Preston Smith boasts three.
Defensive tackle Kenny Clark is playing the position better than anyone not named Aaron Donald, and linebacker De'Vondre Campbell, who the Packers signed as a free agent in the offseason, has a legitimate shot at Pro Bowl honors.
Green Bay currently has a Top 5 defense in all of football. The Packers are giving up just 18 points per game, and they've forced 16 turnovers as a unit this season. They're top 10 in sacks with 24 and the third-best defense in terms of passing yards allowed per game with just 202.7. They're also the third-best scoring defense in the NFL.
The Packers are coming off a shutout of Russell Wilson and the Seahawks, and they've allowed just 28 total points over the past three weeks. Along with Wilson, that stretch has seen Green Bay play Patrick Mahomes and the Chiefs and Kyler Murray and the Cardinals.
When's the last time the Packers had an elite defense?
Even the squad that won the Super Bowl in 2011 wasn't this good. You'd probably have to go back to the 1997 Super Bowl-winning squad that featured players like Reggie White and LeRoy Butler.
That says something about this current squad.
Will the other shoe drop on the Packers this season?
Having good luck with injuries is generally a precursor to a deep run in the playoffs, so in a way, the Packers have been flirting with disaster this season.
The fact that they've been soo hurt but have remained an elite team is mind-blowing, but it naturally brings up a pretty genuine concern: When is the other shoe going to drop?
To be fair, there's a realistic reality on the horizon that sees the Packers turn all this bad injury luck on its head. In this reality, the Packers would get back Alexander, Bakhtiari, and Za'Darius SMith and all of a sudden boast arguably the deepest and most battle-tested team in the league.
The Packers would quickly become the favorite to win the Super Bowl if those three players return in short order.
The other reality is just as realistic, though, and this is where a pessimistic analyst could see these injuries coming back to haunt the Packers.
Although he was taken off the injured reserve and has practiced, Bakhtiari hasn't yet played this season, and he's missed multiple practices just this week. There's genuine concern regarding his status, so much so that head coach Matt LaFLeur got a bit chippy with the media when discussing his left tackle.
"It's day-to-day," LaFleur said after Thursday's practice, according to Bill Huber. "It's part of the process. He's coming off a major injury. And like I said, we're trying to put him in the best possible position for when he does return that he's good to go."
A week ago, LaFleur said that even though Alexander is progressing, he's still not close to returning for the Packers. In terms of Za'Darius Smith? There have been no real updates on his back injury for weeks.
Jones should be back in the lineup soon, but just how much will the MCL sprain impact a player who relies on his quick-twitch athleticism and ability to make defenders miss? There's also a concern for Gary and his ability to get after the quarterback. Wearing a brace on his elbow could very realistically hinder his ability to get after the quarterback, especially when considering his main pass-rush move is a bull rush.
Last but not least, there's Rodgers. His toe injury was significant enough to end him up on this week's injury report, though he is expected to play against the Minnesota Vikings. He's missed practice reps all week, though, and we saw against Seattle that even a great quarterback like Rodgers can get rusty without practice time.
There's a strange and concerning line to walk when evaluating the Packers in 2021. It feels like that even at 8-2, the season is hanging in the balance.
This is a Super Bowl team when healthy, but how much longer can the Packers outplay the injury bug?
Stats courtesy of ESPN and Pro Football Reference.