The Head-Scratching Reason NFL Players Can't Customize Their Cleats
With the NBA's move to allow players to wear the shoes they want, you'd think other pro sports leagues would do the same. That's not the whole case with the NFL, however, which means players still run afoul concerning in-game dress codes, especially regarding cleats.
The news isn't all bad as the NFL now allows players to customize cleats during warmup and pregame times. (Fans are in for a treat if they tune in before games start.) For players, however, the NFL's decisions regarding what counts as customized aren't always predictable.
The almost-new NFL rules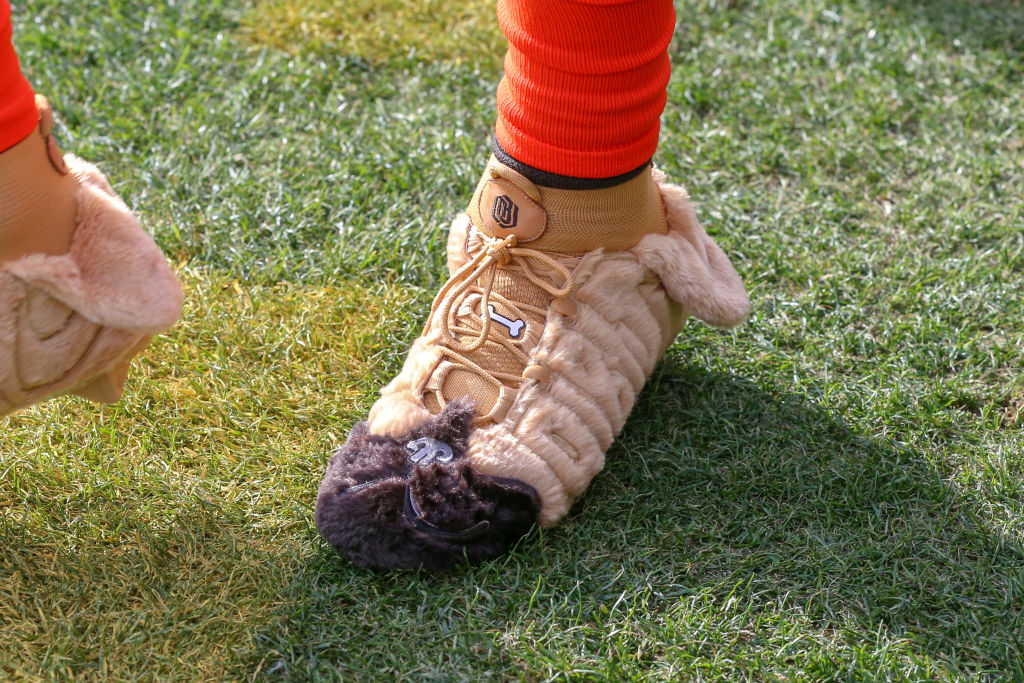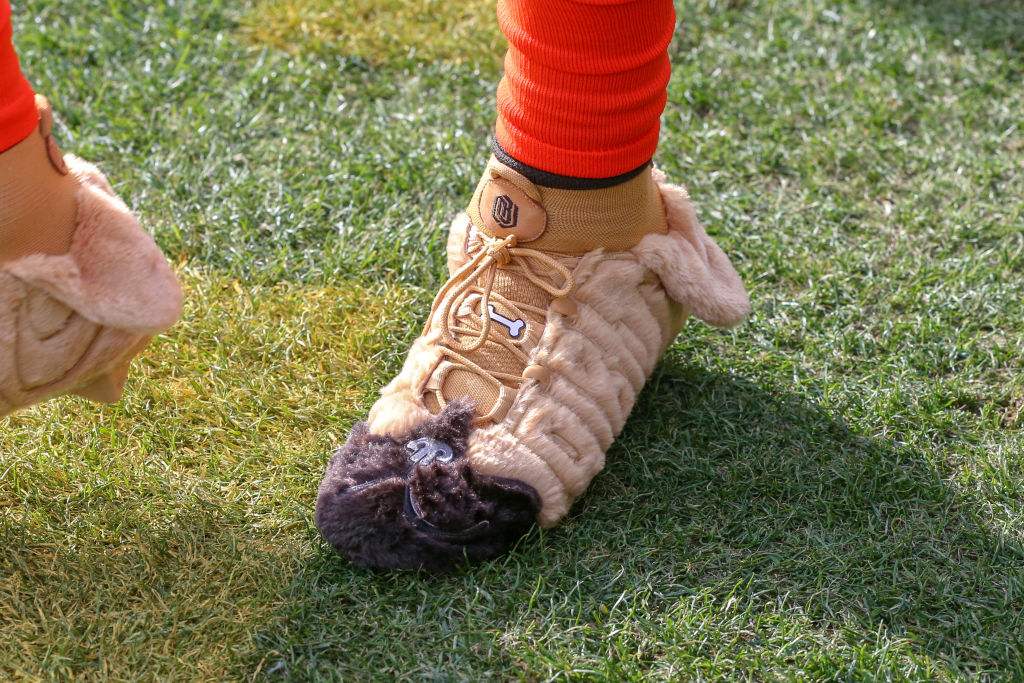 The NFL changed its rules regarding footwear in 2017, moving from a strict requirement that all team footwear fall within certain color and design parameters to one where players can wear personalized cleats during warmup times and during the pregame.
Those personalized cleats still need to be approved. But as long as there are no unapproved logos or trademarks, and presumably nothing offensive, players can let loose in terms of cleat colors outside of the main game itself.
Once the game begins, however, players have to change back into cleats that are black, white, or what's called a "constitutional color," or official team color. (This was another change. Previously, teams had to choose black or white for the whole team.)
Why the need to revert back to stricter rules for the game itself? The reason involves uniformity and "professionalism." In a 2019 interview with the New York Times, NFL spokesman Brian McCarthy noted that the players' uniforms, including cleats, were included in the requirement to present oneself as professionally as possible.
This emphasis on consistent uniforms has given the NFL the nickname of "No Fun League." But Sports Illustrated points out that the code promotes better aesthetics, like ensuring someone in the uniform for one team wasn't wearing part of the uniform for another, such as old shoulder pads in clashing colors.
The emphasis on uniformity, according to Benoit, also ensures that special team uniforms, such as those made for breast cancer awareness, can stand out more.
Of course, the new rules have led to some confusion. What counts as a non-constitutional color isn't always interpreted in the same way by both the player and the code enforcement representatives (two of the latter monitor each game).
For example, in November 2019, Odell Beckham Jr. — who says he tries to match his cleats to his game jersey — had to change out of a pair of white cleats at halftime. The shoes showed a design inspired by the Joker on them.
Beckham said he'd worn white cleats to match what was supposed to be a white jersey that was switched to brown a few days before the game. However, the Joker face may have been the problem, with officials possibly treating that as a non-constitutional "color."
The one exception to NFL cleats
There is one week per season when players can wear customized cleats during the game. The NFL has created a campaign called "My Cause, My Cleats," where players wear cleats with designs honoring causes they believe in. These causes range from heart disease prevention to homeless shelter care.
Why NFL players have more restrictions than NBA players
The new rules have been met with questions, of course. If the NBA can let its players wear whatever shoes they want and still count as professionals, why can't the NFL loosen up? Does it really matter if a player has a streak of non-constitutional color on his shoes?
One of the reasons given for the difference is that NBA players play a global game. Basketball is played in many countries while American football is not. It's pretty much a regional sport.
NBA players have a wider market and make money through shoe sponsorship deals. Football players don't have that monetary reason to wear personalized cleats during a game.
Another reason is that, while customized cleats can help a player stand out to fans, with the advent of social media, a different uniform isn't necessary. YouTube, Instagram, and more give players a personal spotlight for fans, so making uniforms more unique is not necessary.
Reactions have been mixed regarding whether the dress code is an unfair restriction on NFL players. Beckham likely agrees; he's received a number of fines, including a shocking $18,000, for his non-regulation cleats. Maybe the NFL is still a no-fun zone for some, but for those hoping for personalization, the new rules are a start.