The Houston Rockets Reportedly Had a Surprising Trade Partner For Russell Westbrook
There haven't been very many serious reports about teams having an interest in acquiring Russell Westbrook from the Houston Rockets. The former MVP reportedly wants out of Houston, but it appears that he could still begin the new season with the Rockets. This might be due to the Rockets' high asking price. In fact, they potentially had a surprising team interested in him, but they couldn't get a deal done.
Russell Westbrook reportedly wants out of Houston
Russell Westbrook has been one of the best point guards in the NBA for years. He is a nine-time All-Star, has led the league in points per game twice, and in assists per game twice. Westbrook also averaged a triple-double in three straight seasons from 2016-17 through 2018-19, which helped him even win the MVP award in 2016-17.
However, the Oklahoma City Thunder traded Westbrook to the Houston Rockets in 2019. This ultimately paired him with his former Thunder teammate, James Harden. The Rockets didn't live up to expectations in 2019-20, though, as they lost in the Western Conference Semifinals. Westbrook struggled at times throughout the season, too. While he averaged 27.2 points per game, the most he has averaged since 2016-17, he only averaged 7.9 rebounds, his fewest since 2015-16, and seven assists, his fewest since 2013-14. He also shot the second-worst 3-point percentage of his career.
Westbrook really struggled in the playoffs, though. He only averaged 17.9 points per game, 4.6 assists, and seven rebounds in eight games.
Then, after the disappointing season for Westbrook and the Rockets, Houston parted ways with Mike D'Antoni and Daryl Morey. There were then reports about Harden and Westbrook being concerned about the direction of the franchise, according to ESPN. This all led to Shams Charania of The Athletic reporting that Westbrook wants out.
There have since been reports of multiple teams having an interest in him, but no deal has been made.
The Cleveland Cavaliers reportedly talked to the Houston Rockets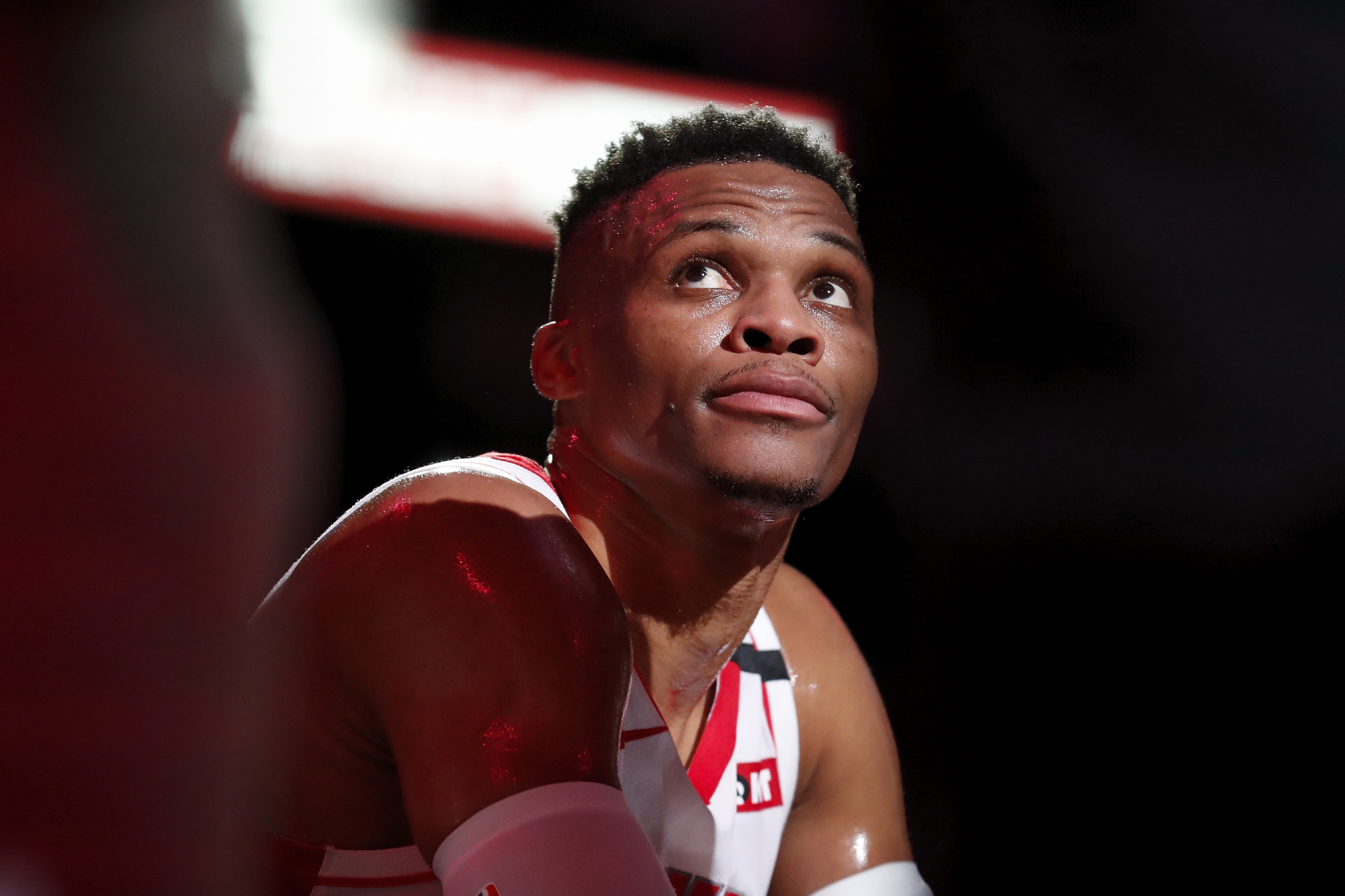 There have been multiple teams to have a reported interest in Westbrook. This includes the Washington Wizards, New York Knicks, and the Charlotte Hornets.
However, according to Charania, a surprising team reportedly talked to the Rockets about Westbrook — the Cleveland Cavaliers.
It appears that no deal has been made due to the Rockets' asking price for him, though.
"When you set the price that high, even for Russell Westbrook, and if it's not met, the Rockets are fine going into the season and playing it out," Charania said on the Dec. 1 episode of the Load Management podcast.
The Cavaliers are certainly not a team that many people have discussed as a potential landing spot for Westbrook. Their interest in him might not even be that serious. How would Westbrook look on that team, though?
Russell Westbrook could be a nice fit with the Cleveland Cavaliers
The Cavaliers were not very good the past couple of seasons, but one piece could potentially get them into the playoffs. We don't know what assets the Cavaliers would have to give up for Westbrook, but it's hard to imagine the Rockets wanting Kevin Love due to his contract. It's also hard to imagine the Cavaliers wanting to give up Colin Sexton.
So, Westbrook would potentially team up with his former college teammate in Love on the Cavaliers, as well as Sexton. Love would give him a big man to dish the ball to in the post and along the perimeter. Sexton, on the other hand, would give him another scoring guard to play alongside. Last season, Sexton averaged 20.8 points per game on 47.2% shooting and 38% shooting from 3-point range.
The Cavaliers also have some other nice pieces that could fit well with Westbrook. Kevin Porter Jr. has the potential to become a star after showing glimpses of elite-level play during a few big games last year. Andre Drummond is also a talented big man, and Larry Nance Jr. is a high energy guy in the post that could be great in pick-and-roll situations. Darius Garland also showed improvement as the season went on last year, and No. 5 overall pick Isaac Okoro has a lot of potential. However, it's hard to tell if the Cavaliers would have to give up any of these guys to land Westbrook.
The Rockets could certainly be interested in what Garland, Okoro, and Porter could bring to the table. Drummond also has an expiring deal that would give the Rockets flexibility in free agency. Any of these guys could be attractive assets for the Rockets.
Whether he would have Garland, Okoro, Porter, and/or Drummond on his team or not, though, a team consisting of Russell Westbrook, Collin Sexton, and Kevin Love could definitely make the playoffs. It would be a pretty scary team to face in a seven game series, too. This trade probably won't happen, but it's still fun to consider what it would like if the Rockets and Cavaliers could come to an agreement.
Stats courtesy of Basketball Reference