The Houston Texans Have Their Next Fall Guy in Lovie Smith
The Houston Texans are reportedly going to hire Lovie Smith to be their next head coach. They'll presumably start the search for the next head coach soon thereafter because the 63-year old coach is nothing but a fall guy for Houston.
When the Texans struggle in 2022, which they likely will, who else but Smith will shoulder the blame?
He's being set up for failure. Perhaps he knows it, or maybe he doesn't. Either way, it seems obvious.
The Houston Texans are reportedly promoting Lovie Smith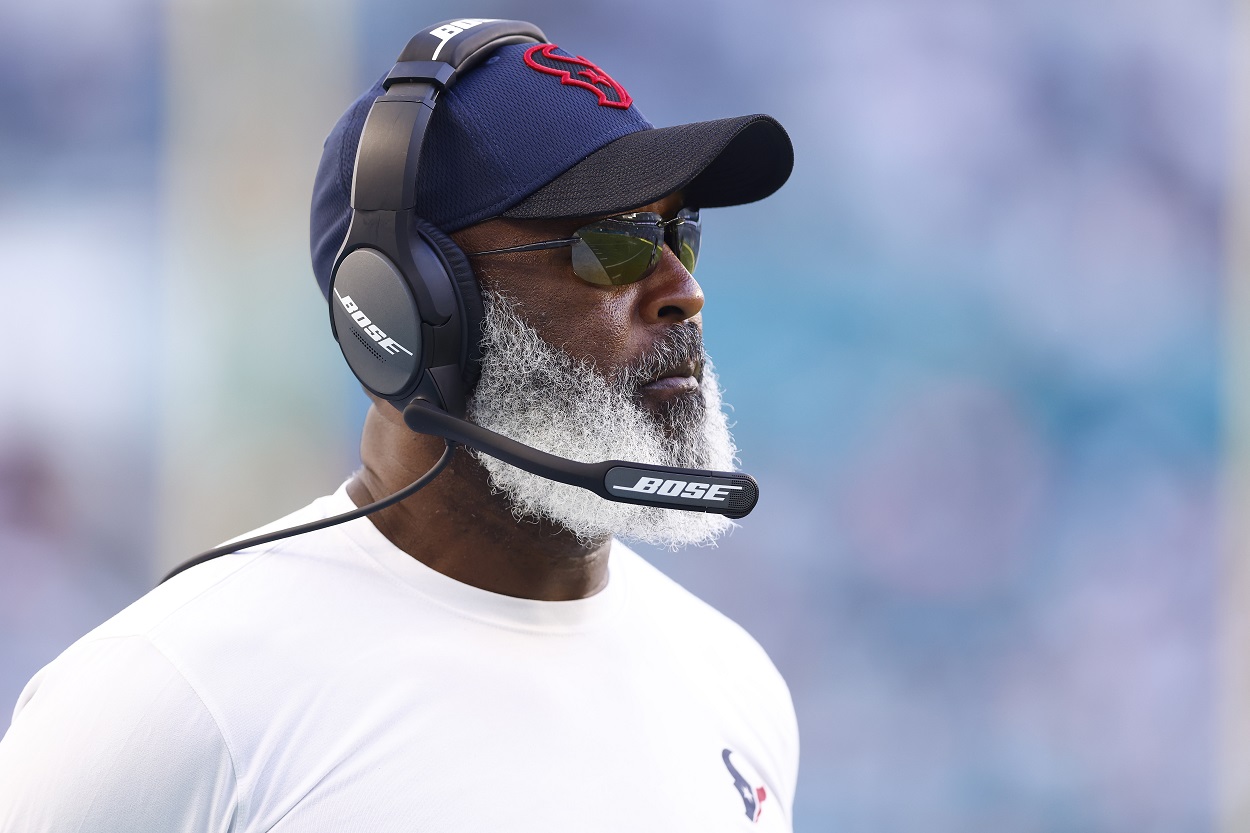 NFL.com is reporting that the Texans are nearing a deal with Smith and will soon officially announce him as their next head coach. Once it's announced, he'll be only the seventh head coach in franchise history.
That may seem impressive at first glance, but remember that Houston is an expansion franchise. The Texans first joined the league in 2002 under the watchful eye of Dom Capers, who went 18-26 in four seasons as the franchise's inaugural skipper. Gary Kubiak, Wade Phillips (interim), Bill O'Brien, Romeo Crennel (interim) and David Culley are the only other head coaches in franchise history.
Culley was hired by the Texans before the start of the 2021 season and led a relatively talentless roster to a 4-13 record. He picked up four more wins than the Texans deserved, frankly, but was unceremoniously fired for what was ultimatly called "philosophical differences." Keep in mind, the Texans had the same amount of wins in 2020 despite having the services of both Deshaun Watson and J.J. Watt.
"There were other issues, in-game issues, disciplinary issues, but from what I understand, the philosophical issues were probably as much as anything," NFL insider Ian Rapoport reported at the time.
Smith was Culley's associate head coach and defensive coordinator in 2021, but that's not much to write about. The Texans had the second-to-worst defense in the entire league under Smith, giving up 384.4 yards and 26.6 points per game.
Still, after a drawn-out interview process that saw the Texans interview several intriguing names, including Brian Flores (who is currently suing the league for discriminatory hiring practices) and former quarterback Josh McCown (twice), Houston has apparently settled on Smith.
Settled is the key word here.
Smith has an underwhelming track record since 2006
Many likely remember Smith's tenure with the Chicago Bears, where he made the Super Bowl thanks to a mean Brian Urlacher-led defense, but he's been somewhat persona non grata since the pinnacle of that run. Smith's Bears lost to Peyton Manning and the Indianapolis Colts in Super Bowl 41, and things went downhill after that.
He had limited success in Chicago after that Super Bowl loss and could never get the Bears back up the mountain. He was fired in December of 2012 after Chicago missed the playoffs for the fifth time in six seasons since the Super Bowl run.
Smith wound up with the Tampa Bay Buccaneers for what was essentially an unsuccessful layover. He went 8-24 in two seasons and wasn't given a third. He then found himself back in the college ranks as the head coach of the Illinois Fighting Illini. He spent five seasons in Champaign but never notched a winning season. 
He was 17-39 in five seasons as head coach for the Fighting Illini. Illinois was bowl eligible just once in that time period and lost the bowl game.
His overall record as a head coach since that Chicago Super Bowl appearance is 77-107. That includes the stints in Tampa Bay and with the Fighting Illini.
The Texans are setting Smith up to be their next fall guy
In a league that has been trending younger and more offensive-minded at head coach, the Texans have decided to go with Smith, who is older and a defensive-minded coach. To be clear, this is not to say that older, defensive-minded coaches can't be successful. Bill Belichick is nearly 70-years-old after all. With that said, the Texans are certainly bucking a trend that has worked out for a plethora of other franchises, including the two playing in the upcoming Super Bowl, the Los Angeles Rams, and Cincinnati Bengals.
All credit should go to Smith if he does succeed, but can Houston really be expecting that much from him?
We went over the numbers above. He's been decidedly average if not straight-up terrible since the pinnacle of his coaching career, which was a loss in the Super Bowl. He fell apart in Chicago, stunk in Tampa, and was a disaster as a college head coach at Illinois.
What would suggest that Smith is "the guy" to turn the Texans around? There hasn't been any evidence found that he's a competent head coach in the past decade.
What if the Texans aren't bringing Smith in to be "the guy", though?
What if, much like with Culley, the Texans are hiring Smith to simply be a place-holder? Someone who can keep the lights on and get everyone's helmets strapped up on game day.
Mike Garafolo is reporting that there's a chance McCown could join Smith's staff. The Texans interviewed McCown twice despite the fact that he has zero coaching experience outside of high school. They clearly liked him and seemed to be trending his way. Would you put it against Houston to let McCown get some experience under Smith only to pull the rug out from under the veteran head coach and hire the guy they "really" wanted after a season or two?
Which of us would be surprised if Smith leads the Texans to five wins in 2022 and six in 2023 only to be relieved of his duties in favor of McCown? If that seems shocking to you, then you don't know the NFL.
The Texans clearly aren't above doing such a thing. They canned Culley despite the fact that he actually got something out of his roster in 2021. He also did it all with the shadow of the Watson drama circling overhead.
Why would the Texans fire Culley and go on to hire an objectively worse coach if not just to keep the seat open for the next guy?
If it feels like Smith is being set up to fail in Houston, perhaps it's true.
Stats courtesy of ESPN and Pro Football Reference. Contract information via Spotrac
RELATED: After Brian Flores' Lawsuit, the Houston Texans Cannot Possibly Hire Josh McCown