The Indianapolis Colts' Already Dominant Defense Is Now Adding Another Big-Time Piece
The Indianapolis Colts already have one of the most dominant defenses in the NFL. They have stellar players at almost every position like Darius Leonard, DeForest Buckner, Justin Houston, and several others. Now, they are adding yet another big-time piece to that already dominant defense as defensive end, and former second-round pick, Kemoko Turay, will soon play for the first time this season.
The Indianapolis Colts have one of the best defenses in the NFL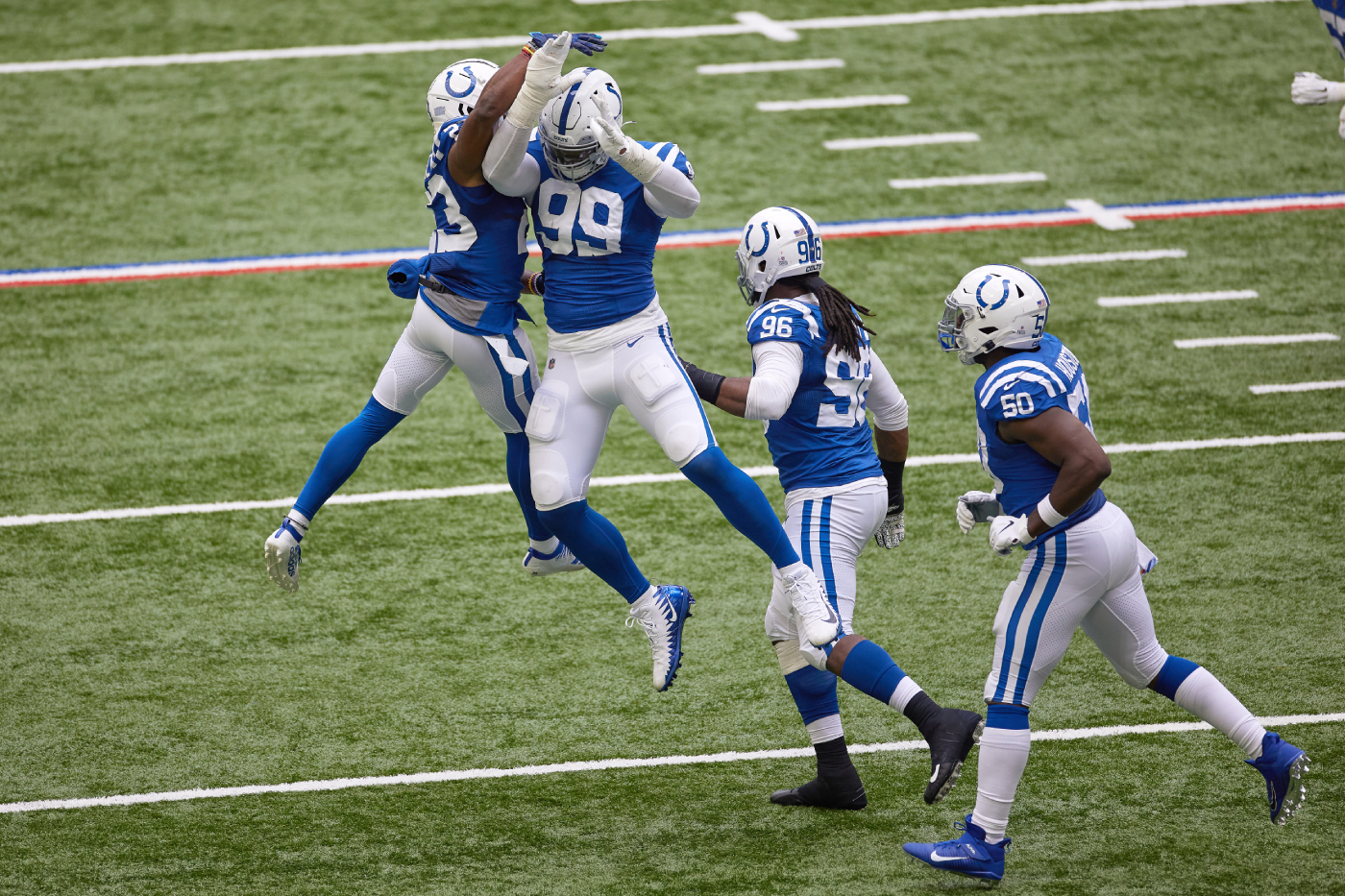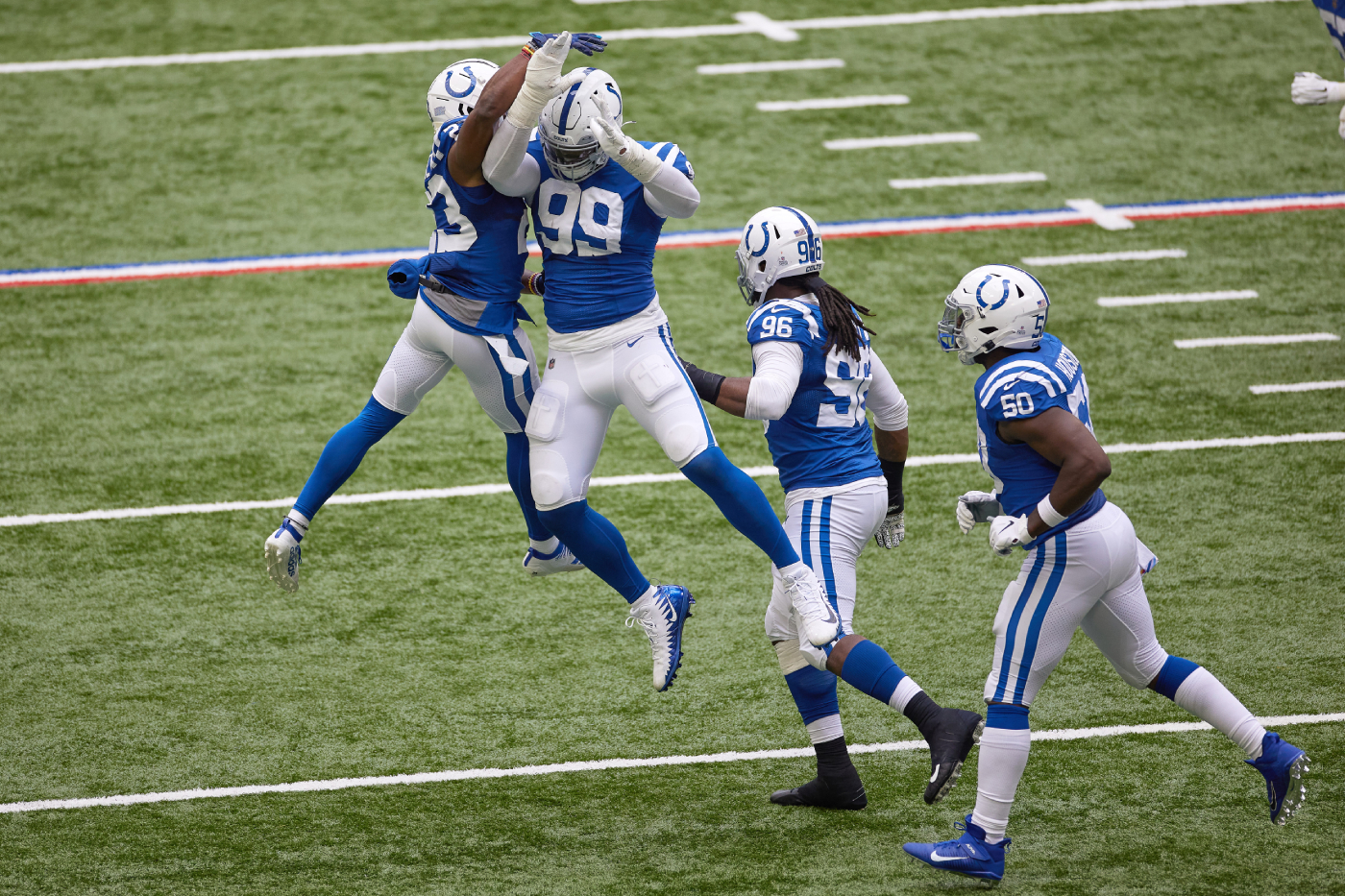 The Indianapolis Colts are 6-3 through nine games so far this season and are first in the AFC South. A lot of their success has to do with the play of their defense, too.
The Colts are No. 4 in the NFL in points allowed per game, as they are only allowing 19.7 per outing. They have also allowed the fewest number of yards in the league so far this year, only allowing 2,614 yards through nine games.
Darius Leonard, their All-Pro linebacker, is a big reason why the defense has been so dominant. He leads the team with 60 total tackles despite missing two games. However, they also have great players on the defensive line in DeForest Buckner, who has 39 total tackles and 2.5 sacks, Denico Autry, who has six sacks, and Justin Houston and Tyquan Lewis, who both have 3.5 sacks.
Now, the Colts are adding another big-time piece to that defensive line.
Kemoko Turay hasn't played since Week 5 in 2019
Kemoko Turay played college football at Rutgers and proved to be an excellent defensive lineman while he was there.
In 2014, his redshirt freshman season, he racked up 7.5 sacks and 26 total tackles in 13 games, according to his Rutgers bio. He then played in just 11 games in 2015 and eight in 2016, but he had another excellent season in 2017. He recorded four sacks and 65 total tackles.
This led to the Colts selecting Turay in the second round of the 2018 NFL draft. During his first season with the Colts, Turay had four sacks, 15 total tackles, and 13 QB hits in 14 games. However, he proved to be a big part of the team's defense in 2019, as he had 1.5 sacks and five QB hits in just four games.
That was until he dislocated and fractured his ankle in the Colts' Week 5 win over the Kansas City Chiefs in 2019. Turay's season ended, and he has not played since then.
Kemoko Turay is returning for the Colts
The Colts are in the middle of a pretty tough stretch of their schedule and need as much firepower as possible to win the AFC South.
Well, it appears that their defense is adding another star as Indy recently activated Turay from the Reserve/Physically Unable to Perform list, according to the IndyStar.
"It's great to be back playing. Lord knows how hard I work just to be back on the field again," Turay wrote on Twitter. "Take nothing for granted cause you never know when it's taken from you. Thanks for all my fans supporting me through this (tough) road."
It appears that the ankle injury hasn't slowed him down, either.
"What we've seen out of him in practice is the same guy," Colts coach Frank Reich said, according to the IndyStar. "Same guy with the speed and bend coming off the edge, a disruptive player with a lot of explosiveness."
The Colts still probably don't want to rush Turay into doing too much too quickly. However, Joel Erickson of the IndyStar makes some great points on how they can use Turay and take advantage of his strengths, which typically have to do with his speed.
"A 'fastball' off the edge for the Colts, Turay would be an ideal situational pass rusher if he's fully healthy, allowing Indianapolis to continue its current rotation of Justin Houston, Al-Quadin Muhammad, Denico Autry and Tyquan Lewis on run downs, then substitute Turay into the lineup in obvious passing situations," Erickson wrote.
No matter how much he plays right off the bat, the rich are getting richer as one of the best defenses in the NFL is now getting another big-time star.
Stats courtesy of Pro Football Reference