The Indianapolis Colts Just Signed T.Y Hilton's Potential Replacement
T.Y. Hilton has so far had a great career at wide receiver for the Indianapolis Colts. However, Hilton is starting to get up there in age as he will turn 31 during the 2020 season. With that in mind, the Colts actually just signed a receiver that will, most likely, become Hilton's replacement in the coming years. 
T.Y. Hilton has been a great wide receiver with the Colts
The Indianapolis Colts selected Hilton in the third round of the 2012 NFL draft. He has ultimately been a first-round talent, though. 
In his first season, Hilton caught 50 passes for 861 yards and seven touchdowns. Then from 2013 through 2016, Hilton gained 1,000 or more receiving yards each season. After gaining 1,345 receiving yards and catching seven touchdown passes in 2014, and 1,124 yards and five touchdowns in 2015, Hilton led the NFL in receiving yards in 2016 with 1,448 on a career-high 91 receptions. 
Hilton also received four straight Pro Bowl selections from 2014 through 2017. He then had an excellent season in 2018, catching 76 passes for 1,270 yards and six touchdowns, but then missed six games in 2019. The six games he missed were more than he had missed during his first seven years combined, according to ESPN.
Hilton ultimately caught 45 passes for 501 yards and five touchdowns last season. For his career, he has caught 552 passes for 8,598 yards and 45 touchdowns. 
T.Y. Hilton wants to finish his career in Indy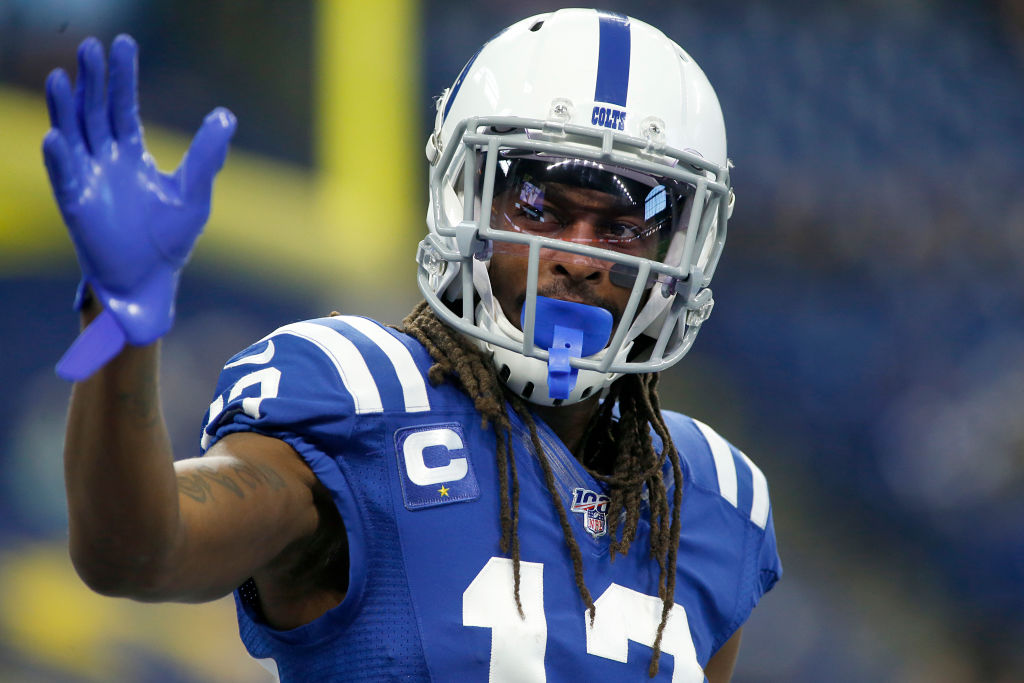 No matter how you look at it, Hilton is at the tail end of his career in the NFL. 
He is headed into the final year of his current contract, according to ESPN, and recently said that he wants to be a "Colt for life." Hilton also said that he plans to retire at the end of his next contract, according to ESPN. Hilton and the Colts have had some contract talks, but they have been on hold since COVID-19 hit, ESPN reported.
"It takes two sides," Hilton said, according to ESPN. "It's up to [owner Jim] Irsay and [general manager] Chris [Ballard] to get the job done. I want to be a Colt. So you heard it from me."
Well, now the Colts have the guy who can end up being his replacement.
The Indianapolis Colts signed Michael Pittman Jr.
The Colts have a new quarterback for at least this season in Philip Rivers, and, in addition to Hilton, Rivers now has another talented guy to throw to. 
This week, the Colts announced that they signed Michael Pittman Jr., who the team selected in the second round of this year's NFL draft. 
Pittman is entering the NFL out of USC, which is where he had a really nice collegiate career. In his career, Pittman recorded 171 catches for 2,519 yards and 19 touchdowns. In his senior season in 2019, Pittman earned first-team All-Pac 12 honors and second-team AP and Coaches All-American honors, according to Colts.com. He caught 101 passes for 1,275 yards and 11 touchdowns in 2019. 
Compared to Hilton, Pittman is a much different type of receiver. He is six-feet-four-inches and 223 pounds. Hilton, on the other hand, is about five-feet-10 inches and 183 pounds. So, the two will certainly be able to play together as they have different skill sets. Once Hilton starts to decline athletically, though, or once he retires, Pittman will definitely have a chance to replace him as the Colts' No. 1 wide receiver. 
The somewhat distant future is kind of up in the air for the Colts with Philip Rivers being an aging quarterback. However, no matter who the Colts have at quarterback in the future, that guy will most likely have a really talented target to throw to in Michael Pittman Jr.
Stats courtesy of Pro Football Reference