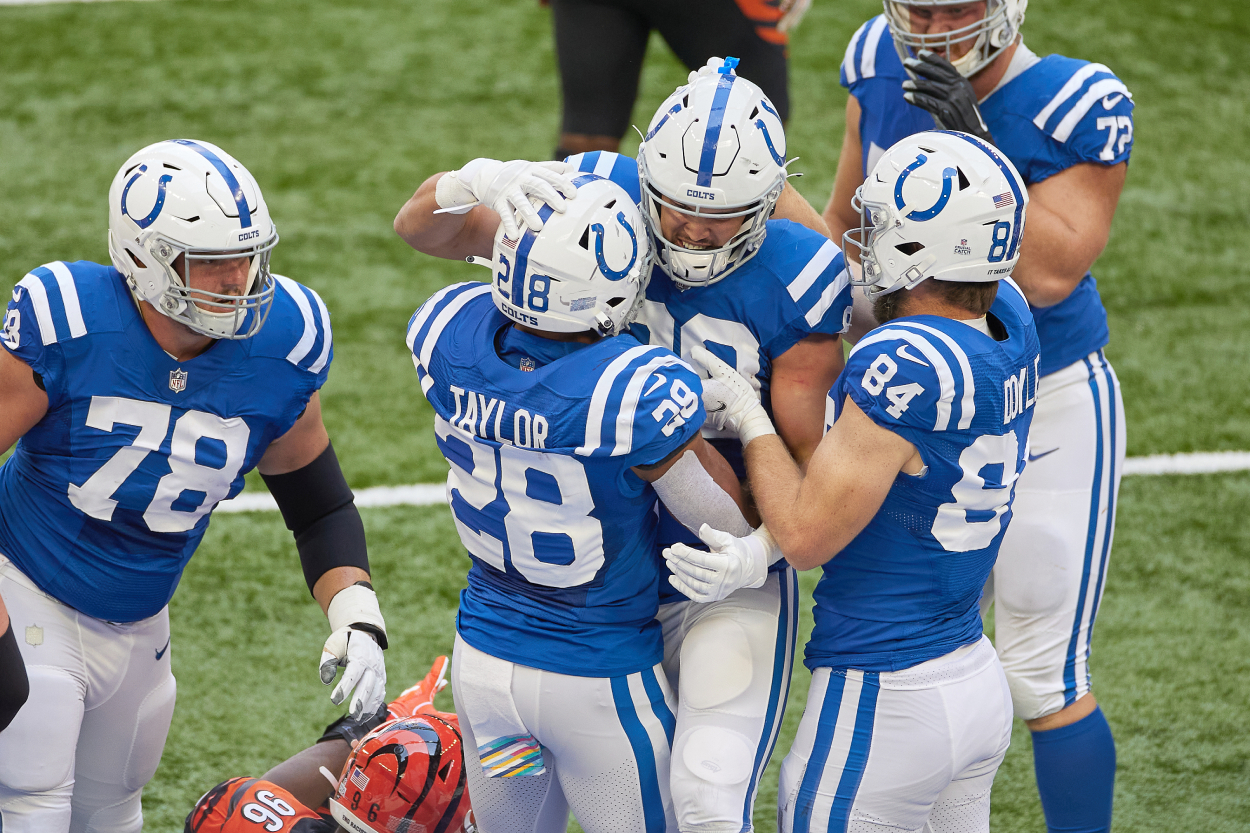 The Indianapolis Colts May Soon Have a New $8.25 Million Weapon for the Quarterback They Don't Have
The Indianapolis Colts need a quarterback. However, the Colts could soon trade for an $8.25 million weapon in Eagles tight end Zach Ertz.
The Indianapolis Colts need a new quarterback for the 2021 season and beyond. They have had two quarterbacks retire since 2019 in Andrew Luck and Philip Rivers, and now must either find a veteran to lead them for at least the next few years or a young guy in the draft that can become their present and future. However, the Colts don't appear to just be looking for a quarterback to acquire via trade. They could soon have a new $8.25 million star weapon for the QB they don't even have yet. That potential weapon is Philadelphia Eagles tight end Zach Ertz.
Zach Ertz has become an excellent tight end for the Eagles
The Philadelphia Eagles selected Zach Ertz in the second round of the 2013 NFL draft, and he has since become one of the best tight ends in the league.
After two solid season to start his career, Ertz proved how talented he really is from 2015 through 2019. He gained over 800 receiving yards in both 2015 and 2016 before then earning Pro Bowl honors with the Eagles in 2017. He also ultimately helped the Eagles win the Super Bowl in 2017, too, as he caught 18 passes for 192 yards and a touchdown in three postseason games. 
During the 2018 season, though, Ertz then had the best season of his career. He earned another Pro Bowl selection and had career-highs in receptions with 116 and receiving yards with 1,163 to go with eight touchdown catches. Then, in 2019, Ertz was a Pro Bowler again with 88 catches for 916 yards and six touchdowns.
However, during the 2020 season, Ertz battled injuries and statistically had the worst season of his career. He only caught 36 passes for 335 yards and one touchdown. The Eagles were horrible as a team in 2020, too, as they went 4-11-1 and missed the playoffs after reaching the postseason in each of the last three seasons.
Now, as the Eagles appear to be moving toward a rebuild, Ertz could potentially be on the move.
The Indianapolis Colts could trade for Zach Ertz
According to ESPN's Jeremy Fowler, sources expect the Eagles to look into trade options for Zach Ertz. Fowler said that Ertz is reportedly "bracing for a change of scenery via release or trade."
According to Spotrac, Ertz is entering the last year of his contract and will make $8.25 million in 2021. The Eagles are projected to be over the salary cap for the 2021 season, so parting ways with their star would help them shed salary ahead of their upcoming rebuild, per ProFootballTalk.
So, where could Ertz go? According to Sports Illustrated, a source has said that the Eagles have discussed potential trades with the Seattle Seahawks and Indianapolis Colts.
With the Colts also reportedly having an interest in Carson Wentz, Ed Kracz of Sports Illustrated reported that Wentz and Ertz could certainly be traded together, but since both players have high 2021 salaries, they will most likely get dealt separately. Kracz also suggested that the Colts could trade for Ertz and offensive lineman Andre Dillard instead of Wentz since the Colts need a left tackle after Anthony Castonzo's retirement.
So, how would Ertz fit on the Colts? Well, that depends on who their quarterback is in 2021.
The Indianapolis Colts still need a quarterback
Ertz would certainly be a great addition to the Colts. Indianapolis has Jack Doyle and Mo Alie-Cox at tight end, but Doyle and Alie-Cox aren't nearly as effective in the passing game as Ertz has been in his career. Ertz would potentially become one of the Colts' top two or three weapons in the passing game alongside 2020 draft selection Michael Pittman Jr., and potentially T.Y. Hilton if the Colts choose to re-sign him.
However, none of those weapons will succeed if the Colts don't have a good quarterback. Philip Rivers proved in 2020 that a solid QB can lead Indy to the playoffs. Rivers' 4,169 passing yards, 24 touchdowns, and 11 interceptions led the Colts to an 11-5 record before they barely lost to the Buffalo Bills in the wild-card round. So, a younger quarterback, who is also talented, could take the Colts to that next level.
Indy's options are, of course, Wentz, who had success with Colts coach Frank Reich when Reich was the offensive coordinator in Philly. They could also trade for Sam Darnold or trade up for a prospect like Justin Fields, Trey Lance, or even Mac Jones. There are many options on the table for Indy this offseason.
No matter who the quarterback is in Indy in 2021, though, Ertz can become a top weapon on the Colts. If they get a guy like Wentz or Fields, though, he could become an absolute star for Indy. We'll see if the Colts can acquire him.
Stats courtesy of Pro Football Reference