The Jacksonville Jaguars Seem To Already Have a Plan for Trevor Lawrence's Future
The Jacksonville Jaguars should soon have a new quarterback. That quarterback is expected to be Clemson star Trevor Lawrence, too, as many people believe that he will be the No. 1 overall pick in the 2021 NFL draft, and the Jaguars have that No. 1 pick. In fact, it appears that the Jaguars are already putting a plan together for Lawrence's future. They are doing so by potentially getting Lawrence's first NFL head coach lined up in Urban Meyer.
Trevor Lawrence is expected to go to the Jacksonville Jaguars
RELATED: John Legend Takes Shot at Clemson Coach Dabo Swinney on Social Media
Trevor Lawrence became a star at Clemson pretty quickly as he had an excellent freshman season. He threw for 3,280 yards, 30 touchdowns, and four interceptions and ultimately helped the Tigers win a national championship that year.
Lawrence then continued to dominate in his next two seasons. He threw for 3,665 yards, 36 touchdowns, and eight interceptions in 2019. Clemson also went back to the national championship game that year before losing to LSU. Then, in 2020, Lawrence threw for 3,153 yards, 24 touchdowns, and five interceptions in only 10 games (compared to 15 in the other two seasons). Lawrence and Clemson went back to the College Football Playoff this season, too, but lost to the Ohio State Buckeyes in the semifinals.
Lawrence — who is 6 feet, 6 inches tall — has all the tools to become an excellent NFL quarterback. Now, it's finally time for him to enter the league. He hasn't announced his decision to forgo his senior season and enter the NFL draft yet, but Lawrence is expected to do so, and he is expected to go to the Jacksonville Jaguars at No. 1.
The Jaguars appear to know who they want to coach Lawrence, too.
The Jacksonville Jaguars could soon hire Urban Meyer as their next head coach
RELATED: Notre Dame Coach Brian Kelly Once Pissed off His Old Team Right Before the Biggest Game in Program History
According to NFL.com's Ian Rapoport, the Jaguars haven't 100% made a decision about their current head coach, Doug Marrone, but they are expected to replace him. Rapoport reports that Urban Meyer has reportedly started lining up a staff and has told some people he is close to that he expects to become the Jaguars' next head coach.
This would be a pretty big hire for Jacksonville based on Meyer's resume.
Meyer began coaching the Florida Gators in 2005, and in his second season, he helped them win a national championship. Then, just two seasons later, in 2008, Meyer helped them win another national championship.
Meyer stayed at Florida through the 2010 season, but then became the head coach at Ohio State in 2012. In Meyer's third season with the Buckeyes, he helped lead them to the first-ever College Football Playoff and ultimately helped them win a national championship.
After the 2018 season, Meyer retired, and Ryan Day then became the head coach of the Buckeyes. Meyer has since worked at FOX as an analyst the past two seasons.
Overall in his career, Meyer, who has also coached at Bowling Green and Utah, has a 187-32 record and a 12-3 record in bowl games.
Now, if the Jaguars hire Meyer, this means that one of the biggest-named coaches in college football could now coach one of college football's biggest-named players.
Can Urban Meyer and Trevor Lawrence have success together?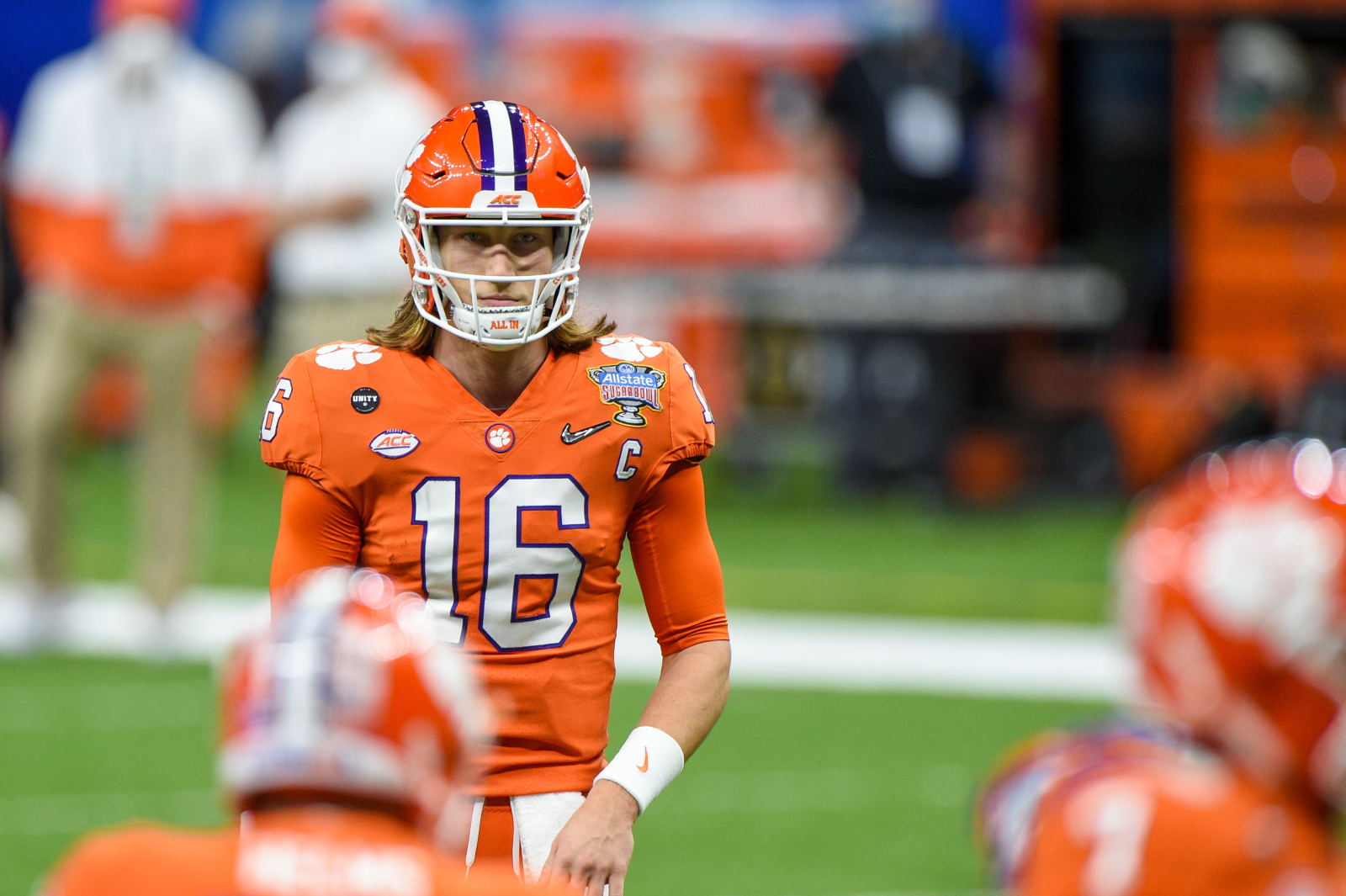 RELATED: Dwayne Haskins Once Admitted That He 'Couldn't Stand' Joe Burrow While at Ohio State
So, if the Jaguars do, in fact, get both Lawrence and Meyer, can the two of them have success together? It's hard to tell for sure, but based on Meyer's history, they certainly can.
Meyer was Tim Tebow's head coach in college. Tebow won a Heisman Trophy with Meyer as his head coach. With other coaches in the NFL, though, he didn't do too great. Meyer also had a ton of success at Ohio State with quarterbacks like Braxton Miller, J.T. Barrett, Cardale Jones, and Dwayne Haskins. He won a championship with Jones and helped Haskins throw for 50 touchdowns and eight interceptions in one season. Neither of them have done anything with other head coaches, though, and Miller and Barrett didn't really do anything in the league, either.
This proves that Meyer knows how to get the best out of his quarterbacks. Lawrence is much more talented than those guys, too, so the two of them could be dangerous together.
However, if you look at college coaches who have done well in the NFL, they typically joined good organizations. Pete Carroll has been an excellent coach at both levels. The Seahawks, though, had just been to the Super Bowl five seasons prior to him becoming their head coach. Nick Saban, on the other hand, coached the Miami Dolphins, and the Dolphins have only been to the playoffs twice since then. He last coached there in 2006.
For Meyer with the Jaguars, they have only been to the playoffs once since 2008 and three times since 2000.
Urban Meyer certainly has the football IQ and Trevor Lawrence certainly has the talent to build something special on the Jaguars. It might be hard for them to turn that franchise completely around, though.
Stats courtesy of Sports Reference