James Harden's Acquisition Signals to the Basketball World That the Philadelphia 76ers Are All-In to Win
Superstar guard James Harden has now forced his way out of two NBA franchises in two years. Harden has become a chronically injured player whose hamstrings tend to turn to mush late in seasons. And James Harden's production isn't quite what it used to be as he has aged, battled injuries, and bounced from team to team.
The debate will rage for months, if not years, about whether the Philadelphia 76ers did the right thing in acquiring the mercurial former NBA MVP at Thursday's NBA Trade Deadline. But in doing this deal — and essentially guaranteeing Harden a $223 million contract extension — the 76ers are screaming to the basketball world that they are all-in on this championship chase.
The Philadelphia 76ers made it clear they are trying to win a championship now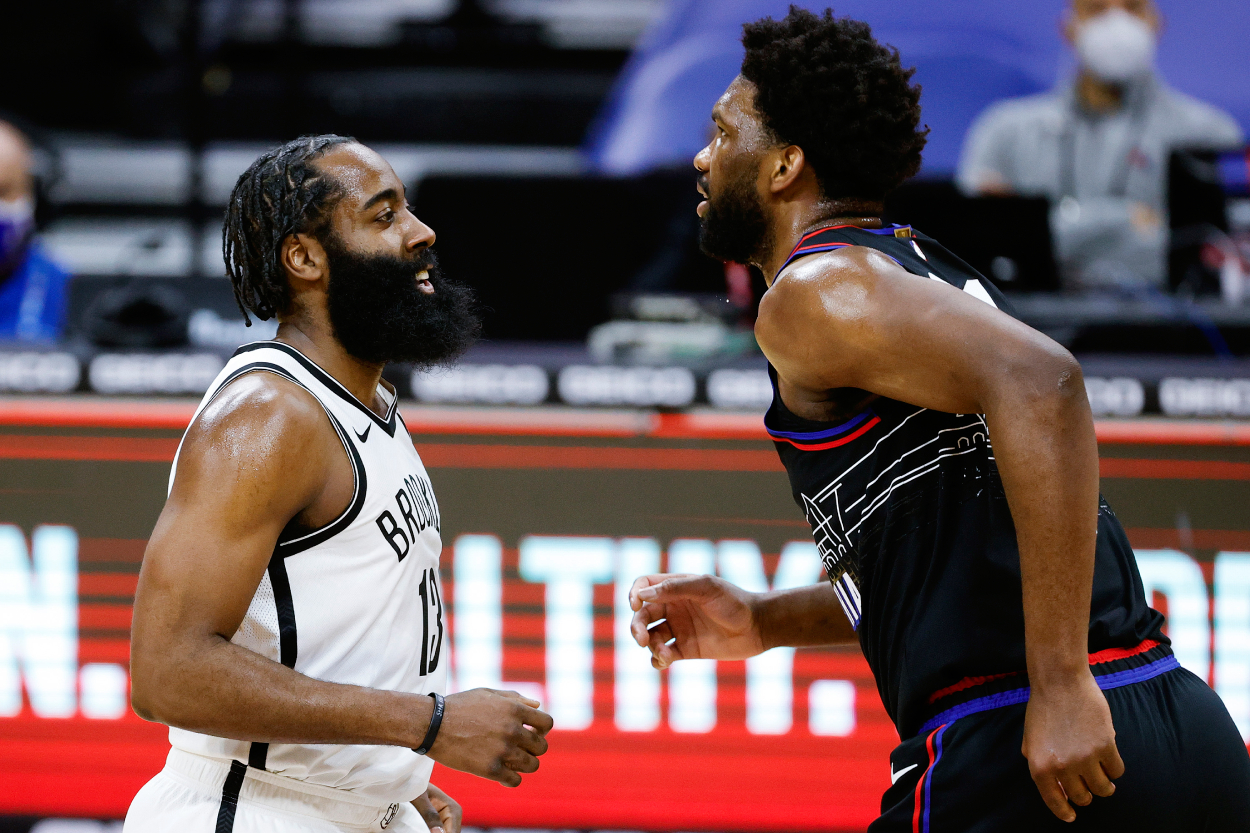 With their massive, five-player trade just before the NBA Trade Deadline, the Philadelphia 76ers showed that they are all-in on trying to win it all now. They also showed that they are unwilling to waste another year of Joel Embiid's prime without putting themselves in a position to win it all.
With a lineup of James Harden, Tyrese Maxey, Danny Green, Tobias Harris, and Joel Embiid, the Sixers have the offensive and defensive firepower to match up against any team in the league. They still don't have a defender to throw at Giannis Antetokounmpo, but that's a problem shared by 28 other NBA teams. If the Sixers can keep Harden's hamstrings from combusting, Philadelphia just might have passed Antetokounmpo as the favorites to come out of the Eastern Conference.
Some skeptics will argue that the Brooklyn Nets got the better end of the trade by acquiring a much younger Ben Simmons, shooting guard Seth Curry, and shot-swatting big man Andre Drummond. Theoretically, that could allow the Nets to field a lineup of Kevin Durant, Kyrie Irving, Simmons, Curry, and Drummond. The problem with that lineup is that Irving is still only eligible for road games, Durant is injured, and Simmons hasn't played in an NBA game since last spring when he melted down against Atlanta.   
Finally, the Sixers put a much-needed end to the Ben Simmons drama in Philadelphia
Thursday's trade brought a predictable end to the Ben Simmons drama in Philadelphia. After all, this was the only way this could have ended, considering the vitriol that Embiid, head coach Doc Rivers, and the so-called City of Brotherly Love had for Simmons after he melted down in the playoffs last spring. The writing has been on the wall for months for Simmons, who was determined to never play again in Philadelphia.  
The Sixers showed just how much they didn't miss the non-shooting Simmons this season by compiling a 32-22 record that is tops in the Atlantic Division. The Sixers are a stellar 18-10 on the road, primarily because of the consistently dynamic Embiid, who has made himself into the league's leading candidate for the MVP award.
According to oddsmakers at Caesars Sportsbook, Brooklyn's acquisition of Simmons did nothing to improve its chances to win a championship. The Nets still stand at 4-to-1 favorites to win it all. The 76ers went from 12-to-1 to 7-to-1 to win their first NBA crown since 1983. They also moved from 5-to-1 to 3-to-1 to win the Eastern Conference with Harden in the mix.    
The 76ers championship chances will depend on Joel Embiid and James Harden meshing
James Harden failed to team well with Chris Paul or Russell Westbrook in Houston, and his pairing with Kevin Durant and Kyrie Irving in Brooklyn was an epic disaster. For all their "Big Three" hype, history will remember that Harden, Durant, and Irving played just 16 games together in a Nets' uniform.
In Philadelphia, it will be incumbent on Harden to mesh better with Embiid, who is beloved in Philadelphia because of his no-filter mouth and his blue-collar attitude when it comes to putting in a hard day's work.
Even though he is a center, Embiid likes having the ball in his hands so that he can use his agility and deft footwork to attack opposing big men. Embiid has been so good this season because the 76ers have let him cook while carrying the offense.
That, of course, flies in the face of the ball-dominant style of basketball that Harden likes to play. Harden's unwillingness to play off the ball is a big part of the reason he couldn't coexist with Paul, Westbrook, Durant, or Irving. As any NBA coach will admit, one of the most challenging things for a superstar player is to learn to play without the basketball in their hands. After all, most star players have had the ball in their hands their whole lives while starring at every level.
Learning to be effective without the ball in a player's hands is often one of the most challenging things to do. It's why Westbrook has been such a disaster playing with LeBron James and Anthony Davis in Los Angeles and why Harden's numbers dipped while playing with Durant and Irving.
Harden will need to show more flexibility in fitting in with Embiid than the other way around. He'll need to be willing to drop the ball down to the big man in the low post and spot up as a shooter while Embiid exploits mismatches. He'll need to share the ball to not knock Tobias Harris entirely out of rhythm or stunt the growth of Tyrese Maxey and Matisse Thybulle.
Any chance of the Sixers winning a championship is riding on the relationship between Harden and Embiid. Bring out the best in one another and the Sixers might have the most potent team in the NBA. Bicker and battle over control of the ball, and this superstar pairing will flame out as quickly as the so-called "Big Three" in Brooklyn.
Philadelphia took a significant risk in trading for a superstar player who has a history of injuries, playoff meltdowns, and moodiness. But give the Sixers credit for saying they no longer wanted anything to do with the Simmons drama. Give them credit for refusing to waste another year of Embiid's prime. And give them credit for being willing to go all-in on trying to win a championship.
All statistics are courtesy of ESPN.com.
RELATED: Ben Simmons and Kyrie Irving's Combined Immaturity Is Going to Drive Kevin Durant to a Breaking Point