The Joe Harris Injury Overshadows a Scary Weapon the Brooklyn Nets Will Have
The Brooklyn Nets' offense lost a lot of its flow with the Joe Harris injury in mid-November. Without him, much of the movement, spacing, and shooting disappeared. While there is no prognosis on if or when he'll return from ankle surgery, Brooklyn could be frighteningly good offensively when he does. In the modern NBA, having one knockdown shooter is good. But if the Nets have two? That opens a whole new level of possibilities.
Ben Simmons is the headliner in the trade that sent James Harden and Paul Millsap to the Philadelphia 76ers. But the Nets also gained a fix to what has been missing for the last three months. Seth Curry is, like Harris, one of the premier three-point shooters in the NBA. Similarly, Steph's younger brother creates movement and spacing.
Whenever it is that Harris and Curry can share the floor? Constant motion, exotic screening actions, and threes raining like monsoon season.
What the Brooklyn Nets lost with the Joe Harris injury
The Brooklyn Nets were the best three-point shooting team in the NBA before the Joe Harris injury. Since then, they have been one of the worst. It's that simple.
Harris has led the NBA in three-point shooting twice in the last four seasons. He is especially deadly as a catch-and-shoot threat, and the design of the Brooklyn offense runs the 30-year-old off multiple screens to get open looks.
Kevin Durant and Kyrie Irving (when he is, you know, able to play) are the top options for the Nets, with good reason. But without Harris' ability to keep the offense spaced, things got bogged down at times. The ball tended to stick, and when they got other shooters open, Brooklyn didn't convert them as efficiently aside from veteran Patty Mills.
Since Nov. 15, the day after Harris sprained his left ankle and later underwent surgery to remove a bone particle, Brooklyn is 24th in the NBA in deep shooting, making only 33.6%. They were at 39.3% in 14 games with the eight-year veteran.
Moreover, the Nets are 29th in made threes and attempts in that span.
Overall, Brooklyn is 15th from long range, hitting 35.2%. But they are in the bottom seven in the NBA in both makes and attempts.
The arrival of Curry should change that.
The Brooklyn Nets now have the top 2 active 3-point shooters in the NBA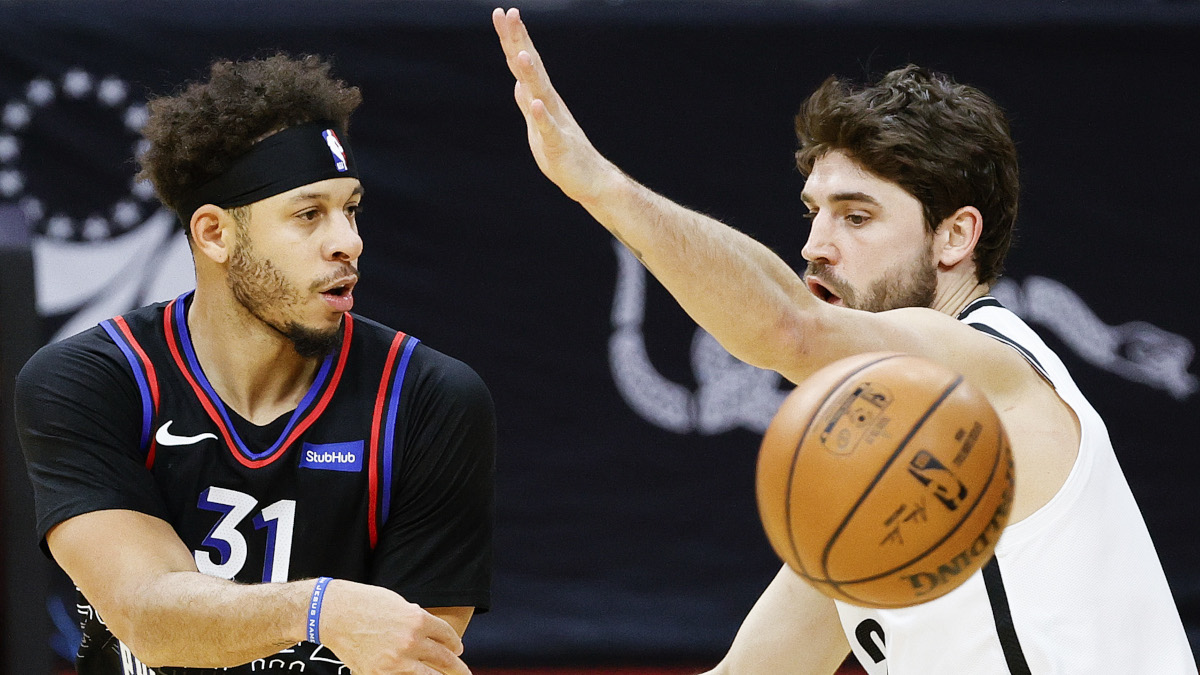 Two current NBA players shoot better than 43% for their careers. Seth Curry is second on that list at 43.7% over his eight NBA seasons. He's now the second-best career long-ball shooter on his club.
The 31-year-old entered this season at the top of the list. However, Curry's had a poor season by his standards, hitting 40.0% on 5.6 attempts per game.
Before the Joe Harris injury, the 2019 Three-Point Shootout champion hit 43.9% of his deep tries. Since his breakout 2018–19 season, he's hit an astonishing 45.8% from beyond the arc.
Both Harris and Curry excel at catch-and-shoot opportunities. Since 2018–19, here are Harris' numbers:
2018–19: 155-of-322 (48.1%)
2019–20: 139-of-312 (44.6%)
2020–21: 183-of-355 (51.5%)
2021–22: 38-of-81 (46.9%)
As for Curry, it goes like this:
2018–19: 78-of-157 (49.7%)
2019–20: 99-of-206 (48.1%)
2020–21: 90-of-185 (48.6%)
2021–22: 67-of-152 (44.1%)
Once he has both available, Brooklyn coach Steve Nash can stagger their minutes to keep a spot-up shooter on the floor the entire 48 minutes. He could deploy them together at times to spice things up. Harris and Curry could screen for each other, get into advanced pin-downs and curls, and drive defenses batty.
And the Nets will unlock more possibilities when Simmons is ready to play. In the veteran's first season with Philadelphia, Curry and the Australian point forward had good symmetry.
Simmons is a willing and highly able passer for all the knocks against his shooting. Having him on the floor with shooters like Harris and Curry (not to mention Durant and Irving, neither of whom is a slouch from outside the arc) will run defenses ragged.
If the Joe Harris injury prevents a return, there's always next year
The Joe Harris injury situation took a turn earlier this month amid reports the former Virginia standout might need a second surgical procedure on his ankle. Originally expected to miss four to eight weeks, Harris is not close to returning to the court.
But that doesn't close the door to a potential Harris-Curry long-distance partnership.
Harris is signed through 2023–24 on the four-year, $72 million deal he signed in November 2020 to remain with the Brooklyn Nets.
Curry, meanwhile, has one year remaining on the four-year free-agent deal he got in July 2019 to return to the Dallas Mavericks after spending a year with the Portland Trail Blazers.
As for the other principals in Brooklyn, Durant signed a three-year, $149.5 million extension last summer that ties him to the Nets through 2025–26. Irving has a $36.5 million player option for next season, while Simmons has three years and $108.8 million remaining on his deal.
In the short term, Curry can replicate much of what was lost by the Nets when Harris got hurt. When they can get Simmons integrated into their system, that provides them an additional ballhandler/playmaker that was lost when Harden left. Durant is out with a sprained knee, but the hope is he will be able to return shortly after the All-Star break.
Brooklyn has lost 10 straight games to fall to eighth place in the Eastern Conference. Given Irving's situation, the Nets may be better off without homecourt advantage. And they could be scary good next season with Joe Harris and Curry to keep the wheels turning.
Statistics courtesy of Basketball Reference and NBA.com. Contract information courtesy of Spotrac.
RELATED: Kyrie Irving Uses 1 Tweet to Further Prove His Immaturity Following Failed Stint With James Harden