The Kansas City Chiefs Just Brutally Lost Their $9.4 Million Man
The Kansas City Chiefs have many star players, some who they have invested a lot of money in, and others who they have playing on bargain deals. However, recently, the Chiefs lost one of those bargain players. Following the Chiefs' win over the Carolina Panthers in Week 9, Kansas City announced that they lost their $9.4 million man, who they aren't paying nearly that much for, as Taco Charlton is now reportedly heading to injured reserve.
Taco Charlton went to the Dallas Cowboys after a stellar career at Michigan
Taco Charlton played for the Michigan Wolverines in college and became one of the best defensive ends in the country. After recording 3.5 sacks in 2014, Charlton had 5.5 sacks and 30 total tackles in 2015, according to his bio on the Michigan site. He then had a breakout year in 2016. Charlton racked up 9.5 sacks that year to go with 43 total tackles. His play that season led to him earning First-Team All-Big Ten honors.
Charlton then made scouts believe that he had a chance to become a special player in the NFL, as the Dallas Cowboys selected him in the first round of the 2017 NFL draft. Charlton then signed a four-year, $10 million contract with the Cowboys.
However, Charlton did not quite live up to expectations while with the Cowboys. During the 2017 season, he only recorded three sacks and 19 total tackles in 16 games. He then only played in 11 games in 2018 and only had one sack for the Cowboys to go with 27 total tackles.
The Cowboys then waived Charlton in 2019, and the Miami Dolphins acquired him off waivers. He then actually played well for the Dolphins in the 10 games he played for them in 2019, as he had five sacks, which were the most on the Dolphins that season.
The Kansas City Chiefs signed him during the offseason
Charlton has earned an estimated $9.47 million in his career, but the Chiefs signed him on a bargain deal, as Charlton signed a one-year deal with Kansas City this past offseason worth $825,000.
Charlton has played well for the Chiefs so far this year, too. He is not a starter and is more of a situational pass-rusher, but he has been successful. Despite not playing more than 27% of defensive snaps in one game this season, Charlton has two sacks this year to go with four quarterback hits.
However, the Chiefs will now be without their situational bargain pass rusher.
The Kansas City Chiefs lost Taco Charlton in their Week 9 win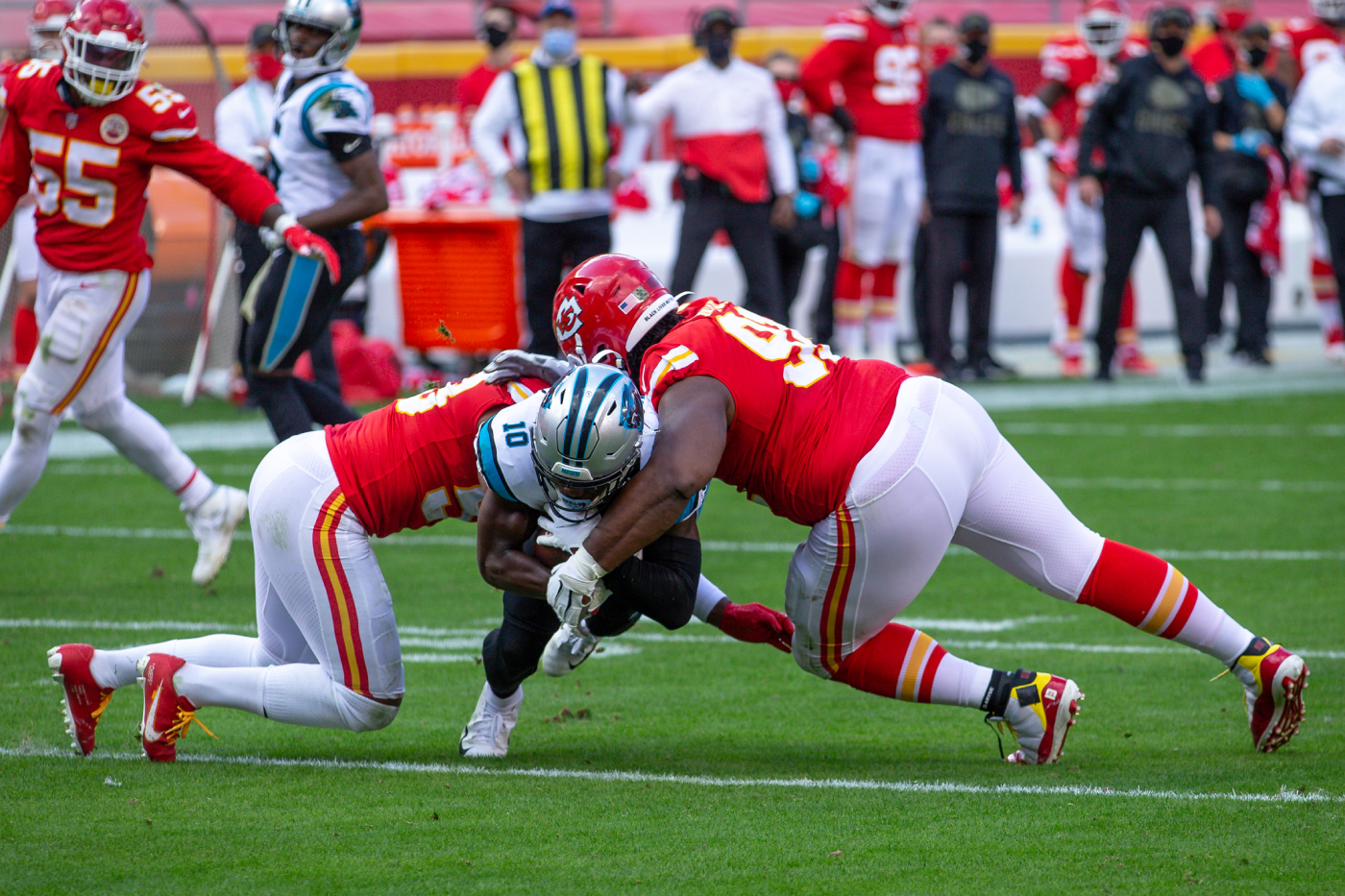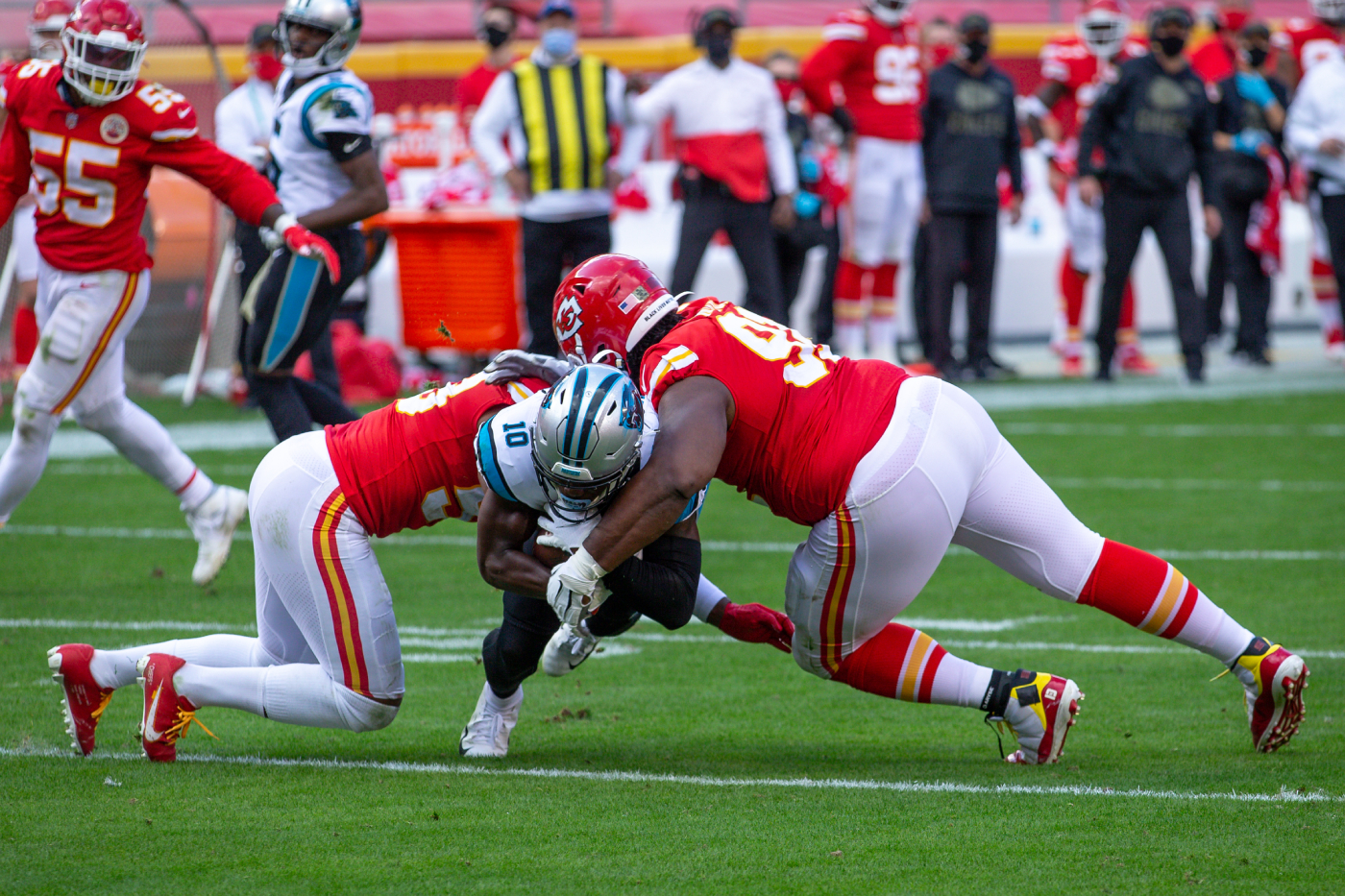 The Carolina Panthers tested the Chiefs big time in Week 9, as they led late in the third quarter, and then cut the Chiefs lead to 33-31 with a little less than two minutes left in the game. The Chiefs, however, ultimately won 33-31 to improve to 8-1. Patrick Mahomes had an excellent game, too, as he threw for 372 yards and four touchdowns.
However, the win had a cost to it as Charlton left the game due to injury. After the game, Ian Rapoport of NFL Network reported that Chiefs head coach Andy Reid told reporters that Charlton has a fracture in his lower leg and will get placed on injured reserve.
This could potentially keep Charlton out for the rest of the season, which is a brutal blow to the Chiefs, as they don't have much depth at defensive end with Alex Okafor already being on IR, according to USA Today's Chiefs Wire.
The Chiefs' defense has been pretty good this year. It is only allowing 20.3 points per game. However, they are just mediocre at getting to the quarterback as they are about middle of the pack in sacks with 19 total on the season.
No, this injury to Charlton won't hurt the Chiefs significantly. They still have their stars. However, they need to find a way to replace him and get some more depth at the defensive end position if they don't want that area to start getting exposed at some point this season.
Stats courtesy of Pro Football Reference; Contract numbers courtesy of Spotrac