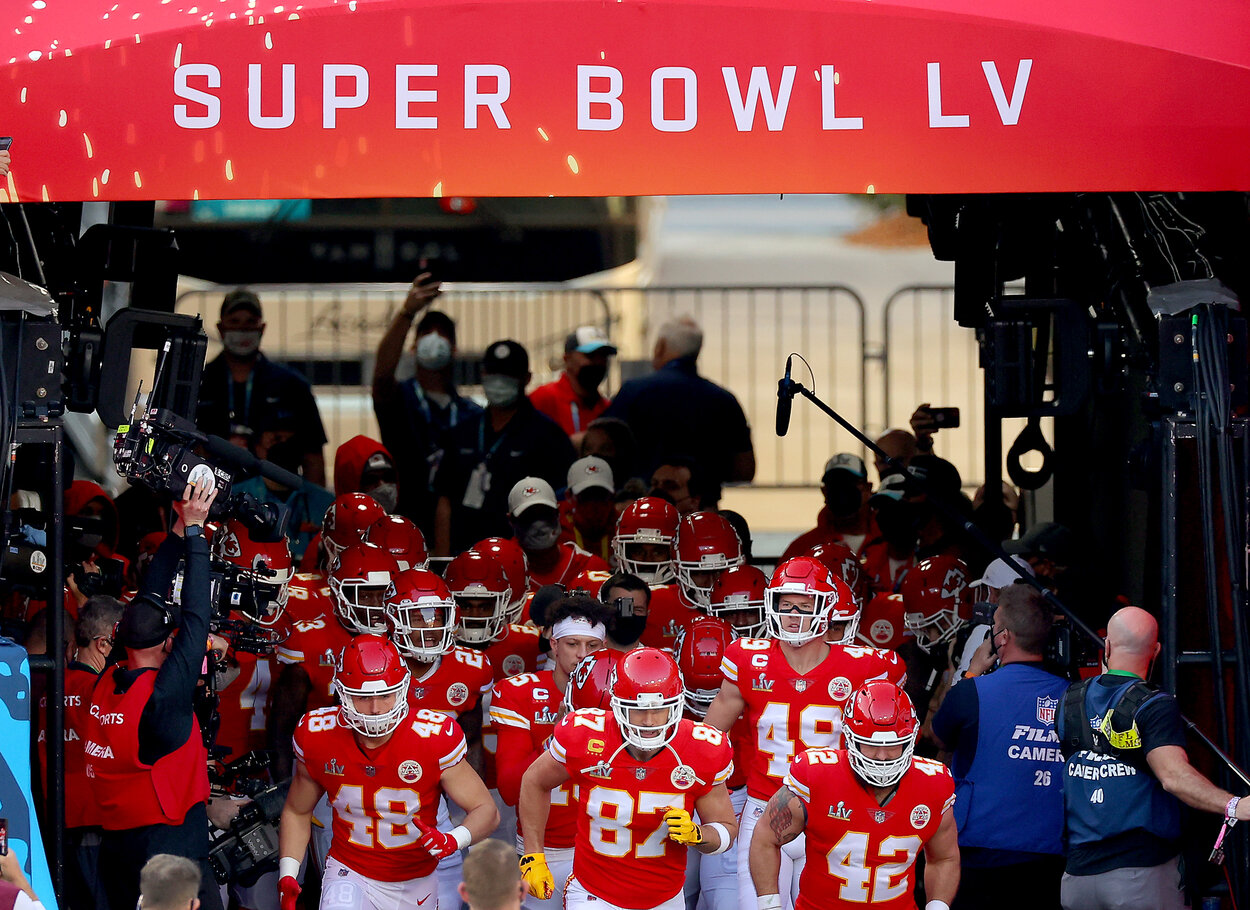 The Kansas City Chiefs' Offseason Is Already off to a Rocky Start
Whatever the Kansas City Chiefs do next season will be without running backs coach Deland McCullough, who is joining the Indiana Hoosiers' coaching staff.
It's amazing how a simple Super Bowl loss has already changed everything surrounding the Kansas City Chiefs.
Few, if any, expected the Chiefs' humbling 31-9 loss to Tom Brady and the Tampa Bay Buccaneers. Without a stout offensive line in front of him, Patrick Mahomes looked human — even if his throws still appeared other-worldly — and the Chiefs went down without much of a fight.
Now, the offseason is underway, and at least one key member of the Chiefs' coaching staff won't be back with the team next year. Running backs coach Deland McCullough's departure has nothing to do with the team's Super Bowl loss, though.
The Kansas City Chiefs are back in reality
It feels like five minutes ago when fans and media alike were ready to crown Patrick Mahomes and the Kansas City Chiefs as the NFL's newest dynasty.
Reality is often disappointing, and the Chiefs left Raymond James Stadium as losers. Tampa Bay held Kansas City's potent offense to only nine points. Buccaneers quarterback Tom Brady threw three touchdowns, including two to tight end Rob Gronkowski.
Now, the Chiefs officially begin their offseason, and it's one that could bring about many changes. Several starters, including center Austin Reiter, cornerback Bashaud Breeland, defensive back Daniel Sorensen, and receiver Demarcus Robinson are poised to hit free agency.
Kansas City luckily signed Mahomes to a long-term extension last summer. Some of the pieces around Mahomes next season may look different, though.
Running backs coach Deland McCullough just left the Chiefs
The Kansas City Chiefs have officially lost their first member of the team that just lost Super Bowl 55.
Running backs coach Deland McCullough, who held that role for three seasons, is returning to the college level. McCullough is joining the Indiana Hoosiers' football staff as their running backs coach.
The change of scenery represents a homecoming for McCullough, who served as the Hoosiers' running backs coach from 2011-16. 
In a school-issued statement, McCullough shared his excitement about returning to Indiana.
"I have been fortunate to have won a championship on the ultimate stage in the NFL, and I know what it looks like and how it feels. I believe that Indiana University is primed to not only CHASE, but to capture championships in football, and I can't wait to contribute."
The Chiefs had not named McCullough's successor as of publication. 
McCullough was an underrated assistant coach
Deland McCullough may not have been as well-known as Eric Bieniemy, but there is no denying his impact on the Kansas City Chiefs' running backs.
Kansas City's running game remained reliable under McCullough, even after the team cut Kareem Hunt midway through the 2018 season.
Rookie running back Clyde Edwards-Helaire averaged 4.4 yards per carry and totaled 1,100 yards from scrimmage last season. Darrel Williams, a former undrafted rookie, averaged 4.3 yards per attempt and stepped up in the playoffs.
Although Le'Veon Bell didn't play in the Super Bowl, he nonetheless averaged an even four yards per carry in nine games and two starts during the regular season. Bell also turned 13 receptions into 99 yards.
Like Sportscasting on Facebook. Follow us on Twitter @sportscasting19.