The Kick Is Good: 3 Week 1 NFL Games Decided on Final Play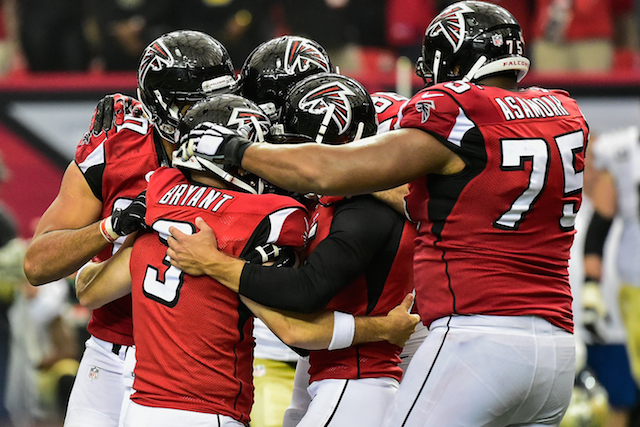 Three of Sunday's Week 1 NFL contests were decided by the foot of a kicker on the final play of the game, as Atlanta, Pittsburgh, and Buffalo each posted season-opening victories. The Falcons and Bills both needed overtime to accomplish the feat, but ultimately all three teams are 1-0 and have their respective placekickers to thank.
Here's a quick look back at each of the game-winning field goals and what they mean.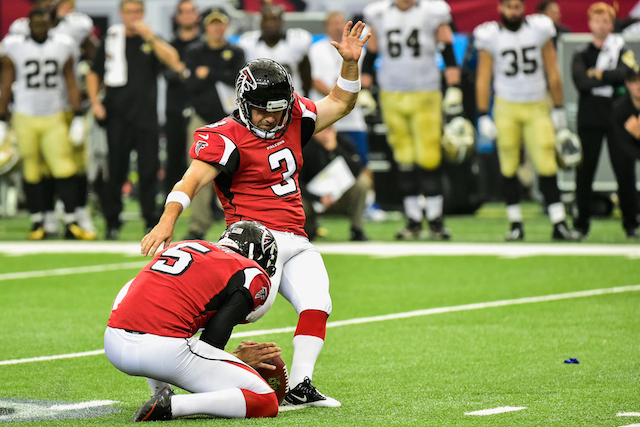 Atlanta 37, New Orleans 34 (OT)
The final play: 13-year veteran Matt Bryant followed up a clutch 51-yard game-tying field goal as time expired in the fourth-quarter with a 52-yarder in overtime to give the Falcons a 37-34 victory in an NFC South divisional game.
How it came down to the final play: Atlanta quarterback Matt Ryan out-dueled counterpart Drew Brees with a team record and career-high 448 passing yards, including an all-important scoring drive to force overtime after New Orleans had taken a 34-31 lead with 1:20 to play. The Saints got the ball first in the extra period, but a Marques Colston fumble set up Bryant's heroics.
What it all means: In one of the NFL's most closely contested divisions (each of the four NFC South teams has won three championships in the division's 12-year history), the importance of a single game can not be overstated. Bryant's Falcons are trying to rebound from a disappointing 4-12 season a year ago, and starting the season out with a victory over a team that's had your number in the recent past (New Orleans had won 13 of the teams' previous 16 meetings) is a crucial first step toward a winning campaign.
Pittsburgh 30, Cleveland 27 (OT)
The final play: Steelers kicker Shaun Suisham drilled a 41-yarder with no time remaining to give Pittsburgh a dramatic win over AFC North foe Cleveland. It was the ninth game-winning kick of Suisham's career, and his third field goal of the game.
How it came down to the final play: The Steelers blew a 27-3 halftime lead at home to make things interesting — all right, that's putting it mildly — but Ben Roethlisberger completed three straight passes in the final minute to give Suisham a chance to win it, and the 32-year-old kicker did his job perfectly.
What it all means: After a meltdown that could have had season-altering repercussions, the Steelers right the ship and send their fans home happy. With a quick turnaround before a second straight divisional contest Thursday (in Baltimore), Pittsburgh needed this game badly. In what has historically been a less-than-friendly venue for kickers, Suisham delivered.
Buffalo 23, Chicago 20 (OT)
The final play: Bills kicker Dan Carpenter got his second season with the team off to an ideal start, knocking home a 27-yard field goal in overtime to give Buffalo a victory on the road.
How it came down to the final play: Bears quarterback Jay Cutler threw for more than twice as many yards as EJ Manuel (349 to 173) and Robbie Gould forced overtime with a kick in the final minute of the fourth-quarter, but Buffalo veteran Fred Jackson broke loose for a 38-yard run to the 1-yard-line in OT to give Carpenter a relatively easy game-deciding kick.
What it all means: For a team that hasn't posted a winning record since 2004 and hasn't sniffed the playoffs since last millennium (1999), 1-0 seems like a big deal. The fact that it came on the road makes it an even bigger deal. If Buffalo can turn a win at Chicago into confidence and momentum with visits from the Dolphins and Chargers coming up the next two weeks, the Bills could become one of the NFL's early season surprise stories.