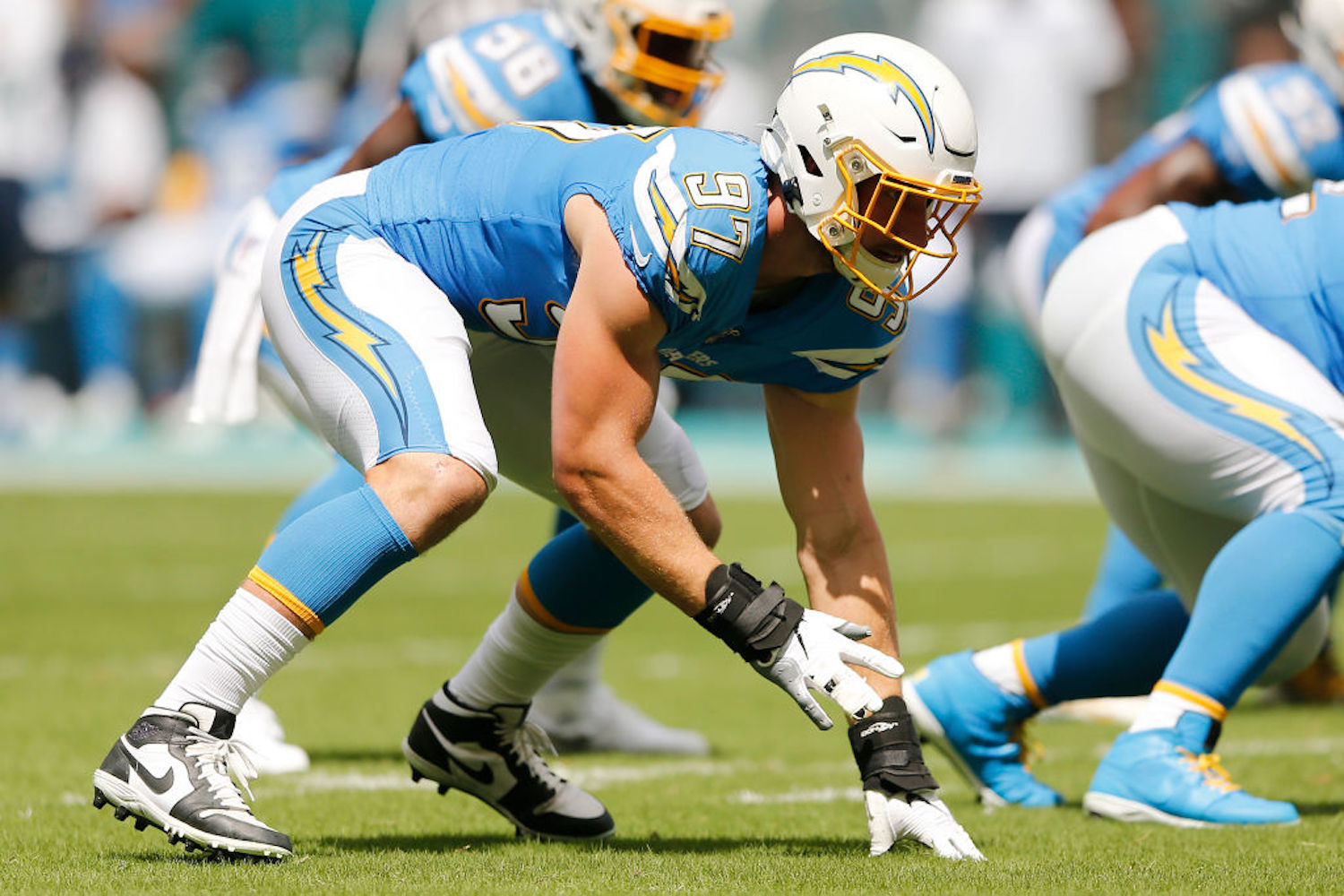 The LA Chargers Just Made a $135 Million Financial Mistake
The LA Chargers rewarded Joey Bosa with a contract only quarterbacks have seen in NFL history, and it will haunt them down the road.
Joey Bosa has been one of the most dominant defensive forces in the NFL since his debut in 2016. He's recorded over 10 sacks in all three of his full seasons as a pro, and the Los Angeles Chargers just rewarded him with a record contract.
Bosa and the Chargers agreed to a five-year deal worth $135 million, with $102 million in guaranteed money. Only quarterbacks have seen that type of money in NFL history, and the Chargers will soon regret giving QB money to a defensive end.
The LA Chargers signed Joey Bosa to a five-year, $135 million contract
Before the start of the 2020 NFL season, the Chargers locked up their star defensive end. On Tuesday, LA signed Joey Bosa to a five-year extension worth $135 million, with $102 million in guaranteed money.
The contract makes Bosa the new highest-paid defensive player in NFL history. From 2021-2025, Bosa will make $27 million per year, which is just $2 million more than Myles Garrett and $4 million more than Khalil Mack.
Bosa has 40 career sacks and 53 tackles for loss in his short career. He's made two Pro Bowls in four pro seasons, but he's never led the NFL in sacks despite pass rush being his most prolific skill.
Bosa is now the highest-paid non-QB in the entire NFL
The highest-paid players in today's NFL are deservedly quarterbacks. The top 11 richest NFL players in 2020 are all signal-callers, but No. 12 now belongs to Joey Bosa.
Bosa's $27 million salary is right behind Jimmy Garoppolo, Ryan Tannehill, and Matt Ryan — three quarterbacks who have led their teams to deep playoff runs in recent years.
See, QBs are paid the big bucks because they mean the most to their team's success. Imagine where the Seattle Seahawks would be without Russell Wilson the last decade, or the Philadelphia Eagles last season without Carson Wentz. Elite quarterback play alone can win games in the NFL. That can't be said about defensive ends.
Despite being one of the best pass rushers in the league for four seasons, Bosa has led the Chargers to two losing seasons and just one playoff appearance. Oh, and in those playoffs, his defense gave up 41 points to Tom Brady and the New England Patriots.
Does Bosa have the potential to become the best pass rusher in the league? Definitely. Can he lead the Chargers to a Super Bowl with sacks alone? Absolutely not. No defensive end is worth QB money, no matter how dominant they are.
The Chargers just made a $135 million financial mistake on Bosa
Besides breaking the bank to pay a defensive end top quarterback money, there are plenty of red flags associated with Bosa's new extension.
For one, Melvin Ingram lines up across from Bosa on the defensive front, and he's been just as impressive as the Ohio State product in recent seasons. Ingram has 24.5 sacks over the last three seasons with the Chargers. With two star pass rushers stopping offensive lines from double-teaming Bosa, he's only recorded 12.5 sacks in his best season.
Another issue the Chargers will run into soon is paying Justin Herbert. If their most recent top pick shines out of the gate, they will have no choice but to pay him more than Bosa before the defensive end's contract is up. Bosa's deal is team-friendly with Herbert on a rookie deal, but paying two players top QB money in the next few seasons would destroy their cap moving forward.
Also, if Bosa exceeds expectations under his new contract, he'll demand a pay raise. A pay raise the Chargers won't be able to afford in 2026.
LA fans will be happy to see their star defensive player locked up for six more years, but the Chargers massively overpaid for Bosa, and it will cause franchise-altering issues down the line.
All stats courtesy of Pro Football Reference