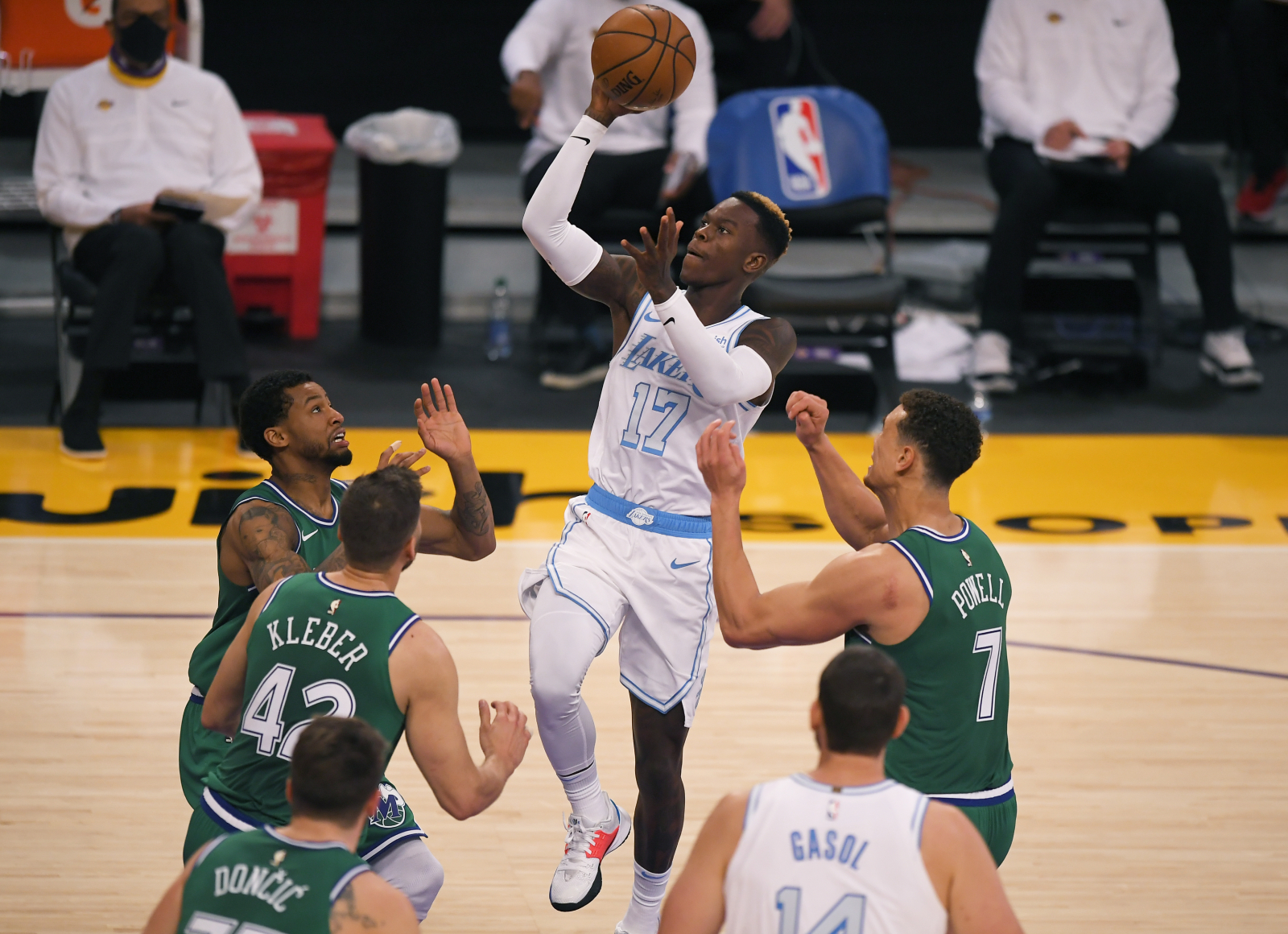 The LA Lakers' $15.5 Million Man Has Potentially Made a Decision About His Future
The LA Lakers have a new $15.5 million star in Dennis Schroder. It appears that he has potentially made a decision about his future, too.
The LA Lakers have a new $15.5 million star player this year in Dennis Schroder. He has a chance to help them win another championship, too, as he is a legitimate third scoring option for the Lakers behind LeBron James and Anthony Davis. Schroder, though, is in the final year of his contract, so his future beyond this season is unclear. However, it appears that he has already made a decision about his future.
Dennis Schroder has become a star in the NBA
The Atlanta Hawks selected Schroder with the No. 17 overall pick in the 2013 NBA draft. After a slow start to his career with the Hawks, Schroder eventually became essential to their success.
He only averaged 3.7 points per game in his rookie season, but then averaged 10 points per game and shot 35.1% from 3-point range in 2014-15. He was ultimately a nice role player on a tough Hawks team, too, as Atlanta went 60-22 that season and reached the Eastern Conference Finals.
Schroder then averaged 11 points per game and 4.4 assists in 2015-16, which helped him earn a four-year, $70 million contract extension prior to the next season, according to NBA.com. Then, during that 2016-17 season, Schroder became an excellent scorer, averaging 17.9 points per game and 6.3 assists. He also shot 45.1 % from the field.
Schroder was then even better in 2017-18, averaging 19.4 points per game and 6.2 assists, but he got traded to the Oklahoma City Thunder after that season. During the 2018-19 season with the Thunder, Schroder played with Paul George and Russell Westbrook, so his number went down a bit. However, the Thunder traded both of them during the next offseason, which led to Schroder having an excellent year in 2019-20.
He averaged 18.9 points per game for the Thunder in 2019-20 and shot a career-best 46.9% from the field and 38.5% from 3-point range. The Thunder also surprisingly went on a run to the playoffs last season.
He has a chance to help the LA Lakers win a championship
The LA Lakers are coming off a championship-winning season in 2019-20. LeBron James and Anthony Davis dominated last season, as James averaged 25.3 points per game, 10.2 assists, and 7.8 rebounds, while Anthony Davis averaged 26.1 points per game and 9.3 rebounds.
However, while the Lakers had a great team, they didn't have a legitimate third scoring option. Their third-leading scorer was Kyle Kuzma, who averaged 12.8 points per game. This offseason, though, LA traded for Schroder and signed reigning Sixth Man of the Year Montrezl Harrell. Both, Schroder and Harrell have a chance to become dangerous scoring threats for the Lakers this season.
Through two games, Schroder is averaging 16 points, seven assists, and seven rebounds. Harrell is also averaging 19.5 points per game and 8.5 rebounds through two games.
This certainly has the Lakers set for this year, but Schroder's contract is only through this season. According to Spotrac, he is set to make $15.5 million this season.
Dennis Schroder potentially wants to stay with the LA Lakers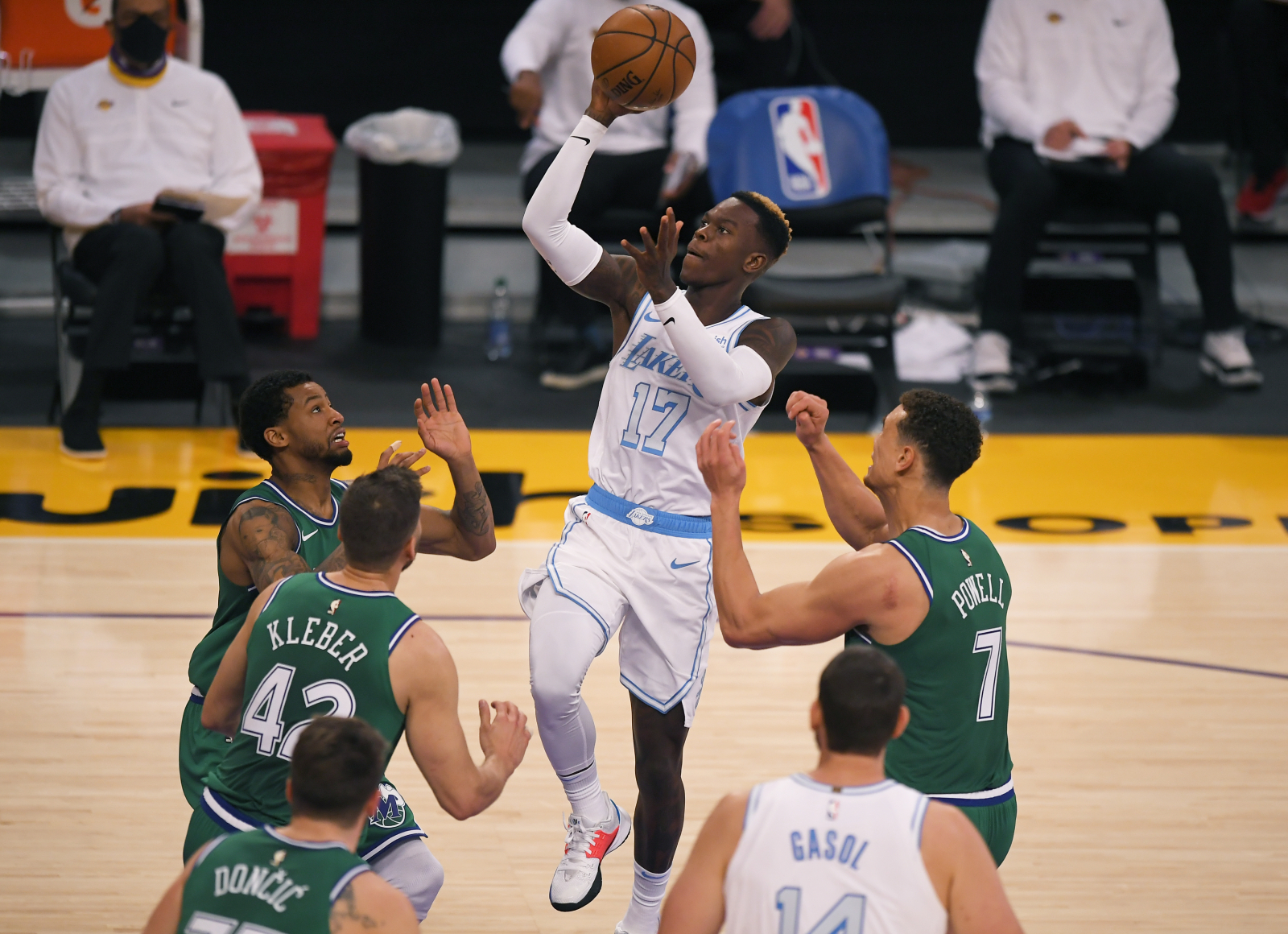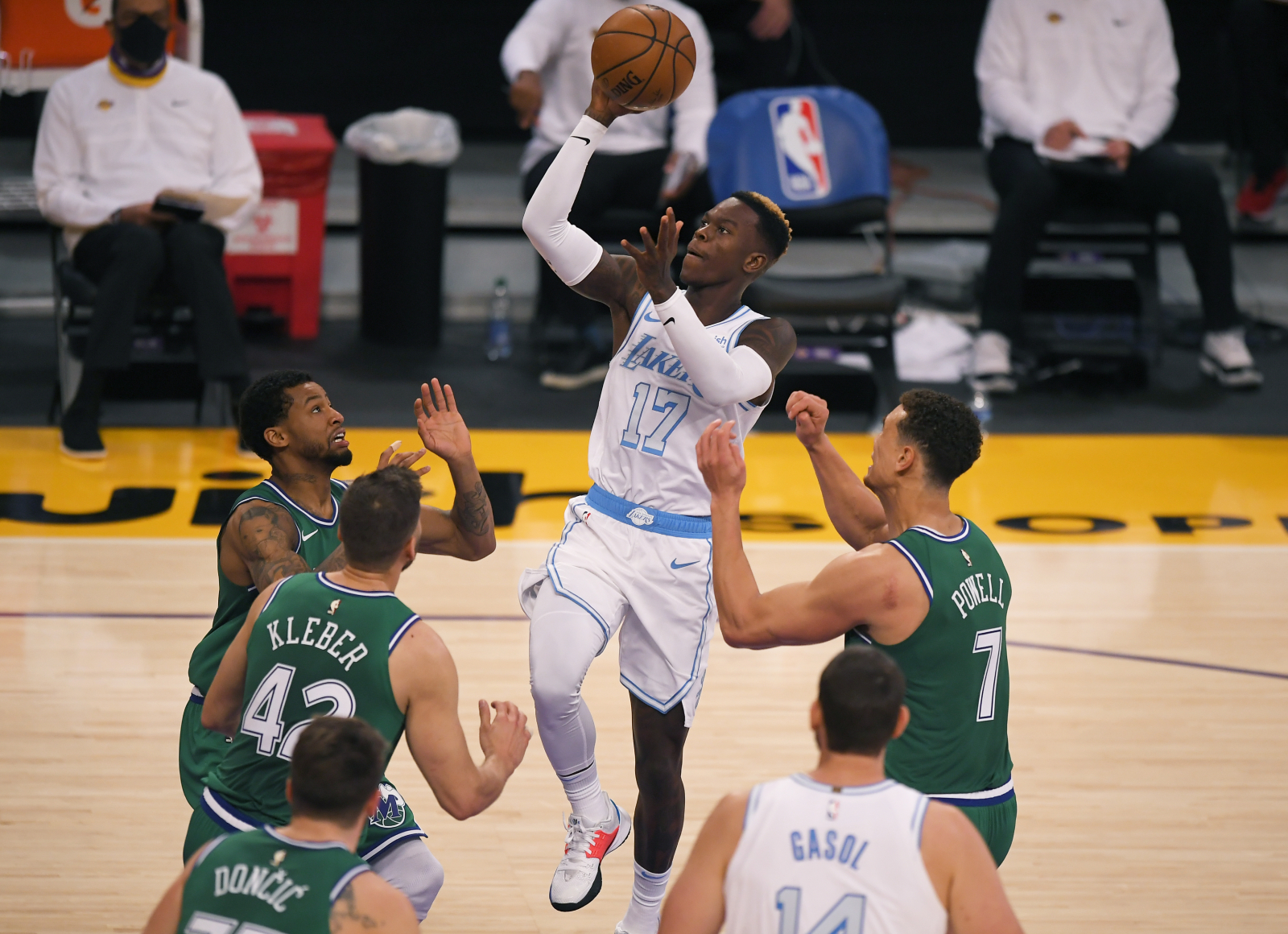 Schroder hasn't been with the Lakers very long, especially with the short offseason. He just got traded to LA in November. However, he appears to be enjoying himself already.
"Very comfortable (in LA so far)," Schroder said, according to The Athletic. "For sure, I want to extend. But like I said, it's got to be fair on both sides, and we can talk about it. But for sure. It's a hell of an organization from what I've seen so far this month. Teammates are amazing, front office, the people here, they're doing everything for you and your family. … If you want to be in that environment, you can just focus on basketball every single day."
He continued: "I would love to. It's just got to be fair on both sides, and that's all I got to say."
Additionally, according to Adrian Wojnarowski of ESPN, the Lakers and Schroder have already reportedly discussed a contract extension.
"Those discussions are expected to pick up again as soon as mid-February, sources told ESPN," Wojnarowski wrote. 
He also reported that Schroder turned down the Lakers' offer for two more years, worth $33.4 million. However, that was the maximum offer the Lakers could make before Feb. 16. They can offer him as much as $83 million for four years as soon as Feb. 16.
The Lakers already have Anthony Davis and LeBron James locked in for the foreseeable future. Locking down Schroder, though, could secure a dynasty in LA.
Stats courtesy of Basketball Reference