The Lakers' $16.5 Million Star Made Fans Eat Their Words During LA's Championship Run
The LA Lakers had plenty of players step up during their championship run. Of course, LeBron James and Anthony Davis are the two superstars that deserve a lot of the credit, but LA also had a few underrated role players that played significant parts in their success. One was their $16.5 million man Kentavious Caldwell-Pope, who ultimately made fans eat their words.
Kentavious Caldwell-Pope has had a decent NBA career so far
The Detroit Pistons selected Caldwell-Pope with the eighth overall pick in the 2013 NBA draft. After averaging 5.9 points per game in his rookie season, he then had a few good seasons with the Pistons over the next three years. Caldwell-Pope averaged 12.7 points per game in 2014-15 and then 14.5 in 2015-16 before averaging 13.8 for the Pistons in 2016-17.
Caldwell-Pope then signed with the Lakers in 2017, and had a good first year in LA. He averaged 13.4 points per game and had career highs (at that point) in field goal percentage and 3-point shooting.
However, LeBron James joined the Lakers in 2018-19, and Caldwell-Pope's number took a dip. He scored 11.4 points per game and played the fewest minutes per outing since his rookie season.
Despite his numbers not being as great, though, the Lakers signed Caldwell-Pope to a two-year deal in the offseason that was worth $16.5 million. Caldwell-Pope then only averaged 9.3 points per game for the Lakers in 2019-20 but shot a career-high 46.7% from the field. He also shot 38.5% from 3-point range, which was also a career-high.
Fans were not happy about his contract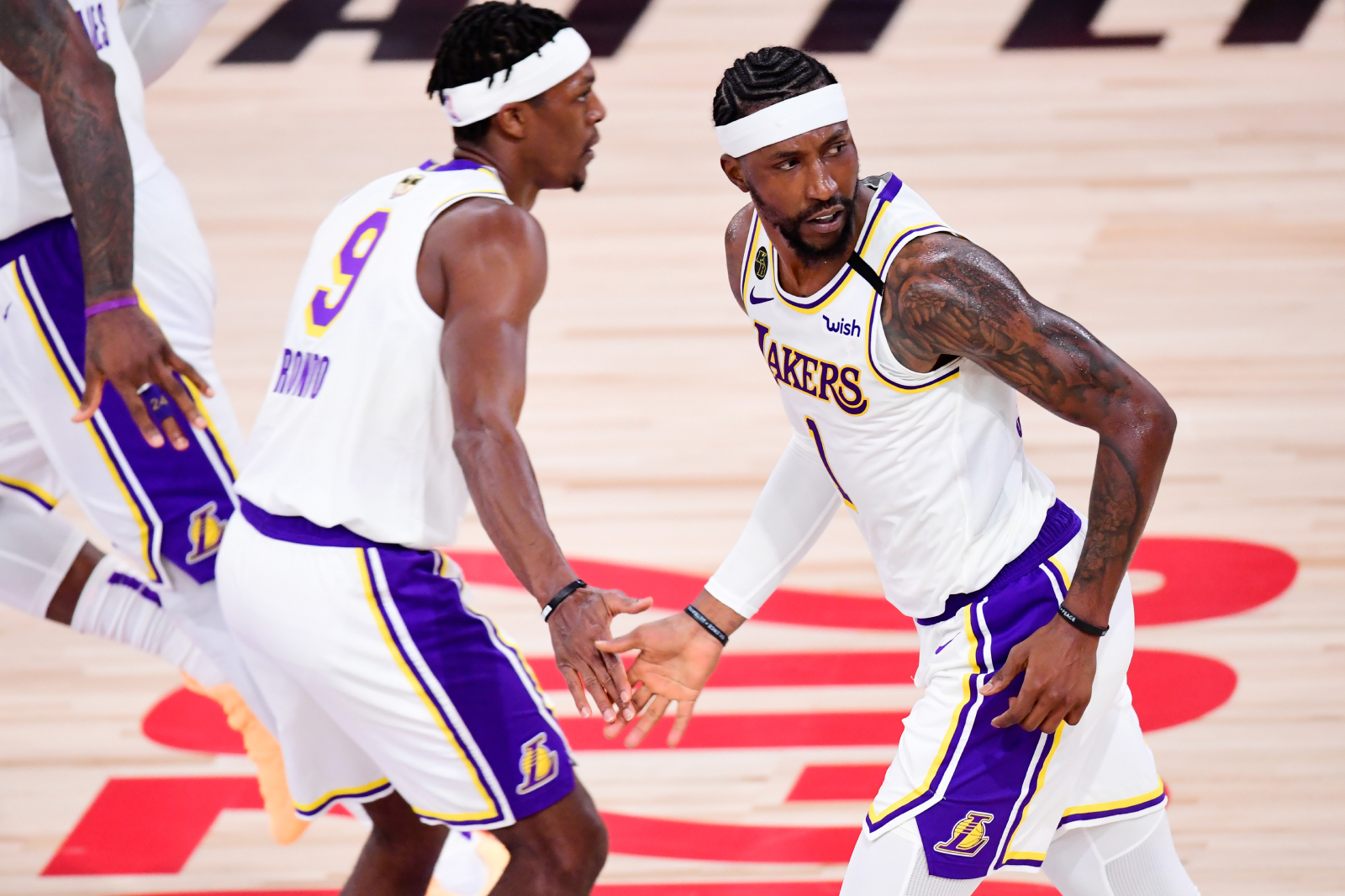 According to Sporting News, fans were not thrilled about Caldwell-Pope's Lakers contract as they felt he only received the offer due to Rich Paul being his agent.
Paul also represents LeBron James and Anthony Davis. 
"What dirt does KCP have on the Lakers man," one Reddit user asked when they signed him. Another fan on Reddit questioned how well he could perform in the playoffs. "He's not consistent enough. I can't imagine him playing consistently during multiple best of 7 series." Additionally, another Reddit user wondered how he made it to a third year with the team. "KCP has survived on the Lakers for 3 years … dudes like a cockroach."
Caldwell-Pope then didn't make things better for himself when the season started. Through his first 11 games, he only averaged 5.3 points per game and shot 35.8% from the field. This led to "Get KCP" trending on Twitter. That phrase was usually followed by "out the game" or "off my team," per Sporting News. There were even times when fans booed Caldwell-Pope at Staples Center, the Los Angeles Times reported.
However, Caldwell-Pope made them eat their words during the Lakers' championship run.
Kentavious Caldwell-Pope helped the Lakers win a championship
Caldwell-Pope's scoring average went up a bit in the playoffs, as he averaged 10.7 points per game for the Lakers. However, he ended up having a few massive games for the team that proved to be very crucial to their championship run.
The Portland Trail Blazers led the Lakers 1-0 in the First Round, but Caldwell-Pope scored 16 points in the Lakers' Game 2 win. He then later scored 18 points in Game 1 of the Western Conference Finals against the Denver Nuggets, a game in which the Lakers won.
Caldwell-Pope then ended up having several massive games in the NBA Finals.
He ultimately averaged 12.8 points per game for the Lakers in the NBA Finals, and really became key to the team's win in the series, as his points-per-game average was third on the team behind James and Davis.
During the Lakers' six-point win in Game 4, he ended up scoring 15 points. He then recorded 16 in their narrow loss in Game 5. However, in the Lakers' championship-clinching win in Game 6, Caldwell-Pope scored 17 points for the team.
So, in Games 4, 5, and 6 of the NBA Finals — when it matters the most — Caldwell-Pope averaged 16 points per game. Those performances ended up being incredibly valuable to the Lakers winning a title.
No, Caldwell-Pope maybe didn't put up massive numbers consistently in the regular season, but he came up big when it mattered most in the NBA Finals. He ultimately made his haters eat their words.
Stats courtesy of Basketball Reference; Contract numbers courtesy of Spotrac