The Lakers Already Have Their Eyes on Danny Green's Replacement
The LA Lakers' 2020-21 roster is starting to become clear. The Lakers are coming off a championship-winning season, but that doesn't mean that they still can't improve their roster by adding even better players. Every championship contender is now looking to take the Lakers' crown, so LA needs to do anything they can to keep it. It appears that the Lakers are sending sharpshooter Danny Green away so that they can acquire Dennis Schröder. However, who will become Green's replacement? That man could be Wesley Matthews.
The LA Lakers are saying goodbye to Danny Green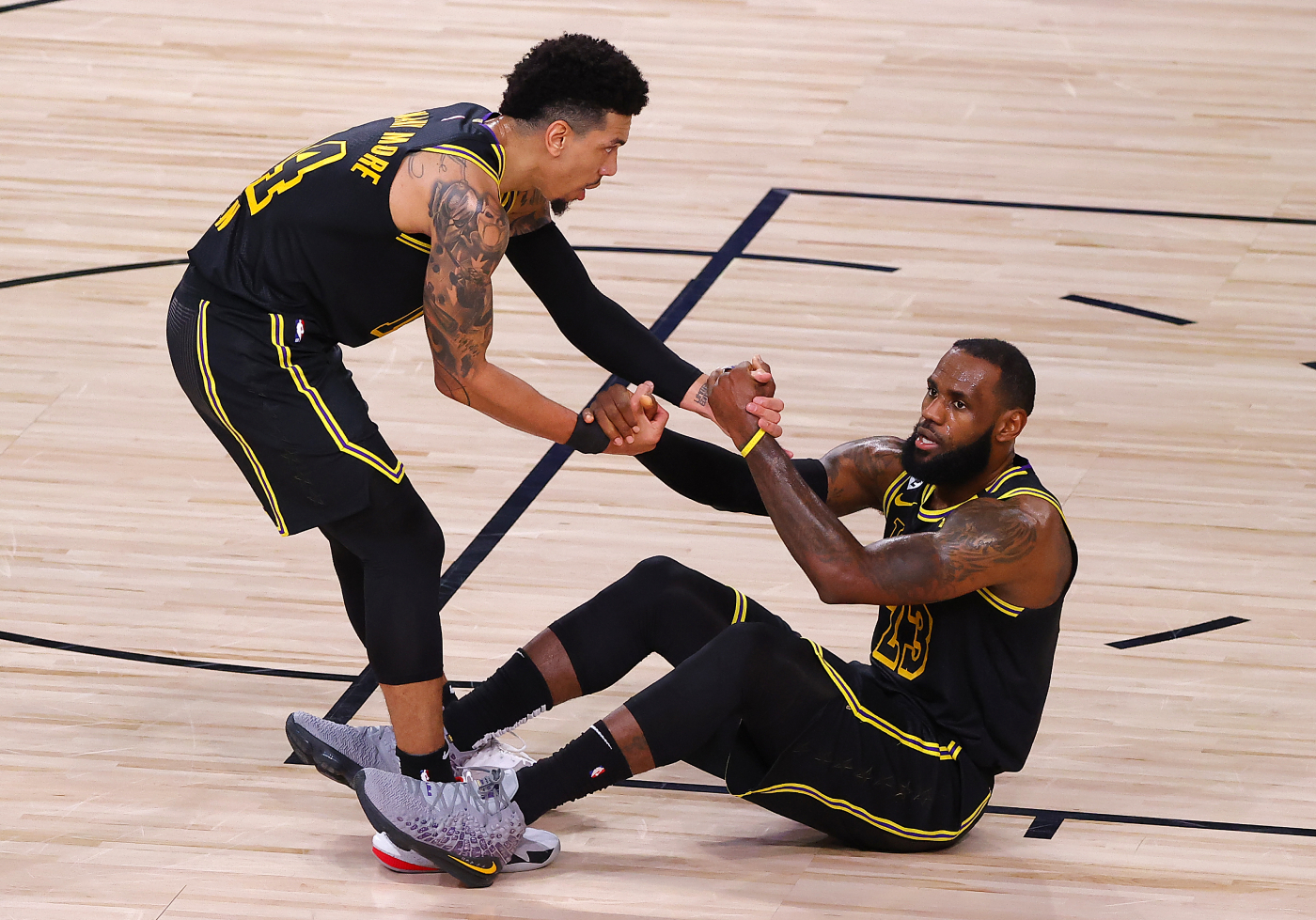 The Lakers are reportedly acquiring Dennis Schröder from the Oklahoma City Thunder and are sending the No. 28 overall pick and Danny Green in exchange for him, per ESPN.
This is a huge move for the Lakers. Schröder has averaged 17.9 points per game or more in three of the last four seasons. The only year he averaged below that number was in 2018-19 when he played with two big-time scorers in Russell Westbrook and Paul George. Last season in 2019-20, Schröder helped lead the Thunder to a surprise trip to the playoffs, as he averaged 18.9 points per game and four assists. He also shot a career-high 46.9% from the field.
Green, on the other hand, averaged eight points per game for the Lakers last season. He was more of a role player, and his role was to put the ball in the basket from long range and to play solid defense. Green ultimately shot 36.7% from 3-point range for the Lakers last season. He also averaged a career-high 1.3 steals.
Wesley Matthews has been a productive player in his NBA career
Matthews first played in the NBA with the Utah Jazz in 2009-10 and had a nice rookie season with 9.4 points per game, and he shot 38.2% from 3-point range. However, he became a solid scorer during the next several years with the Portland Trail Blazers and Dallas Mavericks.
Mathews' scoring average jumped up to 15.9 points per game for the Blazers in 2010-11. He ultimately averaged 15.4 points per game in five seasons in Portland and averaged as many as 16.4 points in 2013-14.
During the 2015-16 season, Matthews then started playing for the Dallas Mavericks, and he continued to play well for Dallas, as he averaged 12.9 points per game from 2015-16 until the Mavericks traded him during the 2018-19 season.
Matthews was then more of a role player for the Milwaukee Bucks in 2019-20, as he averaged a career-low in points per game with 7.4.
For his career, Mathews is scoring 13.1 points per game and is shooting 38.1% from 3-point range. Matthews also averages one steal per game. Green, on the other hand, is averaging 8.9 points per game for his career to go with one steal. He is also shooting 40% from 3-point range.
The LA Lakers are reportedly interested in Wesley Matthews
According to the Milwaukee Journal Sentinel, Matthews had a $2.7 million player option with the Bucks for the 2020-21 NBA season. However, he will decline the option and become a free agent.
Marc Stein of The New York Times is now also reporting that the Lakers are reportedly interested in signing Matthews to become Green's replacement. This could be an excellent signing for LA since they will have a hole at Green's spot on the wing.
Matt Velazquez of the Milwaukee Journal Sentinel also praised Matthews' defensive abilities, which could be significant for the Lakers, especially in the postseason.
"He also was a stalwart presence on defense, often picking up the opposing team's best wing and doing yeoman's work on a nightly basis," Velazquez wrote.
Matthews isn't a big splash move like the Schröder trade is, but he could be crucial for the Lakers in big moments if he were to come to LA. It appears that the Lakers will soon be ready for a repeat.
Stats courtesy of Basketball Reference