The Lakers Continue To Lay the Groundwork for Giannis Antetokounmpo To Come To LA
The LA Lakers are coming off a championship season and are already favored to win another title after reloading this offseason. However, they could potentially be even stronger in the 2021-22 season, and not just by a slight margin, but by an out-of-this-world margin. They could do this by signing two-time reigning NBA MVP Giannis Antetokounmpo. In fact, it appears that the Lakers could be laying the groundwork for this to happen after making a recent move with Giannis' brother, Kostas Antetokounmpo.
The LA Lakers could be preparing to sign Giannis Antetokounmpo
Anthony Davis is expected to re-sign with the LA Lakers after helping lead them to an NBA championship in 2019-20. He hasn't done so yet, though. Some speculate that this has to do with the Lakers potentially making a run at Giannis Antetokounmpo.
Giannis is in the final year of his contract with the Milwaukee Bucks. He will be an unrestricted free agent after the 2020-21 season.
"It's unusual for [Davis] to delay his resigning for this long, and one of the things he could be watching is what Giannis does. If Giannis elects to sign the extension, then we could see [Davis] potentially sign for longer," ESPN's Brian Windhorst recently said on SportsCenter. "But if Giannis sets himself up to be a free agent next year… that might spur Anthony Davis to only sign a one-year contract with a player option, which is the kind of deal that LeBron James is on, to leave flexibility in Lakers' payroll. So, there's a lot of people watching Giannis Antetokounmpo right now."
This means that if Giannis doesn't sign an extension with the Bucks before this upcoming season, Davis could help the Lakers try to make a run at him by not signing a long-term deal this offseason.
Kostas Antetokounmpo re-signed with LA
Giannis' brother, Kostas Antetokounmpo, was not as highly touted of a prospect as Giannis was. He ultimately went to the Philadelphia 76ers late in the second round of the 2018 NBA draft. 
Kostas then played in two games for the Dallas Mavericks in 2018-19 and scored one point in each game, but played in fewer than six minutes in those games. In the G league for the Texas Legends, though, Kostas averaged 10.6 points per game and 6.1 rebounds in 40 games that season.
During the 2019-20 season, Kostas was on the LA Lakers' championship-winning team. He appeared in five games for the Lakers in the regular season, only playing in four minutes per game in those outings. In a game against the Sacramento Kings, though, Kostas actually scored seven points in a little over 11 minutes.
Kostas also played in 38 games for the South Bay Lakers in the G League in 2019-20. He averaged 14.1 points per game, 7.9 rebounds, and 1.3 blocks.
So, Kostas has not had a very big impact in the NBA yet, but the Lakers announced on Nov. 26 that they re-signed him to a two-way contract.
Are the Lakers laying the groundwork to sign Giannis Antetokounmpo?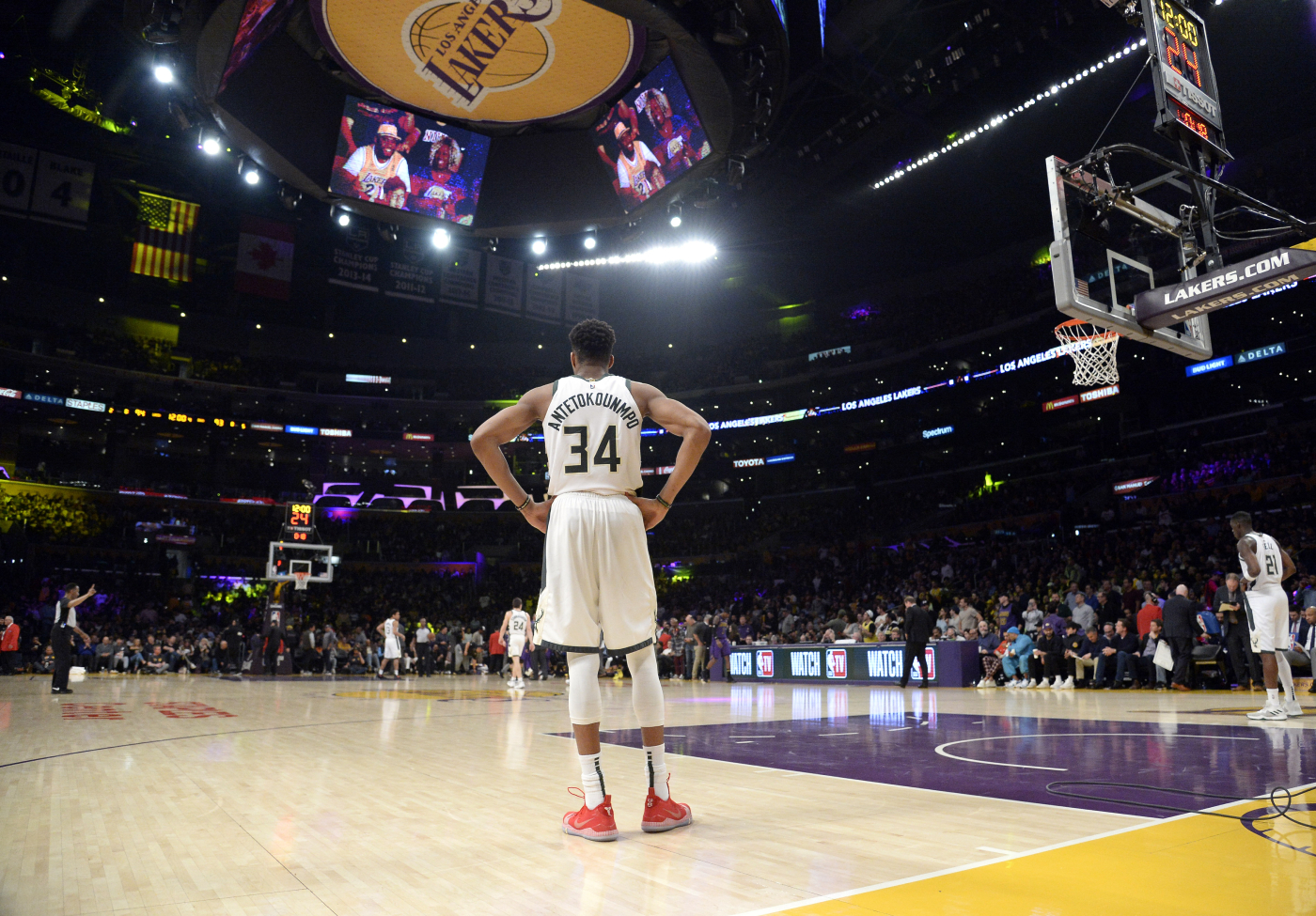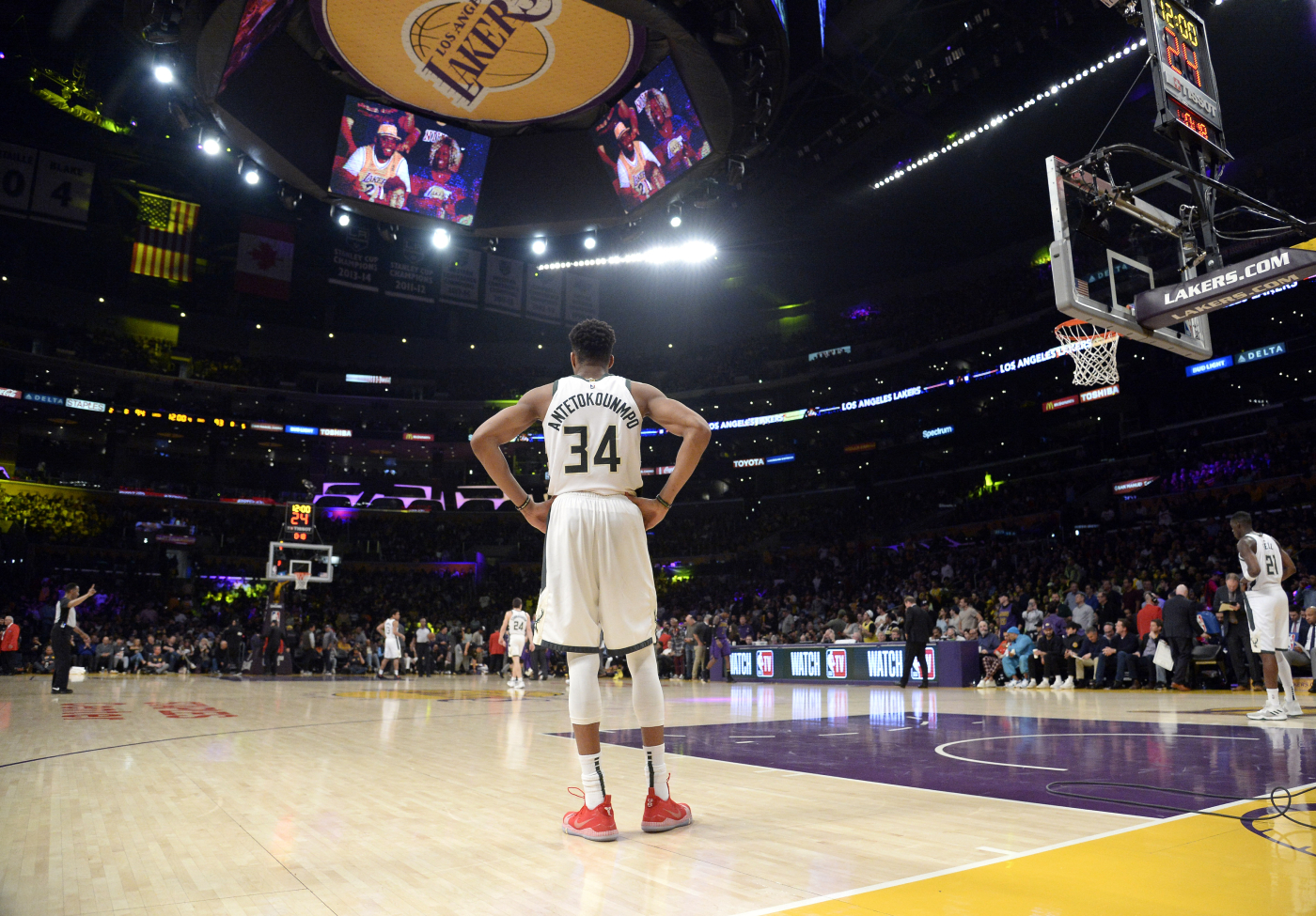 Anthony Davis' decision to not yet sign his contract with the Lakers makes it pretty clear that the team is preparing to make a run at Giannis. Re-signing Kostas, though, seems to make their interest in Giannis even more clear.
Kostas is not a big-time player, at least yet, but why wouldn't Giannis want to play on the same team as his brother? The two certainly seem pretty close if you pay attention to Giannis on social media at all. 
Speaking of social media, Giannis even commented on the Lakers' Instagram post about their decision to re-sign Kostas. It was nothing monumental. He just posted a couple of fire emojis, some hands, and a heart emoji, but it's still interesting to see.
Giannis on the Lakers would be incredible. The Lakers would have a four-time NBA MVP and four-time NBA Finals MVP in LeBron James, who can facilitate with the best of them. They would also have one of the most talented big men of all-time in Anthony Davis, along with another extremely talented (almost) 7-footer in Giannis who has become an elite scorer and defender.
That team would certainly be one of the greatest teams of all-time. It appears that the Lakers might be interested in making it happen, too.
Stats courtesy of Basketball Reference